(Grave)
---
Crew
Director/Screenplay – Julia Ducournau, Producers – Jean Des Forets, Julie Gayet & Nadia Turincev, Photography – Ruben Impens, Music – Jim Williams, Visual Effects – Mikros Image Liege, Makeup Effects – Olivier Afonso, Production Design – Laurie Colson. Production Company – Petit Film/Rogue International/Frakas Productions/Wild Bunch/Canal+/Cine+/Centre National du Cinema de l'Image Animee/Tax Shelter of the Belgian Federal Government/Casa Kafka Pictures/Belfius/Wallonia and the Bruxelles-Capitale Region/Centre du Cinema et de l'Audiovisuel de la Federation Wallonie-Bruxelles/RTBF/VOD/BE TV/Arte/Cofinova
Cast
Garance Marillier (Justine), Ella Rumpf (Alexia), Rabah Nait Oufella (Adrien), Laurent Lucas (Father), Joanna Preiss (Mother)
---
Plot
Justine is dropped off by her parents for her first year in veterinary school. Her older sister Alexia is already a senior at the school. She is lodged in a dormitory room with a gay roommate Adrien. Forced to take place in the hazing rituals, Justine, who has been raised a vegetarian all her life, is shocked to find that one of the rituals requires that she eat a raw rabbit kidney. Alexia persuades her that there is nothing to it but Justine comes out in a rash afterwards. She then finds she has a hunger for meat. Alexia then accidentally cuts off her finger in a waxing attempt gone wrong. Justine picks the finger up and is driven to eat it, much to the shock of Alexia when she comes around. Justine soon finds the need to devour human flesh is becoming uncontrollable.
---
Raw was a debut film for Julia Ducornau. Ducornau has expanded this from an earlier 22-minute short film entitled Junior (2011), which also starred Garance Marillier. Raw gained considerable word of mouth after its premiere at Cannes, where it was nominated for several prizes. Reports of subsequent film festival screenings where audience members ended up fainting are always guaranteed to boost a film's reputation.
Raw could easily be another slice of life teenage story, albeit made without the rosily sentimental spectacles of most of its English-language counterparts. Garance Marillier's signing into the veterinary school is depicted with a naturalism – her bewilderment and fear at being thrown into the middle of hazing rituals and dance parties filled with half-naked bodies is shown with unflinching regard. There are times when Ducornau's images are quite unworldly – of a horde of students all crawling out of the dormitories on their hands and knees – while at other times she is determined to rub our face in it – Garance Marillier walking in on Rabah Nait Oufella getting a blowjob from another guy; a conversation that casually takes place where Ella Rumpf has her arm all the way up a cow's ass.
In many respects, Raw fits into a body of films about woman undergoing obsessions – see the likes of Repulsion (1965), Kissed (1996), Ginger Snaps (2000), In My Skin (2002), Thanatomorphose (2012), Contracted (2013), even you could argue David Cronenberg's Rabid (1976). These are all films that take the point-of-view of a woman as she falls into obsession or else becomes infected. The plot arcs of all these films depict how this takes over her life and becomes all-consuming, eventually leading to death. Some of these films also directly tie the obsession/infection to the heroine's growing discovery of her own sexuality.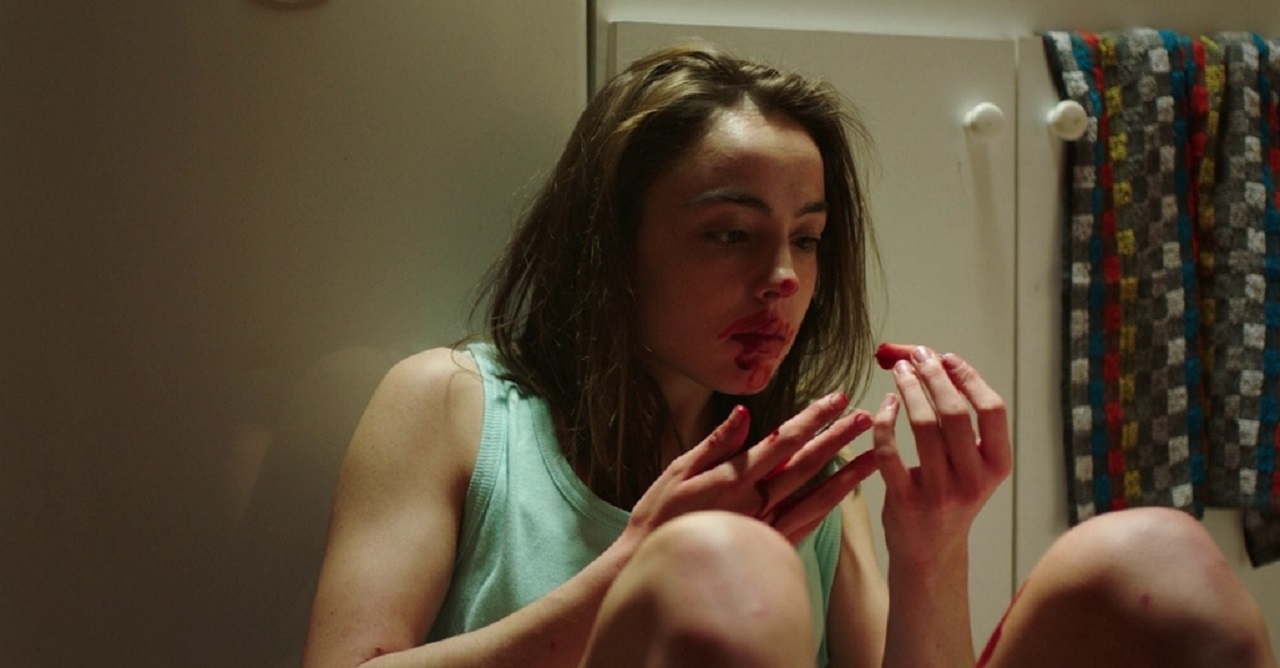 Julia Ducournau waits some way in to develop the film's full shock effect. There is a wonderfully ick scene where Garance Marillier pulls up a massively long clump of hair out of her throat over a toilet (accompanied by helpful advice from a fellow student who assumes she is purging). This is followed a little later by the hard-to-stomach scene where Ella Rumpf accidentally severs her own finger while trying to introduce Garance Marillier to the notion of waxing and, with Ella passed out, Garance plays with the severed finger, initially using it as a lipstick and then the wonderfully queasy scene where she starts to chew on it. The kicker of the scene that Ducornau then throws in is to have Bella Rumpf come around to find Garance eating her finger.
The film never fully clarifies what is happening to Garance for much of the film – whether it is some kind of psychological breakdown or the awakening of a sexual fetish, while her skin peeling off after eating the rabbit kidney suggests some kind of infection. Equally, Ella Rumpf would appear to also be aware of what is happening from the scene where she stakes out a position on the road, causes a car to crash and is then found munching on the driver's spilt brains (one of the less convincing scenes in the film). You keep wondering if this is something the sisters share or else something that all those who go through the hazing ritual experience. The answer the film finally settles on makes for a fine sting in the ending.
Julia Ducournau subsequently went on to make the equally controversial Titane (2021), which won her tha Palme d'Or at the Cannes Festival.
---
---