---
France/Belgium/Luxembourg. 2019.
Crew
Director – Christian Volckman, Screenplay – Eric Forestier & Christian Volckman, With the Collaboration of Gaia Guasti, Sabrina Karine & Vincent Ravalec, Adaptation/Dialogue – Eric Forestier, Producers – Jacques-Henri Bronckart, Lilian Eche, Yael Fogel, Laetitia Gonzalez, Christel Henon & Gwennaelle Libert, Photography – Reynauld Capurro, Music – Raf Keunen, Visual Effects – Mikros (Supervisor – Philippe Frere) & Onyx Lux 3D, Prosthetic Makeup Designer – Oriane De Nieve, Art Direction – Bernard Coyette & Francoise Joset. Production Company – Elle Driver/Les Films du Poisson/Versus Production/Bidibul Productions/Voo/Be tv/Canal+/Cine+/Film Fund Luxembourg.
Cast
Kevin Janssens (Matt DeWitt), Olga Kurylenko (Kate), Francis Chapman (Shane Teenager), John Flanders (John Doe), Joshua Wilson (Shane Child)
---
Plot
Husband and wife Matt and Kate buy a house in upstate New York. While renovating, they uncover a room that has been walled over. Matt makes the discovery that whatever he wishes for while in the room is made manifest. He and Kate entertain themselves by wishing up money, alcohol, clothing and copies of famous artworks. They discuss having the child they have never been able to do. Matt is them shocked to return home and find that Kate has used the room to manifest a child. While she lavishes affection on Shane as they name him, Matt cannot bring himself to treat it as human. Matt then makes the discovery that any object created in the room that is taken outside the house will age and crumble to dust. He tries to stop Kate taking Shane outside – the brief exposure is enough to age him into a teen. Matt locks the room off while Kate keeps inventing reasons to prevent Shane from going outside. However, this causes their home life to descend into a nightmare.
---
French director Christian Volckman made an impressive debut a few years ago with Renaissance (2006), a Cyberpunk film shot entirely in the motion capture process with the animation rendered in two-tone black-and-white. The surprise is that Volckman has waited for thirteen years to make another film The Room, also making the move into live-action.
There have been various films on the subject of wishes before, mostly in the realm of light fantasy works about genies and magic lamps or inanity like The Brass Teapot (2012). Most of these deal with the idea of the cursed wish but never go much beyond people being caught in a nightmare of literalistic interpretation of the wording or unforeseen consequences.
Few of these films delve into the horror side of this. One that did and comes the closest to The Room was Gate II (1990). What you are most reminded of is the classic tale The Monkey's Paw (1902) by W.W. Jacobs, which has had several not very well known film adaptations, about a couple who receive a titular artifact that comes with three wishes and uses it to bring their late son back from the dead.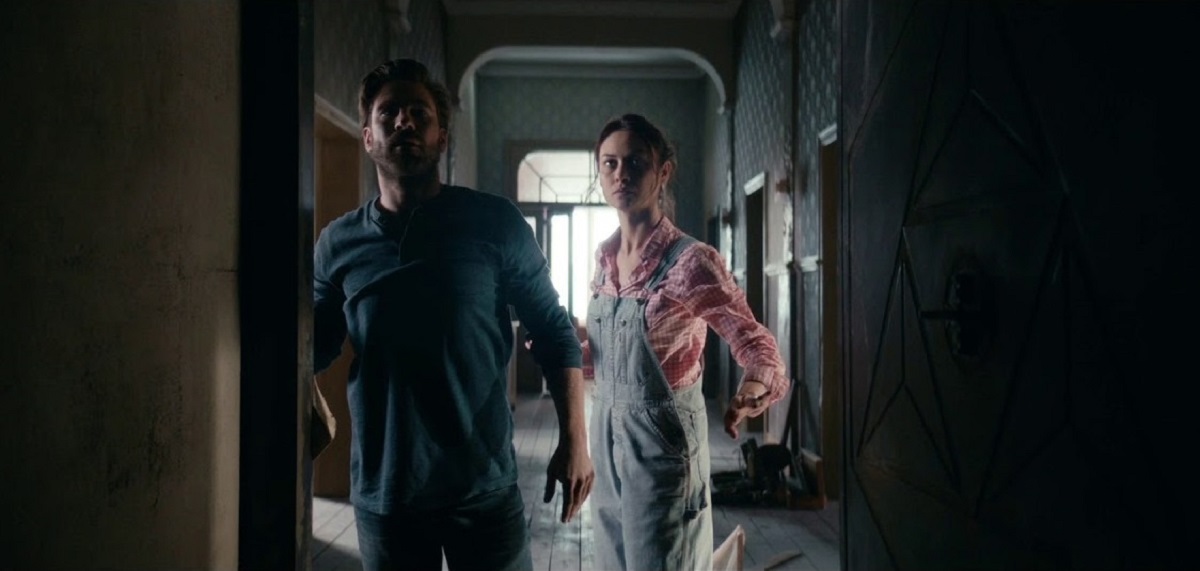 We get some initial montages with Kevin Janssens and Olga Kurylenko partying and going wild with money, alcohol and artwork, even manifesting spacesuits. It is not long before this starts to turn dark. As soon as Shane is 'born', Volckman creates a superb sense of dread, of unspeakable things about to happen. The film comes with a series of twists and turns that are constantly playing into this. The various actors playing Shane do so with just the right degree of fresh-faced normalcy and indefinable wrongness that you cannot quite place a finger on. The climax of the film gets maybe excessively complicated with doppelgangers of Kevin Janssens, an entire copy of the house inside the forest and everything turning into an M.C. Escher-esque realm but the journey is an uncommonly good one.
The film comes with the unfortunate choice of title that cannot help but draw comparison (confusion?) to Tommy Wiseau's bad movie classic The Room (2003) – or perhaps even the superb Brie Larson abduction film Room (2015).
---
---