(A l'Interieur)
---
Crew
Directors – Alexandre Bustillo & Julien Maury, Screenplay – Alexandre Bustillo, Producers – Verane Frediani & Franck Ribiere, Photography – Laurent Bares, Music – Francois-Eudes Chanfrault, Visual Effects – BR Films (Supervisor – Rodolphe Gugliemi), Pyrotechnic Special Effects – Daniel Lenoir, 3D Baby – Mac Guff (Supervisor – Xavier Duval), Makeup Effects Supervisor – Jacques-Olivier Molon, Art Direction – Marc Thiebault. Production Company – La Fabrique de Films/BR Films/Canal+/Cinecinema/Cofinova 3/Soficinema/Uni Etoile.
Cast
Alysson Paradis (Sarah Scarangelo), Beatrice Dalle (The Woman), Francois-Regis Marchasson (Jean-Pierre Montevant), Natahlie Roussel (Louise Scarangelo), Ludovic Berthillo, Nicolas Duvauchelle & Emmanuel Lanzi (BAC Policemen), Aymen Saidi (Abdel), Dominique Frot (The Nurse), Claude Lule (The Doctor)
---
Plot
The pregnant Sarah Scarangelo survives a car crash in which her husband Mathieu is killed. Released from hospital, she returns home. A woman knocks at the door asking to use the phone and demands to be let in, seeming to know who Sarah is. Sarah instead calls the police but the woman has gone by the time they arrive. Later that night, the woman enters the house while Sarah sleeps and tries to attack her with a pair of scissors. Sarah barricades herself in the bathroom as the woman tries to force her way in. As various sources of hope come to the house, the woman attacks them all, determined to get Sarah's baby.
---
Inside was a directorial debut for French directing duo Alexandre Bustillo and Julien Maury. The two subsequently went on to make the likes of Livide (2011) and Among the Living (2014), the Texas Chainsaw Massacre prequel Leatherface (2017), Kandisha (2020) and The Deep House (2021), as well as the X is for Xylophone segment of ABCs of Death 2 (2014).
Inside was part of a spate of French films that all came out around the same period – including High Tension (2003), Sheitan (2006), Them (2006), Frontier(s) (2007) and Martyrs (2008) – that was nicknamed 'French Extremism'. This was also around the same time as the term 'Torture Porn' had just been coined by English-language writers. Inside quickly gained great word of mouth for its extreme content. Even in the US, there ended up being a version released for dvd that was shorn of some seven minutes of running time.
Inside falls into the genre of pregnancy horrors. Unlike Rosemary's Baby (1968) et al, which are about women fearing that the embryo inside them is something diabolically fathered, this far more viscerally has the pregnant woman fleeing from a mystery woman (listed only as 'La Femme' on the credits) who wants to tear the baby out of her womb. Inside is trimmed of almost all but a few introductory scenes that set up what happened to Alysson Paradis (the younger sister of Vanessa Paradis) and who the supporting characters that turn up throughout are. After this, Bustillo and Maury get down to the business of brutalising our sensibilities.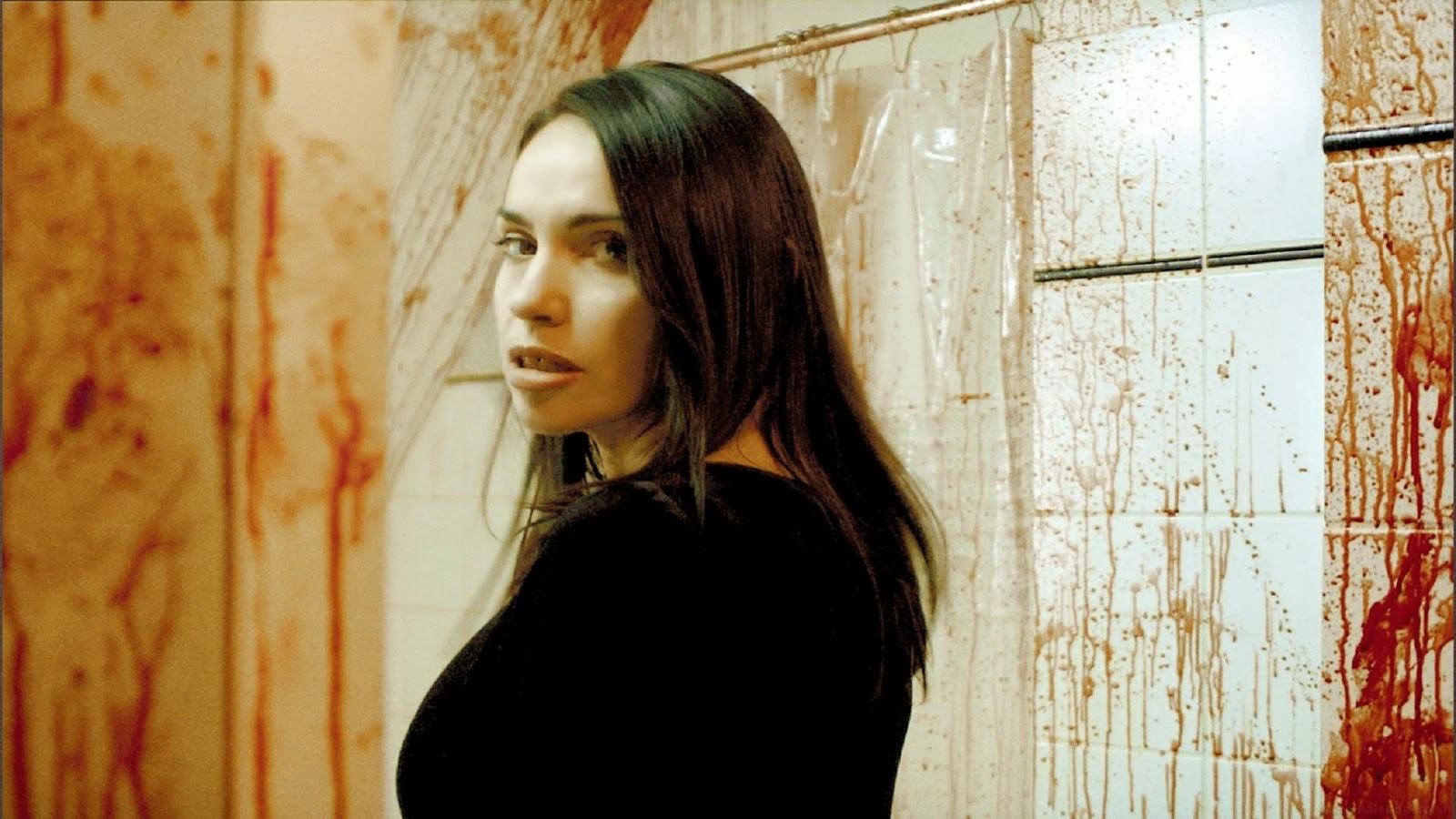 This is a film that has no reservations about piling the screen knee-deep in gore. Bustillo and Maury's tone is grim and nasty in a full Torture Porn vein. The bulk of the film, from about the point where Alysson Paradis is woken in the middle of the night by Beatrice Dalle with a pair of scissors, has been construed as a series of tight, corkscrew twists as Alysson barricades herself in the bathroom, tries to escape and get help as various people come to her door. These scenes have a brutal savagery. Towering over the film is the fierce presence of Beatrice Dalle, outfitted simply in a long black dress, who has never seemed more alluring and deadly in any of her performances as she is here.
The film reaches an almost impossible to watch climax with [PLOT SPOILERS] one of the surviving cops accidentally belting Alysson Paradis in the belly, causing her to go into labour, only for the baby to become stuck halfway out and Beatrice Dalle pinning Alysson to the stairs and trying to cut it out of her with a pair of scissors.
Inside (2016) was a Spanish-made English-language remake starring Rachel Nichols in the Alysson Paradis role and with Laura Harring as The Woman.
---
---