(Secuestrados)
---
Crew
Director – Miguel Angel Vivas, Screenplay – Javier Garcia & Miguel Angel Vivas, Producers – Emma Lustres & Borja Pena, Photography – Pedro J. Marquez, Music – Sergio Moure, Digital Effects Supervisor – Juanma Nogales, Art Direction – Miguel Riesco. Production Company – Vaca Films/Blur Producciones S.L./La Fabrique 2/Media/Television de Galicia/Xunta de Galicia
Cast
Fernando Cayo (Jaime), Manuela Velies (Isa), Ana Wagener (Marta), Guillermo Barrientes (Young Raider), Dritan Biba (Head Raider), Martijn Kulper (Strong Raider), Xoel Yanez (Cesar)
---
Plot
Businessman Jaime, his wife Marta and teenage daughter Isa settle in for their first night in their new home. Their peace is abruptly shattered by three hooded men who burst in and make them prisoner, threatening violence whenever they do not do what they are told. Jaime is forced to drive to an ATM machine and withdraw the maximum amount of money from their accounts. Held hostage, the women seek to escape or get help from those that come to the door but these are met with brutal reprisals.
---
Kidnapped is a Spanish thriller that did rounds of various international horror films and attained a reasonable degree of acclaim. It is the second feature-length film for Spanish director Miguel Angel Vivas who previously made the little-seen thriller Reflections (2002).
Kidnapped is like a classic hostage/home invasion thriller – one is particularly reminded of The Desperate Hours (1955) and Desperate Hours (1990) – albeit reworked with the violent extremism of 00s European cinema – films like The Ordeal (2004), High Tension (2003), Sheitan (2006), Them (2006), Frontier(s) (2007), Inside (2007), King of the Hill (2007) and Martyrs (2008). Maybe you could also draw some comparisons between the home invasion by masked figures nightmare of the then-recent US-made The Strangers (2008).
Miguel Angel Vivas keeps the pace tight, running a tension-filled rollercoaster ride through the constant escapes, hopes, and twists as people unexpectedly turn up and in the opportunities that come to outsmart the mysterious never-explained intruders. Vivas shoots the entire film with handheld camerawork (although Kidnapped cannot be considered a work of Found Footage cinema). This gives Kidnapped an undeniable raggedly raw feel once the brutality kicks in. Vivas also uses novel split-screen techniques to show aspects of the drama from multiple viewpoints at times. There is a pounding but melodic techno score laid over everything that keeps the action moving at a high tension. The film does eventually hold a reasonably brutal kick to it.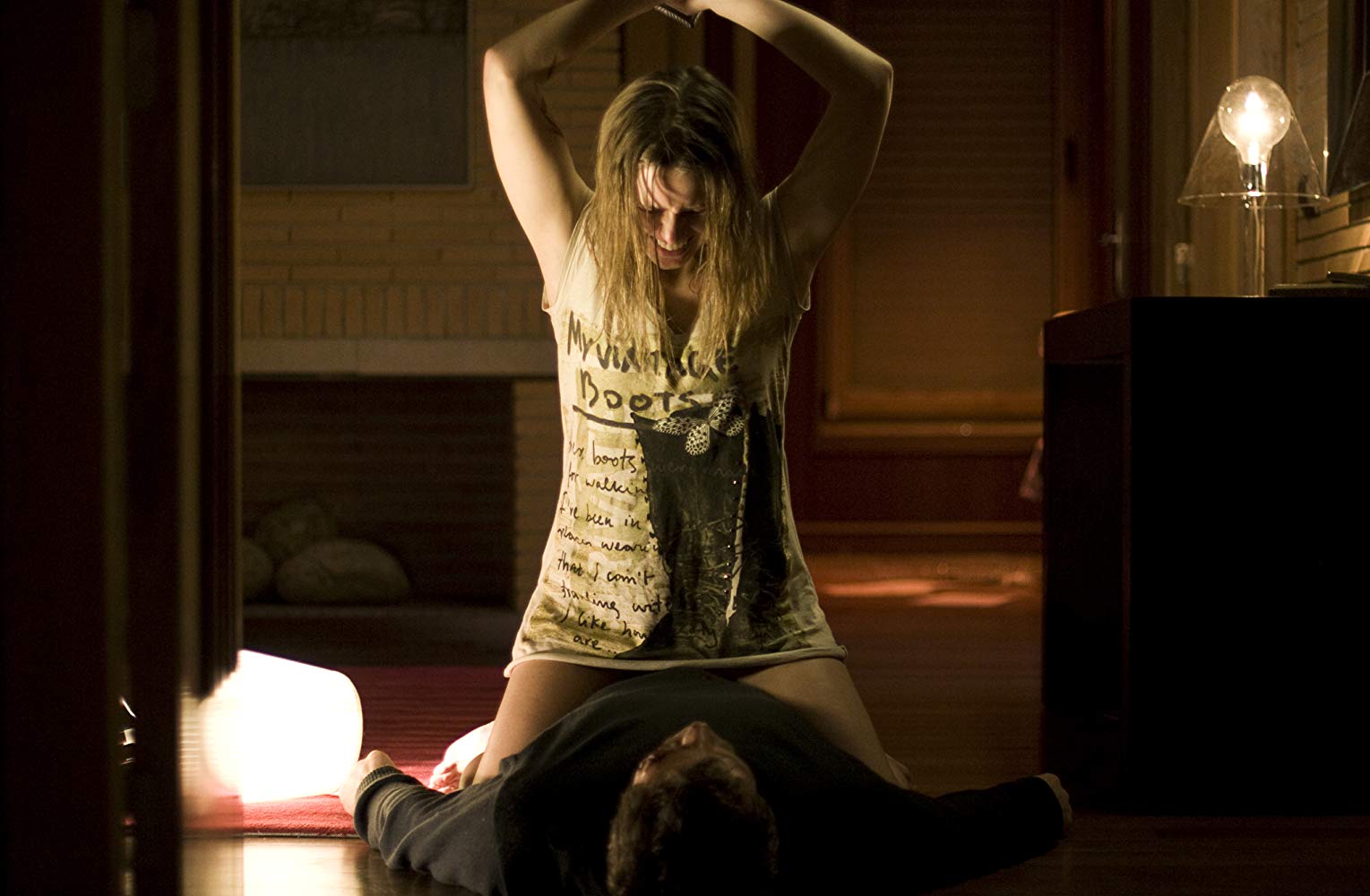 On the other hand, the brutality here pales in comparison to anything dealt up in many of the aforementioned works. Miguel Angel Vivas pushes things to a reasonable level but never anything that is truly original, nor has one squirming in their seats at the sadistic nastiness of it. The film eventually reaches a moderately brutal Everybody Dies ending, although it feels like a nihilistic move of stunning pointlessness. It makes Kidnapped into a film where empathy for any of the minimally sketched characters is without point, all that we have is a visceral ride of brutality and tension that is meant to be enjoyed for its own sake without any reward for our engagement. It feels more like a constructor set of scenarios and choices that you might make in a videogame, rather than an emotionally engaging thriller.
One of the other puzzling aspects of the film is the opening. This begins on the arresting image of a man abandoned on the side of the road with a plastic bag over his head, he getting up, wandering onto the road and being hit by a car, where he is freed and manages to call home only to be told "they're here." We expect this to be a flashback from the point-of-view of Fernando Cayo who we are introduced to in the next scene, where the rest of the film would tell the events leading up to that point and show him trying to prevent the attackers from torturing his family, but this turns out not to be the case after all and the prologue is unrelated to anything that subsequently happens. Exactly how it fits in does prove to be a head-scratching puzzle, where you can only assume that it is there solely for the purpose of providing an undeniably strong dramatic opening hook, but is ultimately a blatant red herring thrown in without any intention of ever resolving the issues raised.
Miguel Angel Vivas subsequently went on to direct the zombie film Extinction (2015) and the English-language remake of Inside (2016) about a stalked pregnant woman.
---
---