Spain/USA. 2017.
Crew
Director – Brian Goodman, Screenplay – Marc Frydman & Justin Stanley, Based on the Film Papillon Noir by Herve Korian, Producers – Monika Bacardi, Alberto Burgueno, Marc Frydman, Andrea Iervolino, Alexandra Klim. Rod Lurie, Silvio Muraglia & Juan Antonio Garcia Peredo, Photography – Jose David Montero, Music – Federico Jusid, Visual Effects Supervisor – Peter Nalli, Special Effects Supervisor – Renato Agostini, Production Design – Michael Fissneider. Production Company – Paradox Studios/Elipsis Capital/Battleplan Productions/Ambi Media Group/Premiere Pictures.
Cast
Antonio Banderas (Paul Lopez), Jonathan Rhys Meyers (Jack), Piper Perabo (Laura Johnson), Vincent Riotta (Lieutenant Carcano), Brian Goodman (Truck Driver/Agent Rothwell), Abel Ferrara (Pat)
---
Plot
Paul Lopez is a successful Spanish writer who emigrated to the US and now lives in the Colorado countryside. Since his wife left, Paul has been in a creative decline, producing scripts that nobody is interested in buying. He has slumped into alcoholism and is in bad financial straits. All around the area, a serial killer has been preying on women. Driving into town, Paul encounters a truck driver who dominates the road. This ends in a confrontation between him and the angry driver at a diner but a stranger intervenes and bodily drags the driver outside. Later Paul sees the stranger hitch-hiking and gives him a ride and then offers to let him stay in his spare room. The stranger Jack, who says he has just come out of prison, offers handyman help around the house. Seeing Paul's slump, he tries to inspire him to write a new work based on the two of them meeting. However, as other people come to visit, Jack turns violent, making Paul his prisoner.
---
Black Butterfly is a English-language remake of Papillon Noir (Black Butterfly) (2008), a French tv movie that starred Stephen Freiss as the writer living alone and Eric Cantrona as the mysterious stranger who enters his life. The film remake is a Spanish production directed by Brian Goodman, a US actor who has been working since the 1990s and has appeared in films such as The Fast and the Furious: Tokyo Drift (2006) and had regular parts in tv shows such as 24 (2001-10), Lost (2004-10) and Chance (2016-7). Goodman can also be spotted here in a small part as the belligerent truck driver who confronts Antonio Banderas in the diner. Goodman had previously directed the drama What Doesn't Kill You (2008). The film certainly establishes its indie cred by getting in acting appearance of Abel Ferrara, the director of The Driller Killer (1979), Bad Lieutenant (1992) and The Addiction (1995), as the town's store owner.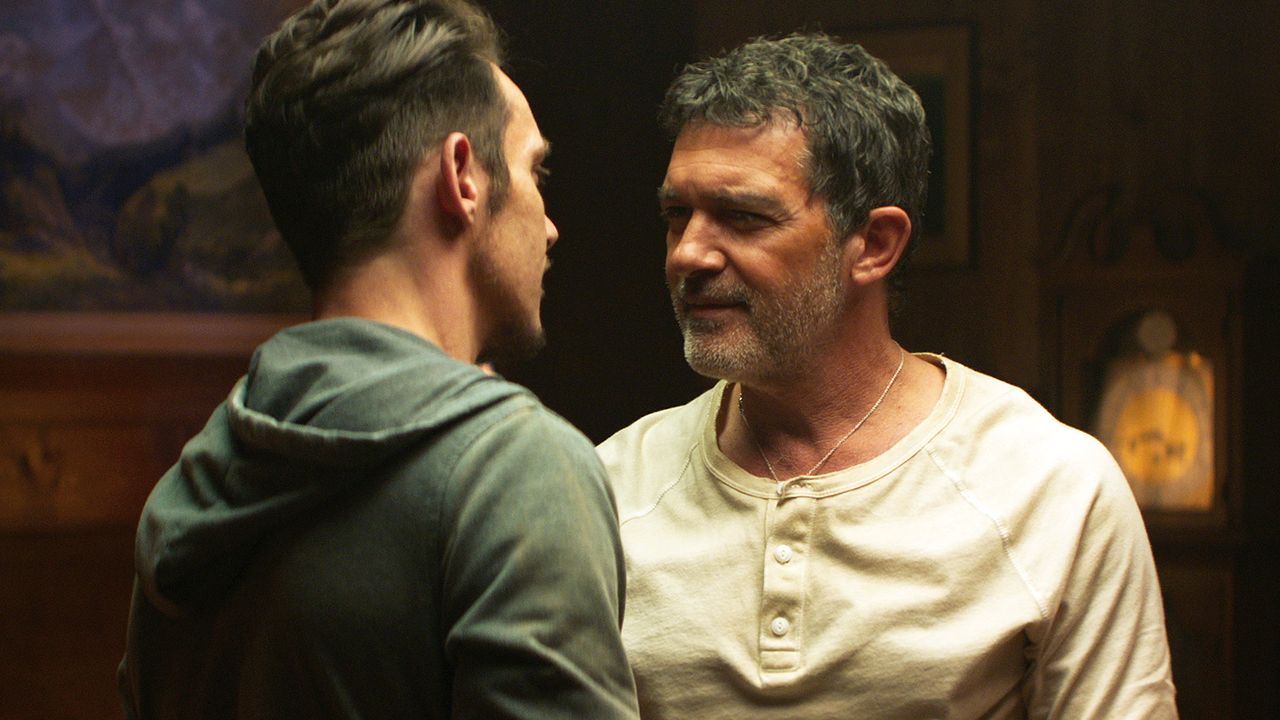 You know from the outset that any film that starts with the premise of the writer isolated and alone, especially in a cabin in the woods, does not have good prospects in mind. From The Shining (1980) through works like Barton Fink (1991), Evil Eyes (2004), Secret Window (2004), Final Draft (2007) and Tilt (2017), the isolation and a creative block has always added up to a state of mind that requires very little to push it over into full-blown madness. Other works like Reaper (1998) and Secret Window have also had their writers engaged in and/or suspect of a series of serial killings around the area.
What I was expecting as Black Butterfly pits Antonio Banderas and Jonathan Rhys Meyers together in the cabin was a battle of psychological wills akin to something like The Nature of the Beast (1995). Or perhaps the nearest equivalent to this, the underrated The Caller (1988) in which two strangers come together in a series of psychological manoeuvrings around one another as the secrets they hold come to the fore.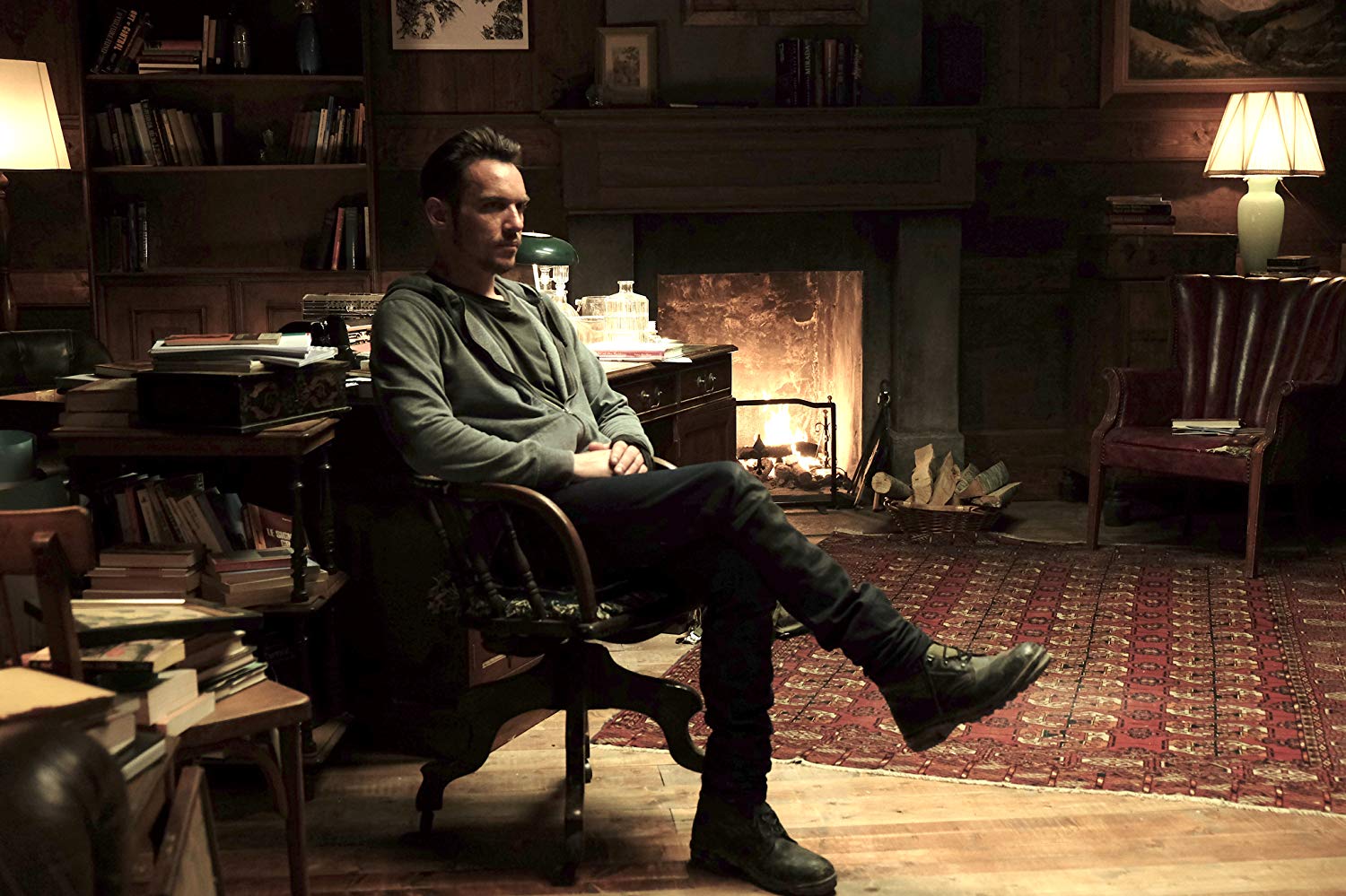 Black Butterfly starts out in that direction. Jonathan Rhys Meyers enters the picture with a dangerous surliness and the film starts to build the head of steam as he settles in around the house and starts trying to inspire Antonio Banderas out of his writer's slump by getting them to write a work together and suggesting it be about the two of them. BUT Brian Goodman then goes and blows it. Within the space of a single scene, we have gone from the start of the psychological manoeuvring to Rhys Meyers grabbing a shotgun and keeping Antonio Banderas and then Piper Perabo prisoners in the house. The abrupt lurch from psychological games to what is no more than a standard home invasion thriller is jarring, not to mention a disappointing crashing of the film's premise.
The most bizarre of the turns comes with the introduction of the left field twist reversal. [PLOT SPOILERS] Towards the end, it is abruptly revealed that Jonathan Rhys Meyers is not a sinister stranger with a criminal background who has invaded Antonino Banderas's home but that it is Antonio himself who is the serial killer and that Rhys Meyers is part of an elaborate sting operation by the FBI to trap him into revealing himself. Here we learn that not only has Rhys Meyers' taking over of the house been part of the absurdly contrived set-up but that his apparent murder of two people including the sheriff, his appearance at the diner and hitching along the road – even the truck driver that tried to run Antonio off the road and started a contretemps at the diner, plus Piper Perabo's estate agent that Antonio has started trying to date – are all part of the sting operation too. (We even get flashbacks that show how all of this was staged). This is followed by an end coda that renders this twist meaningless where we then discover that all of this was simply part of the novel that Antonio Banderas was writing.
---