---
Crew
Director – Darren Lynn Bousman, Screenplay – Scott Milam, Based on the Screenplay Written by Charles Kaufman & Warren Leight, Producers – Brett Ratner, Richard Saperstein, Jay Stern & Brian Witten, Photography – Joseph White, Music – Bobby Johnston, Visual Effects – Switch VFX (Supervisor – Jon Campfens), Special Effects Supervisor – Allen Benjamin, Makeup Effects Supervisor – Francois Dagenais, Production Design – Anthony Ianni. Production Company – Lighttower Entertainmen/Widget Films/Sierra Pictures/Rat Entertainment/Genre Company.
Cast
Rebecca De Mornay (Natalie Koffin), Jaime King (Beth Sohapi), Patrick Flueger (Ike Koffin), Shawn Ashmore (George Barnum), Warren Kole (Addley Koffin), Deborah Ann Woll (Lydia Koffin), Frank Grillo (Daniel Sohapi), Kandyse McClure (Gina Jackson), Lyriq Bent (Treshawn Jackson), Briana Evigan (Annette Langston), Tony Nappo (Dave Lowe), Matt O'Leary (Johnny Koffin), Lisa Marcos (Julie Ross), Mike O'Brien (Office Skay), Jessie Rusu (Melissa McGuire), Alexa Vega (Jenna – Party Girl), A.J. Cook (Vicki – Party Girl)
---
Plot
In Stonewall, Kansas, Daniel and Beth Sohapi have invited three other couples over to their new home for a party. The house is then abruptly invaded by the three Koffin brothers, who are wanted fugitives for a string of bank robberies across the state. This was their former home and they are not aware that their mother lost the house in a mortgage repossession. They take the group hostage. The youngest brother Johnny has been shot and one of the group, George, is forced to provide medical attention. The boys' mother arrives and takes charge of the situation. Realising that the boys' sent the proceeds of their bank robberies to the house believing that she was still living there, she has the boys torture and brutalise the group to find where the money is.
---
This is another amid the 2000s spate of films that have remade just about every mildly well known horror film of the 1970s and 1980s. Others amid these have included The Texas Chainsaw Massacre (2003), Toolbox Murders (2003), Willard (2003), Dawn of the Dead (2004), The Amityville Horror (2005), Assault on Precinct 13 (2005), The Fog (2005), Black Christmas (2006), The Hills Have Eyes (2006), The Omen (2006), Sisters (2006), When a Stranger Calls (2006), The Wicker Man (2006), Halloween (2007), The Hitcher (2007), April Fool's Day (2008), Day of the Dead (2008), It's Alive (2008), Long Weekend (2008), Prom Night (2008), Friday the 13th (2009), The Last House on the Left (2009), My Bloody Valentine (2009), Night of the Demons (2009), Sorority Row (2009), The Stepfather (2009), And Soon the Darkness (2010), The Crazies (2010), I Spit on Your Grave (2010), A Nightmare on Elm Street (2010), Piranha (2010), Don't Be Afraid of the Dark (2011), Fright Night (2011), Straw Dogs (2011), The Thing (2011), Maniac (2012), Carrie (2013), Evil Dead (2013), Patrick (2013), Poltergeist (2015), Suspiria (2018), Child's Play (2019), Jacob's Ladder (2019), Pet Sematary (2019), Slumber Party Massacre (2021), Firestarter (2022) and Hellraiser (2022). (For a more detailed listing see Films That Were Remade and Remakes)..
In this case, the original Mother's Day (1980) was one of the earliest films to come from the people behind later low-budget production company Troma, subsequently notorious for films such as The Toxic Avenger (1984) and Class of Nuke 'Em High (1986), among numerous others. It was named Mother's Day to capitalise on the fad for holiday themed slasher films that came out after the success of Halloween (1978) and Friday the 13th (1980). In truth though, Mother's Day was not so much a slasher film as one of the backwoods horrors that became all the vogue after Deliverance (1972), The Last House on the Left (1972) and The Texas Chain Saw Massacre (1974).
The remake of Mother's Day comes from Darren Lynn Bousman. Bousman came to attention with his debut film Saw II (2005), followed by the two subsequent sequels in the series, Saw III (2006) and Saw IV (2007). It was Saw III in particular that moved the focus of the series onto the presentation of scenes of extreme torture and dismemberment – what came to be known as Torture Porn. Bousman subsequently went onto make other films such as Repo: The Genetic Opera (2008), 11-11-11 (2011), The Barrens (2012), The Devil's Carnival (2012), Alleluia! The Devil's Carnival (2016), Abattoir (2016), St Agatha (2018), Death of Me (2020) and Spiral: From the Book of Saw (2021), as well as the The Night Billy Raised Hell episode of Tales of Halloween (2015).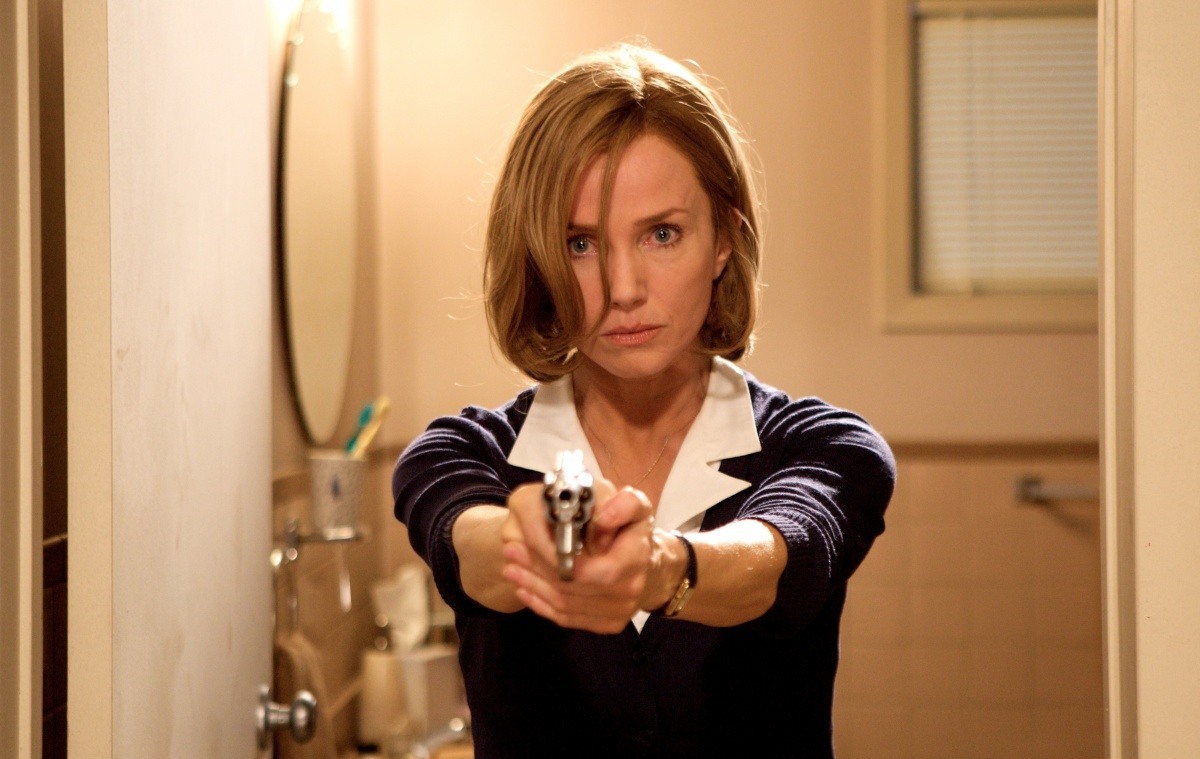 The thing that should be noticeable when comparing the 1980 and the 2010 versions of Mother's Day is that there is very little in common between the two. The original centred around the classic slasher movie characterisations of a trio of girls who went hiking in the woods where they were captured by two psychotic hicks who were urged by their mother to become better killers. It also planted tongue in cheek and didn't take itself seriously, as witness the climax where people are killed by cans of Drano and tv sets impaled on the head.
By contrast, rather than a backwoods thriller, Mother's Day 2010 only ventures out of doors on a handful of occasions and never out of the suburbs – it is more of a home invasion thriller in which four couples are tortured by a group of white trash hicks. Two of the thugs in this film have the same names as the psychos in the original, although there are more members of the family here. Oh and Mother's Day 2010 is a Torture Porn film that takes itself seriously and lacks any tongue-in-cheek elements.
Darren Lynn Bousman is a director almost entirely bereft of style. He is most associated with the Saw films and was the one who transformed the series into a focus around torture scenes. However, when these are removed from a film, as in 11-11-11, all that we have is a tawdry film that lacks anything of interest. With Mother's Day, Bousman is back in his element – finding protracted ways to torture and kill people. There is a constant brutal nastiness to the film – Frank Grillo having his head bashed in with a pool ball; Briana Evigan having boiling water poured into her ears; Tony Nappo's head being blown off with a shotgun.
The film often feels as though Darren Lynn Bousman is setting it up in order to stage Saw-like scenes where people are pushed into situations where they make nasty choices – instead of shooting two girls (Alexa Vega and A.J. Cook) who turn up at an ATM machine, Patrick Flueger forces the two of them to fight at gunpoint and promises to let the one who kills the other go free; when Jaime King is behind the wheel of the car, he forces her to run down a wounded cop; Lyriq Bent and Tony Nappo are forced to fight one another in order to choose which of their women gets killed.
The last thirty minutes of the film consists of a series of brutality scenes run over with a loud and excessively amplified score that provides constant loud slams every few seconds – all of which achieves precisely zero effect at all. There is never any more to Mother's Day than that as a film – no tension, plot twists or character interplay. We do eventually get the characters employing the home implements against their attackers as they did in the original film – a nailgun, vegetables, a meat cleaver, a breadboard – although there is not any sense that the film here is parodying the slasher cycle.
I was never sure how Rebecca De Mornay would hold up in the central role. De Mornay is an actress who came to the fore in particular in the hit Risky Business (1983) but it was her roles as a cold-blooded manipulator and/or killer in films such as And God Created Woman (1988), The Hand That Rocks the Cradle (1992), Never Talk to Strangers (1995) and episodes of The Practice (1997-2004) that she consolidated a reputation. She never became a major star and has faded away from prominence this side of the 2000s. The titular mother here is a role that classic actresses like Shelley Winters or Angie Dickinson would have had a field day with, whereas De Mornay's tendency is less to go larger-than-life than it is to internalise and go ice cold. Nevertheless, she does well in the way that she balances between overfriendliness and an insistence on small homely graces and then without a change of tone switches to invocations of brutal nastiness.
---
---