aka Sombra, the Spider Woman
---
Crew
Director – Spencer G. Bennett & Fred C. Brannon, Screenplay – Franklin Adreon, Basil Dickey, Jesse Duffy & Sol Shor, Photography (b&w) – John MacBurnie, Music Supervisor – Mort Gluckman, Special Effects – Howard & Theodore Lydecker, Makeup – Bob Mark, Art Direction – Fred Ritter. Production Company – Republic.
Cast
Bruce Edwards (Steve Colt), Carol Forman (Sombra), Virginia Lindley (Joyce Winters), I. Stanford Jolley (Dr Jaffa), Anthony Warde (Nick Ward)
---
Plot
The Daily Clarion hires detective story writer Steve Colt to investigate the deaths of a group of scientists working on an atomic rocket development project. Behind the killings is fortune teller Sombra, a spy from an Asian country that is intent on world domination. As Steve discovers, Sombra is attempting to pilfer the secrets of the atomic rocket by luring workers from the project to her fortune-telling parlour and killing them with black widow spider venom when they refuse to cooperate.
---
The Black Widow is a fifteen-chapter serial that blends a potentially torrid mixture of dime detective story, pulp super-science and Yellow Peril. Unfortunately, the only result is an effort that remains forgettably silly. The action is generally lively, even though some of the cliffhangers are unmemorable – the rather banal likes of cars crashing into streams or about to run people over.
Some of the plot devices bend credibility considerably – like the moment when hero Bruce Edwards puzzles over what the word 'Myst–' found scraped on the fingernails of a body means and the heroine jokes that if only he had a crystal ball, which leads to the deduction that it could only mean 'Mystic' and the certainty that the killer could be found by checking the fingerprints of all fortune-tellers.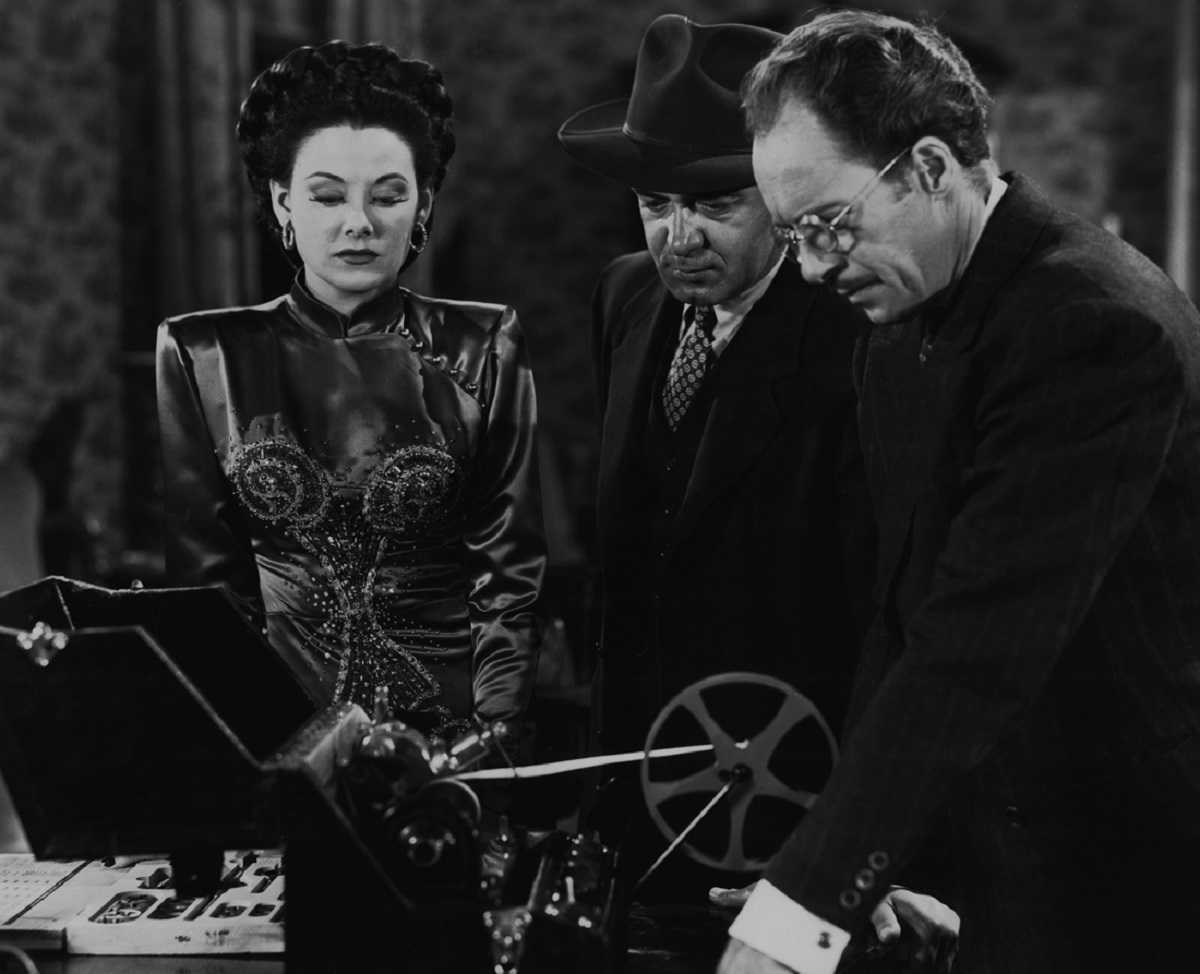 And then there are the villains who try to locate a scientist by a scheme that involves:– kidnapping the heroine and tying her up at her apartment so she can free herself, hear a faked phone-call and then run off to check where the scientist is, thus leading the villains there. The hero's rebuff to this is to lead a thug on a trail, ambush and arrest him but pretend to fall so the thug can get away and then steal the hero's car (instead of taking the thug's own), which has a tracer in it to lead them to the villain's hideout. All is helped by the hilariously flat monotone delivery of hero Bruce Edwards.
The film, along with many other serials, was cut into an edited-for-tv feature version entitled Sombra, the Spider Woman in 1966. Of the two, this is the more disappointing – subplots are frequently forgotten, others taken up halfway through and action brutally curtailed.
---
---