---
Crew
Director – Albert Pyun, Screenplay – Albert Pyun, Regina Davis & Debra Ricci, Producers – Yoram Globus & Menahem Golan, Photography – Tom Fraser, Music – Jim Andron, Steve Le Cassick, Tony Riparetti & James Saad, Visual Effects – Fantasy II, Special Effects Supervisor – John Hartigan, Makeup Effects – Pamela L. Peitzman, Production Design – Pamela Warner. Production Company – Golan-Globus.
Cast
Kathy Ireland (Wanda Saknussemn), William R. Moses (Guten 'Gus' Edway), Thom Matthews (Charmin'), Janie du Plessis (General Rykov/Shank), Richard Haines (Professor Arnold Saknussemn), Simon Poland (Consul Triton Cressus), Lockner De Kock (Professor Ovid Galba/Paddy Mahoney), Deep Roy (Mambino), Don Michael Paul (Robbie), Kristen Trucksess (Stacy)
---
Plot
Wanda Saknussemn is a nerdy, bespectacled waitress living in Los Angeles. Her boyfriend announces that he is leaving her because he is tired of her being afraid of everything. Wanda then receives news that her father, a renowned archaeologist who disappeared several years ago leaving her all alone in the world, is still alive. She flies to Africa in search of his whereabouts. She follows his path through a hole in the wall and finds herself in a bewildering underground world. She falls in with the prospector Gus who takes her to the thriving city of Atlantis. However, once there she becomes hunted by the police force of the totalitarian Atlantean society who see her as an alien from the surface world, a place the Atlanteans only believe to be a myth.
---
Alien from L.A. comes from Albert Pyun, a prolific director of low-budget science-fiction films. (A list of Albert Pyun's other genre films is at the bottom of the page). Alien from L.A. was Albert Pyun's sixth film. Pyun had first appeared with the vigorous sword and sorcery film The Sword and the Sorcerer (1982), which proved to be a modest hit. Immediately after and for a time during the late 1980s, Pyun began to engage in some bizarre cinematic experiments such as Radioactive Dreams (1986), a mix of film noir detective parody and post-holocaust film; the surreal intergalactic girl band film Vicious Lips/Pleasure Planet (1987); and Deceit (1989), which can be politely described as a minimalist science-fiction film about an alien kidnapper that all takes place in an abandoned warehouse.
Not long after this, Pyun began to move towards the creation of various sf/action hybrids, which is where he has had his greatest success. Alien from L.A. comes from Pyun's gonzo period, although is an occasion where he managed to get the backing of producers Menahem Golan and Yoram Globus and their Cannon distribution chain, for whom he also made Cyborg (1989), the first of his kickboxing science-fiction films, and Captain America (1990). Alien from L.A. does not appear to have had much of a theatrical release.
Albert Pyun's films from this 1980s period have a tendency to leave one scratching their head in wondering exactly what was going through his mind at the time. Quite possibly the inspiration for Alien from L.A. came from the then-recent success of Night of the Comet (1984), which reinterpreted the end of the world film as a Valley Girl comedy. With Alien from L.A., Pyun appears to have set out to do the same sort of thing with Journey to the Center of the Earth (1959), a version of which – Golan-Globus's deeply trouble-ridden Journey to the Center of the Earth (1988) – Pyun subsequently uncreditedly stepped in to finish filming (and moreover turned into a sequel to Alien from L.A.). The connection between Alien from L.A. and Journey to the Center of the Earth is made obvious by the naming of Kathy Ireland's heroine Wanda Saknussemn after the explorer who left behind the plumb-bob in the film and Jules Verne novel.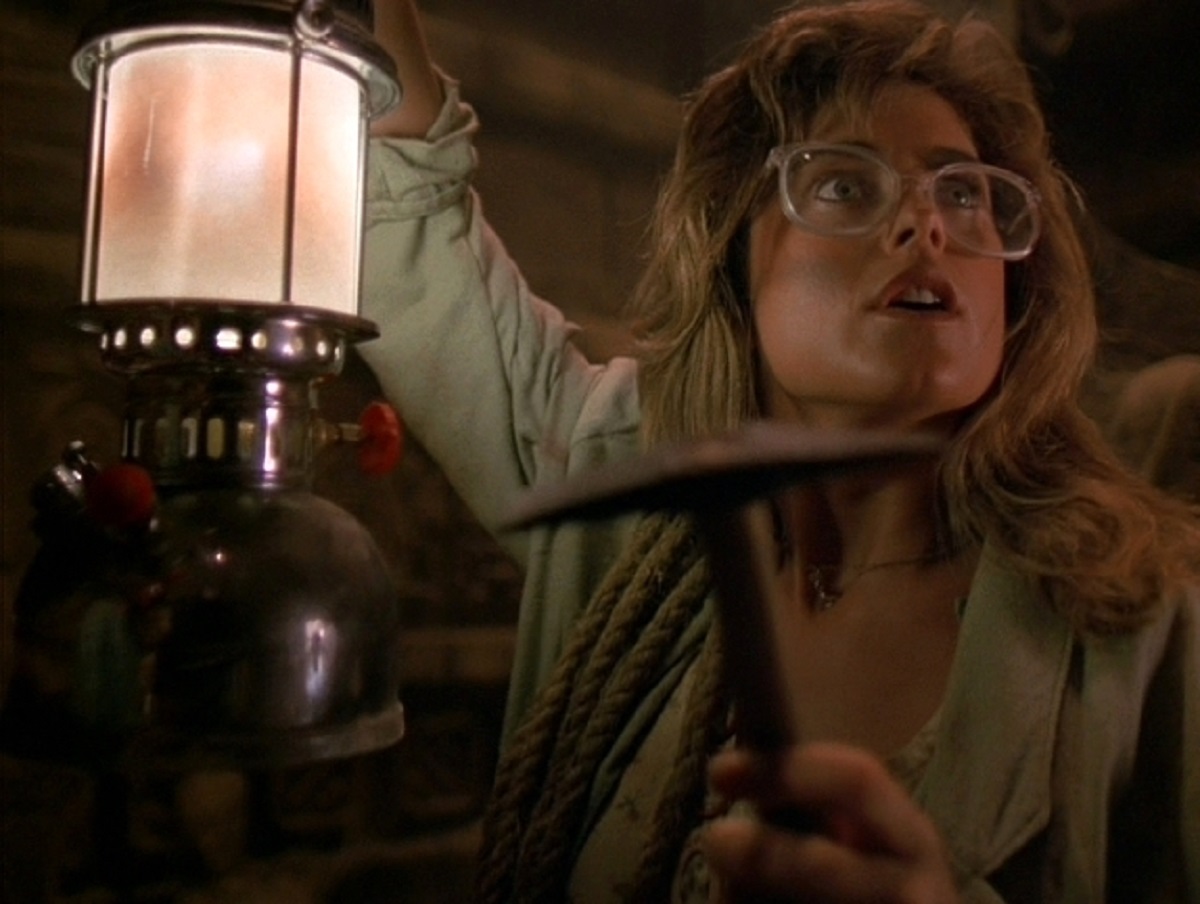 In the lead role, Kathy Ireland's high-pitched voice and bimbo naivete is something that quickly tires and is a part where Ireland does not convince at all. On the other hand, the underground world that Pyun creates is occasionally fascinating. Pyun gives the world a texture and depth – it is full of colour, weirdly costumed and made-up characters, its own idiom and slang – that more than successfully gives the impression of a world that exists beyond the edges of the frame.
On the minus side, Pyun never does anything with this world excepting have Kathy Ireland being chased through it. Moreover, you are never entirely sure if he is trying to give us a Valley Girl parody of Journey to the Center of the Earth or make Alien from L.A. as a straightforward adventure.
One of the more bizarre elements of Alien from L.A. is when Pyun starts trying to turn the film into a fairytale – there is a Prince Charming who turns up, while the adventure is bookended by various "Once Upon a Time" and "And they lived happily ever after" phrases. One can also pick up a reference to Brick Bardo, named after an actor in Ray Dennis Steckler's films, and is a character name that constantly pops up and is referred to in Albert Pyun's films.
Albert Pyun's other films are:– The Sword and the Sorceror (1982), Radioactive Dreams (1986), Vicious Lips/Pleasure Planet (1987), Cyborg (1989), Deceit (1989), Captain America (1990), Dollman (1990), Brain Smasher: A Love Story (1993), Knights (1993), Nemesis (1993), Arcade (1994), Hong Kong 1997 (1994), Heatseeker (1995), Nemesis 2: Nebula (1995), Nemesis 3: Timelapse (1995), Adrenalin: Fear the Rush (1996), Nemesis 4: Death Angel (1996), Omega Doom (1996), Postmortem (1997), Ticker (2001), Infection (2005), Cool Air (2006), Bulletface (2007), Left for Dead (2007), Tales of an Ancient Empire (2010), The Interrogation of Cheryl Cooper (2014) and Interstellar Civil War (2017).
---
---