---
Crew
Director – Jack Donohue, Screenplay – Lowell S. Hawley, Ward Kimball & Joe Rinaldi, Based on the Operatta by Victor Herbert & Glen McDonough, Photography – Edward Colman, Music – George Bruns, Introductory Material & Lyrics – Mel Leven, Orchestration – Franklyn Marks, Choral Arrangements – Jud Colon, Special Effects – Eustace Lycett & Robert A. Mattey, Toy Sequences – Xavier Atencio & Bill Justice, Animation Effects – Joshua Meador, Mattes – Jim Fetherolf, Art Direction – Carroll Clark & Melvin Aubrey Davis. Production Company – Disney,
Cast
Annette [Funicello] (Mary Quite Contrary), Ray Bolger (Barnaby), Tommy Sands (Tom Piper), Ed Wynn (The Toymaker), Henry Calvin (Gonzorgo), Gene Sheldon (Rodrigo), Tommy Kirk (Grummio), Mary McCarty (Mother Goose)
---
Plot
In Toyland, Mary Quite Contrary and Tom Piper are about to marry but the evil Barnaby has designs on marrying Mary to get his hands on her inheritence. Barnaby has two-dimwitted heavies abduct Tom but they sell him to the Gypsies instead of killing him and Tom returns. Mary and Tom then find the castle of the kindly Toymaker in the forest. The Toymaker's assistant has invented a miniaturising ray, which Barnaby uses to reduce them to tiny size in order to force Mary to marry him.
---
Babes in Toyland is adapted from the popular operetta, first produced on the stage in 1903, with score by Victor Herbert and lyrics and Glen MacDonough. This was inspired by the success of the musical version of The Wizard of Oz (1902) and was intended in a similar vein using characters from the Mother Goose fairytales. It had previously been filmed with Laurel and Hardy – Babes in Toyland (1934), an effort which is widely regarded as a classic, and this was the Disney colour remake.
This is a film that has clearly been mounted with the best of intentions, yet also one that sits and quietly dies on the screen. It should have worked. Director Jack Donohue adopts a highly fantastical visual style – night literally falls; the two goons are visually assaulted by the sight of gold issuing forth from Barnaby's piggy-bank; Jack conducts impossible leaps over the candlestick; some of the dialogue is conducted in rhyme. It all takes places in a fantastical, although very clearly stagebound, netherworld that suggests a collision between The Expressionism of The Cabinet of Dr Caligari (1919) and a children's pantomime – Barnaby lives in a castle of crooked angles and wears a stovepipe hat about half the height he is, Gypsies conduct maniacal dance maneuvers around a village that seems constructed like a giant playground set.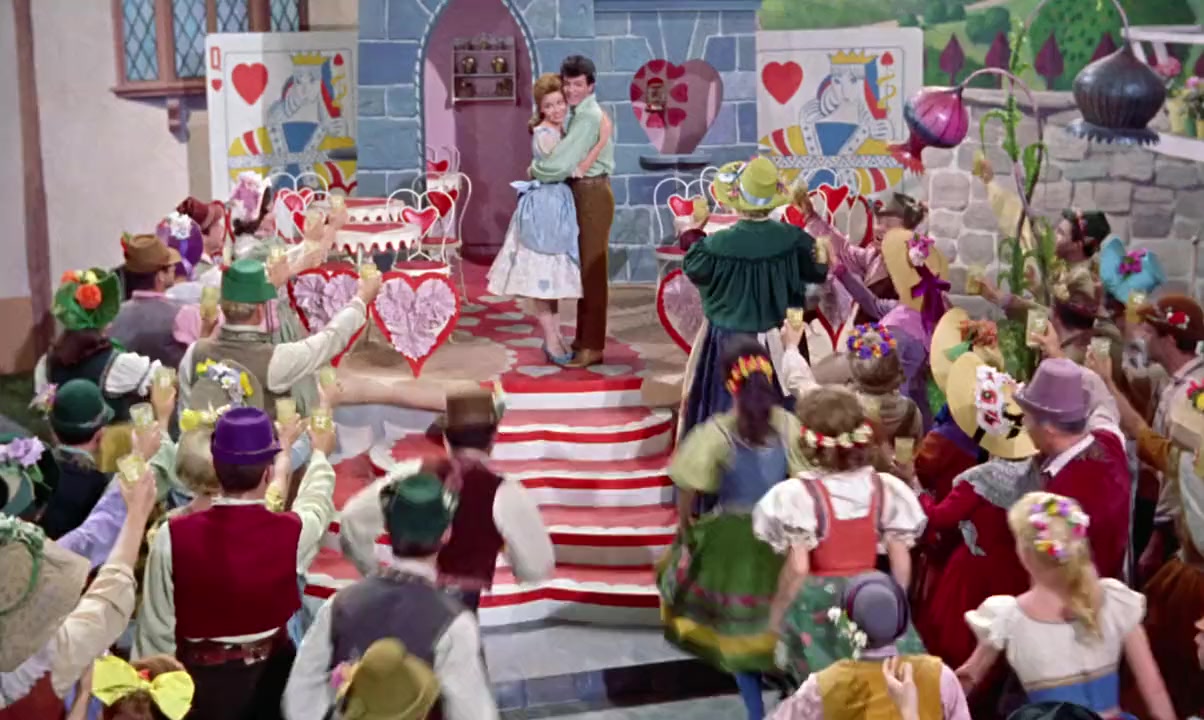 However, it is also an oddly ungainly dinosaur. While Jack Donohue directs with a degree of visual invention, each set-piece remains inert. A sizeable percentage of the show is taken up by the songs and here the film's charms almost entirely get drowned out by the brassiness of the numbers. One sequence that should have come alive – the climatic march of the toy soldiers – fails through poor stop-motion animation, a sequence that is well beneath the usual quality of Disney's in-house effects team. The rest of it is drowned in the sugary family sentiments and banal tomfoolery that became associated with the Disney name – it should be noted, for example, that despite her name Mary is merely Annette Funicello looking sweet and cute and does not act the slightest bit contrary.
Other versions of the story include:– Babes in Toyland (1986), a tv version starring a young Drew Barrymore and Keanu Reeves as Jack, and an animated video release Babes in Toyland (1997) with Christopher Plummer as the voice of Barnaby.
---
Trailer here
Clip from the film here:-
)
---