---
Crew
Directors – Don Bluth & Gary Goldman, Screenplay – Don Bluth, Based on the Fairy-Tale by Hans Christian Andersen, Producers – Don Bluth, Gary Goldman & John Pomeroy, Original Underscore – Barry Manilow & William Ross, Supervising Composer – Barry Manilow, Songs – Barry Manilow, Jack Feldman & Barry Sussman, Supervising Director of Animation – John Pomeroy, Production Design – Rowland Wilson. Production Company – Don Bluth Group of Companies.
Voices
Jodi Benson (Thumbelina), Gary Imhoff (Prince Cornelius), Gino Conforti (Jacquimo), Joe Lynch (Grande), Gilbert Gottfried (Mr Beetle), Carol Channing (Mrs Fieldmouse), John Hurt (Mr Mole), Charo (Mrs Toad)
---
Plot
A poor woman so desires a child that she seeks the aid of a witch. The witch gives her a barley corn that hatches into a tiny child, which the woman names Thumbelina. Growing up, Thumbelina soon desires to know people her own size. One night she meets and is entranced by the passing fairy prince Cornelius. Thumbelina is then abducted by Mrs Toad who wants her to take part in her son's dance act. Escaping, Thumbelina passes through various perils as she tries to find her way back to Cornelius.
---
Don Bluth was an animator who quit Disney in the late 1970s, deploring the studio's betrayal of their classical animation tradition, and determined to set up his own studio. He subsequently made the sublime The Secret of N.I.M.H. (1982), which was indeed a perfect return to the style of classic Disney animation. It was however not a financial success.
Unfortunately, most of Don Bluth's subsequent animated efforts – An American Tail (1986), The Land Before Time (1988), All Dogs Go to Heaven (1989), Rock-a-Doodle (1991), this, A Troll in Central Park (1994), The Pebble and the Penguin (1995) and Bartok the Magnificent (1999) – have failed to live up to the promise of N.I.M.H. and seemed the same – if not even more so – cute but usually banal and uninspired animated efforts that Bluth left Disney deploring. Ironically, not long after Don Bluth left Disney, Disney made their own return to classical animation with efforts like Beauty and the Beast (1991), The Lion King (1994) and The Hunchback of Notre Dame (1996).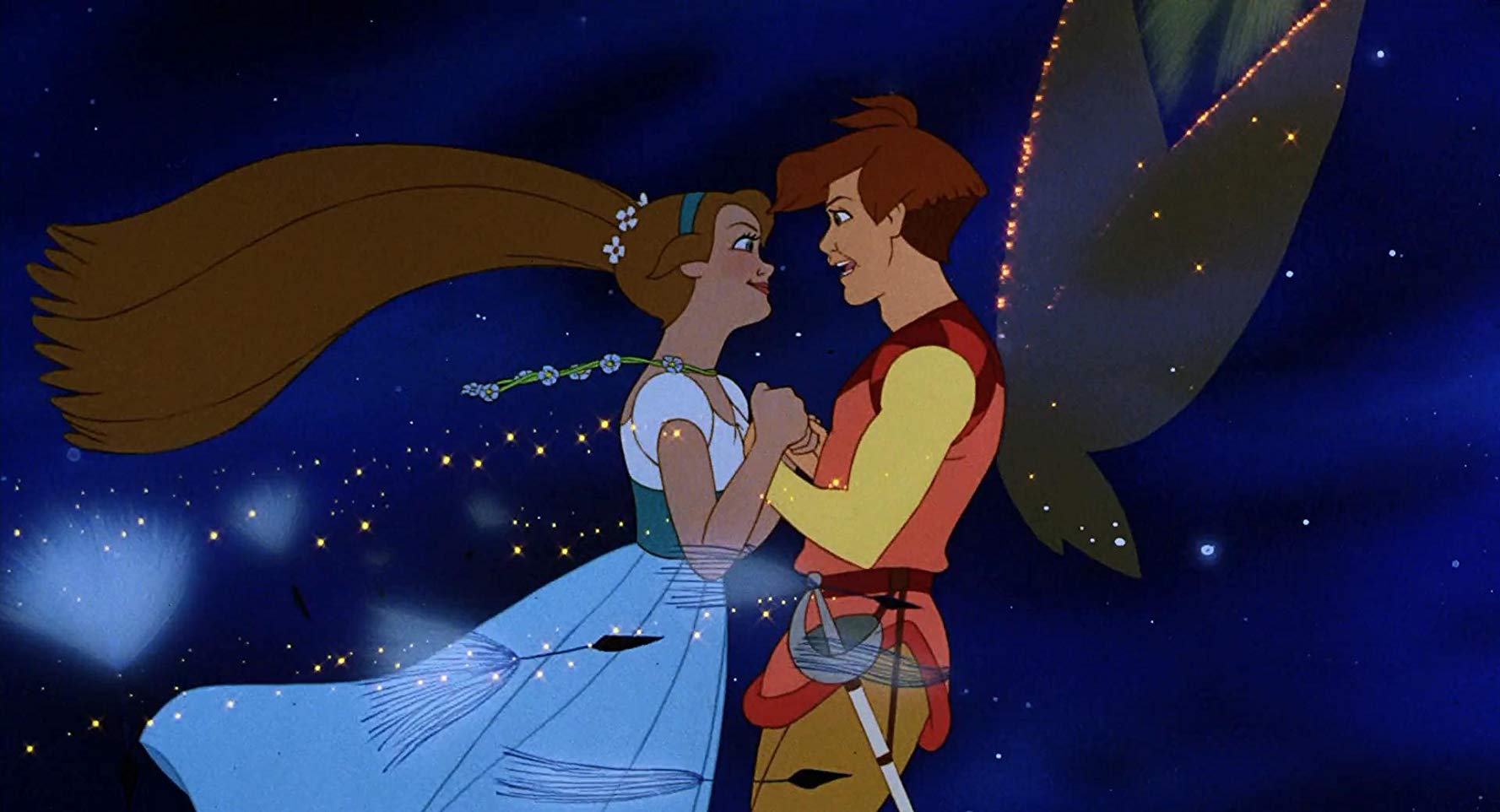 Thumbelina is not a bad animated film in itself. The problem it has is that it falls far too much in the shadow of Disney. Disney, one feels, would have opened the scope of the film out with dazzlingly animated vistas, whereas Don Bluth's horizons remain mediocre and uninspired. The film starts out nicely but the latter half sinks down into a humdrum comic picaresque with Thumbelina encountering various frogs and beetles that want her to dance for them and so on.
Instead of this, the film should have kept one entranced with an epic romantic quest of two separated lovers trying to reunite or else a story of small trying to triumph over insurmountably big odds along the lines of Tom Thumb. Sadly, it is Don Bluth's lack of epic scope that condemns so many of his films to mediocrity.
---
Trailer here
Full film available online here:-
---