---
USA. 1951.
Crew
Directors – Clyde Geronimi, Wilfred Jackson & Hamilton Luske, Screenplay – Milt Banta, Del Connell, Bill Cottrell, Joe Grant, Winston Hibler, Dick Huemer, Dick Kelsey, Tim Oreb, Bill Peet, Erdman Penner, Joe Rinaldi, Ted Sears & John Walbridge, Based on the Novels Alice's Adventures in Wonderland & Alice Through the Looking Glass by Lewis Carroll, Music – Oliver Wallace, Songs – Mack David, Gene De Paul, Sammy Fain, Bob Hilliard, Al Hoffman, Jerry Livingston & Don Raye, Animation Directors – Les Clark, Marc Davis, Norm Ferguson, Ollie Johnston, Milt Kahl, Ward Kimball, Eric Larson, John Lounsbery, Wolfgang Reitherman, Special Processes – Ub Iwerks. Production Company – Disney
Voices
Kathryn Beaumont (Alice), Verna Felton (Queen of Hearts), Ed Wynn (Mad Hatter), Sterling Holloway (Cheshire Cat), Jerry Colonna (March Hare), Bill Thompson (White Rabbit/Dodo), Richard Haydn (Caterpillar), Pat O'Malley(Walrus/Carpenter/Dee and Dum), James MacDonald (Dormouse)
---
Plot
Young Alice follows a white rabbit down a hole into a bewilderingly surreal world filled with strange and eccentric creatures where she engages in adventures at both big and small size.
---
For all the trite, feelgood family formula that the Disney name has become synonymous with, they managed to produce something surprisingly agreeable when they took on the droll absurdism of Lewis Carroll's perennial Alice in Wonderland. The film is a hodgepodge of scenes taken all over the place from both Alice's Adventures in Wonderland (1865) and Through the Looking Glass (1871), as well as others that are outright inventions by the Disney animators. While Disney's Alice in Wonderland irritated the Lewis Carroll purists, it makes for a rather enjoyable film.
For an American film, the characterisation of Alice is spot-on with Kathryn Beaumont making a wonderfully prim and curious but perfectly British Alice. The animation is conducted with an extraordinary liveliness. The deliriously caterwauling visions of some of the Disney films of this era frequently leave one amazed as to exactly what sort of substances it was that half the animation staff seemed to be hooked on. A wander through the woods involves encounters with a range of genuinely bizarre anthropomorphic creations – ducks that are hooters; vultures that are umbrellas; eyeglass and spade shaped birds; a bird that is a bird cage – it eats other birds, which then become prisoners in its cage; another that is a pair of eyeglasses; accordion owls; birds that operate as pieces of chalk for a blackboard; a dog that has a hearth-brush for a face.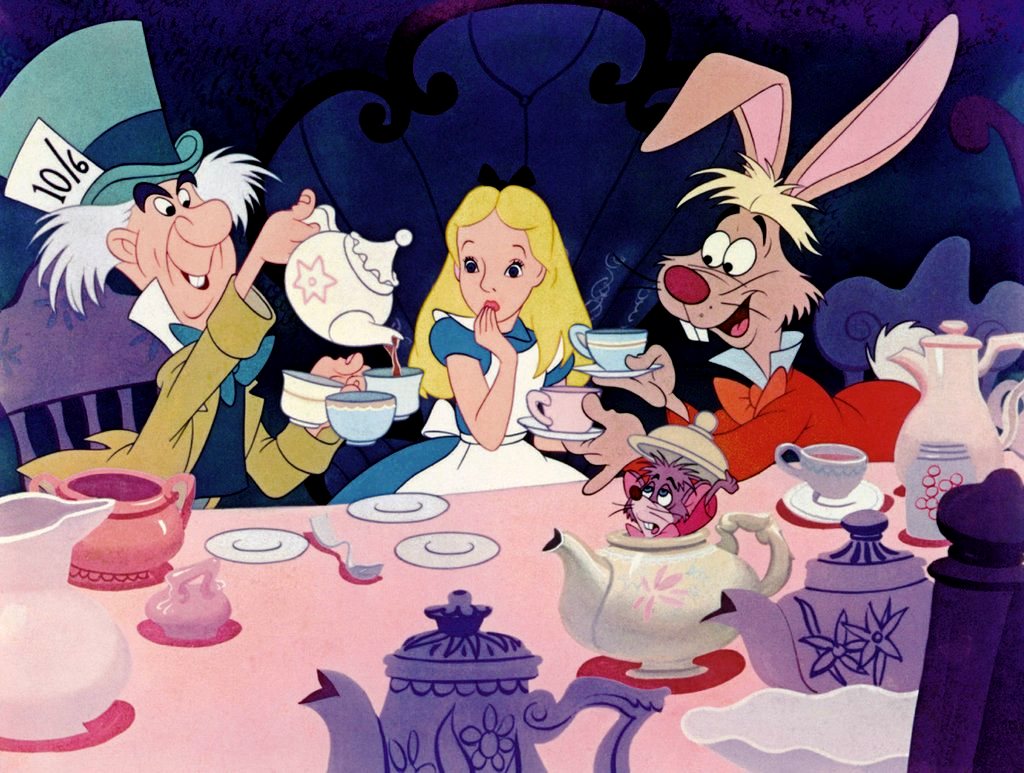 However, it is the Mad Hatter's Tea Party that achieves levels of genuinely demented surrealism – with the Mad Hatter pouring tea via his sleeve, dipping saucers in his cup and eating them, three-tiered teapots for pouring three cups at once, spoutless jugs that have to be broken to drink the tea and (literally) half-cups of tea. The sequence involving the bashing up of, then buttering, spreading jam on and pouring tea into the White Rabbit's pocket watch before handing it back and announcing it is broken is a wonderfully malicious piece of farce.
The film does not always work – the diversion to the telling of the story of the walrus and the carpenter is too brief to have much point, as is an encounter with some talking flowers, while the choral songs are badly dated. Nevertheless, Disney's Alice in Wonderland still holds a great deal of charm.
The other screen adaptations of Alice in Wonderland are:- Alice in Wonderland (1903), a silent British short; Alice's Adventures in Wonderland (1910), a silent American short; Alice in Wonderland (1915); Alice Through the Looking Glass (1928); Alice in Wonderland (1931), the first sound version; Paramount's Alice in Wonderland (1933) with an all-star cast of the day including W.C. Fields, Cary Grant and Gary Cooper; the partly stop-motion animated French Alice in Wonderland (1949); the NBC tv version Alice in Wonderland (1955); the modernised Hanna-Barbera animated tv special Alice in Wonderland, or What's a Nice Kid Like You Doing in a Place Like This? (1966); the NBC tv production Alice Through the Looking Glass (1966); the all-star British film Alice's Adventures in Wonderland (1972) featuring Michael Crawford, Ralph Richardson, Peter Sellers, Spike Milligan and Dudley Moore; the BBC tv production Alice Through the Looking Glass (1974); the Italian tv mini-series In the World of Alice (1974); a 1976 Argentinean film version; a pornographic version Alice in Wonderland (1976); a Spanish film version Alice in Spanish Wonderland (1979); the Belgian film Alice (1982), which features equivalents of the Wonderland characters in the modern world; a US tv production Alice in Wonderland (1982); a US tv version Alice at the Palace (1982) with Meryl Streep as Alice; a BBC musical version A Dream of Alice (1982) with Jenny Agutter as Alice; a British tv series Alice in Wonderland (1985); Irwin Allen's all-star tv mini-series Alice in Wonderland (1985) featuring Roddy McDowall, Telly Savalas and Shelley Winters; a BBC tv series Alice in Wonderland (1986); the animated Alice Through the Looking Glass (1987); having been combined with the Care Bears in the animated The Care Bears Adventure in Wonderland (1987); Jan Svankmajer's bizarrely brilliant Claymation animated Alice (1988); Woody Allen's modernised urban spin Alice (1990); the US tv series Alice in Wonderland (1991); the British tv version Alice Through the Looking Glass (1998) with Kate Beckinsale as Alice and an all-star cast; the Hallmark tv version Alice in Wonderland (1999) with Tina Majorino as Alice and an all-star cast; Alice's Misadventures in Wonderland (2004), a modernised indie film take on the story; Alice (2009), a modernised tv mini-series starring Caterina Scorsone as Alice entering into a dark science-fictional wonderland; Malice in Wonderland (2009), a modernised British film that translates Wonderland into an urban environment; Alice in Murderland (2010), an Alice in Wonderland-themed slasher film; Tim Burton's big budget Alice in Wonderland (2010) and its sequel Alice Through the Looking Glass (2016); Alyce (2011), another modernised urban translation; the modernised tv series Once Upon a Time in Wonderland (2013-4); and The Other Side of the Mirror/Alice: The Darker Side of the Mirror (2016), a dark retelling. Also of note is Dennis Potter's tv play Alice (1965), which explores Lewis Carroll's relationship with Alice Liddell, the young girl who became the model for Alice, and the later film Dreamchild (1985) in which the real-life Alice reminisces back on her memories of Lewis Carroll and the writing of the story.
---
---