---
Crew
Director – Hal Ashby, Screenplay/Based on the Novel by Jerzy Kosinski, Producer – Andrew Braunsberg, Photography – Caleb Deschanel, Music – Johnny Mandel, Makeup – Charles Scram & Frank Westmore, Production Design – Michael Haller. Production Company – Lorimar/Northstar International/CIP-Europäische Treuhand AG.
Cast
Peter Sellers (Chance/Chauncey Gardener), Shirley MacLaine (Eve Rand), Melvyn Douglas (Benjamin Rand), Richard Dysart (Dr Robert Allenby), Jack Warden (The President), Dave Clennon (Thomas Franklin)
---
Plot
Following the death of his elderly employer, the gardener Chance, who has lived inside the old man's house all his life, is turned onto the street by the lawyers. However, Chance is a complete innocent who has never been into the outside world before. While wandering the streets, Chance is accidentally hit by the limousine containing Eve Rand, the wife of millionaire Benjamin Rand. Concerned, she takes Chance home. As he recovers, Chance's simple-minded ways of relating everything to the garden are taken as brilliant metaphors for the economy by Rand. When Rand brings The President in to listen to Chance and The President quotes him, Chance suddenly becomes a celebrity.
---
This gentle, clever satire contains the penultimate performance of Peter Sellers who died in 1980, seven month after the film was released. For a man who once claimed that he had no identity outside of his roles, it makes for a fitting final tribute to Sellers. Some have argued it is the best of all of Sellers's performances and he received an Academy Award nomination for the part. (Sellers' last effort was the occasionally amusing The Fiendish Plot of Dr Fu Manchu (1980), which is considered best forgotten by most Sellers fans who prefer to let their memories of the comic genius go out on Being There).
Jerzy Kozinski's 1971 novel was already a cult book when Peter Sellers read it and shepherded it into production. To further this, he brought Kozinski on board to write the adaptation and the eccentric Hal Ashby, who made hits of the era like Harold and Maude (1971), The Last Detail (1973) and Shampoo (1974), as director.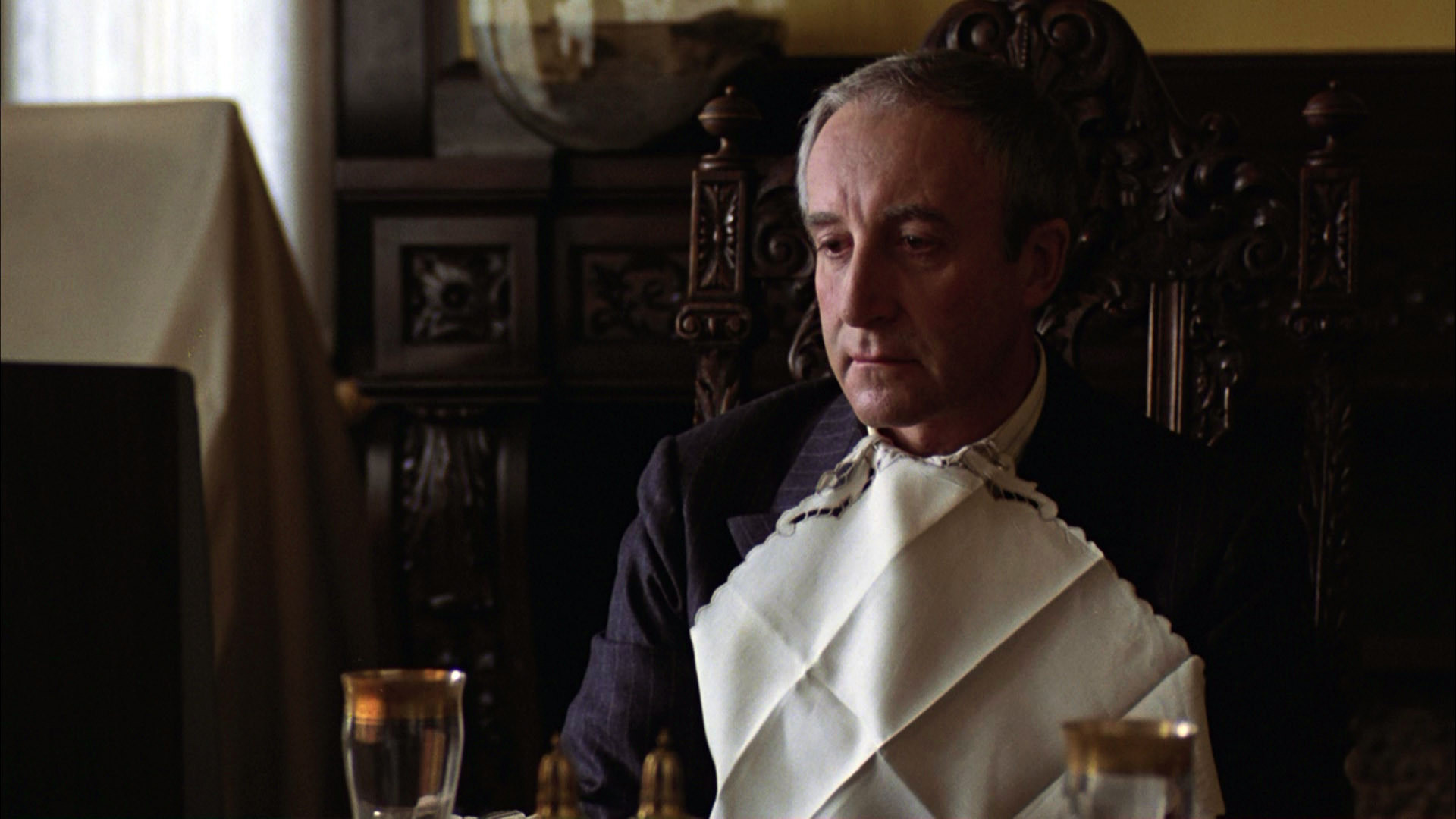 Kozinski has construed the role of Chauncey Gardener as a perfectly blank existential question mark. The running gag in the film is that Chance reacts to everything with complete innocence. He is like a sponge who absorbs culture around him and mirrors it back while people project onto what he is saying and claim he is a genius – indeed, the film's media satire is far more relevant today than it was when Being There came out. Peter Sellers steps into the part with the blankness of a newborn child and delivers a beautifully measured performance.
You could draw analogies between Being There and Candy (1968), which was supposedly a film about a complete innocent moving through various facets of society. Being There could be what Candy attempted to do before getting sidetracked into a bloated, self-indulgent flop. Of course the other film that you cannot help but compare Being There to is Forrest Gump (1994) – both have simple-minded central characters offering epithets that are taken as profundity or inspiration by others, unwittingly propelling the character to celebrity. Forrest Gump is much more simple-minded and sentimental – indeed, you could almost argue that Forrest Gump is a film that conducted a Chauncey Gardener on its audience in offering up simple-minded sentimentalism only for many people to take it as a work of deep profundity.
Hal Ashby directs at a clinically restrained distance. Many scenes take place in wide angle and there is some wonderfully glacial photography. Indeed, Being There really comes from a lost era of filmmaking – no modern film would dare start in with such a measured and restrained pace or take some half-hour to get to the main focus of the gag without ever keying the audience into what is happening.
Ashby keeps everything oblique – Chance's blankness is initially closeted in the desiccated milieu of his master's house and then when he heads off, the world outside is a rundown inner-city Washington D.C. neighbourhood. There is the perfectly droll widescreen pullback to show Peter Sellers in bowler, brolly and suitcase walking down the middle of a traffic island.
Indeed when you look at works like Harold and Maude and Being There, it becomes apparent that Hal Ashby was one of the finest black humourists in American cinema. The cool obliqueness and droll deadpan of his works is unmatched by any other director anywhere. Some of the deadpan tableaux like Shirley MacLaine's attempt to seduce Sellers go on and on until an audience is collectively reduced to hysterics on the floor. The matter-of-factly tossed aside ending with Chance casually walking across the water of a lake, wherein comes the fantasy element, is always guaranteed to have an audience leaving the theatre debating its meaning.
The making of Being There was later depicted in the Peter Sellers biopic The Life and Death of Peter Sellers (2004).
---
---