aka Greedy Guts; Little Otek
Czech Republic/UK. 2000.
Crew
Director/Screenplay – Jan Svankmajer, Producer – Jaromir Kallista, Photography – Juraj Galvanek, Animation – Bedrich Glaser & Martin Kublak, Computer Effects – Martin Stejskal, Special Effects – Ivan Hatik & Pavel Kryml, Art Direction – Jan Svankmajer & Iva Svankmajerova. Production Company – Athanor/Illumination Films/Filmfour/Barandov Biografica.
Cast
Veronika Zilkova (Bozhena Horakova), Kristina Adamsova (Alzbetha Stradlerova), Jan Hartl (Karel Horak), Jaroslava Kretschmerova (Mrs Stradlerova), Pavel Novy (Fanous Stradlerova), Zdenek Kozak (Mr Zlabek)
---
Plot
Karel Horak and his wife Bozhena are depressed at being childless. When Karel digs up the root of a tree in the garden, he brings it to her, taken by how like a child it looks. Bozhena then insists on treating the log as though it were a child and soon announces to the rest of the world that she is pregnant, even wearing pillows of various sizes under her dress in order to appear so. Karel despairs of her sanity. When Bozhena figuratively 'gives birth', the piece of wood comes to life. Bozhena loves it with all she has and they name it Otik. However, Otik's appetite grows and grows, it soon devouring the cat, the postman and neighbours. The neighbour's inquisitive daughter realizes that the Horak's have given birth to an Otesanek, a creature from fairytale that grows in size devouring everything around it.
---
Otesanek comes from Jan Svankmajer, the Czech Claymation animator and filmmaker who first came to attention through a number of acclaimed surrealist shorts between the 1960s and 1980s. Svankmajer expanded his Claymation shorts out to feature-length with the sublimely weird Alice (1988), a freewheelingly surreal adaptation of the Lewis Carroll perennial. With each film since – the likes of Faust (1994), his own idiosyncratic take on the classic tale; Conspirators of Pleasure (1996) about surreal kinkiness; and the susbequent likes of Lunacy (2005), Surviving Life (2010) and Insect (2018) – Svankmajer has expanded out beyond stop-motion animation to the point that his films are now more absurdist comedies.
Otesanek seems to be based on an East European fairytale. I am unfamiliar with the fairytale, but one gets the sense that Jan Svankmajer was not interested in any straight telling of the fairytale but more that he was amused by the idea of mapping out people's straight-face reactions to the concept. Some of these reactions, all presented deadpan, are side-splitting.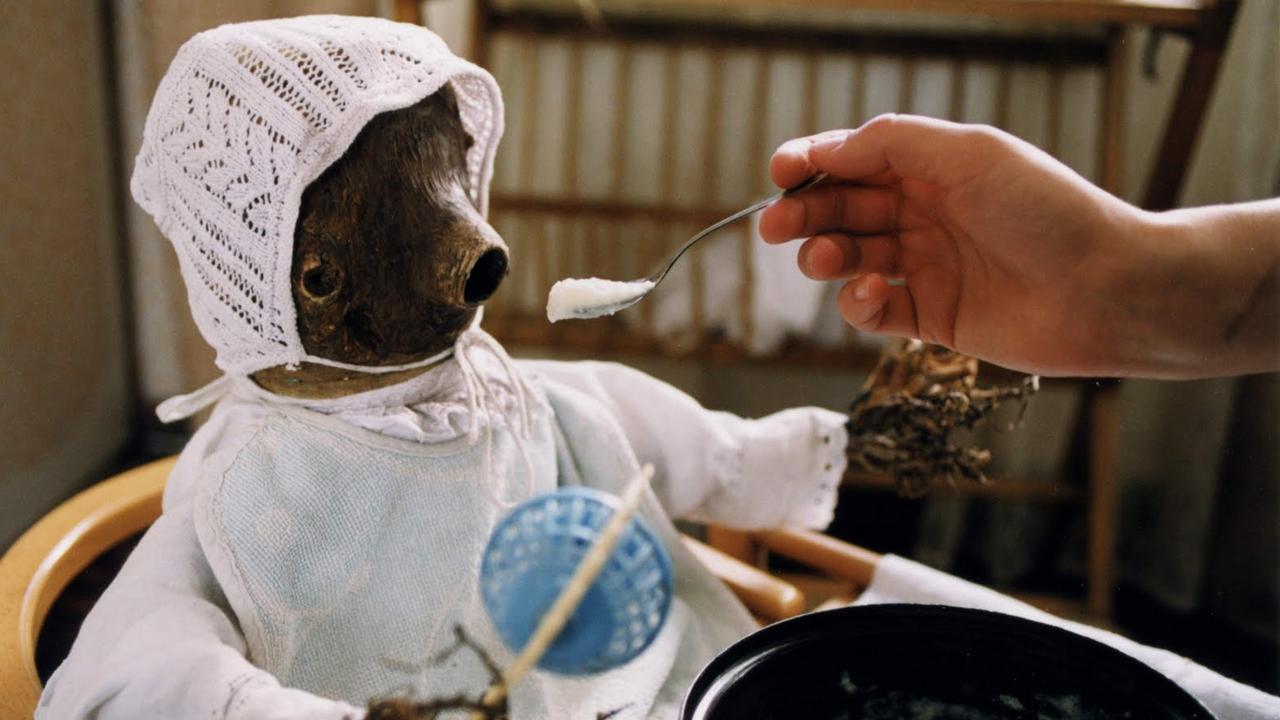 As the mother, Veronika Zilkova gives an hilarious performance, treating the tree as though it were a baby with steadfast certainty – bathing it, clipping its nails, changing its diapers, rubbing cream on its butt. There is the ever so delightful moment where she displays an array of cushions of differing sizes lined up to represents each month of her pregnancy. The opening moments feature some delightfully droll images of Buñuelian surrealism with babies being netted out of a bucket, weighed and wrapped in a fish market; or the husband cutting open a melon to find a baby inside.
For a time, Otesanek seems like it is going to be a surreally eccentric piece about a husband despairing of the wife's certain belief that a log of wood is a baby – indeed the film seems almost like it is going to be a comedy spun out around the character of the Log Lady from Twin Peaks (1990-1) – but the focus changes about a third of the way in and Otesanek becomes a macabre monster movie. Although again, Jan Svankmajer's focus is less the monster movie or fairytale than it is people's deadpan reactions to the situation. Here Kristina Adamsova is hilarious as the young girl taking all the food in the house to the log baby, breaking open her piggybank to buy more and finally drawing straws to see who in the apartment building she will let it eat. Veronika Zilkova and Kristina Adamsova's deadpan performances are hilarious and Otesanek is easily Jan Svankmajer's best since Alice.
(Winner in this site's Top 10 Films of 2000 list. Nominee for Best Actress (Veronika Zilkova) and Best Supporting Actress (Kristina Adamasova) at this site's Best of 2000 Awards).
---
---