---
Crew
Director – Brian Percival, Screenplay – Michael Petroni, Based on the Novel by Markus Zusak, Producers – Ken Blancato & Karen Rosenfelt, Photography – Florian Ballhaus, Music – John Williams, Visual Effects – Rise Visual Effects Studio (Supervisors – Florian Gellinger & Jonathan Weber), Special Effects Supervisor – Uli Nefzer, Production Design – Simon Elliott. Production Company – Sunswept Entertainment/TSG Entertainment/The Blair Partnership/Studio Babelsberg/Ingenious Media.
Cast
Sophie Nélisse (Liesel Meminger), Geoffrey Rush (Hans Hubermann), Emily Watson (Rosa Hubermann), Nico Liersch (Rudy Steiner), Ben Schnetzer (Max Vandenburg), Levin Liam (Franz Deutscher), Barbara Auer (Ilsa Hermann), Rainer Bock (Burgomaster Hermann), Carina Wiese (Barbara Steiner), Oliver Stokowski (Alex Steiner), Sebastian Hülk (Gestapo Agent), Roger Allam (Narrator/Voice of Death)
---
Plot
Amid the numerous souls he must deal with, Death takes an interest in the life of Liesel Meminger. In Germany in 1938, Liesel was being taken on a train journey by her mother. Along the way, her baby brother died. As they stopped to bury him, Liesel picked up a book dropped by the gravedigger. Her mother left Liesel in the care of Hans and Rosa Hubermann who urged her to call them mother and father. When Liesel was ridiculed at school for not being able to read, Hans began to teach her, starting with the gravedigger's book. She was invited by the burgomaster's wife to come and read books at the library in their home but was abruptly told not to return. She learned that this was because her mother was a Communist and that because of this her mother was probably not going to come back. Following the Kristallnacht, a Jewish boy Max Vandenburg came to Hans and Rosa seeking shelter and they agreed to hide him in the house. A friendship grew between he and Liesel as he encouraged her to read and then start creating her own stories.
---
The Book Thief (2005) was a popular Young Adult novel by Markus Zusak, who grew up in Australia, the son of German and Austrian parents. Zusak's book was critically acclaimed, achieved best-seller status and was nominated for several prizes. This is the film version of the book. The film is made by director Brian Percival who comes from a background in British arts television, including the Philip Pullman adaptation The Ruby in the Smoke (2006), a version of Charles Dickens' The Old Curiosity Shop (2007), episodes of Downton Abbey (2010-5) and the subsequent Dark Angel (2016), a mini-series about a female Victorian serial killer. The Book Thief was Percival's second theatrical film.
The film was released in October of 2013, clearly intended to come out right on Academy Awards season (although failed to achieve any notice there aside from Academy, BAFTA and Golden Globes for John Williams's score). As such, it comes with all the painful self-importance of a film trying hard to be awards-consideration material – a cast of name actors, a cross-historical canvas, all the inflated dramatics and earnest seriousness of a film tackling big issues that Academy Award voters and a certain audience over the age of fifty goes for.
On the face of it, these are not usually the type of films that Moria ends up reviewing much. On the other hand, the film is narrated by the character of Death who reflects in on the human condition and develops a peculiar fascination with Liesel. That said, we never actually see Death apart from what would appear to be a single image of him in a hat and winter coat walking through the town, which makes The Book Thief's status as a fantasy film ambiguous.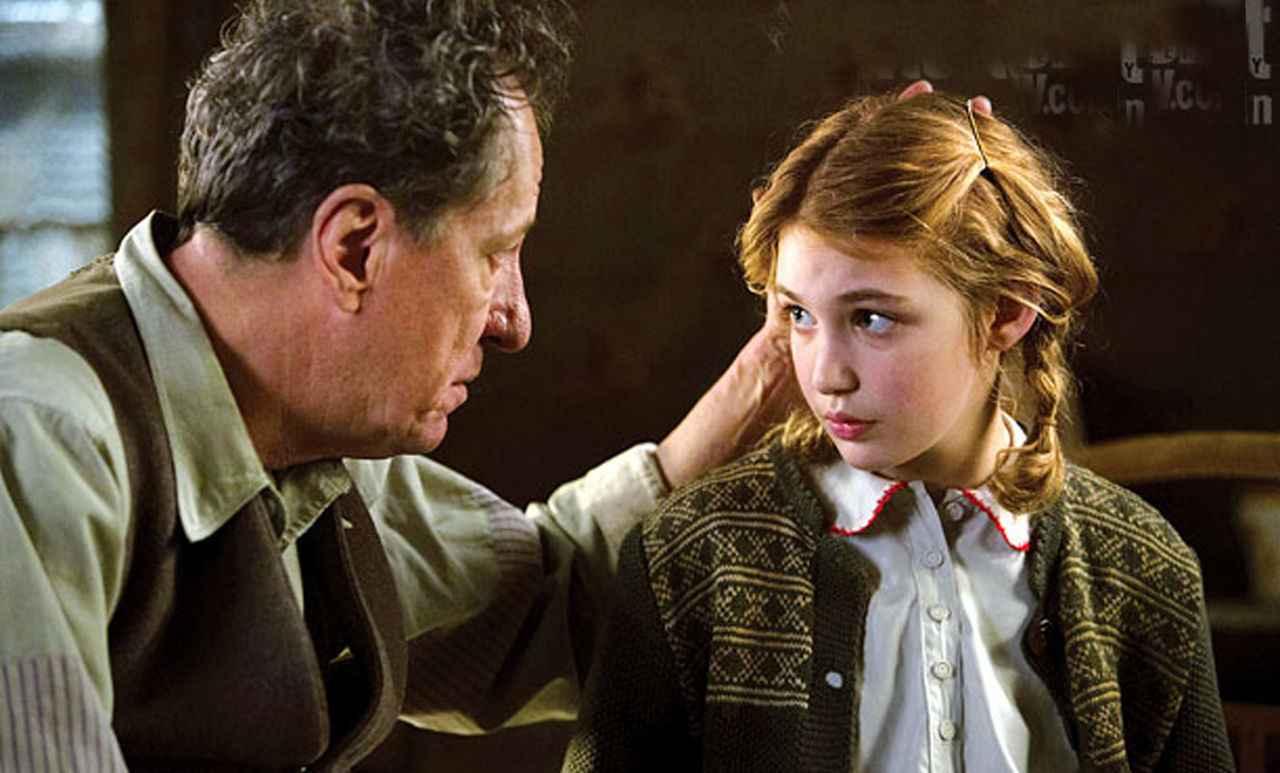 The Book Thief touches upon an era of great contention – Germany during World War II – and one that has been dealt with by a number of other films. The film lavishes a fair budget on recreating the era, where the production designers and set dressers do a fine job of recreating the town, the home the family live in – only to fail to do anything of interest with any of it. By contrast to almost any other film on the subject of Nazi Germany and The Holocaust, The Book Thief feels like it has been constructed by someone watching other films in the genre and trying to emulate them.
The drama feels ersatz – a series of rehearsed dramatic cues in search of any authentic feeling, all guided by a score that swells at all the appropriate moments telling us what heartbreak and surges of triumph we should be experiencing. For far more powerful and effective variations on the Growing Up in Nazi Germany story see the likes of The Tin Drum (1979) and Europa Europa (1990).
In the end, you can only feel that a film like this does a serious disservice to a genuine tragedy like the Holocaust. The Holocaust was a period in which one country systematically tried to slaughter an entire race of people (along with many dissidents). Trying to wrap one's head around the moral blindspot that allowed a nation to passively condone the murder of millions is almost inconceivable. This is a film that reduces such a horror of modern history to feelgood picture postcard sentiments, in jerking its audience through sadness and empathy of one little girl's life. Even at the end of the film, Death delivers such banal life-affirming homilies as "In my job, I am always finding humans at their best and at their worst. I see their ugliness and their beauty and I wonder how the same thing can be both." A film that effectively puts us in the midst of the Holocaust – and on the German side to wit – and then pats us on the head as though to say "life is going to be okay," seems only to resemble a bad joke.
---
---