aka Blood Countess
Luxembourg. 2015.
Crew
Director – Andrei Konst, Screenplay – Matthew Jacobs, Producers – Gevond Andreasyan, Sandrik Andreasyan, Tove Christensen, Georgy Malkov, Vladimir Polyakov, Wendy Rhodes & Steven Schneider, Photography – Maxime Alexandre, Music – Nathaniel Levisay, Visual Effects – Tunnel Post & Rain Corp (Supervisor – Massimiliano Pareschi), Production Design – Jennifer Spence. Production Company – Glacier Films.
Cast
Isabelle Allen (Aletta), Svetlana Khodchenkova (Countess Elizabeth Bathory), Lucas Bond (Mischa), Claudiu Trandafir (Judge), Valentin Teodosiu (Bear), Ada Condeescu (Katja), Paul Diaconescu (Laszlo), Pavel Derevyanko (Attila), Lia Sinchevici (Dorata), Alexandra Poiana (Ilona), Bogdan Farcas (Thurzo), Virginia Rogin (Blind Woman)
---
Plot
Transylvania, 1610. Aletta and her younger brother Mischa are Gypsies who make a living performing an escape act in public squares. When all their savings are stolen, they are reduced to pickpocketing in the streets but end up being caught. They are sentenced by the judge but two handmaidens step in to offer to take them into the custody of the Countess Elizabeth Bathory's orphanage. Taken to Csejte Castle, Aletta is made a handmaid while Mischa is put to work with labouring duties. Aletta is hoping that they can find their older sister Katja who went missing after coming to the castle. The Countess takes a liking to Aletta and decides to teach her to read. Aletta believes that the answer to Katja's whereabouts can be found in a journal that the Countess keeps locked in a cupboard. However, venturing in to steal it unleashes the Countess's murderous wrath.
---
Erzebet Bathory (usually Anglicised as Elizabeth Bathory) (1560-1614) was a Hungarian Countess. She was arrested in 1610 and the story that emerged has entered into legend. Placed on trial, she was accused of murdering servants and peasant girls from the nearby region. It was claimed that she had killed as many as 650 women, although the numbers wildly vary. According to accounts, she gained pleasure from sadistic mutilation and causing deaths by a variety of means, including freezing and starving victims. One of the most notorious stories (probably apocryphal) is that she had virgin women drained of their blood to bathe in it in the belief it would rejuvenate her youth – some scholars have cited this as one of the bases for the legend of the vampire. In 1610, she was sentenced to house arrest where she was walled up inside a room in her castle and was found dead there several years later.
The Countess Bathory story has appeared in a great many films, mostly in which she has been made into a vampire and/or is seen existing into the present-day. (See below for a listing of these). Lady of Csejte falls into a smaller number of these that adhere more to the historical facts. It, for example, does not conflate Bathory's activities to vampirism – in fact, we never even get to see her bathing in blood – but rather stays with the depiction of a cruel aristocrat. The title (which I am still unsure how it is meant to be pronounced even after watching the film – the audio pronunciation feature at Google Translate gives the pronunciation as 'chay-teh') refers both to the castle where Bathory lived and its adjoining village.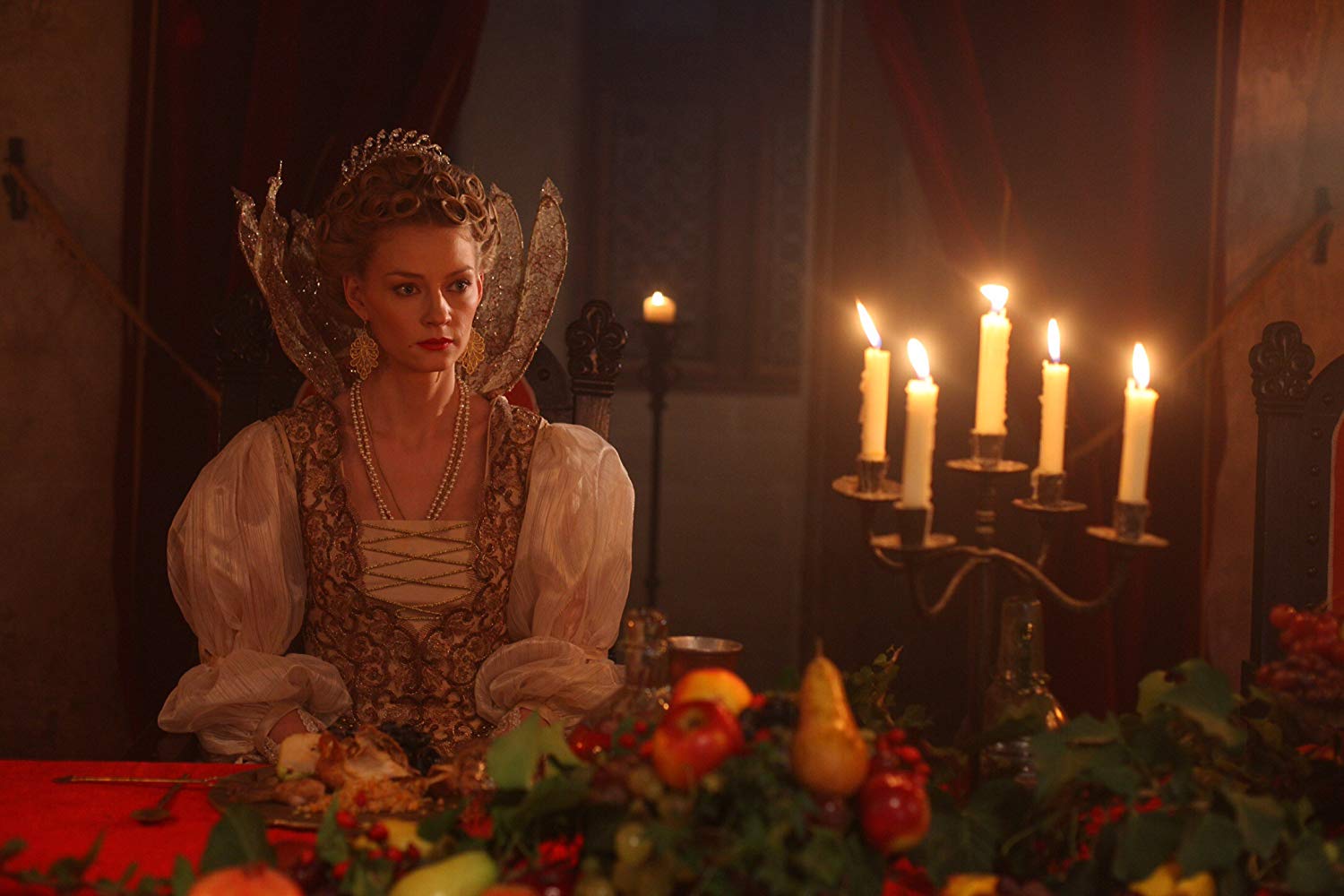 Lady of Csejte takes a diametrically opposed position to the recent retellings of the Elizabeth Bathory story that we had in Bathory (2008) and The Countess (2009), which saw her as an oppressed woman who was framed by the men of the era, both of which were revisionist and wholly speculative modern interpretations that were not backed by the historical record. This welcomely takes the Countess Bathory story back to her being a cruel aristocrat. On the other hand, one does have a problem with some of Lady of Csejte, especially when it announces that it is set in Transylvania in 1610. Bathory never lived in Transylvania but in Hungary over 500 miles away from Transylvania. So right off the bat, the film is geographically skewing its historical authenticity in order to create some kind of association with Transylvania, a place we normally associate with Count Dracula and vampire movies. (Certainly, the film itself was shot in Romania, including parts of Transylvania).
The disappointment of Lady of Csejte is that it isn't about Elizabeth Bathory so much as it is about two fictional Gypsy kids who end up in servitude to Bathory. There is little focus on Bathory's activities and renowned cruelties, rather everything is placed on the kids who are using the opportunity of enforced serfdom as a means of searching for their missing older sister (where it is implied she has ended up as one of Bathory's victims, although this is later proven not to be the case). Bathory is occasionally present in the form of the alluring Russian actress Svetlana Khodchenkova and glides through scenes, dominating them more by her elegance and unblinking stare than anything else.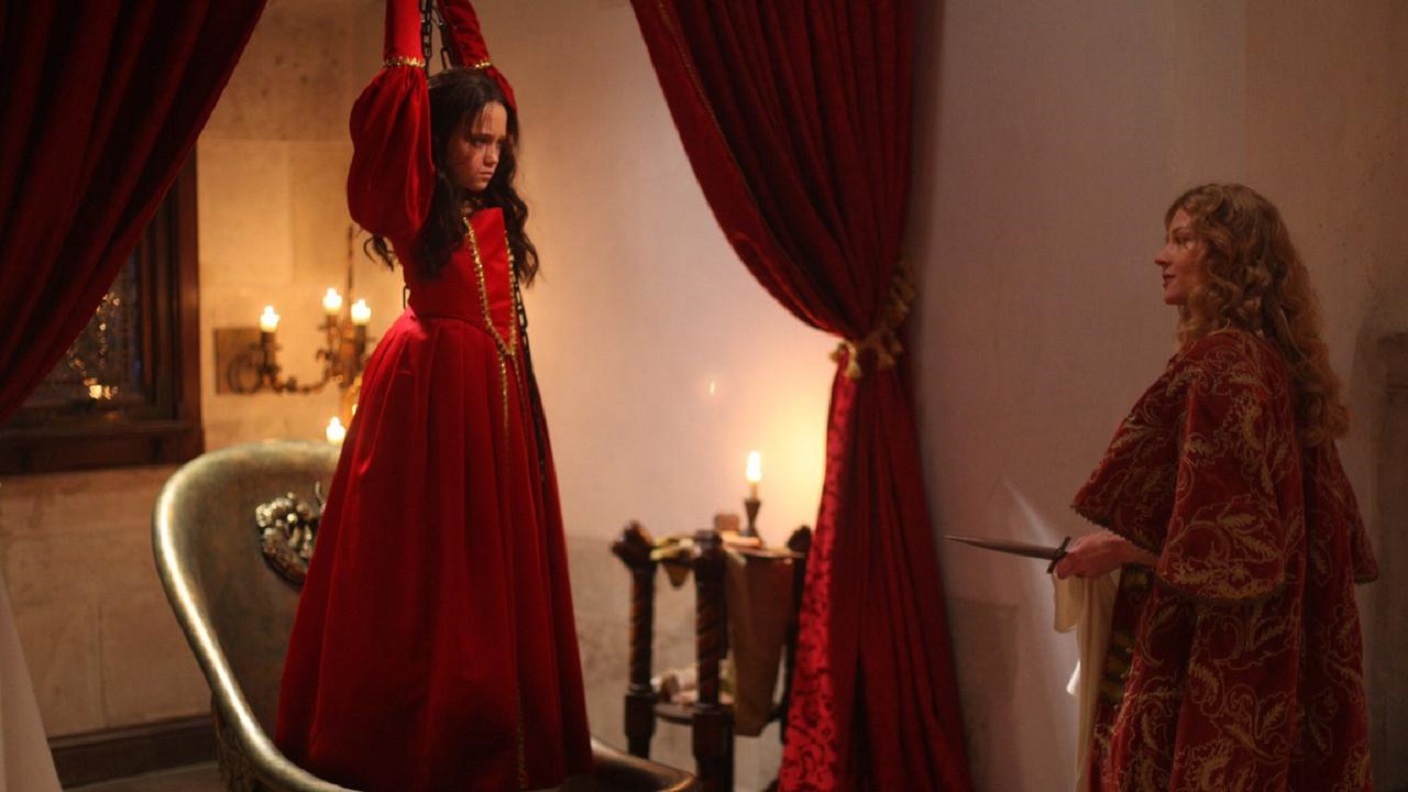 The problem is that I, and presumably most audiences, did not sit down to watch a film about a couple of kids. It is disappointing when the far more shocking and dramatically interesting tale about Elizabeth Bathory that we expected to see is pushed to one side. We, for example, never get to see Svetlana Khodchenkova engaged in any of the countess's legendary cruelties. The nearest we get is her stringing Isabelle Allen up above her bath at the end intending to drain her only for them to be interrupted before this ever happens, or where she chains Lucas Bond up in her dungeon and merely reads him sections from her journal about her tortures. This seems a ridiculous watering down of Bathory as a dramatic character.
The other annoying aspect is the introduction of some vague mystical themes right at the end. While strung-up, Isabel Allen suddenly wields Gypsy foresight and is able to tell Bathory that the gown she is wearing is the last one she will ever wear. The film goes out on an absurd voiceover that tells us about the hundreds of bodies buried in the grounds outside the castle and how it has turned the forest into a mystical realm.
Lady of Csejte was one of the first productions from Glacier Films, a company set up by Star Wars actor Hayden Christensen and his brother, which has also produced Cooties (2014) and the sf film The Tank (2017). It was the directorial debut of the Russian-born Andrei Konst.
Other films dealing with Countess Bathory are:– Hammer's supposedly true historical account Countess Dracula (1971) where she was played by Ingrid Pitt; Daughters of Darkness (1971) where she turns up in a present-day Belgian hotel played by Delphine Seyrig; in various of Paul Naschy's Waldemar Daninsky films with The Werewolf vs the Vampire Woman (1971), Return of the Werewolf (1973) and Night of the Werewolf (1981); the Spanish The Legend of Blood Castle/The Bloody Countess/The Female Butcher (1973) played by Lucia Bose; played by Paloma Picasso in an episode of the erotic anthology Immoral Tales (1974); played by Diane Witter in the obscure Bathory (2000); played by Caroline Néron in the present-day Canadian erotic thriller Eternal (2004); in the present-day played by Michelle Bauer in Fred Olen Ray's Tomb of the Werewolf (2004); in the cheap Night Fangs (2005); with modern-day girls travelling back in time in Demon's Claw (2006); in the present-day Dracula's Curse (2006); in the present-day in the animated Hellboy: Blood and Iron (2007); in the dreadful Hungarian-shot Metamorphosis (2007); in the softcore Blood Countess (2008); mixed up with the Dracula story in Blood Scarab (2008); as a present-day abstinence campaigner (Louise Griffiths) in Chastity Bites (2013); as the female Jerry Dandridge (Jaime Murray) in Fright Night 2 (2013); even in the midst of a videogame in Stay Alive (2006) and as the host of a horror anthology in Countess Bathoria's Graveyard Picture Show (2007), while Eli Roth homages her activities in Hostel Part II (2007). There were two attempts to set the historical record straight with Bathory (2008) starring Anna Friel and The Countess (2009), directed by and starring Julie Delpy.
---
---