---
Crew
Director – Jimmy Hayward, Screenplay – Jimmy Hayward & Scott Mosier, Story – David I. Stern & John J. Strauss, Producer – Scott Mosier, Music – Dominic Lewis, Production Design – Mark Whiting. Production Company – Reel FX Creative Studios/Relativity Media.
Voices
Owen Wilson (Reggie), Woody Harrelson (Jake), Amy Poehler (Jenny), George Takei (S.T.E.V.E.), Keith David (Chief Broadbeak), Carlos Alazraqui (Amos), Dan Fogler (Governor Bradford), Colm Meaney (Myles Standish), Kaitlyn Mayer (President's Daughter)
---
Plot
Reggie is a turkey that is regarded as odd by the rest of the rafter. He tries to warn the others that they are being fattened up to be slaughtered for Thanksgiving but is ignored. He is inadvertently chosen as the annual Freedom Turkey and spared from the slaughter by The President at the insistence of his daughter. Made a guest in the White House, Reggie gets used to luxury of cable tv, bathrobes and dial-a-pizza. He is then abducted by Jake, a militant turkey who claims to have a vision from The Great Turkey. Jake drags Reggie on a crazed mission to break into a military facility where they sneak aboard a time travel experiment that is in progress. Hijacking the time machine S.T.E.V.E., they head back to the Plymouth colony in 1621 where Jake sets about to alter history and stop turkeys being served up as the first Thanksgiving dinner. This involves organising the free and peaceful turkeys of the era to rise up against the settlers. There Reggie also finds himself attracted to the lovely Jenny.
---
Free Birds is the first theatrical film from Reel FX Creative Studio. Reel FX, previously known as Radium, is a visual effects company known for their work on Buffy the Vampire Slayer (1997-2002), Firefly (2002-3), Spider-Man 2 (2004) and Aeon Flux (2005), among others. They have also worked in videogame design and began to branch out as an animation company with several G.I. Joe, Kung Fu Panda, Ice Age and Despicable Me tv specials and video releases, as well as made Open Season 2 (2008) and Open Season 3 (2010), even co-produced the live-action Cirque du Soleil: Worlds Away (2012). They subsequently went on to make The Book of Life (2014), Ugly Dolls (2019), Back to the Outback (2021) and Rumble (2021).
Here Reel FX join several other effects companies of recent who seem to be turning to the lucrative arena of animation – as have Blue Sky, the people behind the Ice Age films; Sony Pictures Imageworks who became Sony Pictures Animation and made the Cloudy With a Chance of Meatballs films and a bunch of others ; Industrial Light and Magic with Rango (2011); and Rainmaker with Escape from Planet Earth (2013). The film's director is Jimmy Hayward, a former Pixar animator who made his debut as co-director of Blue Sky's Horton Hears a Who! (2008) and then went solo with the big flop of the live-action DC Comics adaptation Jonah Hex (2010).
The first thing you think about Free Birds is the limitedness of its concept. Thanksgiving is a holiday that is only celebrated in the USA and Canada. Thus the idea of a festival where people rejoice over a turkey meal has little to no relevance culturally to anyone who lives outside of North America. Even then, the film has notedly been released to coincide with the American observation of Thanksgiving (the fourth Thursday of November) and Canadians only get to see the film then rather than when they celebrate their date six weeks earlier on the second Monday of October. (You would think that given the limitedness of the market for a Thanksgiving film that distributors would have seen to arrange a Canadian release a couple of weeks earlier).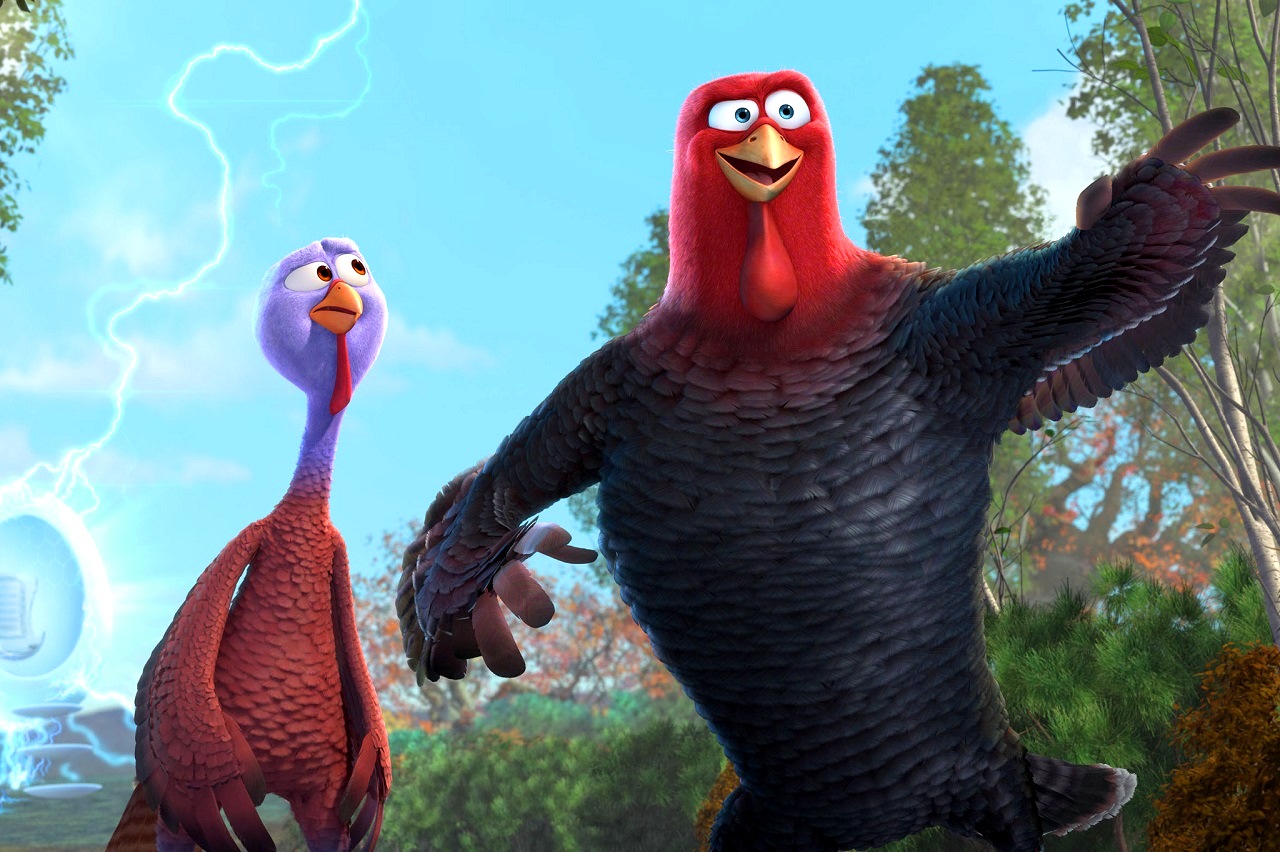 It is only afterwards when I was seeking to explain the plot to someone else that I realised the wacky bizarreness of the film's concept. A scrawny rejected turkey tries to alert the other turkeys in his rafter about their impending fate on the Thanksgiving dinner table. He is then selected by the President's daughter as a Pardon Turkey and spared where he is taken to live in the White House and enjoys human privileges such as wearing a robe, using cable tv and ordering in pizzas (apparently from a delivery boy who seems unperplexed that a turkey is ordering and paying for them).
He is then abducted by a commando turkey who appears to be not entirely all there in the head and takes orders from a vision of The Great Turkey who has commanded them to break into a US military facility and hijack a time travel experiment. This takes them back in time to Plymouth colony in 1621 where they set about to organise the turkeys of the day (who seem to live along the lines of Native Americans) into a resistance to sabotage the first American Thanksgiving and prevent the tradition of turkeys being selected as Thanksgiving feasts, which for some reason involves the turkeys blowing up the gunpowder in the settlers' armoury. The end solution for this appears to be turkeys being replaced by dial-in pizza delivered from the future.
Part of the bizarreness of the film is that, despite it being made to capitalise on the Thanksgiving observation, it actually has a message that is, when you think about it, militantly pro-vegetarian and rejects the idea of eating turkey, while eventually opting for the glaring product placement message that we should all eat Chuck E. Cheese pizza at Thanksgiving instead of turkey.
The dementia of the plot is not quite in evident in the film on display, which seems played by animation cliche standard the entire way. What the film feels like is Disney's Chicken Little (2005) having been crossbred with their Meet the Robinsons (2007) and its contorted time travel plot (which does contain some moderate twists at the end). Every character, from the hero, the cocky Jake (who seems to have been modelled on Buzz Lightyear), the romance and the human villains, have arcs that are entirely predictable from the moment we meet them. Jimmy Hayward does little to enervate them or give the characters any original wit or uniqueness – the strangest we get is the heroine with a googly eye who has to hold her breath to get it back into place.
---
---