---
UK. 1951.
Crew
Directors/Screenplay/Producers – Michael Powell & Emeric Pressburger, Based on the Opera by Jacques Offenbach and Short Stories by E.T.A. Hoffmann, Photography – Christopher Challis, Conductor – Sir Thomas Beecham, English Libretto – Dennis Arundell, Adapted from the French Text by Jules Barbier, Production Design – Hein Heckroth, Choreography – Frederick Ashton. Production Company – London Films.
Cast
Prologue: Robert Rounseville (E.T.A. Hoffmann), Robert Helpmann (Councillor Lindorf), Moira Shearer (Stella), Pamela Brown (Nicklaus), Philip Leaver (Andreas), Frederick Ashton (Kleinzach). The Tale of Olympia: Moira Shearer (Olympia), Leonide Massine (Spalanzani), Robert Helpmann (Coppelius), Frederick Ashton (Cochenille). The Tale of Giulietta: Ludmilla Tcherina (Giulietta), Robert Helpmann (Dapertutto), Leonide Massine (Schlemil), Lionel Harris (Pitichinaccio). The Tale of Antonia: Ann Ayars (Antonia), Robert Helpmann (Dr Miracle), Mogens Wieth (Crespel), Leonide Massine (Franz)
---
Plot
At a performance by the ballerina Stella, Councillor Lindorf bribes Stella's manservant to deliver a note to her. This comes from the adoring poet E.T.A. Hoffmann who asks Stella to meet him at Luther's Tavern. During the intermission, Hoffmann visits Luther's and tells the revellers some of his stories. The Tale of Olympia:- In Paris, Hoffmann visited Spalanzani who had purchased Olympia, a lifelike dancing automaton from Coppelius, a toymaker and creator of magical spectacles. Watching Olympia dance, Hoffmann ended up falling in love with her. The Tale of Giulietta:- In Venice, the diabolical envoy Dapertutto pushed the courtesan Giulietta to make Hoffmann fall in love with her so that he could steal Hoffmann's reflection. The Tale of Antonia:- Hoffmann went to visit his love, the singer Antonia, on a Greek island where she was ill with consumption. Antonia was also visited by the sinister Dr Miracle who pushed her on to even greater heights despite her illness.
---
Director Michael Powell was one of the finest of all British post-War directors. During the War and in the decade after, Powell, and his producer, sometimes co-director Emeric Pressburger, made an amazing series of Technicolor dramas that included the likes of The Life and Death of Colonel Blimp (1943), A Canterbury Tale (1944), A Matter of Life and Death/Stairway to Heaven (1946), Black Narcissus (1947) and Peeping Tom (1960). These were extravagant works made in rich colour in a period when most films were still being made in black-and-white that took Wartime audiences up and away from the mundane. A number of these fall into the fantasy genre (see below for a full list of Michael Powell's other genre films).
Powell and Pressburger had previously ventured into ballet with The Red Shoes (1948). The Tales of Hoffmann is based on a series of stories by E.T.A. Hoffmann (1776-1822), a Prussian writer and composer who was writing during the midst of the Napoleonic Wars. Hoffmann's stories were very popular during the day – probably the most famous today is that of The Nutcracker and the King of Mice (1816), which forms the basis of Tchaikovsky's ballet The Nutcracker (1892), which has undergone numerous film adaptations.
What this film is drawn from however is Tales of Hoffmann (1881) by Jacques Offenbach, which adapted three of Hoffmann's stories into an opera and wrote Hoffmann in as a character. The opera had also been adapted to film before during the German silent era by Richard Oswald in 1916. Michael Powell's version was not a success when it came out but its reputation has grown since thanks to the championing of people like Martin Scorsese and George A. Romero, who regard it as one of the finest of all works of fantasy on film.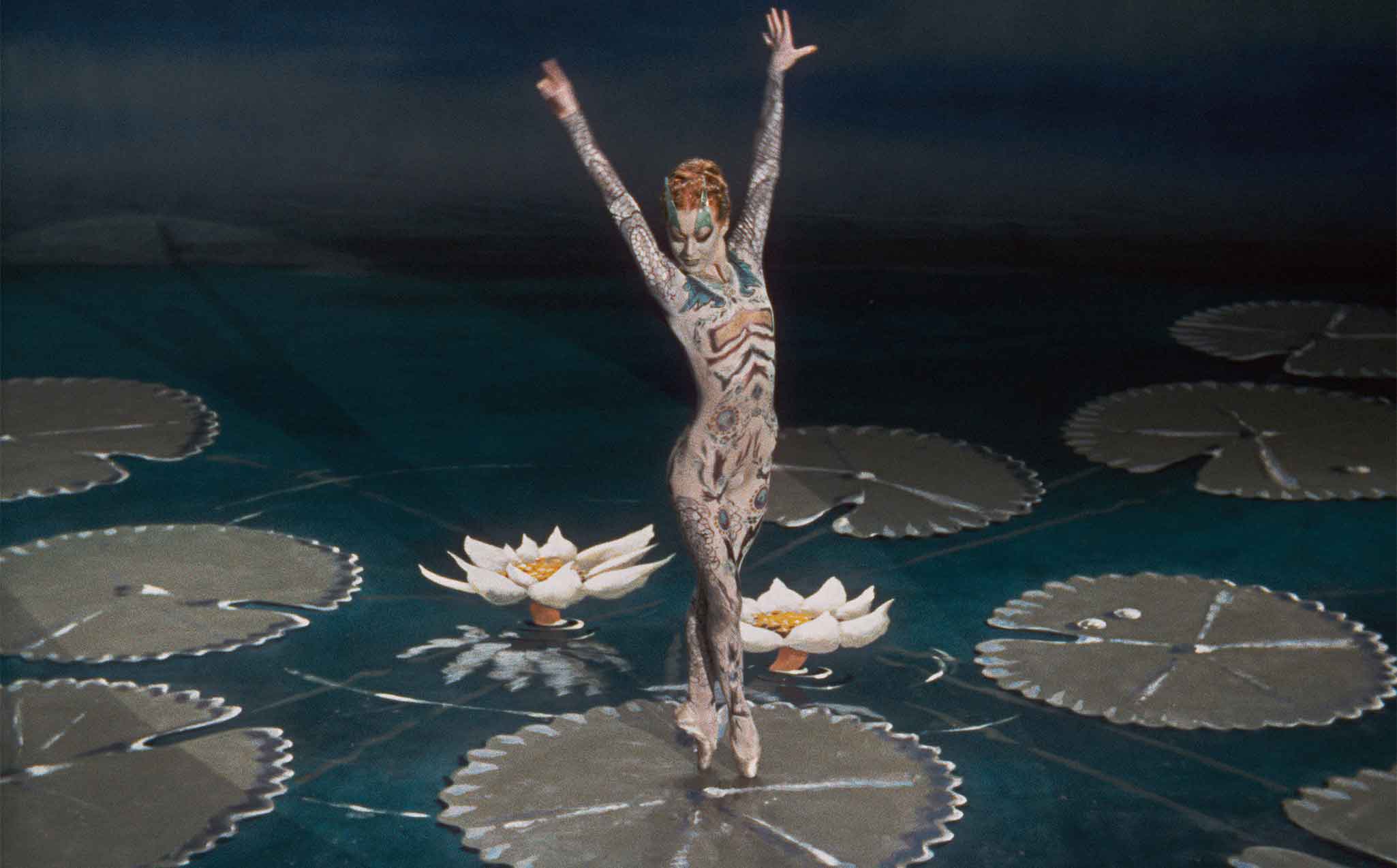 Many of Michael Powell's films are works of architectural fantasy. He had the ability to use sets like no other director since at least the German Expressionist era. One is dazzled by the ballet sequence that takes place during the opening prologue – with Moira Shearer in speckled leotard and elfin ears dancing across a stage floor of giant lily pads amid gauzed-out frame, cavorting with a lascivious Devil figure in red full-body costume, before disappearing up a three-tiered stairway that has been painted so that it looks like she is running up branches and creepers of a tree and disappearing into the sun.
The film comes with some dazzling sets – the Olympia episode with Moira Shearer being presented in an exquisitely ornate rocking bed; Dr Coppelius's shop of painted glass walls; or a bank with a crepuscular hunched character sitting on a very high chair and desk against a wall that consists of paint splattered on glass in the foreground. The Tale of Giulietta episode features the extraordinary vision of gondolas travelling through the canals of Venice, which is in fact a gondola mock-up moving on a giant mechanical dais beneath a painted stage floor. Or of Ludmilla Tcherina during the same episode walking in bejewelled bare feet across a floor that is made up of the misshapen faces of the damned.
The Tale of Antonia is the least extravagant of the episodes, although it does feature the exquisite wide angle image of Robert Rounseville and Pamela Brown rowing to an island with a Grecian-styled building on it, which is all represented with a painted backdrop on a stage. At the end of the episode, we get the sinister Robert Helpmann sweeping Ann Ayars up and away on a tour of the Solar System, which is depicted by painted stage backdrops.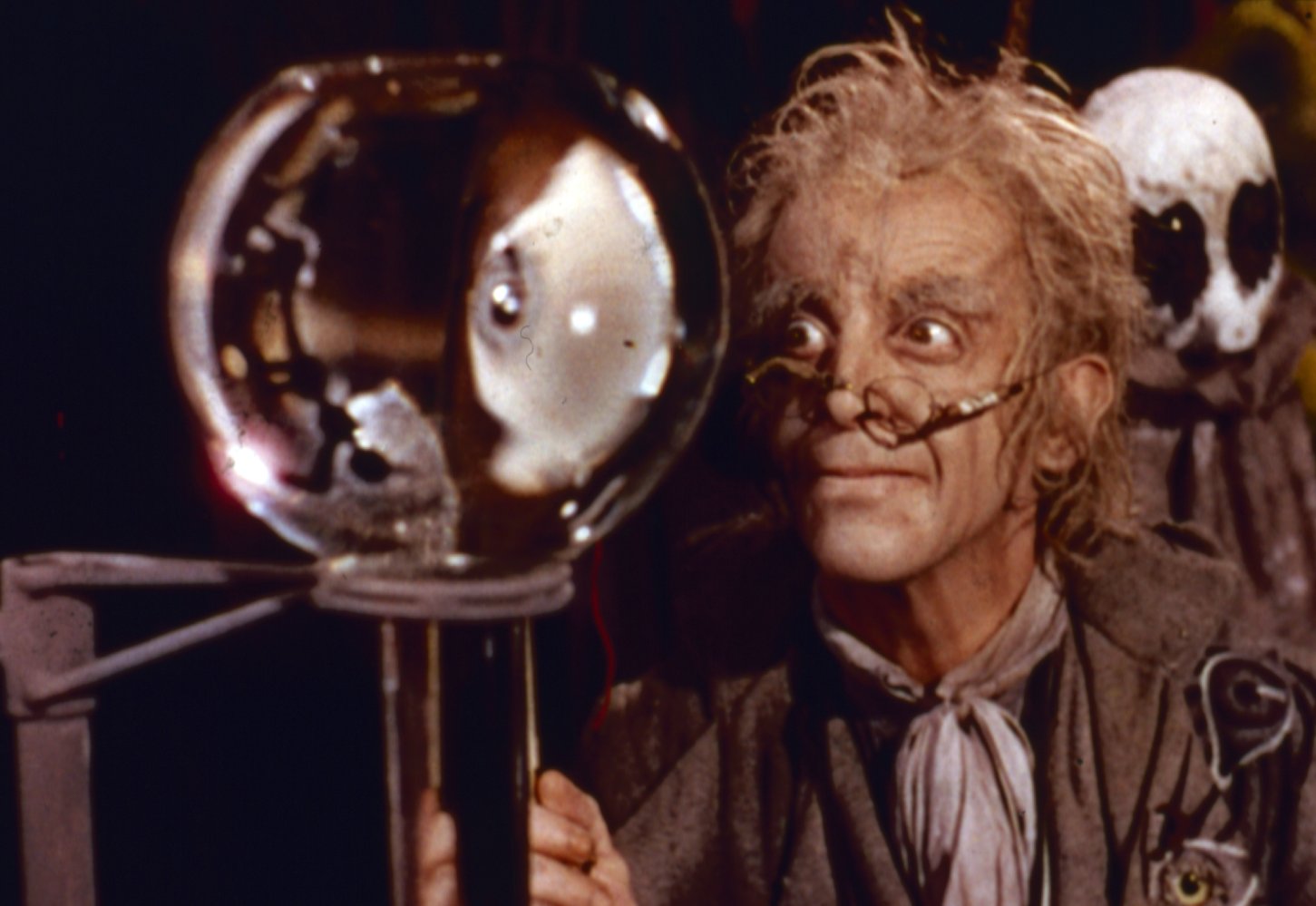 In the Criterion Collection dvd restoration, the film has a exquisiteness of colour and an amazing richness to its costuming and sets that looks stunning. I don't have enough of an eye for ballet to be able to comment on the art of any of this. There are certainly some wonderfully colourful and energetic sequences, particularly during the epilogue. Powell also creates little vignettes where toys and dolls come to life – the dancing beer mugs at Luther's Tavern; the marionettes with painted and glazed faces that dance on strings during the Olympia episode.
There is an amazing sequence during Olympia with Robert Rounseville and Moira Shearer dancing in between the marionettes as they are hanging on a giant clothesline. This comes with wonderful little touches like that of puppeteer Frederick Ashton trying to get his marionettes back at the end of the dance and tugging on the strings of a recalcitrant leftover and seeing the puppet on the dancefloor below suddenly being whisked up into the air on its string.
There is a considerable darkness to each of the stories – something that was seen as having turned off audiences of the day and contributing to the film's box-office failure. Particularly notable is the ending of The Tale of Olympia where Leonide Massine and Robert Helpmann fight over the automaton and end up tearing Moira Shearer apart (a simple but effective effect where various parts of Shearer's body have been blacked out and can be seen in the background) and Robert Rounseville is left trying to console her severed head. Powell and Pressurger even choreograph an orgy during the The Tale of Giulietta episode, which is surprisingly outré for the period that the film was made.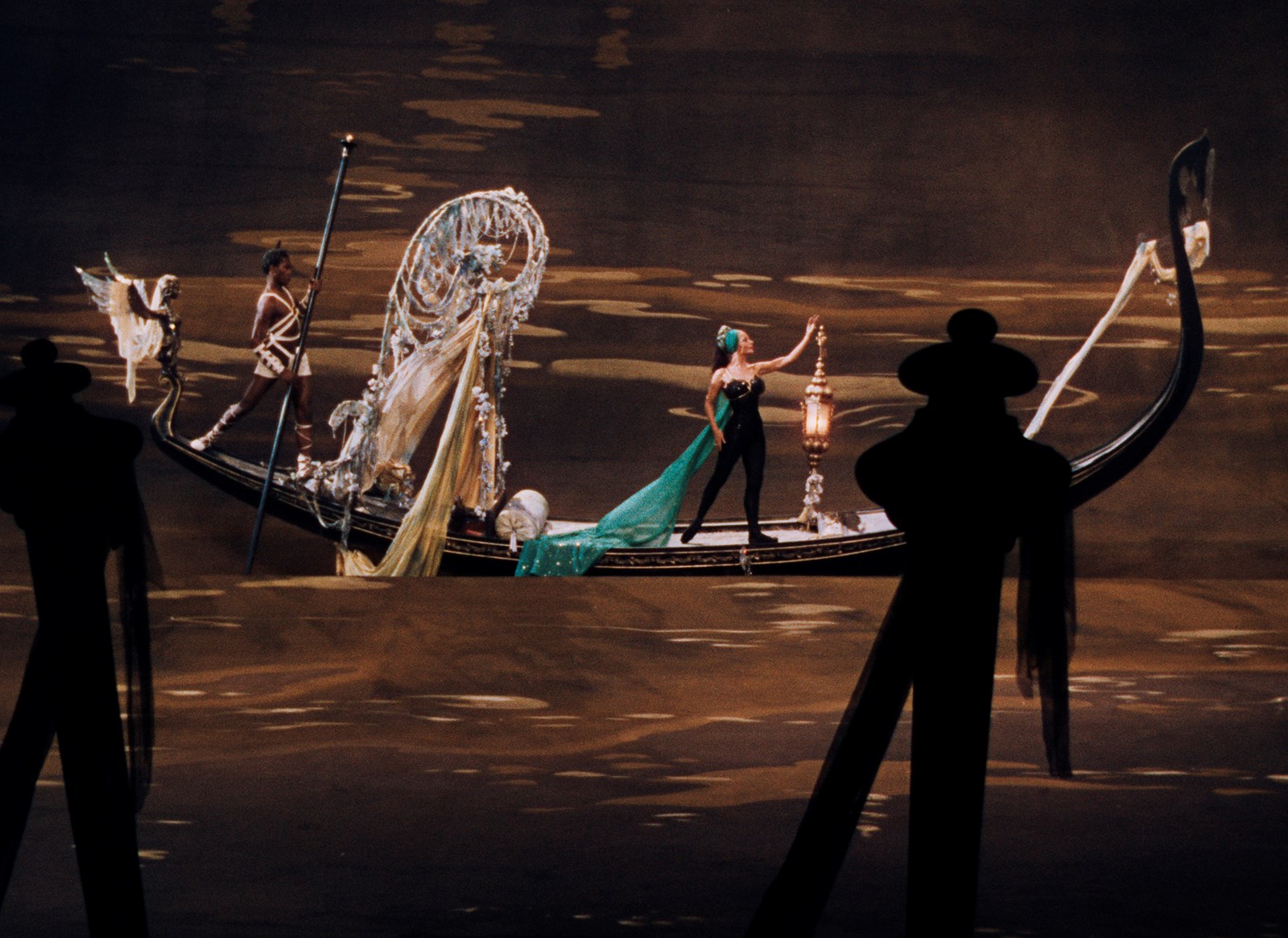 The constant theme that each story reinforces is that of romantic disillusionment. Each episode has hero Robert Rounseville falling in love with a woman only to see her stolen away by a sinister Machiavellian figure played by Robert Helpmann. There is even a sad conclusion to the wraparound story where Helpmann comes to the tavern where Rounseville has passed out drunk and walks away with Moira Shearer just as she arrives to meet Rounseville. George Romero makes the interesting analogy between Helpmann in the Tale of Antonia episode and a vampire – Helpmann even comes dressed in frock coat, high collar, white shirt and made up with pale face and red eyes and is constantly seen to be sweeping Ann Ayars away in his cape.
Michael Powell's other films of genre note are:– The Phantom Light (1935), a little-seen comedy-thriller set in a supposedly haunted lighthouse; as co-director of The Thief of Bagdad (1940); the afterlife fantasy A Matter of Life and Death/Stairway to Heaven (1946); the ballet fantasy The Red Shoes (1948); the classic psycho film Peeping Tom (1960); and the children's film The Boy Who Turned Yellow (1972).
---
---