---
Crew
Director – Joseph Losey, Screenplay – Ben Barzman & Alfred Lewis Leavitt, Story – Betsy Beason, Producers – Stephen Ames, Dore Schary & Adrian Scott, Photography – George Barnes, Music – Leigh Harline, Art Direction – Ralph Berger & Albert S. D'Agostino. Production Company – RKO Radio Pictures.
Cast
Dean Stockwell (Boy), Pat O'Brien (Gramps), Samuel S. Hinds (Dr Knutsen), Barbara Hale (Miss Brand), Robert Ryan (Davis)
---
Plot
Police find a boy with a bald head and no apparent home. The boy refuses to give his name. A doctor manages to befriend the boy and get his story. The doctor learns how the boy was shuffled between relatives during the London Blitz. He learned the reason for this was that his parents had been killed. The boy then awoke one morning to find that his hair had inexplicably turned green. The green colour could not be washed out and the town doctor had no explanation. Running away from school because of the prejudices against his hair, the boy met a group of war orphans materialised out of a classroom poster, who announced that he had been given green hair to show the world what war has done to children.
---
The Boy with Green Hair was one of the earliest films made by the celebrated Joseph Losey, director of the likes of The Servant (1963), The Go-Between (1971) and The Romantic Englishwoman (1975). Both Losey and screenwriter Ben Barzman were later blacklisted during the McCarthy Communist witch-hunts of the 1950s and left Hollywood.
Joseph Losey and Ben Barzman intended The Boy with Green Hair as a strong anti-war parable, although had to purportedly fight against studio interference that wanted to turn the children's plight into a pro-American militarist statement (one that would have gone from saying that war hurts children around to say that this is why America needs to be a strong military power).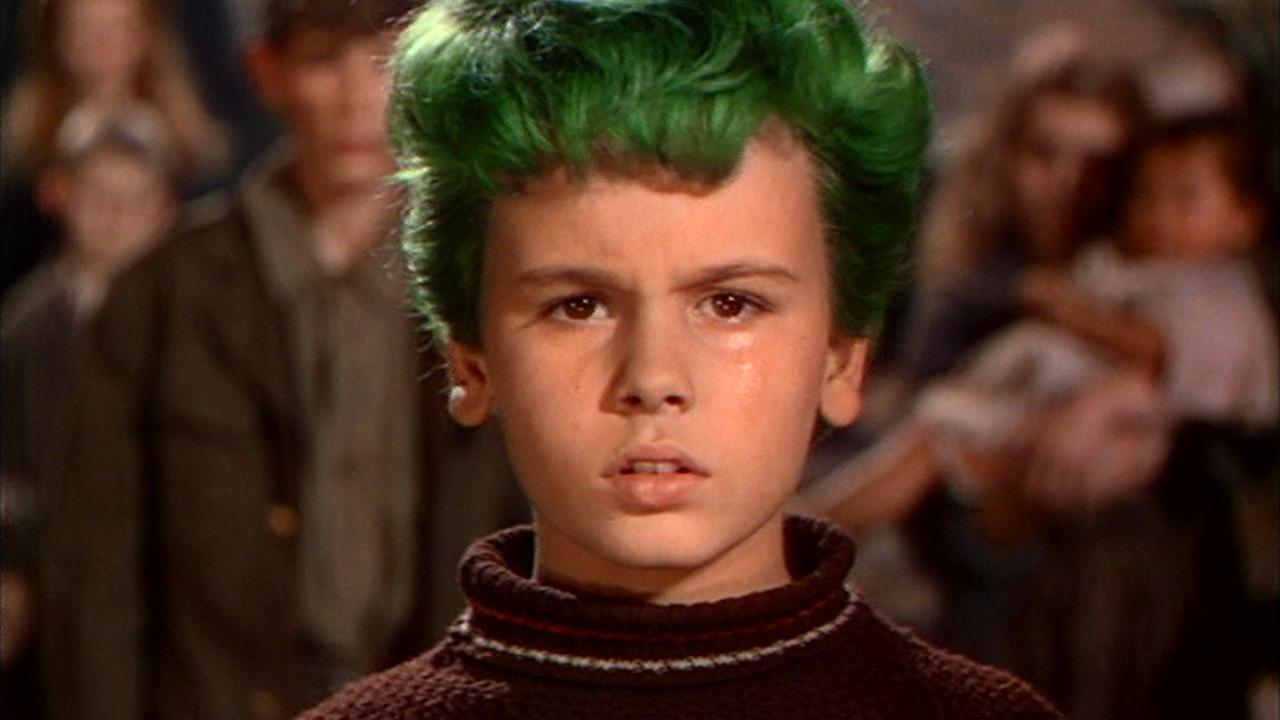 The Boy with Green Hair is an uneven film. The story is never sure what is wants to be – a comedy, a tearjerker about its lonely child, an anti-war or an anti-prejudice didactic – and remains too piecemeal to be of much interest. The anti-war message is made with a heavy hand. Nevertheless, the film has a certain sense of humour and the relationship between the very young Dean Stockwell in the title role and Pat O'Brien is well drawn.
Joseph Losey's other genre outings include:- M (1951), an English-language remake of Fritz Lang's classic film about a child killer; the Hammer science-fiction film The Damned (1963) about the discovery of radioactive children; and Modesty Blaise (1966), the adaptation of a comic-strip about a female super-thief. He was also the original director on the Hammer film X the Unknown (1956) but was replaced.
---
---