---
Crew
Director – Maurice Joyce, Screenplay – Ken Scarborough, Producers – David Campbell, Melanie Grisanti, Jim Jinkins & Jack Spillum, Music – Mark Watters, Animation – Plus One Animation, Inc (Supervisor – Choon-Man Lee). Production Company – Jumbo Pictures/Disney.
Voices
Thomas McHugh (Doug Funnie), Fred Newman (Mosquito 'Skeeter' Valentine/Mr Dink), Constance Shulman (Patty Mayonnaise), Guy Hadley (Guy Graham), Chris Phillips (Roger Klotz), Doug Preis (Bill Bluff/Mr Funnie), Frank Welker (Herman Melville), Alice Playten (Beebe Bluff), Eddie Korbich (Al and Moo Sleech), Doris Belack (Mayor Tippi Dink), Becca Lish (Judy Funnie)
---
Plot
Doug Funnie is in middle-school in the town of Bluffington. Doug and his best friend Skeeter Valentine are tormented by bully Roger Klotz over Skeeter's obsession with finding the mythical monster of Lucky Duck Lake. Doug has a crush on Patty Mayonnaise and sees an opportunity to be with her by them both volunteering to organise the upcoming Valentine's Day dance. However, the self-important school newspaper editor Guy Graham, who has a crush on Patty too, pushes in and removes Doug's name from the sign-up list. Doug's plans to sign back up are suddenly overtaken when Skeeter gets a photo of the monster. The monster follows Doug and Skeeter home but proves to be friendly. They name the creature Herman Melville after it tries to eat a copy of 'Moby Dick'. They show Herman to the mayor who calls a news conference, citing it as proof that businessman Bill Bluff is polluting Lucky Duck Lake. But when Bluff is tipped off about this by Guy, he employs all efforts to capture Herman.
---
Doug's 1st Movie is a theatrically-released spinoff of the animated tv series Doug (1991-4). Created by Jim Jinkins for Nickelodeon, Doug was essentially a series of observations on life and occasional adventures enjoyed by Doug Funnie, along with his best friend Skeeter Valentine and Doug's long-time crush Patty Mayonnaise. After the cancellation of the Nickelodeon series, the Jumbo Pictures production company was purchased by Disney and Doug relaunched as Brand Spanking New Doug/Disney's Doug (1996-9). I have not seen either tv series so feel unqualified to comment about anything there.
Doug's 1st Movie though is a dull affair. The animation is simple and line drawn, exactly like it was made for tv, and not terribly interesting on a visual level. Disney, who backed Doug's 1st Movie, were clearly not expecting there to be much interest in the film and did not throw much of a budget at it. Indeed, Doug's 1st Movie was originally intended for a video release, only to go to cinematic release where it became a surprise success, earning some $20 million in US box-office rentals.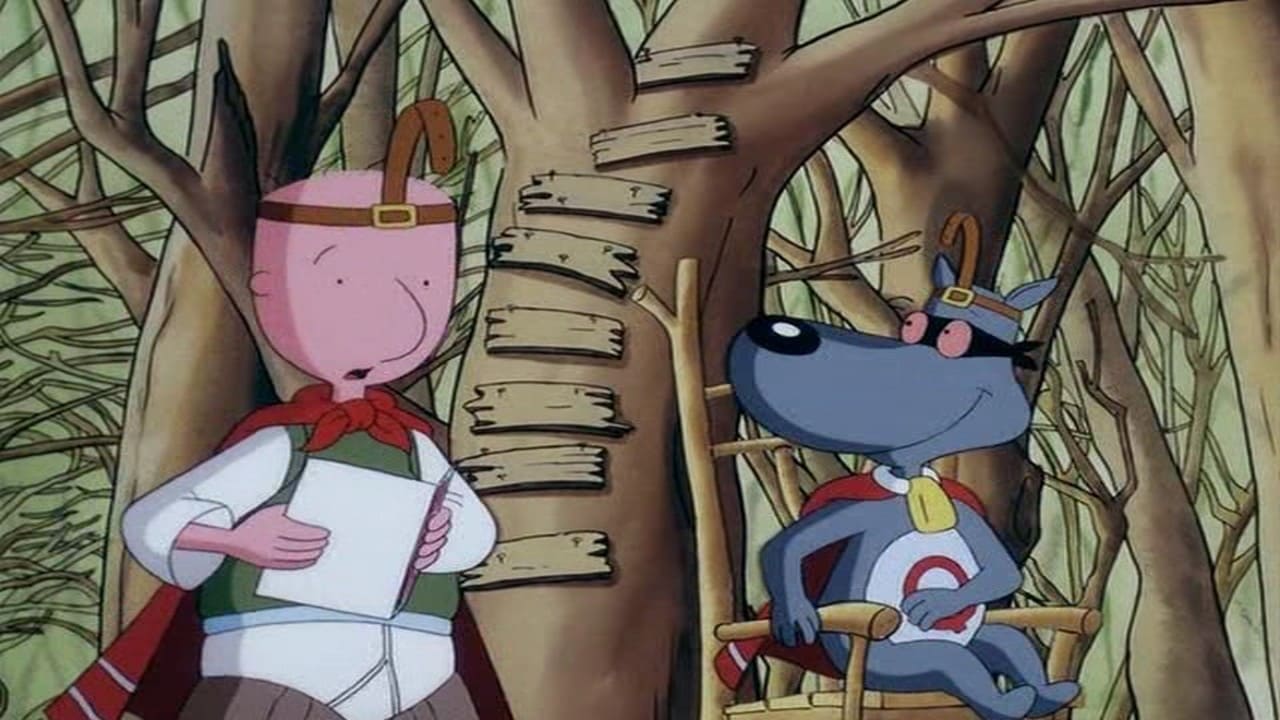 Doug's 1st Movie is almost made watchable by a peculiarly offbeat sense of humour – there are times it almost feels like the film has been intended as the indie equivalent of a children's animated film. The film has a mildly amusing idea of a mythic lake monster that, when found, proves in actuality to be intelligent and quite tame.
There are odd moments of bizarre humour – like the superhero parody dream sequence featuring Quail Man and his companion Quail Dog, or where the fake reporters at the news conference are spotted because they have a blow-up tv camera, and the bully who is given a killer robot that instead ends up nannying him. There is a not very funny spoof of Virtual Reality – the VR helmet transports the wearer into an identical simulation of the living room they are standing in.
For the most part though, the film's offbeat sense of humour never much comes to life. And it is all housed in a banal plot. The film remains without much in the way of enervation overall, like something that is straining to be funny.
---
---