---
Crew
Director – Bradley Raymond, Screenplay – Jeffrey M. Howard, Story – Jeffrey M. Howard & Bradley Raymond, Producer – Jeannine Roussel, Music – Joel McNeely, Animation Supervisor – Sheryl Sardina Sackett, CG Production – Prana Animation Studios Inc., Art Direction – Fred Warter. Production Company – Disney Toon Studios.
Voices
Mae Whitman (Tinker Bell), Jeff Bennett (Clank), Rob Paulsen (Bubble), Pamela Adlon (Vidia), Lucy Liu (Silvermist), Kristin Chenoweth (Rosetta), Raven-Symone (Iridessa), America Ferrera (Fawn), Jane Horrocks (Fairy Mary), Anjelica Huston (Queen Clarion), Jesse McCartney (Terence), Steve Valentine (Minister of Spring), Loreena McKennitt (Narrator)
---
Plot
A fairy is born in Pixie Hollow. All fairies have to pass a choice of selections to determine what type of fairy they are. As this one does, a hammer comes to life, meaning that she is to be one of the Tinkers, the fairies that make the implements the others use. She is named Tinker Bell. However, as she learns how to be a Tinker, Tinker Bell discovers that the Tinkers are regarded as the lowliest of the fairies and are not allowed to take part in the arrival of spring along with the other fairies. It becomes Tinker Bell's greatest desire to join in the celebration of spring. She thinks that she might be able to do so if she were to become a different type of fairy. She tries to learn the skills of the other fairies in being able to manipulate water, sunlight and so on, but all of her efforts turn out an unmitigated disaster. Thanks to the manipulative Vidia, Tinker Bell's attempts to corral the wild thistles end up destroying all the other fairies' preparations for spring. As Tinker Bell comes to recognise her skills as a Tinker, she realises that she has the capacity to save spring.
---
TinkerBell is an animated spinoff of Disney's Peter Pan (1953). It is one of a host of sequels that Disney have made to their classic animated works during the 1990s/00s, including The Return of Jafar (1994), Aladdin and the King of Thieves (1996), Beauty and the Beast: The Enchanted Christmas (1997), Pocahontas II: Journey to the New World (1998), The Lion King II: Simba's Pride (1998), Fantasia 2000 (1999), The Little Mermaid II: Return to the Sea (2000), Lady and the Tramp II: Scamp's Adventure (2001), Cinderella II: Dreams Come True (2002), The Hunchback of Notre Dame II (2002), Atlantis: Milo's Return (2003), The Jungle Book 2 (2003), 101 Dalmatians II: Patch's London Adventure (2003), Stitch! The Movie (2003), The Lion King 1½/The Lion King 3: Hakuna Matata (2004), Mulan II (2004), The Emperor's New Groove 2: Kronk's New Groove (2005), Lilo & Stitch II: Stitch Has a Glitch (2005), Tarzan 2 (2005), Bambi II (2006), Brother Bear II (2006), The Fox & the Hound 2 (2006), Leroy & Stitch (2006), Cinderella III: A Twist in Time (2007) and The Little Mermaid: Ariel's Beginning (2008).
In fact, Disney announced TinkerBell as the first in a series of films and is followed by Tinker Bell and the Lost Treasure (2009), Tinker Bell and the Great Fairy Rescue (2010), Secret of the Wings (2012), The Pirate Fairy (2014) and Tinker Bell and the Legend of the Neverbeast (2014). Disney had also earlier sequelised Peter Pan with Return to Never Land (2002).
The Tinker Bell that we have here is one that J. M. Barrie may have difficulty recognising. For him, Tinker Bell was ethereal, magical and existed in a state of ambiguous pre-adolescence. For modern Disney, Tinker Bell has been reconceived as a contemporary Can-Do Girl, not dissimilar to Pollyanna, who presses on with a determined forcefulness of mind no matter what gets in her way. The rest of the fairies seem to have been designed as bitchy, airheaded teenage girls. (Although, what does impress here is the calibre of voice actors that Disney have corralled in the supporting fairy roles, including the likes of Kristin Chenoweth, Raven-Symone, Lucy Liu, America Ferrera, Anjelica Huston and Kathy Najimy, who all have minor bit parts, as well as singer Loreena McKennitt as narrator).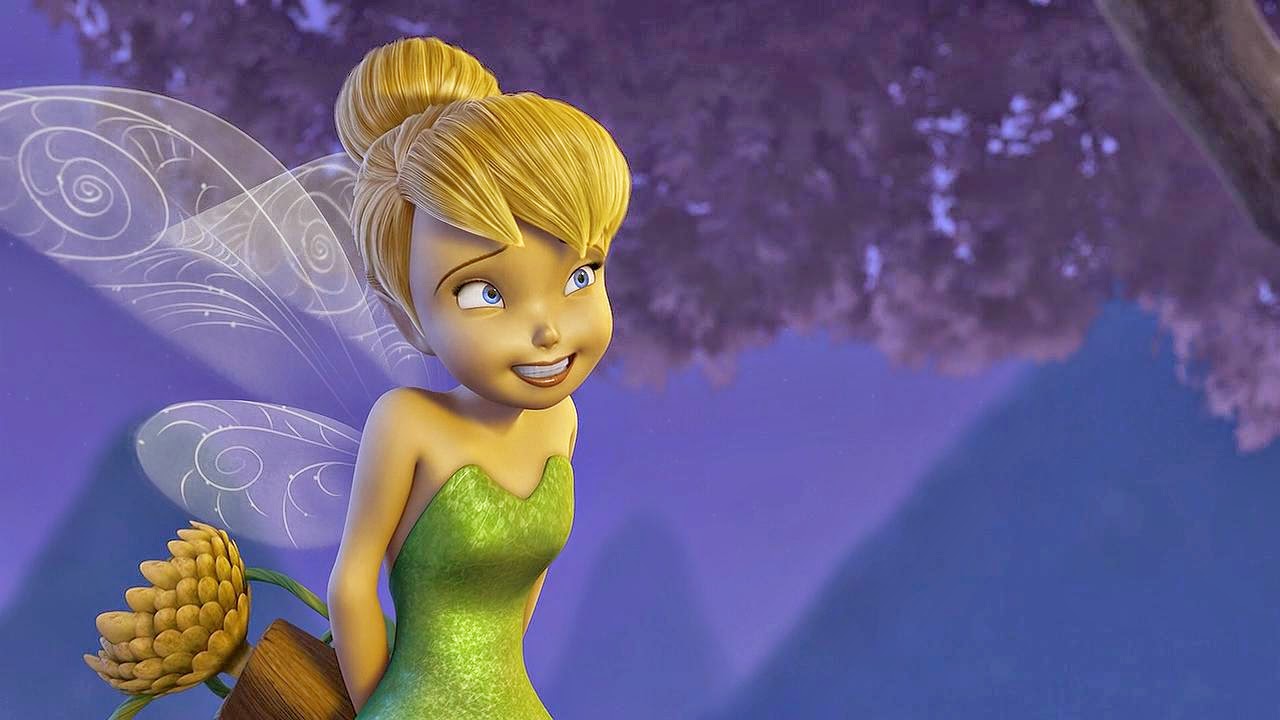 The writers seem to have taken the Tinker part of Tinker Bell's name literally and used it as the springboard for their story, explaining that she belongs to a class of fairy that makes gadgets (although, being fairies this means that the gadgets have to be made naturally and consist of acorn chariots, axes tied with piece of leaf etc). This predictably leads to a story arc that consists of Tinker Bell trying to defy the lowly caste that she is born into and become accepted – here the entire film seems founded around an arbitrary flick of the writer's pen that says the tinkers are not allowed to participate in spring, why this is so (other than authorial convenience) is never made clear. Being a film made for young audiences, fairies are born magically rather than sexually, although contradictorily we also have clear gender polarities and even a boy who seems to be attracted to Tinker Bell.
One unusual aspect is that while other animated films usually opt for an environmental/conservationist message – see the likes of Ferngully: The Last Rainforest (1992), Once Upon a Forest (1993), Happy Feet (2006) and Barbie Presents Thumbelina (2009) – and create the simple dichotomy that nature and its denizens are good and human progress and technology are inherently destructive, TinkerBell is one animated effort that reverses this and says that technology is good, even going so far as to have Tinker Bell's technological fixes save nature itself.
---
---