---
Crew
Director – Ramaa Mosley, Screenplay – Tim Macy, Story – Tim Macy & Ramaa Mosley, Producers – Darren Goldberg, James Graves, Ramaa Mosley & Kirk Roos, Photography – Peter Simonite, Music – Andrew Hewitt, Visual Effects – Resolution LA, Visual Effects Supervisor – Elad Offer, Production Design – Elizabeth Jones. Production Company – Northern Lights Films/Atlantic Pictures/Laundry Films/Union Entertainment.
Cast
Juno Temple (Alice Macey), Michael Angarano (John Macey), Stephen Park (Dr Li Ling), Billy Magnussen (Arnie), Alexis Bledel (Payton), Thomas Middleditch (Gilad), Robert Michael McClure (Yoel), Alia Shawkat (Louise Graves), Bobby Moynihan (Chuck Graves), Ben Rappaport (Ricky), Jack McBrayer (Joe), Lucy Walters (Mary), Michael Delaney (Mr Tutor), Tara Copeland (Mrs Tutor), Rebecca Darke (Mollia), Cristin Milioti (Brandi), Debra Monk (Trudy)
---
Plot
Husband and wife John and Alice Macey are poor and down on their luck. He is doing badly in his phone sales job, while she has graduated but is struggling to find a job. Alice goes into an antique store and on impulse steals a brass teapot she sees there. Soon after, she discovers that whenever she is hurt money appears out of the teapot. This discovery comes just as John is fired from his job. They then set about engaging in acts that physically hurt them. By doing so, they soon accumulate enough from the teapot that they are able to buy a house in a wealthy neighbourhood. At the same time, two Orthodox Jewish brothers break in demanding the teapot and taking all the money, while a Chinese scholar comes warning of the teapot's history and how it will eventually take them over to the dark side. They soon find that the teapot requires more and more – be it witnessing other people being hurt and emotional pain they inflict on themselves and then others. Next Alice starts to contemplate murder.
---
The Brass Teapot is a directorial debut for American director Ramaa Mosley. Prior to this, Mosley was a director of commercials and music videos for various bands and artists including The B52s and Creed. She had previously made the film as The Brass Teapot (2007), a 22-minute short film, and was given the budget to expand it as a full-length film. The finished film premiered at the Toronto International Film Festival and gained some festival play.
In an interview, Ramaa Mosley makes some strange claims about The Brass Teapot – that such a teapot and its powers does exist and that the Theosophist Society is undertaking a worldwide search for its existence. Whatever the case, The Brass Teapot is essentially a light fantasy film. Imagine a film like The Box (2009) played in a light comic tone.
Before watching The Brass Teapot, you think what a silly premise for a film but then your second thought is that you could see someone developing a goldmine of black humour out of the material. When you think about what the film covers – personal injury, BDSM sessions, a couple trying to make more money by saying as hurtful things as they can to one another and others, before finally contemplating murder – there seems a rich vein of humour that you could see coming out like a Coen Brothers farce (even if the material would be too lightweight for the Coens to ever take up). Not to mention, the satirical dig at modern consumerist values that hangs over the film – the question of just how far some people are prepared to go to achieve success.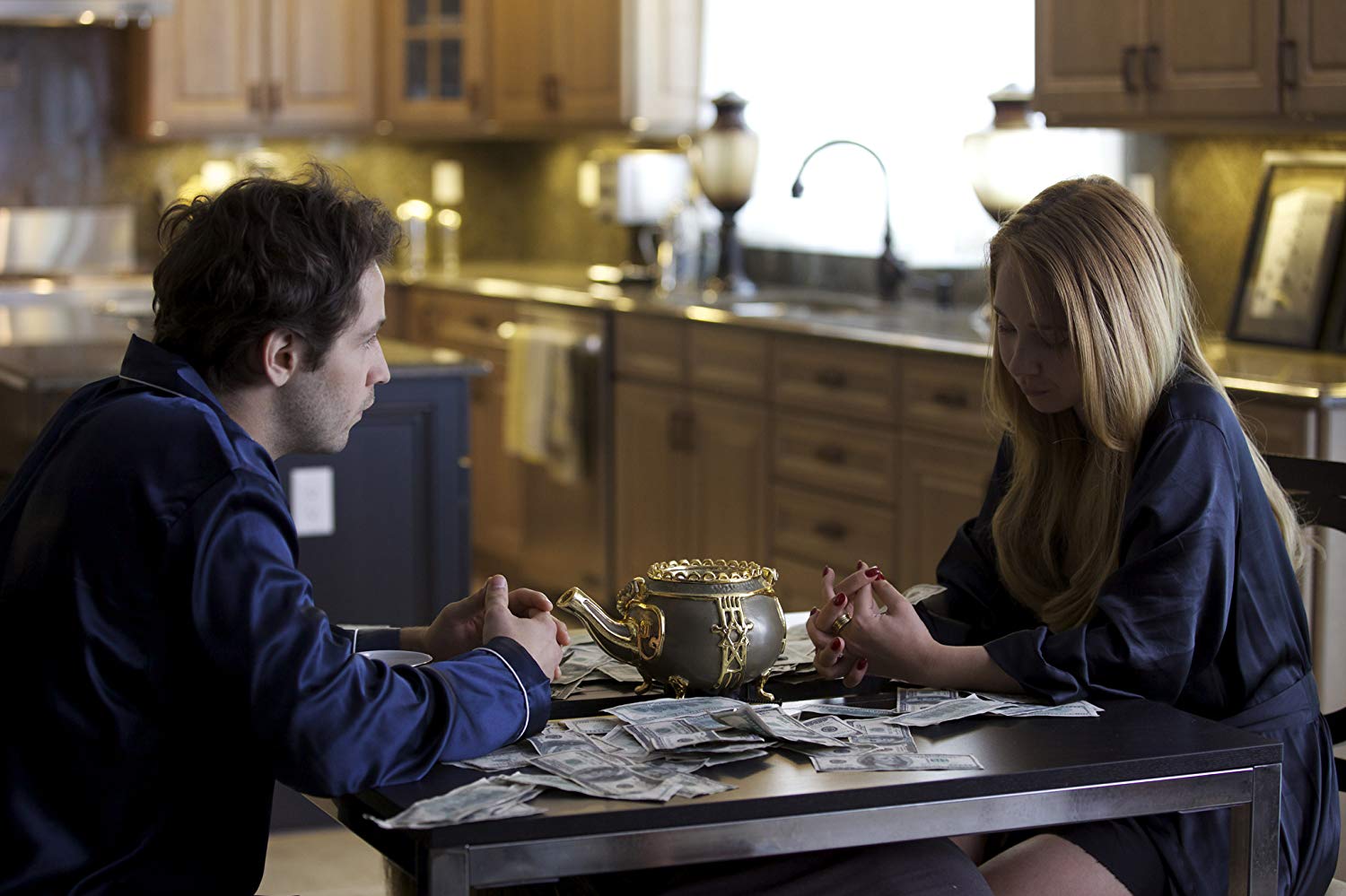 The Brass Teapot could have been a dark parable for The Recession but all that we end up with is a comedy that vaguely amuses and can at best be shrugged off as cute. Ramaa Mosley fails to find any of this dark humour in the material. She plays everything as though it is a frothy light fantasy comedy. The approach throughout is only two steps away from a domestic light fantasy tv series such as Bewitched (1964-72) or I Dream of Jeannie (1965-70)..
The most feeling that Mosley seems to reserve is for the scene where Juno Temple and Michael Angarano go back home to her mother's for dinner and sit making jibes at the smiling niceness of her sister and her ideal of a family. The film does pick up somewhat when it moves from inflicting physical pain on themselves to finding they can earn more money by creating emotional pain by saying hurtful things to themselves and others, but this is soon abandoned. Even as a light comedy, the treatment never rises much beyond the amiable and into anything that produces a laugh.
Certainly, Juno Temple shows promising strength as an actress, even when paired up against the gloopy Michael Angarano.
Ramaa Mosley next made the horror film Tatterdemalion/Lost Child (2017).
---
---