---
Crew
Director – Barry Sonnenfeld, Screenplay – Matt R. Allen, Daniel Antoniazzi, Gwyn Lurie, Ben Shifrin & Caleb Wilson, Producer – Lisa Ellzey, Photography – Karl Walter Lindenlaub, Music – Evgueni Galperini & Sacha Galperini, Senior Visual Effects Supervisor – Craig Hayes, Visual Effects Supervisors – Erik-Jan De Boer & Francois Dumoulin, Visual Effects – Edi Effetti Digitali Italiana (Supervisor – Gaia Bussolati), Method Studios & Rodeo, Special Effects Supervisor – Louis Craig, Production Design – Michael Wylie. Production Company – Europacorp/Fundamental Films.
Cast
Kevin Spacey (Tom Brand), Jennifer Garner (Lara Brand), Malina Weissman (Rebecca Brand), Robbie Amell (David Brand), Mark Consuelos (Ian Cox), Christopher Walken (Felix Perkins), Cheryl Hines (Madison Camden), Talitha Bateman (Nicole Camden), Teddy Sears (Josh Myers)
---
Plot
Tom Brand is the highly successful founder and CEO of Firebrand Corporation. He is constructing the tallest building in the world in New York City, although they face competition from another building in Chicago that is nearing the same height. He is also fighting off oily executive Ian Cox who wants to turn Firebrand public and is trying to persuade the boardroom to undercut Tom's desire to complete the tower as his legacy. Tom is so busy with work that he has little time for his wife Lara and daughter Rebecca. Realising it is Rebecca's birthday, he decides to buy her the cat she wants and goes to obtain one from the pet shop of the strange Perkins. Diverted to the tower by Cox's double-dealings, he ends up falling over the edge while holding the cat. He comes around to find he is now in the cat's body and his own body is in a coma. Taken home, he tries to communicate with his family but faces considerable problems doing so while in a cat's body. Perkins, the only one who can speak to him, convinces him that the only way he will get back to his body is by being more cat-like. Meanwhile, Cox seeks to have the plug pulled on Tom so that he can consolidate his takeover of the board.
---
Barry Sonnenfeld was a former cinematographer who made his directorial debut with The Addams Family (1991). The Addams Family had a quirky subversive appeal that made Sonnenfeld a director worth watching and for a few years he delivered a string of consistently enjoyable works with Addams Family Values (1993), Get Shorty (1996) and Men in Black (1997). Then things started to go wrong, beginning with the disastrously overblown Wild Wild West (1999) and continuing on with Big Trouble (2002), Men in Black II (2002) and RV (2006), wherein the quirky appeals of Sonnenfeld's earlier films have become loud, chaotic slapstick set-pieces. With the exception of Men in Black 3 (2012) and Nine Lives, all of Barry Sonnenfeld's work in the 2010s has been in television. (See below).
My brain started to do strange things from about the point that I read the premise for Nine Lives – a comedy in which Kevin Spacey turns into a cat. From face value, it seems a variant on Oh Heavenly Dog (1980), which had Chevy Chase reincarnated as Benji or the more serious-minded Fluke (1995), which had Matthew Modine reincarnated as a dog. It is just such a lightweight premise that you heart sinks when you think of an actor of Kevin Spacey's calibre signing on – it is akin to the same sadness in watching an estimable actor like Robert De Niro wasting himself on more sequels to Meet the Parents (2000). You are equally switched off Nine Lives from about the opening scene when it sees the need to screen a selection of internet cat videos.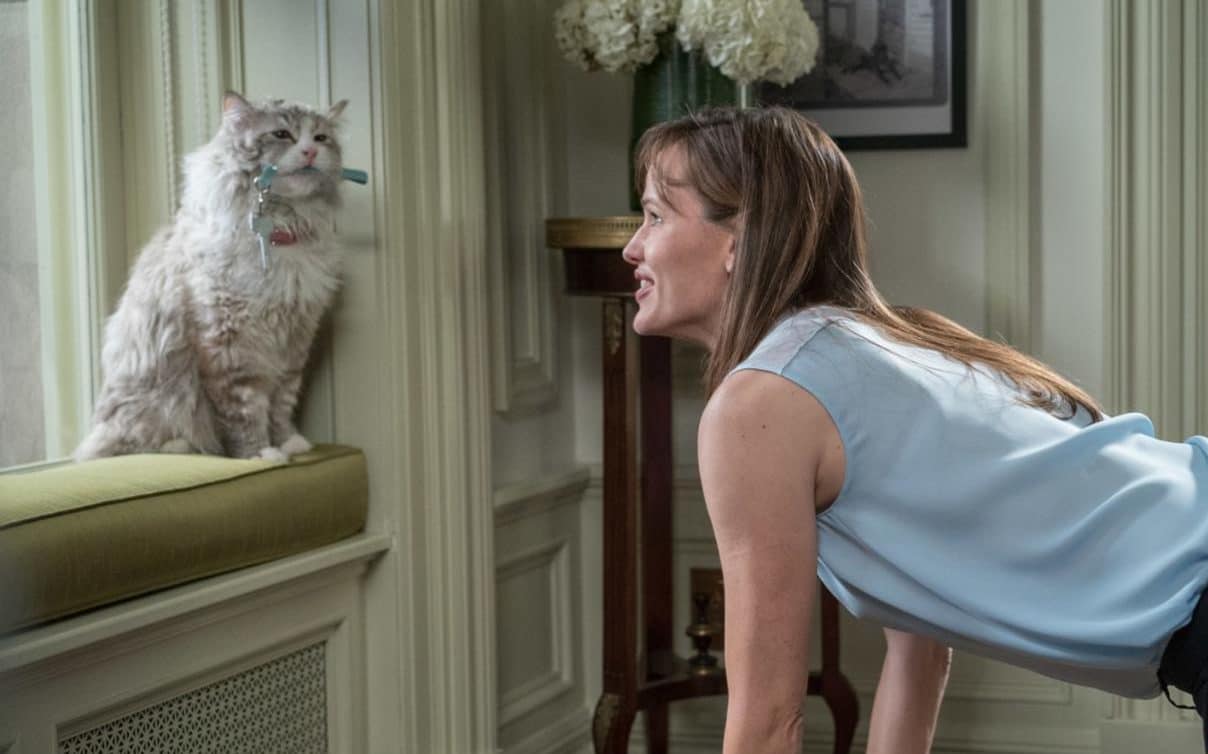 It is not that Nine Lives is a particularly bad film; it is more that it is so utterly lightweight and disposable. Everybody has easy and predictable character arcs; there is a clearcut black hat villain identifiable from the outset. Kevin Spacey is cast in the sort of role that Danny DeVito used to specialise in a few years ago of the obnoxious person who has an obvious redemption arc, at which Spacey certainly brings his customary caustic bite to bear on the part. (This was the last leading role Spacey had before he became persona non grata over sexual harassment allegations).
One has long since given up hope that Barry Sonnenfeld would return to find something that made his two Addams Family films pleasingly enjoyable and just learned to greet his films for the overly broad slapstick vehicles they are. In the film's favour, the cat CGI effects are convincing and accomplished. These lead to the film's mild amusements – various sequences watching the cat trying to get the cap off a fountain pen, trying to open a whiskey decanter and then staggering about drunk, it loose in the office – but the film is so utterly forgettable in every other respect.
Barry Sonnenfeld's other genre films as director include The Addams Family (1991) and Addams Family Values (1993), Men in Black (1997), Wild Wild West (1999), the nuclear weapon comedy Big Trouble (2002), Men in Black II (2002) and Men in Black 3 (2012). Sonnenfeld also produced the witty spoof James Bond tv series Secret Agent Man (2000), the live-action superhero spoof The Tick (2001-2), the tv series Pushing Daisies (2007-9) about a man with resurrection powers the Lemony Snicket tv series A Series of Unfortunate Events (2017-9) and the revival of The Tick (2017– ), and on cinema screens the Gothic children's film Lemony Snicket's A Series of Unfortunate Events (2004), the Disney animation spoof Enchanted (2007), the animated Space Chimps (2008) and Men in Black: International (2019).
---
---