---
Crew
Director – Tom McCarthy, Screenplay – Tom McCarthy & Paul Sado, Producers – Tom McCarthy & Mark Jane Skalski, Photography – Mott Hupfel, Music – John Debmey & Nick Urata, Visual Effects Supervisor – Jake Braver, Visual Effects – Phosphene (Supervisor – John Bair), Special Effects Supervisor – Drew Jiritano, Makeup Effects – Core Castellano, Production Design – Stephen Carter. Production Company – Next Wednesday/Golden Spike/Voltage Pictures.
Cast
Adam Sandler (Max Simkin), Cliff "Method Man" Smith (Leon Ludlow), Dustin Hoffman (Abraham Simkin), Steve Buscemi (Jimmy), Melonie Diaz (Carmen Herrera), Ellen Barkin (Elaine Greenawalt), Lynn Cohen (Sarah Simkin), Dan Stevens (Emiliano), Kim Cloutier (Taryn), Fritz Weaver (Mr Solomon), Yul Vazquez (Marsha), Miles J. Harvey (Big Boned Kid), Joey Slotnick (Mr. Slick), Glenn Fleshler (Jeffrey), Danny Mastrogiorgio (Brian), Craig Walker (Danny Donald), Stuart Rudin (Old Bearded Man), Cliff Samara (Indian Guy), Stephen Lin (Chinese Guy), Kevin Breznahan (Patrick)
---
Plot
On New York's Lower East Side, Max Simkin runs the shoe repair shop left to him by his father who vanished several years ago. Max lives with his aging mother and has not a terribly happy life. One evening, Max tries on a pair of shoes left by the gangland thug Leon Ludlow and is startled when he transforms into Leon. He takes all the shoes in the shop in his size and tries them on, finding that in doing so he transforms into the wearer. He has a great deal of fun with this, walking about as other people, even appearing to his mother as his father after putting on a pair of his father's old shoes. However, after putting Leon's shoes on and going to his apartment as him, he is propelled into the midst of the gangland activities that Leon runs. At the same time, Max finds himself in the midst of a crooked developer's attempts to force an old man out of his apartment and decides to use his newfound powers to help the old man.
---
Since his appearance in the late 1990s, Adam Sandler has established a certain niche in comedy and found an inexplicable popularity. Sandler has appeared in films such as Happy Gilmore (1996), The Waterboy (1998), Big Daddy (1999), Little Nicky (2000), Mr Deeds (2002), Anger Management (2003), Click (2006), I Now Pronounce You Chuck and Larry (2007), Bedtime Stories (2008), You Don't Mess With the Zohan (2008), Grown Ups (2010), Jack and Jill (2011), Pixels (2015), The Ridiculous 6 (2015) and Hubie Halloween (2020). There has been the odd exception where he has given good performances and/or the film came out well such as Punch Drunk Love (2002), 50 First Dates (2004) and Uncut Gems (2019) but mostly the Adam Sandler film makes a pitch for the lowest common denominator and gags focused around Sandler's smug cynicism.
The Cobbler comes from Tom McCarthy. McCarthy has some solid credits as an actor with roles in films such as Good Night, and Good Luck. (2005), Syriana (2005), Flags of Our Fathers (2006), The Lovely Bones (2009) and 2012 (2009). He is probably best remembered in this household for his memorable performance as the unscrupulous journalist in the final season of tv's The Wire (2002-8). The surprise I was not aware of before this is that McCarthy is also a director-writer. He made the acclaimed The Station Agent (2003), followed by the likes of The Visitor (2007) and Win Win (2011). Subsequent to The Cobbler, he went on to Spotlight (2015), which had him nominated for Academy Awards both for directing and the script, and Stillwater (2021), while returning to genre material with Timmy Failure: Mistakes Were Made (2020) about a boy detective with a bear for an imaginary companion.
The Cobbler is somewhat different to the usual Adam Sandler fare. (It is also one of Sandler's few films not produced by his Happy Madison production company and where he is essentially a hired actor). Although the sales pitch for the film tried to sell it as a typical Adam Sandler comedy, it is less comedy (although has occasional comedic moments) and mostly light whimsy. There are certain similarities to The Twilight Zone episode Dead Man's Shoes (1960) in which the spirit of a murdered gangster inhabited the derelict who put on his shoes.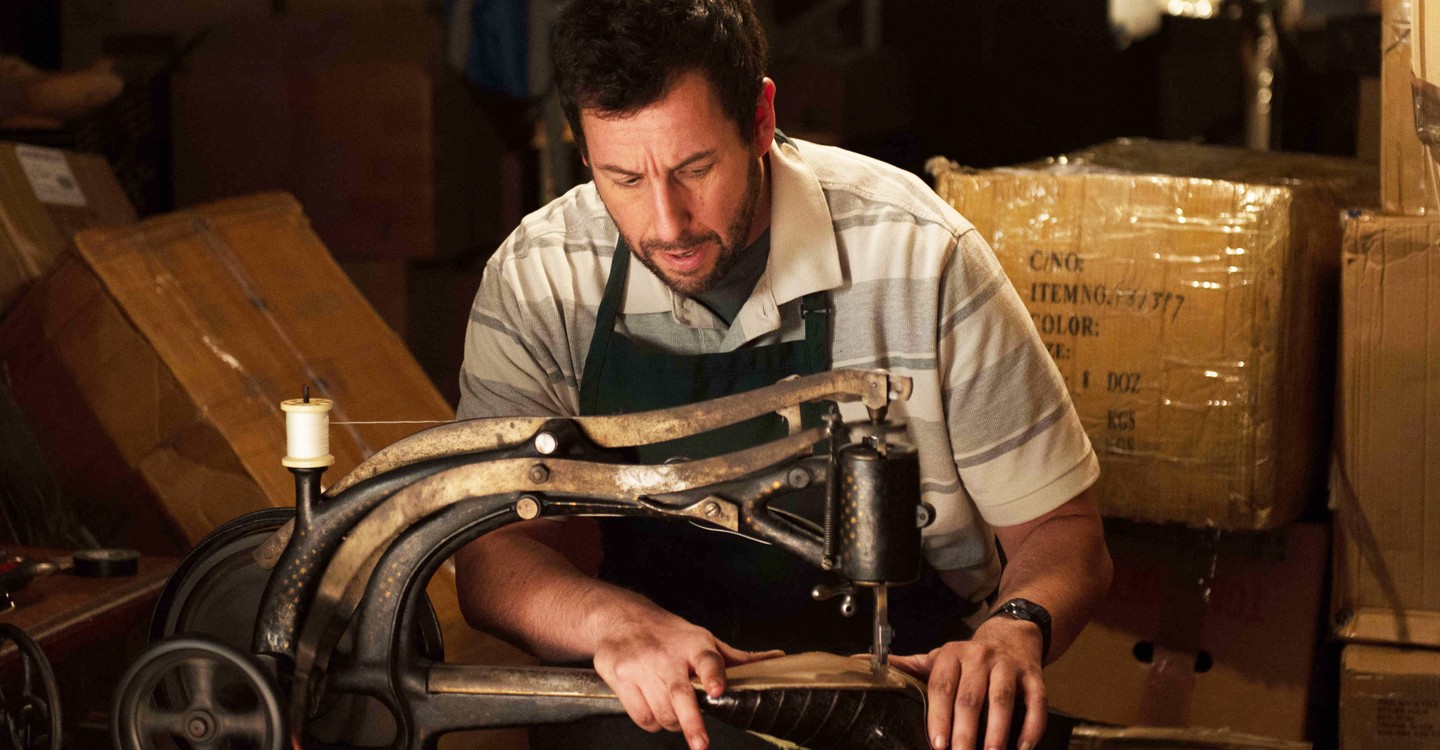 Sandler plays more of a role that requires him to act than he usually does – his appearance throughout is denoted by a hangdog expression verging on a state of depression that signals the only story arc he could possibly have is the discovery of a joie de vivre. He has clearly resisted the effort to have the material rewritten as a vehicle for his lazy, smug gags. Not to mention that the film has attracted some unusually high-profile casting with names like Dustin Hoffman, Ellen Barkin and Fritz Weaver all in supporting parts. (Although the mind kind of boggles at the thought of seeing people like Sandler, Hoffman and rapper Method Man all gathering around the same rehearsal table).
The other thing that boggles the mind is seeing such names all come together to play out such a slight premise – man discovers the ability to put on someone else's shoes and transform into that person. It is the sort of idea you imagine playing out more like a throwaway kid's film or a bubbly tv movie. The surprise about it is that Tom McCarthy and all involved give it far more weight than you would expect.
And certainly, the film gains a little more substance in the scenes later in the show where Sandler impersonates Method Man and becomes caught up in his gangland schemes and then embarks on a plan to save Fritz Weaver from being evicted from his apartment, something that improbably involves him impersonating multiple persons and arranging cops and tv camera crews present at appropriate times.
---
---