USA. 2012.
Crew
Director – Brian Robbins, Screenplay – Steve Koren, Producers – Nicolas Cage, Alain Chabat, Stephanie Danan, Norm Golightly, Brian Robbins & Sharla Sumpter-Bridgett, Photography – Clark Mathis, Music – John Debney, Visual Effects Supervisor – Raymond McIntyre Jr., Visual Effects – Pixel Magic, Special Effects Supervisor – Joe D. Ramsey, Production Design – Clay A. Griffith. Production Company – Work After Midnight Films/Saturn Films.
Cast
Eddie Murphy (Jack McCall), Kerry Washington (Caroline McCall), Cliff Curtis (Dr Sinja), Clark Duke (Aaron Wiseberger), Allison Janney (Samantha Davis), Ruby Dee (Annie McCall), Jack McBrayer (Starbucks Barista), Lou Saliba (Shrink), Eshaya Draper (Young Jack), Sarah Scott Davis (Young Annie), Winston J. Rocha (Gaudencio), John Witherspoon (Blind Man)
---
Plot
Jack McCall is a successful but self-absorbed Hollywood literary agent who walks over the others in his life. He is determined to land a book deal with the popular New Age guru Dr Sinja and fakes his way into a session at Sinja's ashram. Jack cuts himself on the bodhi tree at the ashram and is later surprised when the tree magically appears at his home. Jack discovers that the tree sheds a leaf with every word he speaks. Dr Sinja explains that the tree is measuring the words that Jack has left to speak – that it has a thousand leaves and that when it sheds all of them Jack will die. Jack then does everything he can in order not to speak or write words. However, being forced to communicate without words places both Jack's career and marriage in danger.
---
Eddie Murphy can be a very funny guy. He has one's sides splitting with his motor mouth shtick or the versatility of the multiple disguises he adopts in films like 48 Hrs. (1982), Trading Places (1983), Beverly Hills Cop (1984), The Nutty Professor (1996) and Shrek (2001), most of which have produced sequels. On the other hand, Murphy seems to have a poor choice in agents – for every Beverly Hills Cop and The Nutty Professor on Murphy's resume, this is balanced out by bombs like The Golden Child (1986), Boomerang (1992), The Distinguished Gentleman (1992), Beverly Hills Cop III (1994), Vampire in Brooklyn (1995), Holy Man (1998), The Adventures of Pluto Nash (2002), I Spy (2002), The Haunted Mansion (2003) and Imagine That (2009).
It may be that the arc of a comic's career involves reaching a certain peak popularity and that that subsequently becomes a slide into soft-headed middle-age as they become parents and then begin to direct their on-screen roles towards entertaining their children. Robin Williams is a perfect example of someone who was an edgy funny guy in his heyday in the 1980s and had become a cuddly child-friendly figure by the end of the 1990s. As A Thousand Words comes out, Eddie Murphy is about to turn 51 and has five children ranging from the single digit age group to their teens. His choices in roles over the last few years has felt like he has been catering more and more towards this family audience – the likes of Dr Dolittle (1998) and sequel, Mulan (1998), the Shrek films, Daddy Day Care (2003), Imagine That. Or it may simply be that this family-friendly fare is where the big paycheques are to be found for comedy actors.
A Thousand Words has the feel of an embarrassment that the studio would have been happier off shuffling into quick dvd and cable release. The film was completed back in 2008 and sat in limbo for four years. When Eddie Murphy signed up as the host of the 2012 Oscar telecast, distribution was quickly organised to piggyback on the temporary boost to Murphy's profile that it is assumed would ensue. Alas for the distributor's plans, Murphy quit the Oscar broadcast in protest over producer Brett Ratner being forced to step down after making a homophobic slur. A Thousand Words opened without any critic previews and was universally panned.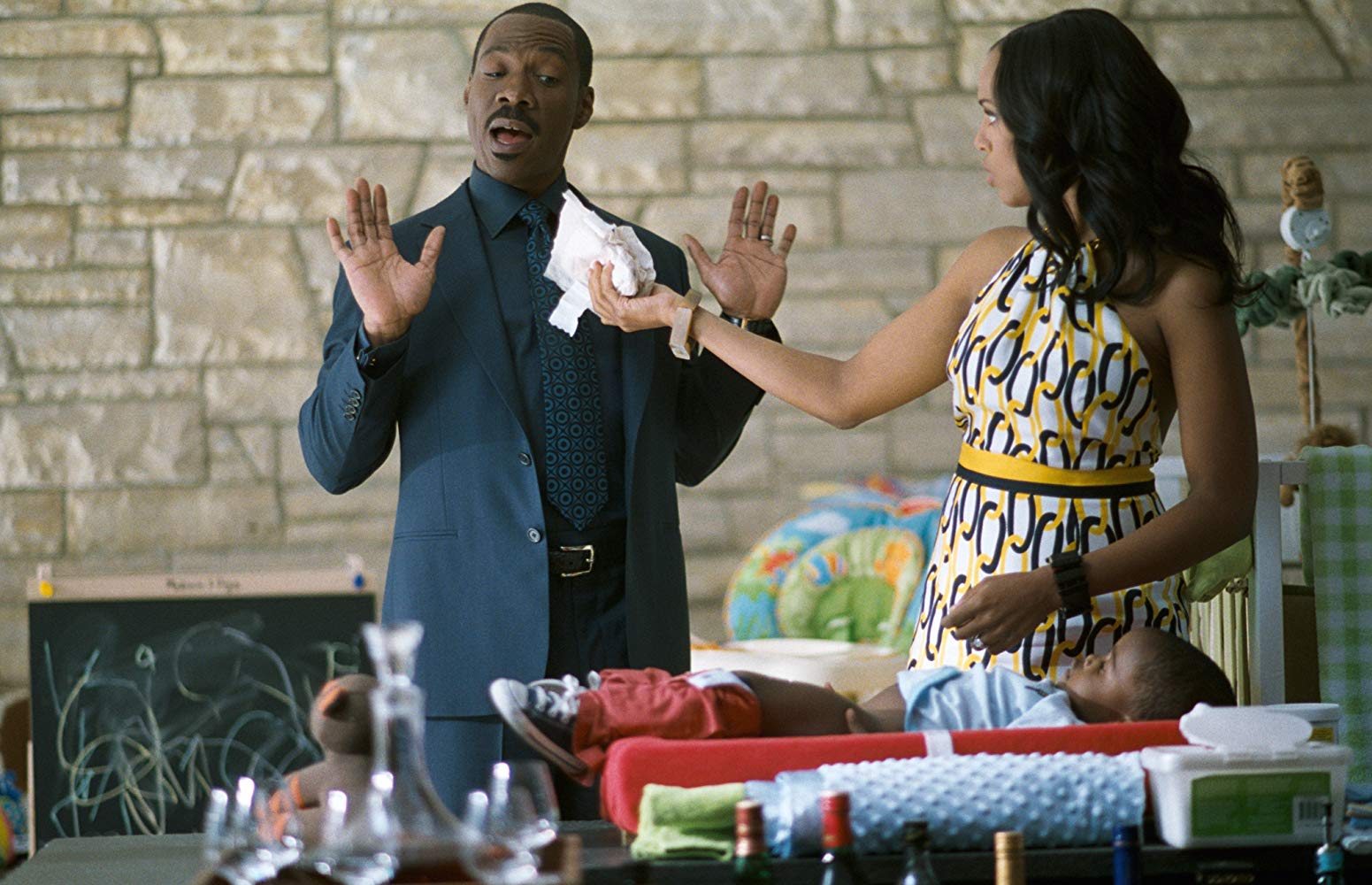 A Thousand Words reminds very much of the Jim Carrey comedy Liar Liar (1997). In both films, the star of the show plays a high-rising character who walks all over people in a way that clearly signals that they are on a collision course with a rude reality check. The two characters then have a curse placed on them – Jim Carrey being forced to tell the truth for 24 hours, Eddie Murphy only being given a thousand words before he dies. Both films then become redemption fantasies where the protagonist must re-examine all aspects of his life, learn to make amends, appreciate the people in front of him and so forth. Both are soft and cuddly films at heart that humiliate their protagonists in only mildly comedic ways before making them wake up to a feelgood reconciliation. [PLOT SPOILERS] Here, for instance, after building the premise up around Eddie Murphy dying when his thousand words are up, the ending cops out on this and has him wake up after his last word expires now miraculously renewed, having discovered humility and an appreciation for the people he dismissed.
Unfortunately, the idea of Eddie Murphy being forced not to speak makes for a lame premise. In both Liar Liar and A Thousand Words, the bulk of the comedy centres around a series of scenarios where the hero is forced into situations where he must struggle against what he is not able to do. In this case, we get scenes with Murphy trying to make his way through important business meetings by saying nothing or using talking dolls, trying to deal with his wife wanting to speak dirty to her during sex, trying to escort a blind man across the street, dealing with a group of French people and being forced to repeat himself to be understood and so on.
Realising the limited nature of these scenarios, the film also creates the additional gimmick of Eddie Murphy being sympathetically affected by whatever is happening to the tree – thus when squirrels run up and down the tree, he feels like he is being tickled; when the gardener waters it, Eddie starts spontaneously dripping water; and when the tree is being fumigated, he becomes stoned during the middle of an important business lunch. Even with these additional gimmicks, the premise still feels strained.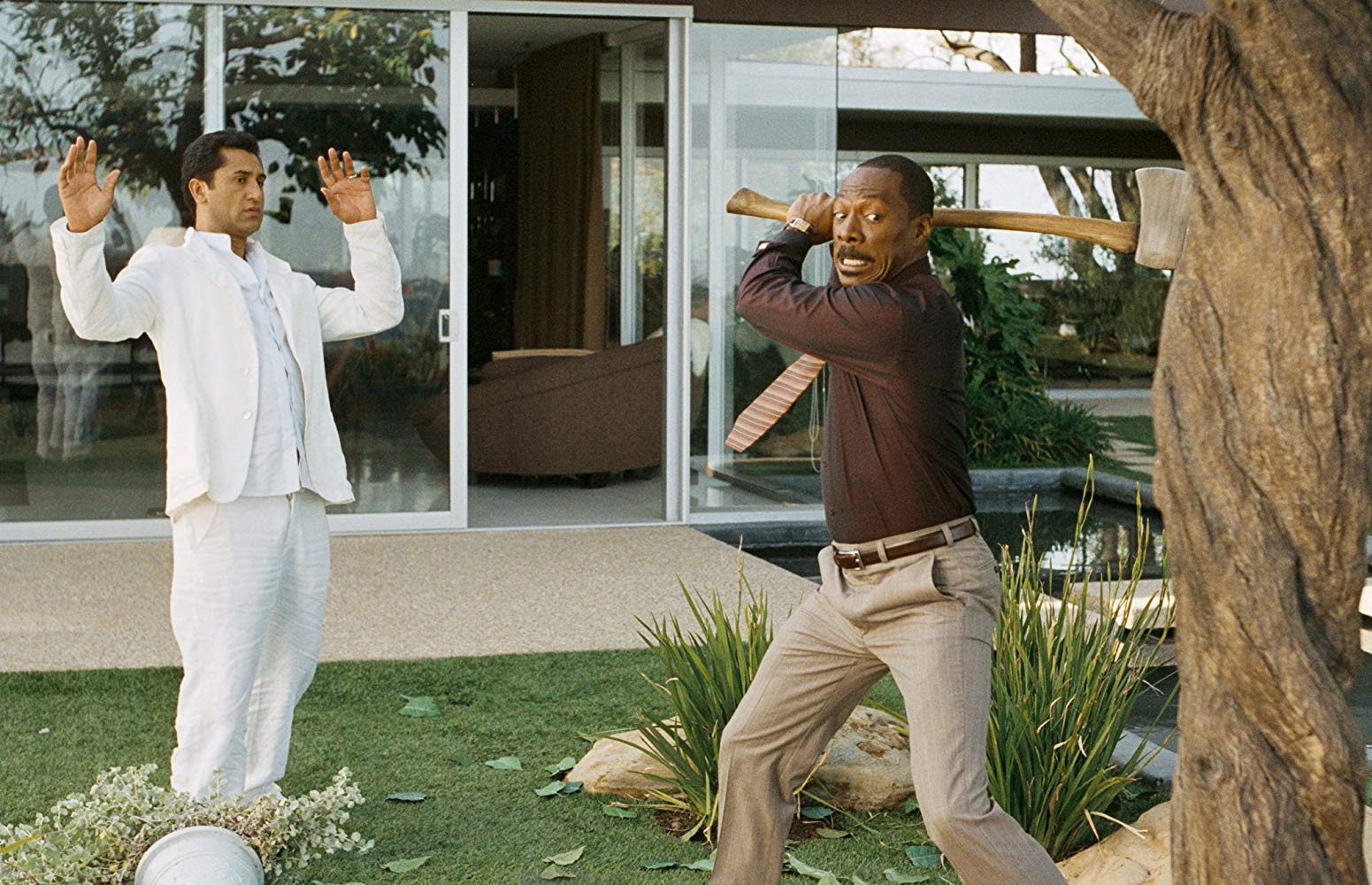 The laughs are few and far between. The film does have Eddie Murphy going for it and he has been able to lift up a weak film in many of the aforementioned examples. He is in his element during the early scenes as the asshole agent – however, the film's very premise proceeds to shoot itself in the foot by robbing Murphy of his voice and leaving him having to conduct facial gymnastics for the rest of the running time. In fact, uber-nerd Clark Duke ends up stealing many of the scenes he is in out from under Murphy.
Worse though, A Thousand Words gets maudlin. It is a film where its emphasis lies more in its marshmallowy redemption arc than it does in letting Eddie Murphy open up and have fun on screen. Compare A Thousand Words to the razor sharp and on form Eddie Murphy we saw in works like Eddie Murphy Raw (1987) and say that he has not descended into mush.
In A Thousand Words, Eddie Murphy is again being put through his paces again by Brian Robbins who previously directed him in Norbit (2007) and Meet Dave (2008). Brian Robbins is a former actor who became a director specialising in comedy with films such as Ready to Rumble (2000), The Perfect Score (2004) and The Shaggy Dog (2006).
---
Trailer here
---