---
USA. 1943.
Crew
Director – Victor Fleming, Screenplay – Dalton Trumbo, Adaptation – Frederick Hazlitt Brown, Story – David Boehm & Chandler Sprague, Producer – Everett Riskin, Photography (b&w) – George Folsey & Karl Freund, Music – Herbert Stothart, Special Effects – Arnold Gillespie, Donald Jahrus & Warren Newcombe, Art Direction – Cedric Gibbons. Production Company – MGM.
Cast
Spencer Tracy (Pete Sandidge), Irene Dunne (Dorinda Durston), Van Johnson (Ted Randall), Ward Bond (Al Yackey), Barry Nelson (Dick Rumney), James Gleason ('Nails' Kilpatrick), Lionel Barrymore (The General)
---
Plot
Pete Sandidge is a reckless and carefree Air Force pilot. He and Dorinda Durston love one another, although neither will admit it and it is a prickly relationship. While conducting a daredevil bombing run on a German ship, Pete goes down. He finds himself in a nebulous afterlife. There he learns that pilots killed in action are to go back as guardian angels and invisibly aid other novice pilots. Pete returns and helps several novices gain their confidence in the air. Much to his dismay Ted Randall, one of the pilots he helps, then falls for Dorinda.
---
The 1940s was a Golden Age of light fantasy. The era produced films such as Topper (1937) and sequels, Here Comes Mr Jordan (1941), Heaven Can Wait (1943), Angel on My Shoulder (1946), The Canterville Ghost (1944), Heaven Only Knows/Montana Mike (1947) and many others. It was also the era of World War II where halfway around the world American servicemen were being killed in combat. The people back home were treated to this body of afterlife fantasies and light eschatological whimsies by recompense, films that offered a trite, nebulous, ecumenically non-specific assurance of an afterlife. They are films that seem less concerned with issues of eternal salvation and damnation than they are with the simple relief and assurance to people that such a place as an afterlife exists. By the end of the War, some of these eschatological fantasies had become highly sophisticated – efforts like It's a Wonderful Life (1946), The Ghost and Mrs Muir (1947), Miracle on 34th Street (1947), Portrait of Jennie (1948) and the British-made A Matter of Life and Death/Stairway to Heaven (1946).
A Guy Named Joe was directed by Victor Fleming, who had previously established a more than solid name as director of the likes of The Wizard of Oz (1939) and Gone with the Wind (1939). It also has a script from Dalton Trumbo, one of the great scriptwriters of the era (and sometimes director) who became famous as one of the Hollywood Ten who were blacklisted from the industry for supposedly Communist leanings during the 1950s.
Trumbo delivers a great script. The dialogue is wonderfully tuned in the snub-nosed colloquialisms that served as 40s prose. Best of all is the sparring relationship between Spencer Tracy and Irene Dunne. It is a classic character arc – the two people who deeply care for one another beneath all their bickering and cannot admit it – and Trumbo makes it work like a charm. There is a good deal of delightful humour in the training of the novice pilots. The end the film reaches is touchingly saddening. It is a great film, one of the best of these afterlife fantasies.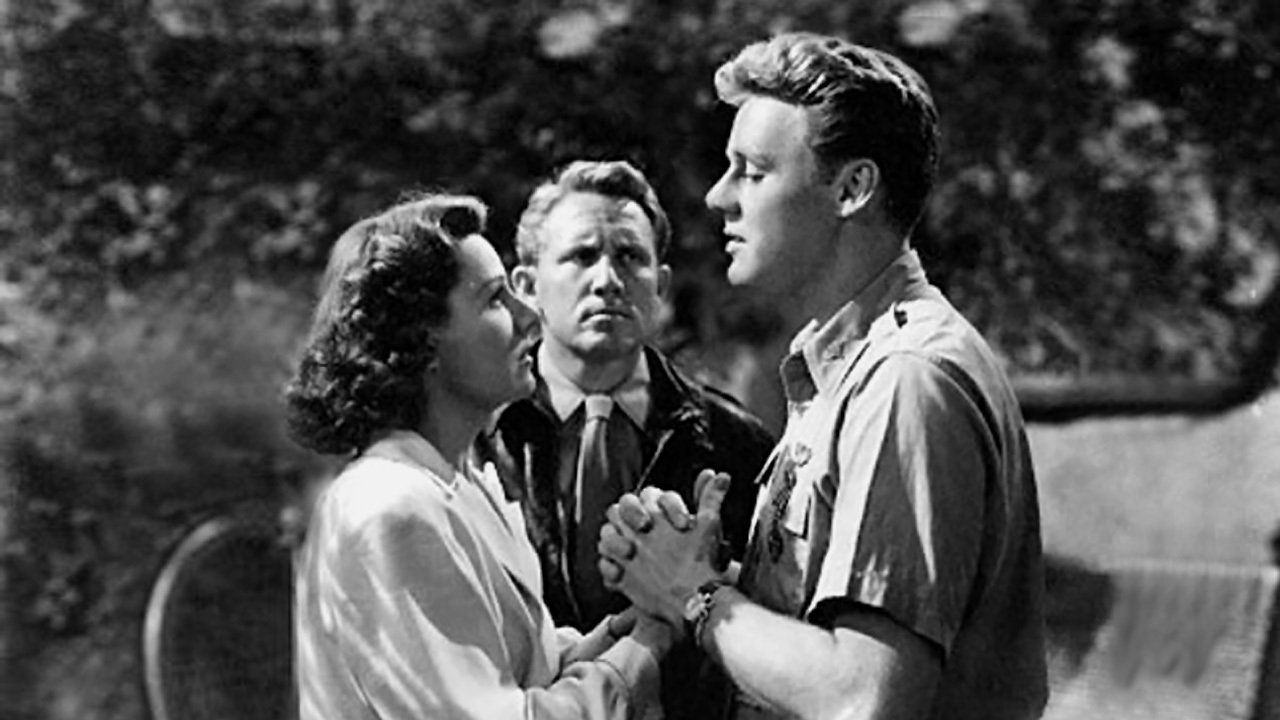 Although, more so than any of these other afterlife fantasies, there is an underlying patriotic message, the sense that God and the angels fight on the side of the American war effort. It is not pilots in general the angels are being sent back to help, just American Air Force pilots. There are no RAF pilots, or for that matter no Luftwaffe and Kokugun (Japanese air force) pilots being sent back. For surely, if the film were to entertain the notion of pilots of other nationalities being taught to be better bomber pilots, it might have to entertain the notion that other pilots were being taught to be better at killing American soldiers, in other words that God and the angels were teaching soldiers how to become better killing machines. Somehow, the fantasy only works when it is one about nationalistic heroism.
A Guy Named Joe was remade 46 years later by Steven Spielberg as Always (1989). A Guy Named Joe was one of Spielberg's favourite films. Spielberg updated the story, making it about the teaching of forest firefigher pilots rather than bomber pilots. Although Always has many characteristically beautiful Spielbergian touches, A Guy Named Joe remains the superior film. Partly it is the casting – in the remake, the triangle between Richard Dreyfuss in the Spencer Tracy role, Holly Hunter as Dorinda and Brad Johnson as the novice pilot who falls for her failed to click. Dreyfuss lacks the instantly likable, effortless everyman quality that Spencer Tracy did, rather he always comes across with a yapping, lost puppy, underdog quality. The sole exception was John Goodman's Al Yackey. Moreover, Spielberg took away the World War II milieu. Without the personal immediacy of the War effort where tragedies were very real and immediate, all that Spielberg offered was an old-fashioned film that not many people were interested in going to see.
---
---