(Celine et Julie Vont en Bateau)
---
Crew
Director – Jacques Rivette, Screenplay – Juliet Berto, Dominique Labourier, Bulle Ogier, Marie-France Pisier & Jacques Rivette, Dialogue – Eduardo de Gregorio, Producer – Barbet Schroeder, Cinematography – Jacques Renard, Music – Jean-Marie Senia. Production Company – Action Films/Les Films Christian Fechner/Les Films du Losange/Les Films 7/Renn Productions/Saga/Simar Productions/V.M. Productions.
Cast
Juliet Berto (Celine), Dominique Labourier (Julie), Bulle Ogier (Camille), Marie-France Pisier (Sophie), Barbet Schroeder (Olivier), Nathalie Asnar (Madlyn), Philippe Clevenot (Gregoire/Giulou), Marie-Therese Saussure (Poupie), Anne Zamlie (Lil)
---
Plot
In a playful game, Julie follows Celine, a stage magician, from a Montmartre park and through the streets of Paris. Later, Julie turns up outside Celine's apartment with a cut knee and Celine invites her in and lets her stay. The two become best friends. At first, Celine, and later Julie, is drawn to a mysterious house – No 7 Rue de Nadir aux Pommes. After entering the house, they both return unable to remember what happened and with a piece of green candy in their mouths. When eaten later, the candy allows them partial visions of what transpired between the people who lived in the house, events that may have culminated in their deaths. The only means of finding out the full story is for Celine and Julie to return to the house.
---
Celine and Julie Go Boating is probably the most famous and acclaimed film of French director Jacques Rivette (1926-2016). Rivette is one of the minor figures of the French New Wave of the 1960s. Like Jean-Luc Godard, Rivette also started as a film critic. After directing several short films, he appeared with the full length Paris Nous Appartient (1960), which actually started shooting earlier than any of the other New Wave films but was delayed in release. Rivette went onto the controversial The Nun (1966), the 13-hour long Out 1 (1971) and various other works, gaining minor attention a few years later with films like La Belle Noiseuse (1991) and Va Savoir (2001). Rivette also made several other films that fall into genre material with Duelle (1976) and Noroît (1976) about the struggle between gods, and the Gothic supernatural film The History of Marie and Julien (2003).
I suppose that I should apologise in advance and say that I find the majority of films of the French New Wave tiresome and pretentious. Celine and Julie Go Boating is no exception. That said, there are many who consider Celine and Julie Go Boating to be a masterpiece – it is one of the handful of films that Peter Nicholls gives a five star rating to in his seminal genre study Fantastic Cinema (1983), for instance.
The film has an appealing opening – a long scene where Dominique Labourier follows Juliet Berto through the streets of Paris, which all takes places as a dialogue-less tease. Soon however, the film starts to become majorly tedious as we watch the lengthy games the two girls play – they amusing themselves by slamming books in a library, leaving ink fingerprints and drawing outlines of hands, conducting tarot readings. There are some extremely long scenes of the two girls sitting around Juliet Berto's apartment talking, showering, Dominique Labourier peeking into Berto's handbag, they going through a toy chest. The scenes go on and on and on – Juliet Berto's cabaret magic act; her sitting around a cafe making up a long story about having an American lesbian lover to a group of friends; conversations in a dressing room while applying makeup.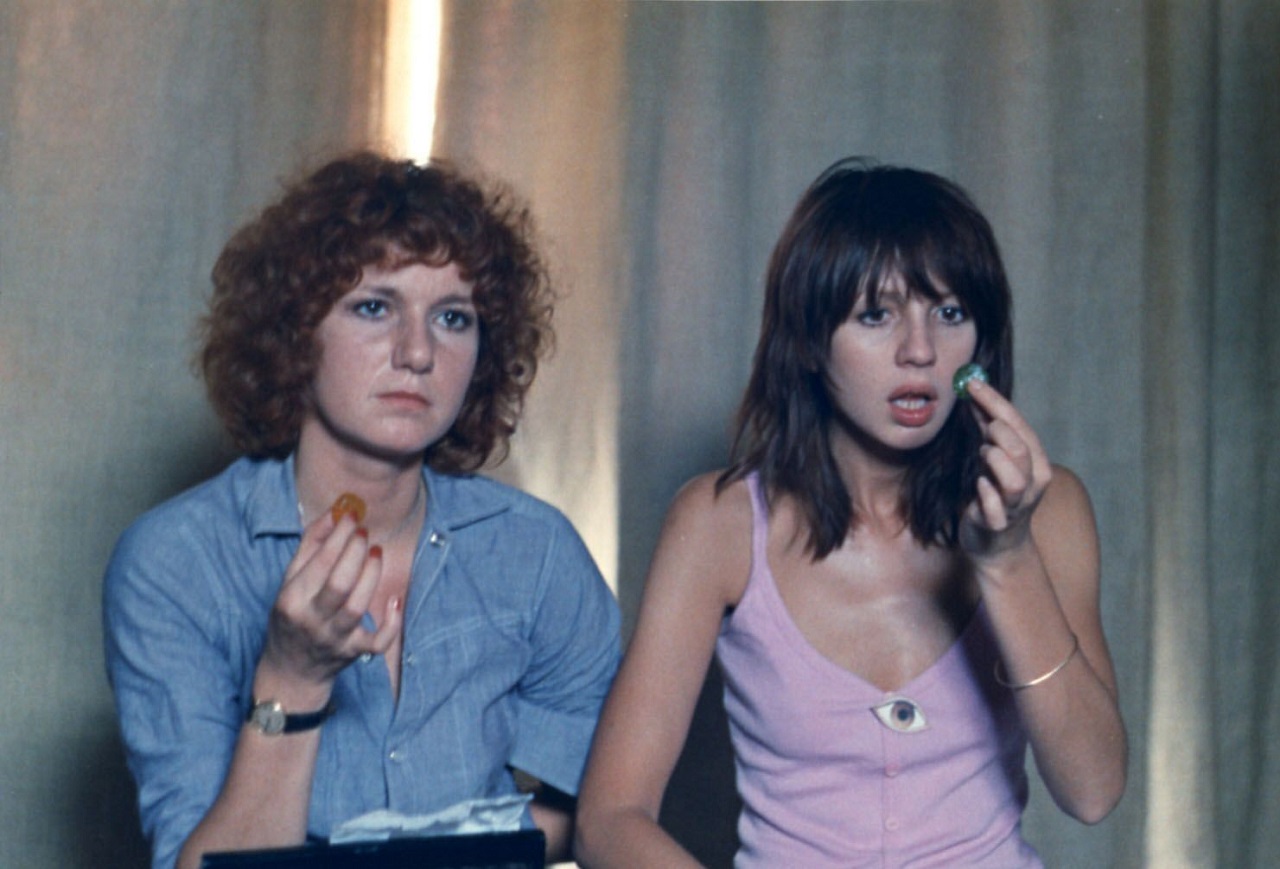 Jacques Rivette apparently improvised much of the picture with his cast, most of whom receive co-screenplay credits. In fact, when Celine and Julie Go Boating reaches the two-hour point of its 193-minute running time, one is still struggling to find anything amidst the interminable goings-on that resembles enough to fill the above capsule plot synopsis. There is a bizarrely amusing scene where Juliet Berto poses as Dominique Labourier and dances with her childhood friend Philippe Clevenot in a pagoda, where she appears to start seducing him, undoes his shirt and then abruptly dismisses him and tells him to go and jerk off in the bushes.
When it comes to the scenes of the drama that takes place in the house being repeated over and over several times each time the girls take the candy, one is left wanting to scream at the repetitive tedium. The constant question that one asks oneself is what is there in all this tedium that people consider Celine and Julie Go Boating such a masterpiece.
All of that said, Celine and Julie Go Boating starts to pick up within its last 25 minutes. This is the point where the two girls enter the house and walk into the full re-enactment of the scene that they have been only getting glimpses of in the flashbacks. The players whose lives we have seen so far become pale as though they were ghosts. Peculiarly, Jacques Rivette plays the scenes of the girls trying to interact with the scenario and fulfil the roles they are meant to with an increasingly broader sense of slapstick.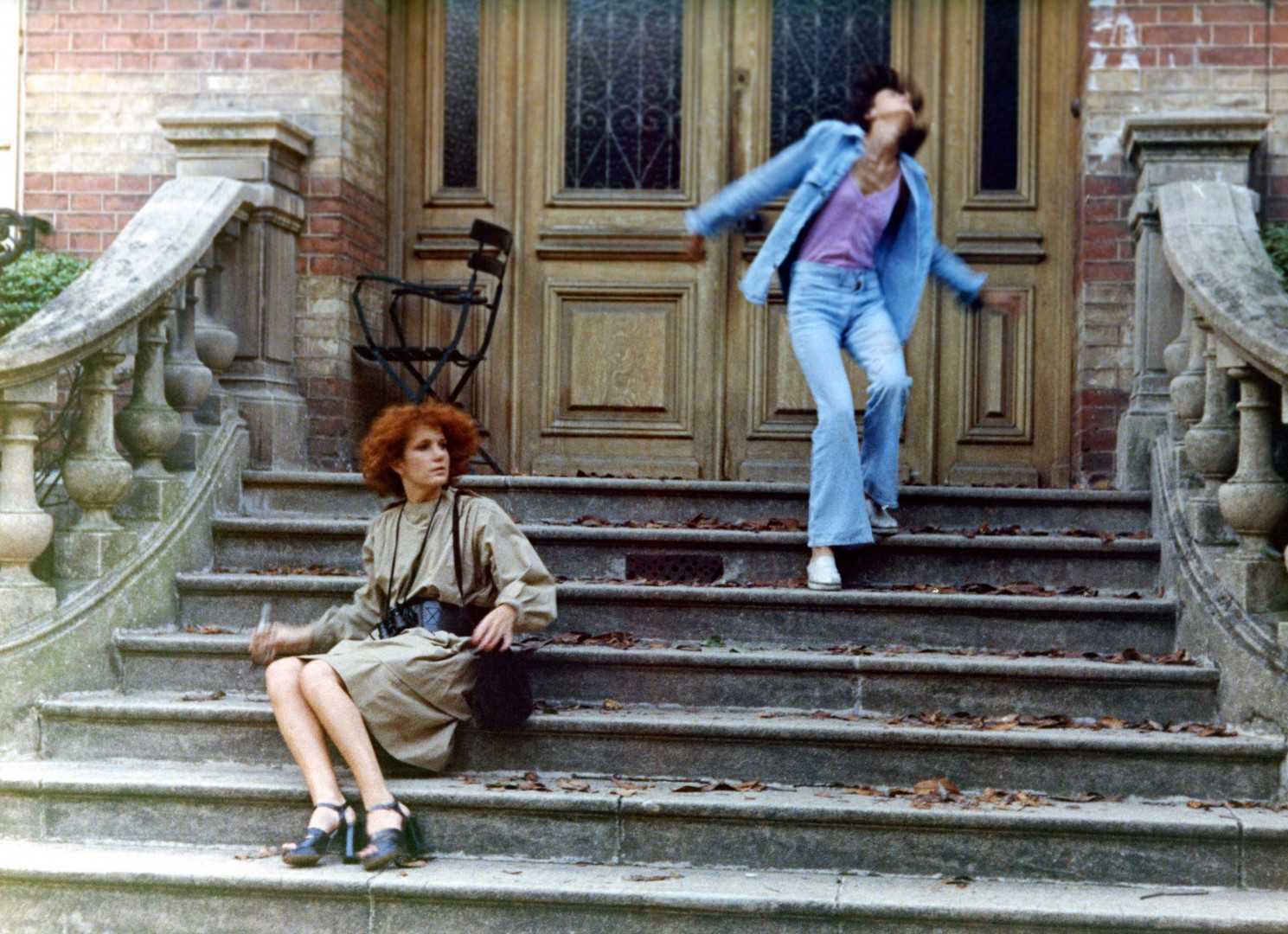 Gradually, the pieces of overlapping flashback that we have seen start to come together as a jigsaw and it becomes apparent that a murder took place. The girls manage to rescue the intended victim. The film ends with a twistabout with the girls sailing down a river (where they do finally get to go boating), before everything turns full circle. The final scene is a repeat of the girls following each other from the same park where the film began but this time it being Juliet Berto who follows Dominique Labourier.
One can also note, playing the part of the husband in the flashback scenes in the house, the film's producer Barbet Schroeder who would go onto become a director with films like Barfly (1987), Reversal of Fortune (1990), Kiss of Death (1995), Our Lady of Assassins (2000) and Murder By Numbers (2002). Barbet Schroeder also made the thriller Single White Female (1992), which has many echoes of Celine and Julie Go Boating in its story of two girls in a big, mysterious house seemingly switching identities, although that only took place as a mundane psycho-thriller.
---
---