---
Crew
Director – Wayne Kramer, Screenplay – Wayne Kramer & Frank Hannah, Producers – Michael Pierce & Sean Furst, Photography – James Whitaker, Music – Mark Isham, Visual Effects – Amalgamated Pixels, Production Design – Toby Corbett. Production Company – Pierce Williams/Furst Films/Gryphon Films/Dog Pound Productions/Visionbox Pictures/Cooler Productions.
Cast
William H. Macy (Bernie Lootz), Maria Bello (Natalie Belisario), Alec Baldwin (Shelly Kaplow), Ron Livingston (Larry Sokolov), Shawn Hatosy (Mikey), Paul Sorvino (Buddy Stafford), Estella Warren (Charlene), Arthur J. Nascarella (Nicky 'Fingers' Bonnatto), Ellen Greene (Doris), Joey Fatone (Johnny Capella), Dan Lemieux (Suburbanite), M.C. Gainey (Highway Patrol Officer)
---
Plot
Bernie Lootz is employed at the Golden Shangri-La casino in Las Vegas as a 'cooler' – a person who has such bad luck that when he joins a game and touches someone who is on a winning streak his touch brings bad luck and immediately 'cools' the table. Bernie then meets cocktail waitress Natalie Belisario and cannot believe his luck when she sleeps with him. At the same time, Bernie's boss, the Shangri-La manager Shelly Kaplow, is under pressure from the owners to modernise the casino, which is starting to lose money. Bernie also runs into his son Mikey and Mikey's pregnant girlfriend Charlene. He intercedes to stop Shelly beating Mikey after he is found cheating at the tables but this places him further in debt to Shelly. Natalie realises that she is in love with Bernie. However, Bernie finds that his cooling touch now brings a winning streak to whatever table he touches. In order to get Bernie back as his cooler, Shelly decides that he must get Natalie out of Bernie's life.
---
The Cooler is a modest indie film that emerged in 2003. It gained a much higher profile that it might ordinarily have ended up doing after Alec Baldwin received a surprise nomination for Best Supporting Actor at the 2003 Academy Awards.
The film chooses Las Vegas as a location and like most other films set in Vegas it taps into the two predominating themes that run through such films. The first of these is the commonplace theme of gamblers risking all on the big win. There is also the recurrent fantastic theme of luck as a tangible force – see films like Destiny Turns on the Radio (1995), The Winner (1996), Tim Powers' novel Last Call (1992), even the Spanish luck thriller Intacto (2001), which finally ended up in Vegas.
The Cooler also taps into the other predominating theme that seems to run through depictions of Las Vegas on screen – of life amongst those washed up on the outskirts of the American dream and/or the desperation among those trying to break in, as seen in films such as Destiny Turns on the Radio, Leaving Las Vegas (1995), Showgirls (1995), Hard Eight (1996), Duets (2000), even perhaps Fear and Loathing in Las Vegas (1998).
Despite the original notion of a man whose bad luck is strategically employed by a casino, there is nothing particularly original about The Cooler's plot. It is a standard story about an underdog who learns to stand up. The film predictably arrives at an end with its worm turned, luck winning out and the appropriate bad guys punished by fate. The characterisations are fairly standard – the down-on-her-luck waitress who sees good in the schmuck hero, the ruthless mobster boss, the no-good son, the slick yuppie.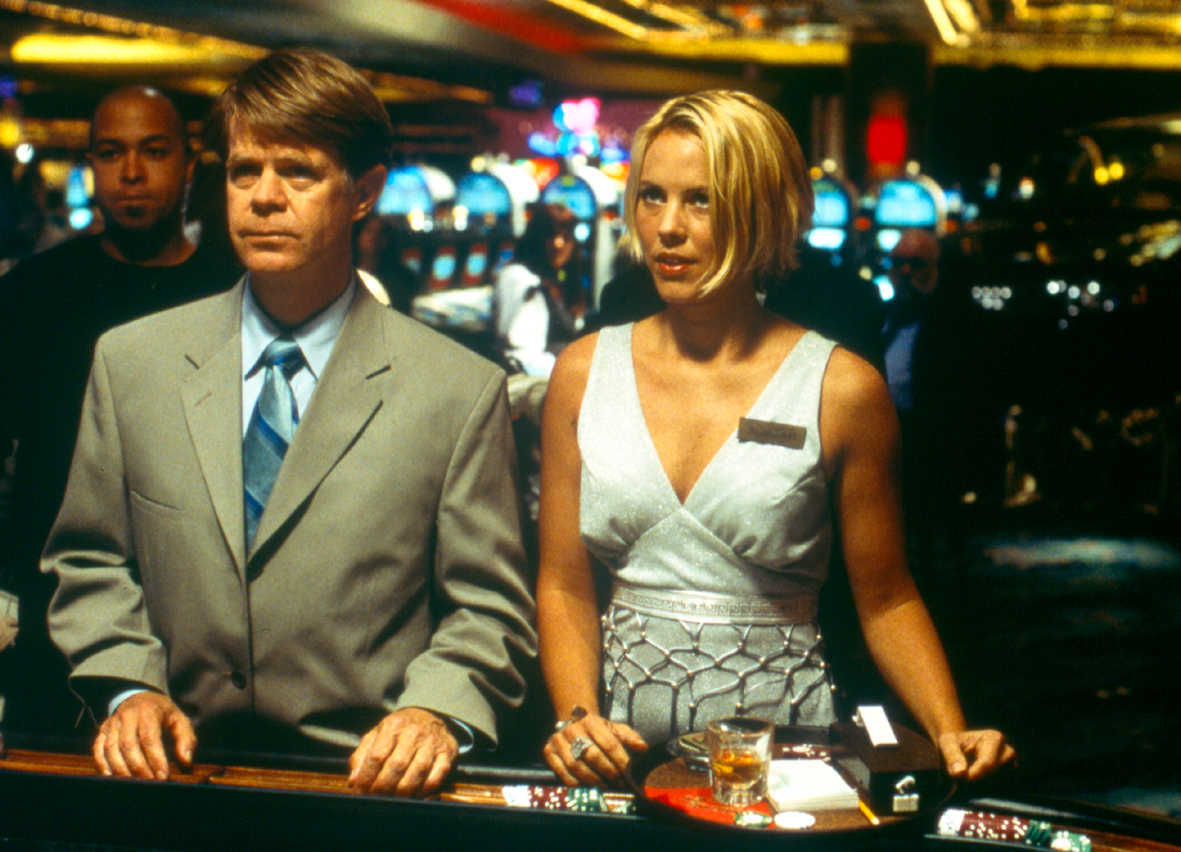 That said, The Cooler invests the characters with a fair degree of depth – Bernie the decent loser who places all his trust in the wrong people; Paul Sorvino as the Frank Sinatra/Tom Jones-styled old time crooner, who beneath the facade is revealed to be clinging to his own mythology with a burned-out desperation; and particularly in Alec Baldwin's Mafioso casino owner. Indeed some of the most potently written parts of The Cooler are the contrasts between Alec Baldwin's nostalgic belief in the old time Vegas vs Ron Livingston, who represents the soulless commercialisation of the city into a tourist-grabbing theme park. It is clearly a heartfelt view on the part of the filmmakers – the end credits go out over a montage of shots of various old time casinos being demolished.
Director Wayne Kramer is particularly well served by some excellent casting. In both cases one can think of no actors better suited in the various parts than William H. Macy and Alec Baldwin. William H. Macy has the sad sack down-on-his-luck loser part down to perfection, and Alec Baldwin does ice cold ruthlessness like no other actor out there. Both give fine performances, and are equally well balanced out by the increasingly excellent and underrated Maria Bello.
Director Wayne Kramer had previously made the little-seen horror film Blazeland (1992) and subsequently went onto various non-genre dramas with Running Scared (2005), Crossing Over (2009) and Prawn Shop Chronicles (2013). His one other genre work was the script for the Renny Harlin directed serial killer thriller Mindhunters (2004)
(Nominee for Best Actor (William H. Macy) and Best Supporting Actor (Alec Baldwin) at this site's Best of 2003 Awards).
---
---