---
USA. 2003.
Crew
Director – Mark Waters, Screenplay – Leslie Dixon & Heather Hach, Based on the Novel by Mary Rodgers, Producer – Andrew Gunn, Photography – Oliver Wood, Music – Rolfe Kent, Music Supervisor – Liz Brown, Special Effects Supervisor – Al Broussard, Production Design – Cary White. Production Company – Gunn Films/Disney.
Cast
Jamie Lee Curtis (Tess Coleman), Lindsay Lohan (Annabel Coleman), Mark Harmon (Ryan), Chad Michael Murray (Jake), Ryan Malgarini (Harry Coleman), Harold Gould (Grandpa), Stephen Tobolowsky (Alton Bates), Christina Vidal (Maddie), Rosalind Chao (Pei-Pei), Lucille Soong (Pei-Pei's Mom), Willie Garson (Evan), Haley Hudson (Peg), Julie Gonzalo (Stacey Hinkhouse)
---
Plot
Teenager Annabel Coleman is perpetually arguing with her mother Tess. Tess chews Annabel out for getting in detention twice in one day in school and refuses to allow Annabel to attend an audition for the band she plays in because it conflicts with the rehearsal for her upcoming wedding. While out at dinner at a Chinese restaurant, the manager's mother sees Tess and Annabel arguing and gives them both fortune cookies. Both Tess and Annabel break open and read their cookies simultaneously. When they wake in the morning, they are startled to find that they now inhabit each other's bodies. Now able to drive and with the freedom of credit card spending in her mother's body, Annabel is able to throw her heels up, while the conservative Tess finds life at school a good deal more chaotic than she thinks. To get through this 'Freaky Friday', Annabel has to fake her way through the wedding plans and deal with her mother's patients, while Tess has to deal with Annabel's wannabe boyfriend who now desires the older woman after he finds how cool she suddenly is.
---
Freaky Friday (1976) was one of the most enjoyable hits from the heyday of Disney live-action comedies, pairing the great, alas now-forgotten Barbara Harris and a fourteen-year-old Jodie Foster as the mother and daughter. This remake comes as part of the modern, Michael Eisner-presided Disney era where the studio has embarked on a fanatical process of remaking and sequelizing their past live-action and animation hits over and over again like they were engaged in a remainder sale. During this era, Freaky Friday had already been given the once-over before with the tv movie Freaky Friday (1995), which starred Shelley Long and Gaby Hoffman as the mother and daughter. The was adapted into an off-Broadway musical in 2016 and this was subsequently filmed as a further remake Freaky Friday (2018) for the Disney Channel with Heidi Blickenstaff and Cozi Zuehlsdorff as mother and daughter.
For such a low expectation film, Freaky Friday 2003 is surprisingly enjoyable. It is a different film to the 1977 original. Freaky Friday 1977 was much more zany, a product of the 1970s Disney era of wacky screwball comedies. On the other hand, Freaky Friday 2003 feels like the same story has been constructed along the lines of one of the mid-1980s Baby Boomer bodyswap comedies such as Like Father, Like Son (1987) and Vice Versa (1988), where the focus is less on slapstick as it is on character-driven comedy and a crossover arc where a starchy mid-40s parent ends up swapping places with a slightly troubled teenager.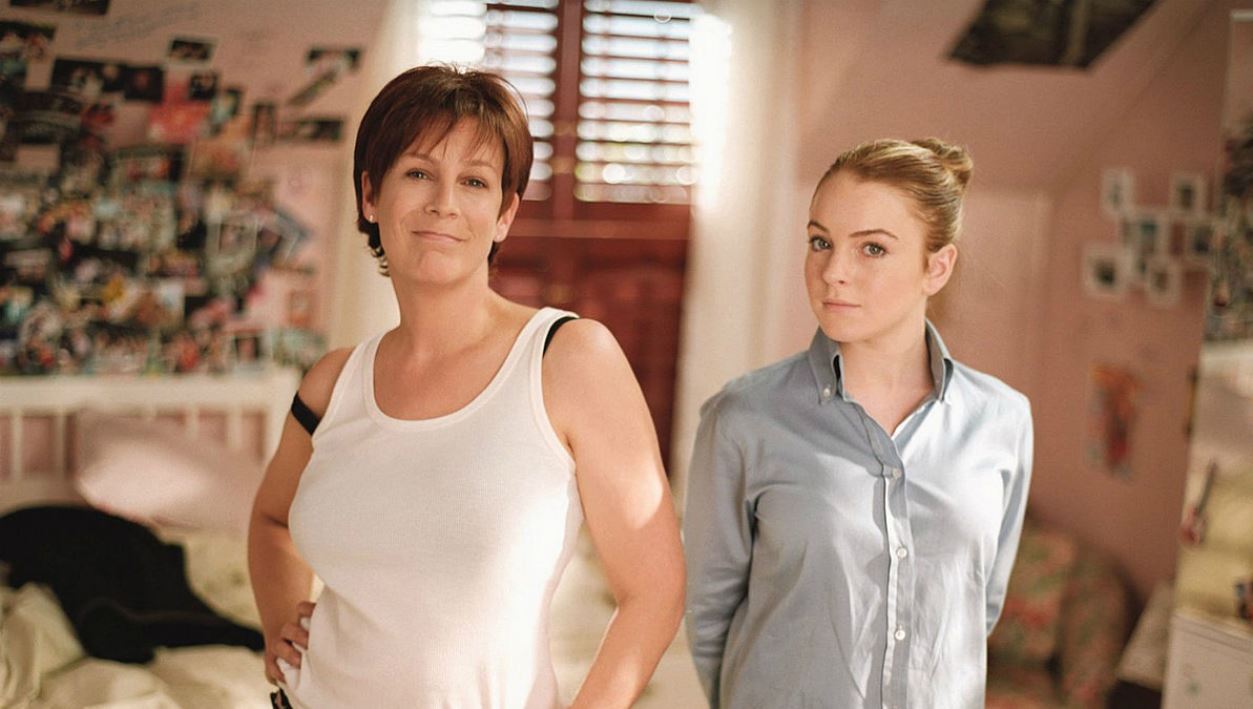 Most noticeably in the 1976 film, though Barbara Harris and Jodie Foster's mother and daughter argued, Foster's character was a good girl whose conflicts with her mother never strayed beyond the close confines of Disney's appeal to conservative family values. By contrast, Lindsay Lohan's Annabel here is much more rebellious, argumentative and cynically disaffected – she is a member of the navel-piercing and grunge garage band generation. Moreover, the film questions the mother's values and concludes they are in need of loosening up, something that never entered into the realm of thinking in the 1976 film. The 2003 version even goes to the mildly indecent extent of having the teenage boyfriend Chad Michael Murray attracted to the mother instead of the daughter.
Freaky Friday 2003 lacks the out-and-out zaniness of its predecessor and is a lot more low-key and realistic. Nevertheless, it still gets a good degree of amiable mileage out of the playoff of the two characters. Jamie Lee Curtis ended up receiving a surprise Golden Globe nomination for her part. Jamie Lee has always seemed a very intellectual performer – someone who radiates a sober intelligence rather than comes across as a performer of the heart. She hasn't been seen on screen in a big way since James Cameron's True Lies (1994) and probably did her own career damage since taking an admirable public stance in refusing to bow to pressure to hold the body beautiful. It is good to see her back on screen. She has a lot of fun in the role, swooning over teenage boys, wowing audiences on a tv chat show and dealing out advice to her mother's patients.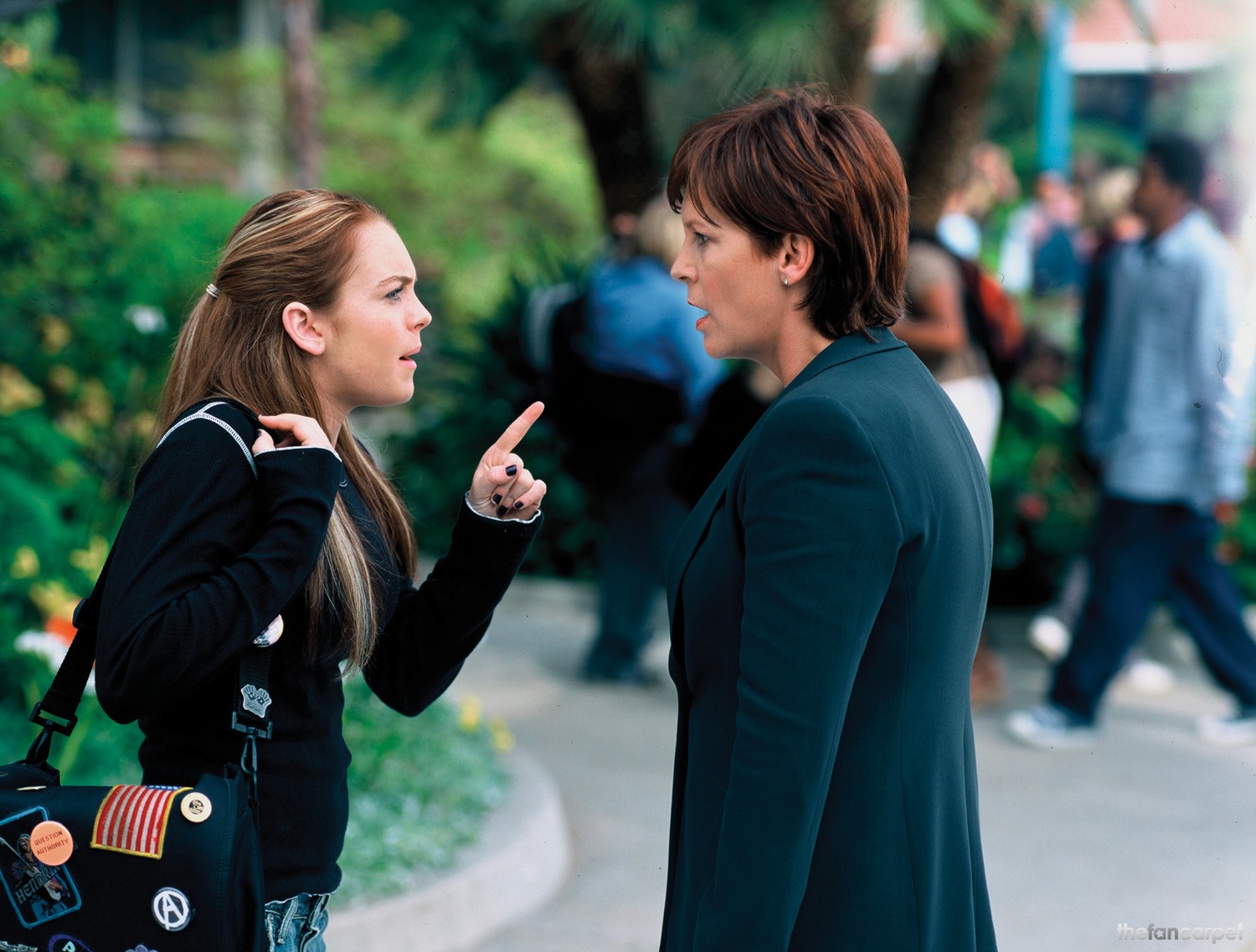 Neglected at the awards, but deservous in every way – in fact one actually suspects giving a better performance than Jamie Lee Curtis herself – is a seventeen year-old Lindsay Lohan. Lohan does an excellent job of making the switch between cynically disaffected teen and the conservatively assured mother. She delineates the two roles with a command of the body language that is amazingly confident and talented for someone of such young age. Indeed, both actresses have done an excellent job of combining to swap mannerisms for the two parts. Lohan should have won awards attention just as much as Jamie Lee Curtis did. [Mindedly, this was written sometime before Lindsay Lohan became a bad tabloid headline and essentially pissed her career down the toilet with drug, alcohol and partying problems and where she could still be seen as a promising talent on the rise]. All others in the cast perform well, although the black mark against Freaky Friday should be the bad racial caricatures of the Chinese mother and daughter Lucille Soong and Rosalind Chao.
Director Mark Waters has also made light mainstream comedies such as The House of Yes (1997), Head Over Heels (2001) and subsequently went onto Mean Girls (2004), Mr. Popper's Penguins (2011) and Bad Santa 2 (2016). He returned to genre material with the supernatural romantic comedy Just Like Heaven (2005), the goblin fantasy The Spiderwick Chronicles (2008), the romantic comedy Ghosts of Girlfriends Past (2009) and Vampire Academy (2014).
(Nominee for Best Actress (Jamie Lee Curtis) and Best Actress (Lindsay Lohan) at this site's Best of 2003 Awards).
---
---