aka The Devil and Daniel Webster; Sexy Devil
---
Crew
Director – Harry Kirkpatrick [Alec Baldwin], Screenplay – Nancy Cassaro, Bill Condon & Pete Dexter, Story – Pete Dexter, Based on the Short Story The Devil and Daniel Webster by Stephen Vincent Benet & the Play Scratch by Archibald MacLeish, Producers – Alec Baldwin, Joe Cornick, David Glasser & Adam Stone, Photography – Adam Holender, Music – Christopher Young, Special Effects – Steven Kershoff, Production Design – Edward Pisoni. Production Company – Yari Film Group/El Dorado Pictures/Splendid Pictures/Cutting Edge Entertainment/Miracle Entertainment.
Cast
Alec Baldwin (Jabez 'Bez' Stone), Anthony Hopkins (Daniel Webster), Jennifer Love Hewitt (The Devil), Kim Cattrall (Constance Hurry), Dan Akyroyd (Julius Jensen), Barry Miller (Mike Weiss), Amy Poehler (Molly Gilchrist), Midoria Kashima (Kee)
---
Plot
Jabez 'Bez' Stone is a struggling writer in New York City. His manuscript is rejected by publisher Daniel Webster and he is then fired from his job. Back home, he throws his typewriter out the window in frustration only for it to land on and kill a passer-by. A lusciously beautiful woman then appears at the door of Bez's apartment and offers to take all problems away and give him success in return for his soul. Bez agrees. In the morning, he receives a call from Webster's office saying they have reconsidered his novel. In rapid course, Bez becomes a No 1 sensation as a writer and receives film offers, even if he feels unhappy about having to compromise his vision. Eventually he comes to regret his decision, seeing that he has neglected his friends, and asks to renegotiate the deal. A trial is held and Daniel Webster stands up to defend Bez.
---
The Devil and Daniel Webster (1936) is a classic short story by Stephen Vincent Benet (1898-1943) in which New Hampshire farmer Jabez Stone agrees to sell his soul to The Devil, Mr Scratch, to alleviate seven years of bad luck and poverty. However, when Scratch comes to collect, Jabez hires the famous (real-life) lawyer Daniel Webster to defend him. Scratch raises a jury of the worst criminals in history but Webster's oratory manages to sway them. This was filmed with much faithfulness as the classic All That Money Can Buy/The Devil and Daniel Webster (1941) with James Craig as Jabez, Edward Arnold as Daniel Webster and Walter Huston as Scratch. There was also the animated The Devil and Daniel Mouse (1978), which translates the story in terms of talking animals and music. It is one of the classic stories about Diabolical Pacts.
This new modernised version of the story comes from Alec Baldwin. Baldwin emerged as an actor in the 1980s and began to have success after his first major film role in Beetlejuice (1988). He went on to a number of high-profile roles in films like The Hunt for Red October (1990), The Marrying Man (1991), Glengarry Glen Ross (1992), The Getaway (1994), The Shadow (1994) and Heaven's Prisoners (1996). From the 2000s, when Baldwin entered his forties and fifties, his roles have been mostly supporting ones in everything from Thomas and the Magical Railroad (2000) to The Cat in the Hat (2003), The Cooler (2003). Blue Jasmine (2003), Aloha (2015), the Mission: Impossible films and The Boss Baby (2017) to in recent years for his impersonations of Donald Trump on Saturday Night Live (1975- ). He won a Best Supporting Actor Academy Award for The Cooler and an Emmy for Saturday Night Live. In 2021, his name was in the headlines over the incident on the set of Rust in which he discharged a prop gun that was loaded with live rounds and killed one person.
Shortcut to Happiness has been Alec Baldwin's one and only outing as director to date. The film suffered production problems where it was originally shot in 2001 but was left uncompleted due to financial problems. Without Baldwin's consent, the rights were bought in bankruptcy court and a screening of the unfinished version appeared at film festivals in 2003. Baldwin was highly dissatisfied with the result and substituted the pseudonym Harry Kirkpatrick as director (although is still credited by his own name as producer). This is something he also retains on the 2007 dvd restoration (seen here), which claimed to place more effort into fixing the film.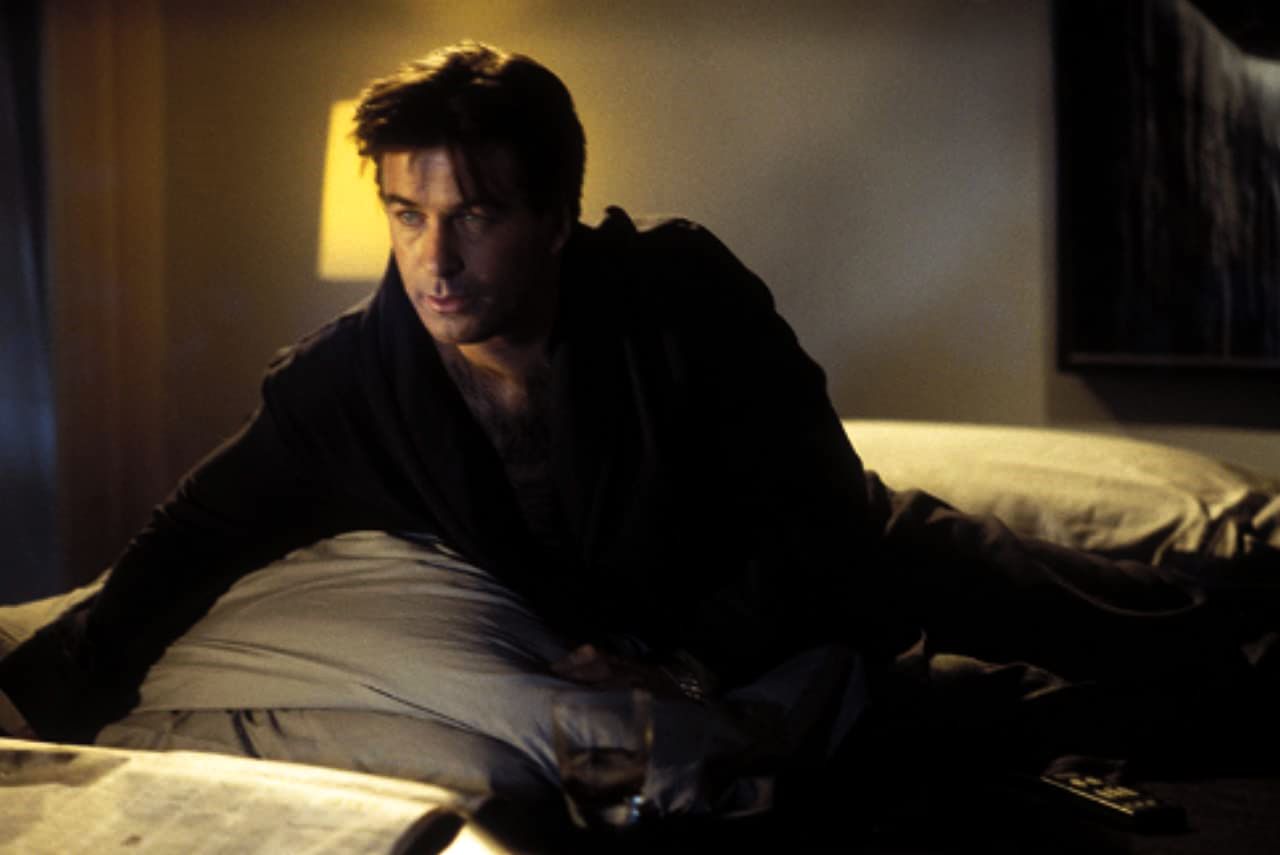 Baldwin and his writers, which include Bill Condon, director of Gods and Monsters (1998) and Chicago (2002), have modernised The Devil and Daniel Webster. Jabez Stone goes from a farmer in the 19th Century to a wannabe writer struggling for a break and the location is updated to contemporary Manhattan. In the 1941 film, Jabez sold his soul to get out of grinding poverty, whereas here Baldwin's Jabez does so after a single day of unemployment after he is fired from his job in menswear. (For that matter, does anybody still give their children names like Jabez, which here gets condensed to the grating nickname of 'Bez'?)
Undeniably, Shortcut to Happiness is a compromised vision – how much of it is due to Baldwin not being able to shoot the film he wanted could be anybody's guess – but one suspects the film's problems lie deeper than that. The most passion Baldwin seems to demonstrate is the incredibly cliched arc of how Jabez gets the fame, fortune and beautiful women he pines for only to find it is not what he wants after all and then after finding he has no time for a dying friend, realises he has become a slave to his success. (Part of you cannot help but think how slight some of his reasons are – okay so Bez is rich and powerful but there must be some point in there where he could exercise better time management over his life or hire someone to organise his schedule). Part of you suspects that with Baldwin being a Hollywood actor, the story of a poor farmer did not resonate with him and what was the closest to his heart was a film about selling out for fame.
Baldwin plays Jabez himself but seems miscast. Baldwin has carved out a certain niche for himself as someone with a handsome intensity and piercing looks. He was great bad boy material back in the 90s, less effective as a straight leading man. In the years since as Baldwin has mellowed into his forties and fifties, he regularly gets roles as villains or the bad boss. On the other hand, Jabez is about as regular and everyday a guy as you can get – in the 1941 film and Benet story, he is meant to be a struggling farmer but you stretch to think of Baldwin filling that kind of role. And yet watching Baldwin trying to play an average decent guy, it feels like he is pulling his punches, playing milquetoast and coasting through the role, where just beneath the surface you know he really wants to open up and get his teeth into the material. I could easily have seen Baldwin in the role of The Devil or even Daniel Webster but he seems to miscast himself as Jabez.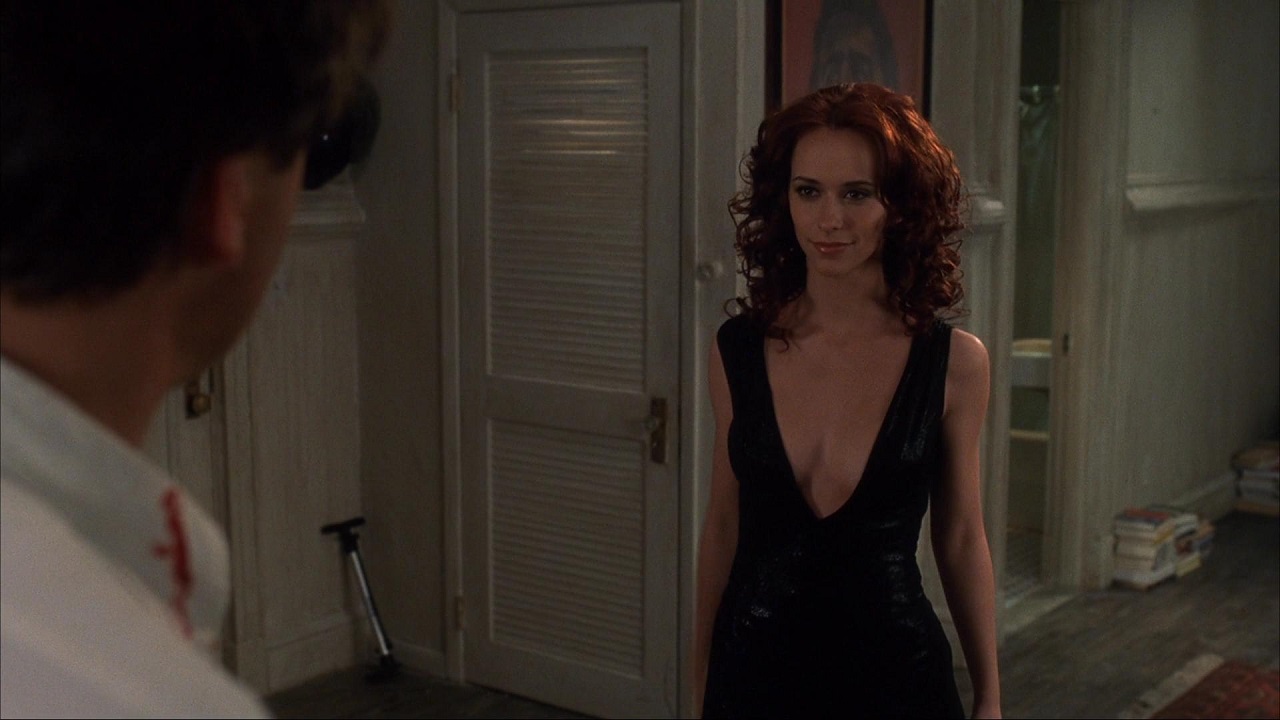 Baldwin brings together a very impressive cast line-up including Anthony Hopkins as Daniel Webster; Kim Cattrall who was riding high on the success of Sex and the City (1998-2004) at the time, as Jabez's editor/girlfriend; Dan Aykroyd as the writer friend who falls from grace; and a then unknown Amy Poehler in a small role as the wife of a friend. In a gender reverse twist.
Jennifer Love Hewitt is cast as The Devil and outfitted in an eye-catchingly luscious array of dresses – although in the end, hers is a performance that seems a triumph more of the costumiers than natural talent. Plus the whole eye-droppingly gorgeous woman as The Devil thing was done a few years earlier in another Diabolical Pact film remake with Elizabeth Hurley in Bedazzled (2000).
As director, Alec Baldwin's handling is ordinary and unexceptional. There is little in the film that feels more than a camera being pointed at a scene and actors saying their lines. That is to say, for what appears to have been Baldwin's passion project, there is little about it that ever evinces any passion. Baldwin duly serves up the court case at the end of the film. Anthony Hopkins rises to give the best performance in the film in these scenes but even he seems to fall short of opening into the kind of dramatic fireworks that made All That Money Can Buy such a classic ending.
---
Trailer here
---