(Intact)
---
Crew
Director – Juan Carlos Fresnadillo, Screenplay – Juan Carlos Fresnadillo & Andres M. Koppel, Photography – Xavi Gimenez, Music – Lucio Godoy, Special Effects – EFE-X, Production Design – Cesar Macarron. Production Company – Sogecine/Telecinco/Canal + Espana/Tenerife Film Commission.
Cast
Leonardo Sbaraglia (Tomas Sanz), Eusebio Poncela (Federico), Monica Lopez (Sara), Max Von Sydow (Samuel Berg), Antonio Dechent (Alejandro Dominguez), Paz Gomex (Ana)
---
Plot
Tomas Sanz, a thief wanted by the police, is the sole survivor of a plane crash. He is approached by the mysterious Federico, who initially says that he has comes to offer a substantial insurance payout but instead breaks Tomas out of police custody. Federico then inducts Tomas into a strange underground gambling operation where he learns how luck is regarded as a commodity that can be transferred by touch and how huge rewards are gambled as to who has the greatest quantity. At the same time, the police detective Sara diligently pursues Tomas's trail. She stumbles onto the luck gambling underground and realizes that she possesses a high amount of luck due to her having survived a car crash. All of the gamblers head toward a showdown at a casino in the desert, lorded over by Samuel Berg, a survivor from the Nazi Holocaust and possessor of the greatest luck.
---
Intacto is an interestingly original thriller, the feature-length debut of 34-year-old Spanish director Juan Carlos Fresnadillo. Intacto certainly has an intriguing central premise – that of luck being a tangible quality that can be transferred. Juan Carlos Fresnadillo may well have been inspired by the more comic take on luck as a gene and the character of Teela Brown that Larry Niven posits in Ringworld (1970) and sequels.
Fresnadillo twists the idea into a compulsive thriller plot. We are initially drawn into the film through Leonardo Sbaraglia and his abduction from police custody and then his introduction into the game by Eusebio Poncela. This is contrasted with a running alternate plotline that has detective Monica Lopez slowly uncovering the existence of the games from Antonio Dechent's bullfighter and the realisation that she has a high luck rating. In these scenes, Juan Carlos Fresnadillo demonstrates a coolly impressive grasp of thriller dramatics.
Intacto comes to life in particular during the various gambling scenes – the first game where Leonardo Sbaraglia's hair is coated in molasses, the contestants are blindfolded, the lights turned out and an insect released from its box; which makes you wonder what on Earth is happening; or the scene where Monica Lopez is first introduced to the game and asked to choose people from a line-up and urged to select those closest to dying; and others like the race through the forest and the climactic Russian Roulette game.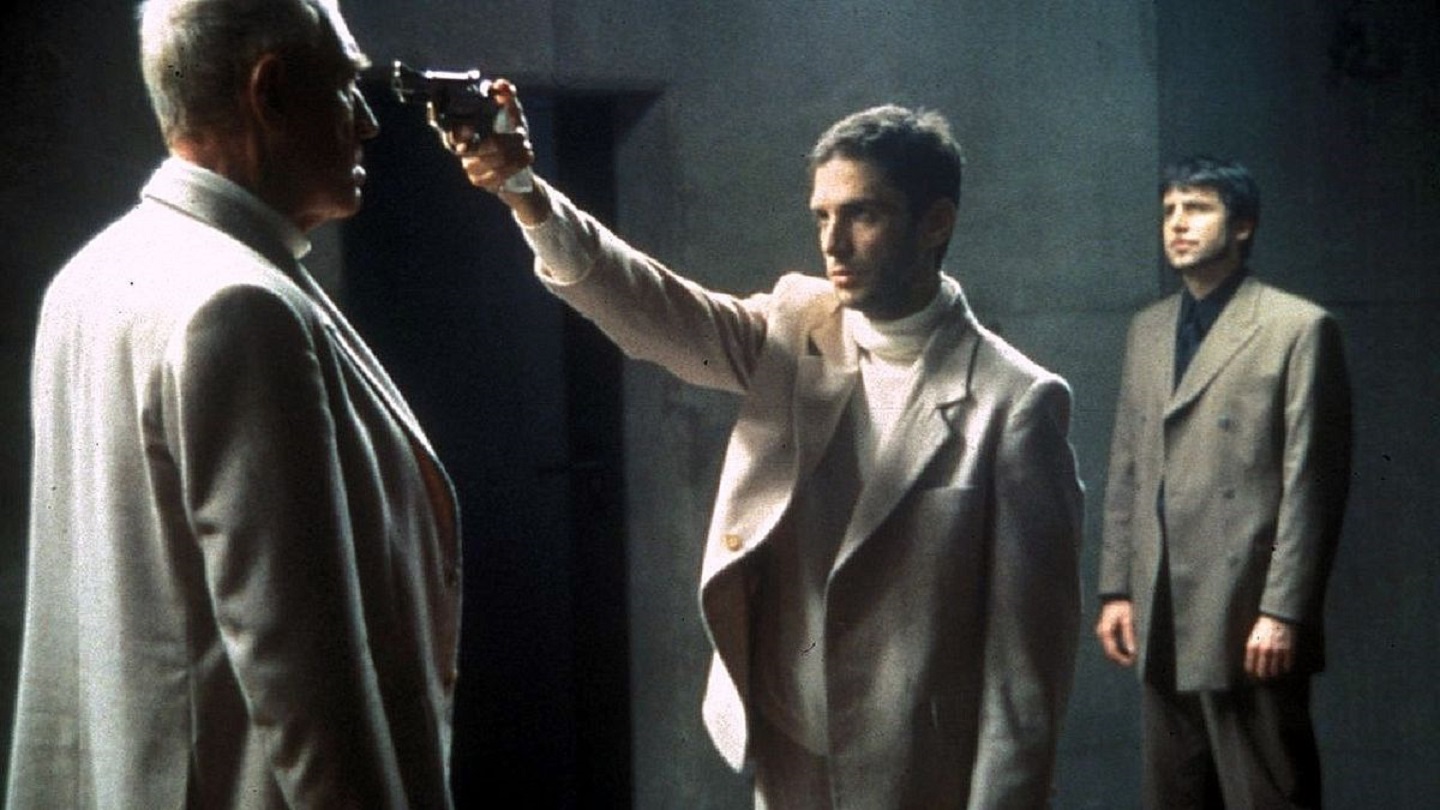 Alas, while these scenes work, Juan Carlos Fresnadillo never fully sustains the rest of the story with the darkly suspenseful grip that any good thriller should grab onto its audience with. There is no sense of Leonardo Sbaraglia engaged in an all-important life-or-death struggle to win back his love, for instance. There also seem a good many loose ends and vague explanations. One can buy the basic idea that luck is like a voluble force that various individuals can accumulate but there is no explanation of how and why the underground gambling operation is set up. It is not even made apparent why the police are pursuing Leonardo Sbaraglia.
Nor is the significance of the photos made clear and why Leonardo Sbaraglia gets so upset when he finds his girlfriend's photo has been gambled away – does it mean that when they lose the people in the photos becomes the inheritors of bad luck, as would seem to be suggested when Leonardo Sbaraglia's girlfriend gets accidentally shot and in the reference to choosing the photos of people who are close to dying? Nor is it apparent what is meant when people say the phrase "I don't love you anymore," which the film seems to suggest has something to do with luck transference.
In some ways, Intacto resembles M. Night Shyamalan's Unbreakable (2000). Both are films about a man who comes to understand the true meaning of his miraculously surviving a disastrous accident. Indeed, while Unbreakable went off to a frankly daft concept about superheroes, Intacto has a much more interesting basic idea. In fact, you suspect that M. Night Shyamalan, with his penchant for conceptually unfolding stories, could have had a field day with the basic idea of Intacto. As it is, Intacto feels like an interesting film that never quite fulfils its potential.
Juan Carlos Fresnadillo next went onto make the excellent end of the world/zombie film 28 Weeks Later (2007). He next went on to make the horror film Intruders (2011) about a childhood boogeyman, as well as produced the cryptic dream tv series Falling Water (2016-8).
---
Trailer here
---