---
Crew
Director – David Fincher, Screenplay – Eric Roth, Screen Story – Eric Roth & Robin Swicord, Based on the Short Story by F. Scott Fitzgerald, Producers – Cean Chaffin, Kathleen Kennedy & Frank Marshall, Photography – Claudio Miranda, Music – Alexandre Desplat, Visual Effects – Asylum (Supervisor – Nathan McGuiness), Digital Domain (Supervisor – Eric Barba), Eden FX, Hydraulx, Lola Visual Effects (Supervisor – Edson Williams), Matte World Digital (Supervisor – Craig Barron) & Ollin Studio (Supervisor – Charlie Iturriaga), Special Effects Supervisor – Burt Dalton, Makeup Effects – Greg Cannom, Production Design – Donald Graham Burt. Production Company – Kennedy-Marshall Productions.
Cast
Brad Pitt (Benjamin Button), Cate Blanchett (Daisy Fuller), Julia Ormond (Caroline), Tilda Swinton (Elizabeth Abbott), Taraji P. Henson (Queenie), Peter Donald Badalamenti (Benjamin 1928-31), Robert Towers (Benjamin 1932-34), Tom Everett (Benjamin 1935-7), Jared Harris (Captain Mike), Jason Flemyng (Thomas Button), Mahershalalhashbaz Ali (Tizzy), Madisen Beaty (Daisy Age 10), Elle Fanning (Daisy Age 7), Ted Manson (Mr Daws), Elias Koteas (Monsieur Gateau), Adrian Armas (David), Joeanna Sayler (Caroline Button)
---
Plot
In 2005, Caroline goes to visit her mother Daisy as she lies on her deathbed in New Orleans. Daisy struggles to tell Caroline something and shows her a diary. This contains the story of Benjamin Button who Caroline eventually comes to realise is her father. The diary tells how Benjamin was born on the last day of World War I. When Benjamin's father saw how the baby looked, wrinkled and arthritic like an old person, he abandoned him on the steps of an elderly home. Benjamin was taken in and raised by the nurse Queenie. As Benjamin began to grow, he also began to get younger. Benjamin formed a friendship with young Daisy Fuller on her frequent visits to stay at the home with her grandmother. He soon began to explore the wider world and obtained a job aboard a barge, later being drawn into conflict during World War II. He continued to return and visit Daisy as she grew into a young woman and then started to train as a ballerina. As Benjamin reached middle age, he and Daisy neared one another in age. After she was forced to abandon her ballet career because of an injury, Daisy returned to New Orleans and they furthered their love for one another. As Daisy became pregnant and gave birth to Caroline, Benjamin realised the time was coming when Daisy would be forced to not only have to raise Caroline but care for him too as he regressed to childhood.
---
David Fincher is one of the most interesting and watchable directors in the world. Emerging from music video, Fincher first appeared with the critically divided Alien3 (1992). The film that made Fincher's reputation was the serial killer thriller Se7en (1995). The film's brooding mood and unforgettable surprise ending made Se7en into a widely hailed classic and Fincher's visual style was immediately copied by other films. Fincher next went onto the contrived reality bender The Game (1997) but returned to form with the amazing Fight Club (1999), a film with an openly anarchist manifesto that was a commercial flop when it came out but has since became a cult classic and cited as the voice of its generation's disenchantment.
Subsequently, Fincher made the underrated thriller Panic Room (2002); Zodiac (2007) where he conducted a painstakingly detailed recreation of the events of the true-life Zodiac Killer case in a determination to find the identity of the killer; The Social Network (2010) about the real-life establishment of Facebook; the English-language remake of The Girl with the Dragon Tattoo (2011); the thriller Gone Girl (2014); and the true-life Mank (2020) about Hollywood screenwriter Joseph Mankiewicz; as well as producing the tv series Mindhunter (2017-9) about the establishment of the FBI's Behavioural Science Unit.
The Curious Case of Benjamin Button was David Fincher's seventh film. Based on a 1921 short story by no less than the literary great F. Scott Fitzgerald, author of The Great Gatsby (1925), The Curious Case of Benjamin Button had been planned for the better part of a decade with Ron Howard, Steven Spielberg and even Spike Jonze attached as directors and various actors mentioned in the lead role including Tom Cruise and John Travolta.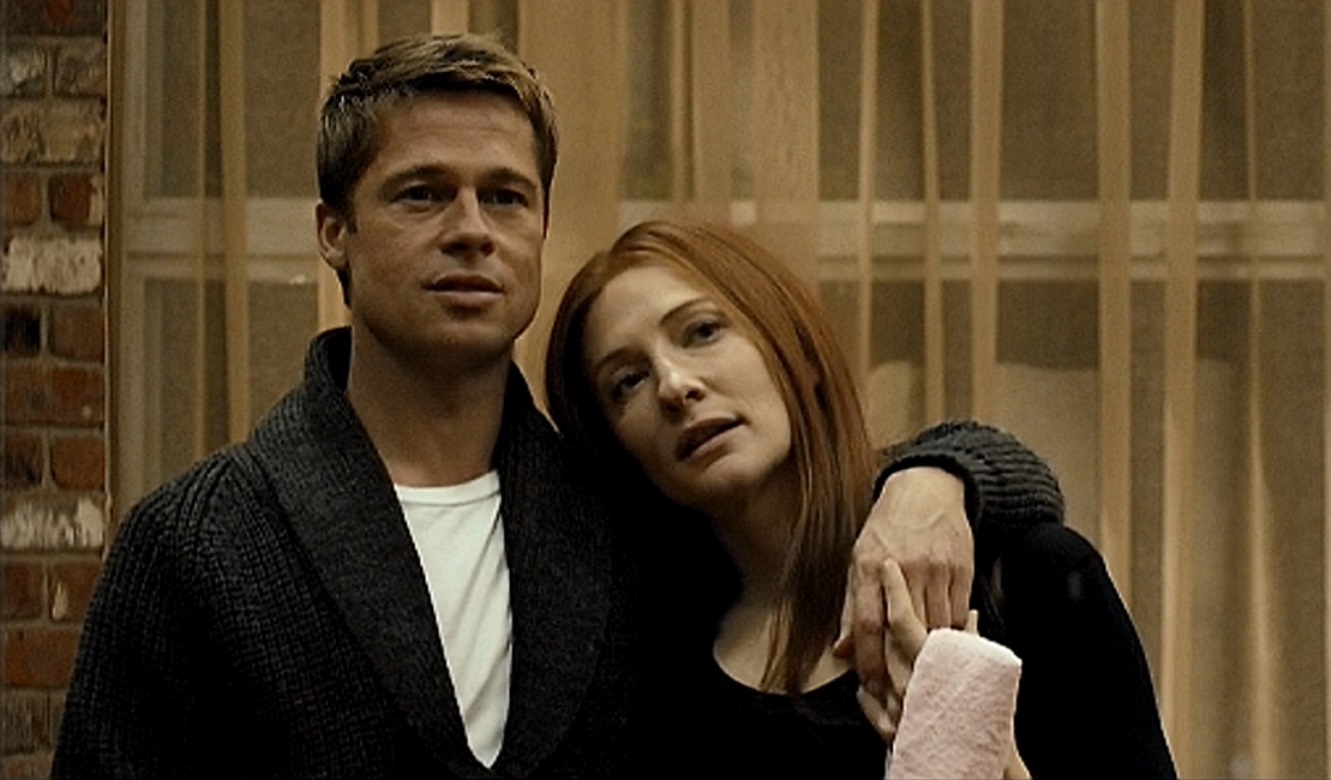 I had no idea what to expect before sitting down to watch The Curious Case of Benjamin Button. The great surpriseis that it is almost the complete antithesis of anything that one expects from a David Fincher film. Fincher says he makes his films from a personal darkness. They are edgy works that have gained a cult among the critical intelligentsia because of Fincher's willingness to travel into dark places, takes chances and experiment with technical and stylistic innovations. On the other hand, you get the feeling with The Curious Case of Benjamin Button that David Fincher felt that he had to make something emotionally uplifting and respectable that would appeal to the Academy Awards voting crowd.
If anything, The Curious Case of Benjamin Button looks far more like a film in the style of the aforementioned Ron Howard than it does a David Fincher film. Indeed, the audiences for David Fincher's other films and The Curious Case of Benjamin Button are wildly different – his other films seemed appreciated by people in their 20s-30s, whereas the majority of the audience I was at for The Curious Case of Benjamin Button seemed to be in the over-50s crowd, the same audiences that enjoyed Driving Miss Daisy (1989).
It is hard, for example, to imagine the crowd that celebrated Fight Club as speaking for their generation would be the same one that would enjoy The Curious Case of Benjamin Button, which shows David Fincher pushing inspirational messages about living the life that one wants and getting dewy-eyed and sentimental about things like age, childbirth and falling in love with the girl of one's dreams. (Predictably enough, The Curious Case of Benjamin Button ended up being nominated for that year's Best Picture Academy Award, along with David Fincher for Best Director, Brad Pitt for Best Actor and Best Adapted Screenplay, along with nine other nominations (although it only won in technical categories), as well as similar kinds of nominations at the BAFTAs and Golden Globes).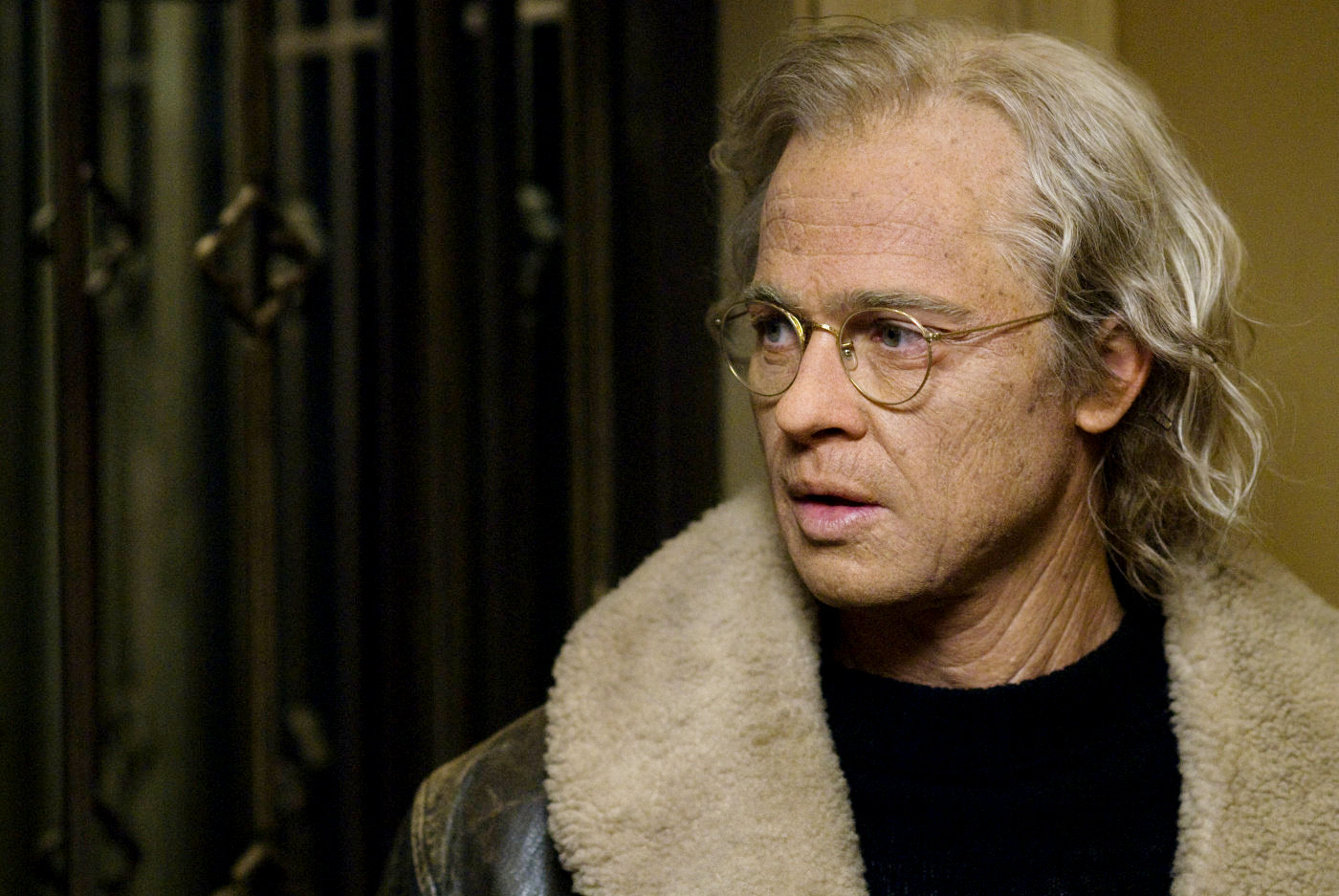 There is also a surprising degree of similarity between The Curious Case of Benjamin Button and Francis Ford Coppola's Youth Without Youth (2007), which came out several months earlier and featured a rejuvenated Tim Roth. If anything, The Curious Case of Benjamin Button is David Fincher's Forrest Gump (1994). Like The Curious Case of Benjamin Button, Forrest Gump was made by a director (Robert Zemeckis) better known for his technical experimentation and willingness to try out new technologies. Both are sentimental American heartland films that take a personalised look through the 20th Century and feature a distinctive protagonist whose difference to average folk leads to a unique perspective. In both films, the director in question uses cutting edge technical flourishes (a great deal of makeup effects here, the digital insertion of Tom Hanks into newsreel footage in Forrest Gump) to push the story. And to make the point direct, both The Curious Case of Benjamin Button and Forrest Gump share the same screenwriter in Eric Roth.
The makeup job on Brad Pitt is stunning. Here, via the miracle of digital effects, we see Brad's distinctive facial features but attached to the body of a child and with the flabby, spotted skin of an old man. Brad gives a fine performance in the role – indeed the best performances that Pitt has given have all been for David Fincher (see also Se7en and Fight Club). His standout work here comes in the first half where he gets the mannerisms of an old man mixed with the innocence of a child down pat. The younger Benjamin that we see in the second half is fairly much Brad Pitt doing what he does best – looking impossibly handsome and a sex symbol – and thus less interesting as an acting tour-de-force.
The main problem is that The Curious Case of Benjamin Button feels like a film that should have moved deeply – only it doesn't. Brad Pitt and Cate Blanchett's romance seems to take place more as variety of cinematographic poses with them sailing against beautiful sunsets, painting their house, Cate Blanchett (or her body double) dancing in the backlit mist in a gazebo, than it ever does on a level of emotional warmth. The separations that occur – when Brad turns Cate Blanchett's initial offer down, she being distracted by the carefree dancers of her troupe, she deciding that she has to stay in France – seem more like flicks of the writer's pen than motivations that come from deep inside the characters.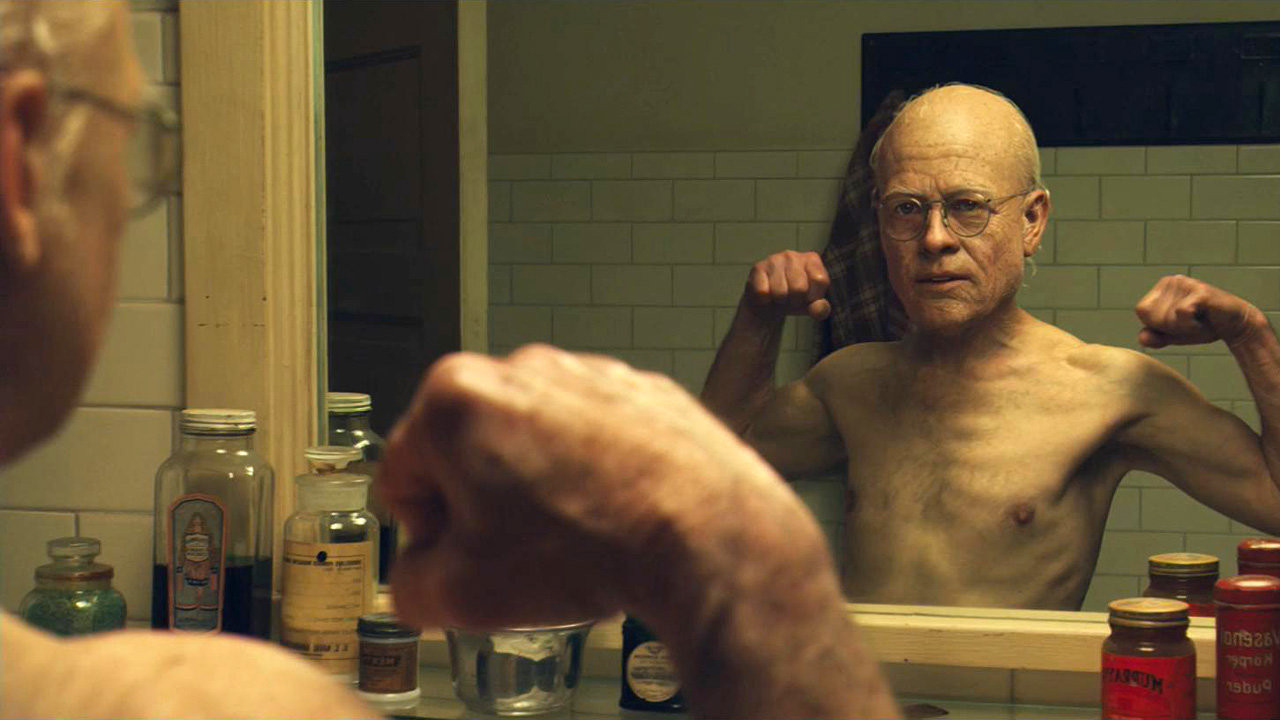 This is even more so when it comes to Brad Pitt falling in love with Tilda Swinton about whom we know almost nothing other than that she used to be an endurance swimmer. A scene where David Fincher traces the set of coincidences that led to Cate Blanchett breaking her leg is technically cute but feels like it belongs in another more whimsical film altogether – say Jean-Pierre Jeunet's Amelie (2001). Some of Fincher's touches like the hummingbird that keeps turning up when people die are incredibly maudlin.
For all the exacting effort put into the style and period dressing of the film, there are times that continuity between scenes and even shots seems slipshod. The lighting makes the makeup seem highly uneven – in some scenes with Brad Pitt as the old man, it looks like he has a fake tan in comparison to the people around him. In other scenes (particularly the one where Brad Pitt visits her backstage), Cate Blanchett's features look as though they are digitally airbrushed, yet in the very next scene her features are perfectly normal and showing her current age.
The Curious Case of Benjamin Button was parodied in The Secret Life of Walter Mitty (2013).
Writer Eric Roth was most famous at the time as the screenwriter of Forrest Gump (1994) and went onto other high-profile scripts such as The Postman (1997), The Horse Whisperer (1998), The Insider (1999), Ali (2001), Munich (2005), The Good Shepherd (2006), Extremely Loud and Incredibly Close (2011), A Star is Born (2018) and Dune: Part One (2021).
(Nominee for Best Adapted Screenplay, Best Actor (Brad Pitt), Best Cinematography and Best Makeup Effects at this site's Best of 2008 Awards).
---
---