---
USA. 2018.
Crew
Directors – Phil Johnston & Rich Moore, Screenplay – Phil Johnston & Pamela Ribon, Story – Phil Johnston, Rich Moore, Jim Readon, Pamela Ribon & Josie Trinidad, Producer – Clark Spencer, Music – Henry Jackman, Visual Effects Supervisor – Scott Kersavage, Animation Supervisors – Jason Figliozzi, Dave Hardin, Robert Huth, Daniel James Klug & Justin Sklar, Production Design – Cory Loftis. Production Company – Disney.
Voices
John C. Reilly (Wreck-It Ralph), Sarah Silverman (Vanellope Von Schweetz), Gal Gadot (Shank), Taraji P. Henson (Yesss), Jack McBrayer (Fix-It Felix), Alan Tudyk (Knowsmore), Jane Lynch (Calhoun), Sean Giambrone (The Eboy), Alfred Molina (Double Dan), Ed O'Neill (Mr Litwak), Rebecca Wisocky (Ebay Elayne), Timothy Simons (Butcher Boy), Ali Wong (Felony), Hamish Blake (Pyro)
---
Plot
Ralph and Vanellope are the best of friends but she desires more in life than racing the same circuits of Sugar Rush. As the game is being played, the control wheel breaks. The videogame arcade's owner Mr Litwak finds a replacement on EBay but upon discovering that it is selling for $200, he sees it as cheaper to shut the game down pending sending it to be recycled. Seeing Vanellope's upset, Ralph decides the only choice is to go to EBay and obtain the replacement wheel. He and Vanellope exit via the wi-fi connection that Mr Litwak has just hooked up and find themselves in the bewildering world of the internet. They make it to EBay where Ralph, with no conception of money, bids $20,000 for the wheel only to then find he has no way to pay for it. A spammer draws them into the world of playing videogames for money where a $40,000 prize is offered for whoever obtains the car of Shank in the game Slaughter Race. Vanellope succeeds in stealing Shank's car before they are stopped by Skank and her gang. Shank uploads a funny video of Ralph to BuzzTube and Ralph discover that he can earn the money by making funny videos whereupon he becomes a BuzzTube star. Ralph then discovers that Vanellope wants to stay in Slaughter Race and not return. Upset, he goes to the darkweb and obtains a virus seeking to shut down Slaughter Race. However, once unleashed, the virus threatens to overtake the entire internet.
---
Wreck-It Ralph (2012) was one of the better Disney animated films of the 2010s. The studio's output in the 2010s has been overshadowed by their collaborations with Pixar and their non-Pixar animated releases during this time have been uneven, mostly denoted by bland, middle-of-the-roaad efforts such as Tangled (2010), Big Hero 6 (2014) and Moana (2016) and their biggest success, the incredibly overrated Frozen (2013). The one other Disney film I enjoyed during this time was Zootopia (2016), which also came from director Rich Moore.
Wreck-It Ralph was conceived as a variant on Toy Story (1995), the character who wants more out of his world, translated into essentially the videogame world of Tron (1982). (Tron gets a cute in-reference at the start here where Ralph and Vanellope go racing on lightcycles in a Tron arcade game). Ralph Breaks the Internet is a sequel. All of the principals and director Rich Moore return, while Phil Johnston, co-writer of the original, Zootopia and The Brothers Grimsby (2016), is promoted to make his directorial debut.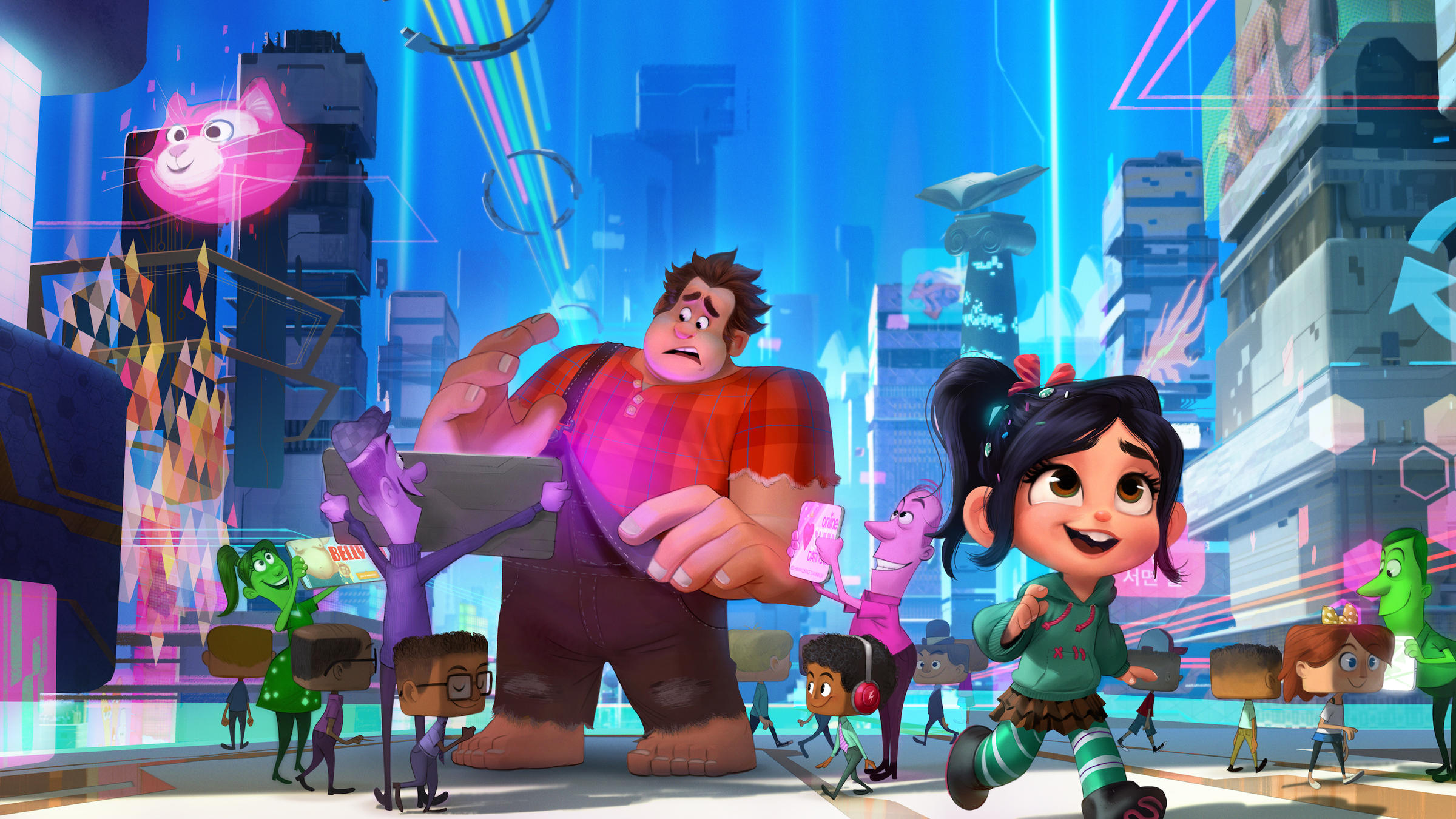 Wreck-It Ralph was amusing to watch for ways it depicted the workings of a videogame in terms of how its characters would perceive such a universe. The amusing conceit that fuels Ralph Breaks the Internet is to extend that and ask how such characters would perceive the internet. This leads to some rather cute interpolations. A search engine is personified as the character Mr Knowsense (voiced by Alan Tudyk) who is constantly jumping in with autofill suggestions. Ads are seen as bunch of people popping up with sandwich boards – even one that offers to connect users with randy housewives – and at one point we see a character designed as a scuzzy lawyer shoving them aside and are told he is an adblocker. There is probably the world's most friendly and helpful spam ad (and a surprisingly enough, one that fails to try and convince Ralph that he is the relative of a Nigerian prince).
The film also ends up being possibly the ultimate product placement vehicle. Indeed, a central aspect of the plot involves Ralph trying to find a way to buy an item from EBay. There are innumerable internet companies whose logos appear during the journey through the internet – we even have a climactic scene where Ralph fights the giant virus version of himself that does a parody of King Kong (1933) and climbs the Google tower with Vanellope in its hand. On the other hand, one suspects that this is something that is going to badly date Ralph Breaks the Internet – it would be interesting to take a look back in a decade or so and see just how many of the companies still have recognition factor or have ended up alongside Geocities in the junkpile of hasbeen sites that we see. The other amusing thing is that Disney have clearly not gained the right to include YouTube in their usage so have to create a simulation that they call BuzzTube.
This does lead to the most blatant of all product placements in the film, namely the visit to the world called Oh My Disney. It is a sequence that seems a little stretched out of shape in order to visit it ie. there is no real purpose in the plot for Vanellope to have to be banished there. There are inclusions of numerous Disney characters in the background plus the properties that Disney have acquired including The Muppets and Star Wars universe – with Vanellope being pursued by Stormtroopers and C3PO (voiced by Anthony Daniels) popping into the waiting room to call the princesses, as well as Marvel with cameos from Iron Man, a cute fan Q&A session with Groot from Guardians of the Galaxy (2014) and even an animated likeness of Stan Lee. The film even comes with a post-credits plug for Frozen 2 (2019) with one of the songs from the film being sung by Ralph.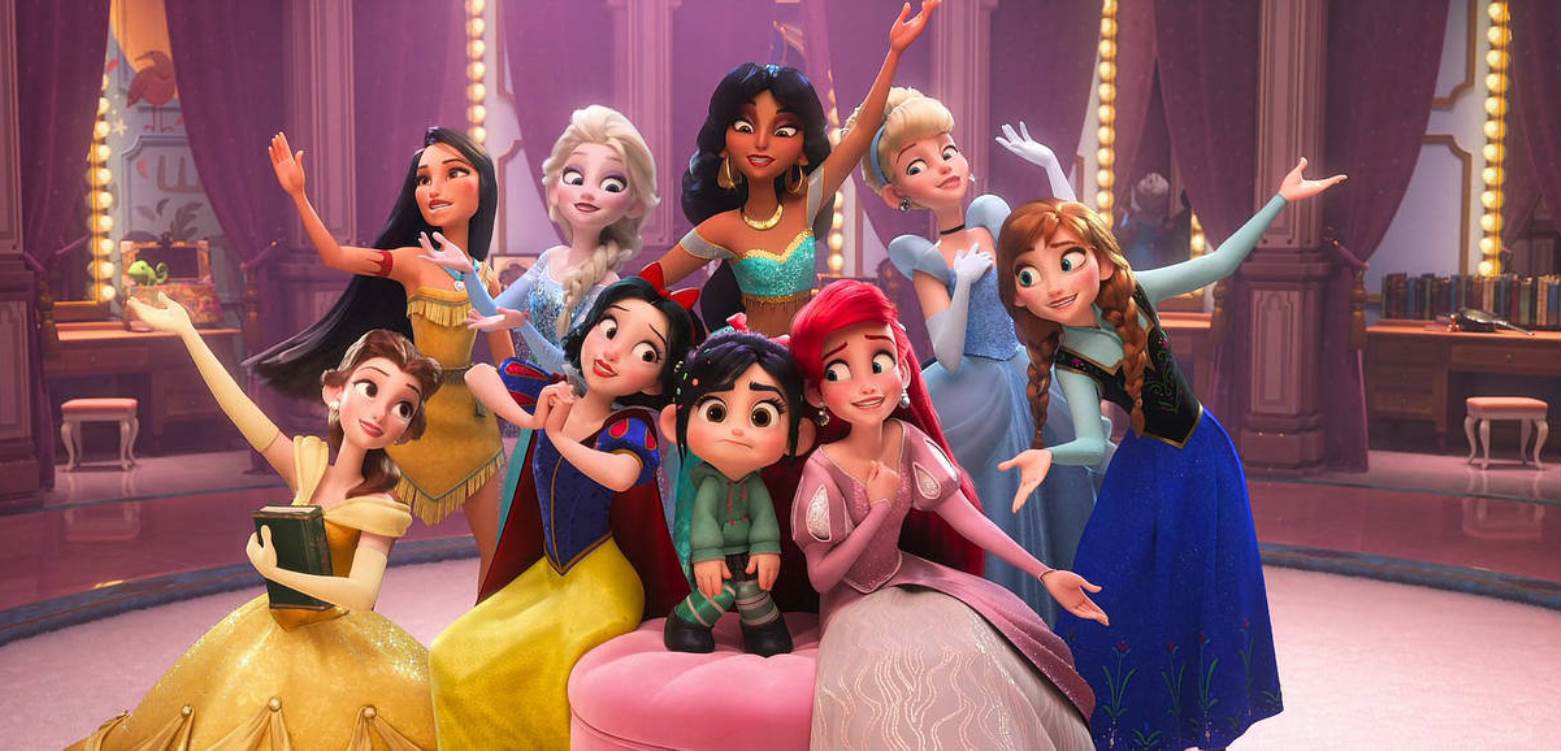 The cutest of these is the princesses scene where we get appearance from every Disney princess ever created – Snow White from Snow White and the Seven Dwarfs (1937), Cinderella (1950), Sleeping Beauty (1959), Ariel from The Little Mermaid (1989), Belle from Beauty and the Beast (1991), Jasmine from Aladdin (1992), Pocahontas (1995), Mulan (1998), Tiana from The Princess and the Frog (2009), Rapunzel from Tangled, Anna from Frozen, and Moana, all of whom get to bring their individual abilities together to rescue Ralph at one point. (Most of these are also voiced by the original voice actresses too – at least those still alive). By far the most amusement is reserved for the incomprehensible babble of dialogue spoken by Merida from Brave (2012) who is dismissed as "She's from the other studio" – a dig at the fact that she is the only Pixar character included among the Disney princesses. (Of course, Disney Princesses is in itself a toy line and yet another product placement).
The sequence has a great deal of amusement in poking fun at and deflating the princesses as they inspire Vanellope to sing her song, which turns out to be about steering wheels, and seek her true dream by looking into water – later we see her burst out into song and getting all emotional about Slaughter Race, a thinly disguised version of Grand Theft Auto (1997). I had a lot of liking for Ralph Breaks the Internet. In fact, I would go as far as to say that I found a far more enjoyable sequel than Pixar's more successful Incredibles 2 (2018) that was released by Disney six months earlier.
---
---