---
Crew
Directors – Graham Annable & Anthony Stacchi, Screenplay – Irena Brignull & Adam Pava, Adaptation – Phil Dale & Anthony Stacchi, Based on the Novel Here be Monsters! by Alan Snow, Producers – David Bleiman-Ichioka & Travis Knight, Photography (3D) – Edie Bleiman, Music – Dario Marianelli, Visual Effects Supervisors – Brian Van't Hul & Steve Emerson, Animation Director – Brad Schiff, Production Design – Paul Lasaine. Production Company – Laika Entertainment.
Voices
Isaac Hempstead Wright (Eggs), Ben Kingsley (Archibald Snatcher), Elle Fanning (Winifred Portley-Rind), Jared Harris (Lord Portley-Rind), Nick Frost (Mr Trout), Richard Ayoade (Mr Pickles), Tracy Morgan (Mr Gristle), Dee Bradley Baker (Fish/Wheels/Bucket), Steve Blum (Shoe/Sparky), Simon Pegg (Herbert Trubshaw), Toni Collette (Lady Portley-Rind)
---
Plot
In the town of Cheesbridge, Archibald Snatcher has drummed up a frenzy about the Boxtrolls. These are small creatures that wear boxes as outer shells and live underground, emerging into the topside world at night to scavenge. Snatcher is determined to catch and eliminate all of the Boxtrolls so as to earn a white hat on the town's council headed by Lord Portley-Rind. Eggs is a young boy who lives amongst the Boxtrolls. On a sortie topside, he is spotted by Lord Portley-Rind's daughter Winifred who makes him realise for the first time that he is a human boy. Winifred ventures down into the Boxtrolls' lair where Eggs helps her see that the Boxtrolls are not the baby-devouring, flesh-eating monsters that everybody fears them to be. She in turn takes Eggs back topside and introduces him to human society where his Boxtrolls ways prove somewhat at odds. This also places Eggs in the position of having to defend the Boxtrolls against Snatcher's efforts to eliminate all of them.
---
Laika Entertainment first emerged as a company specialising in stop-motion animation as co-producers of Tim Burton's Corpse Bride (2005) and then of Henry Selick's Coraline (2009). The film that gained them attention and a name was their first solo venture ParaNorman (2012), an appealingly sweet Halloween show that conducted some unexpected reversals of expectation and received some surprisingly good word of mouth. The BoxTrolls was their second film. It is adapted from Here Be Monsters! (2005), a children's book by British writer/illustrator Alan Snow. The film represents feature length debuts for its directors, Graham Annable, previously a videogame animator and director, and Anthony Stacchi, who previously co-directed some of Open Season (2006).
Visually, The BoxTrolls resembles the world that Laika previously visited in Tim Burton's Corpse Bride, all caricatured and elongated figures – it would be easy to imagine the two films taking place in the same universe, for instance, albeit with The BoxTrolls having replaced Corpse Bride's almost black-and-white colour scheme for a somewhat brighter, pervasive muddy brown. The characters in Burton's film were intended as more frightening, more Gothic in nature, whereas The BoxTrolls could easily slot into being a Roald Dahl tale.
Children's fantasy is filled with a menagerie of creatures that live inside the walls of human houses or underground, emerging to scavenge leftover and discarded items – what John Clute calls 'wainscot societies' in The Encyclopaedia of Fantasy (1992). You could point to screen examples such as the various film versions of The Borrowers stories – the tv series The Borrowers (1993-4), the film The Borrowers (1997) and the anime Arrietty/The Secret World of Arrietty (2010); and other works like the tv series The Wombles (1973-5), Fungus the Bogeyman (2004), Flushed Away (2006) and the anime Oblivion Island: Haruka and the Magic Mirror (2009).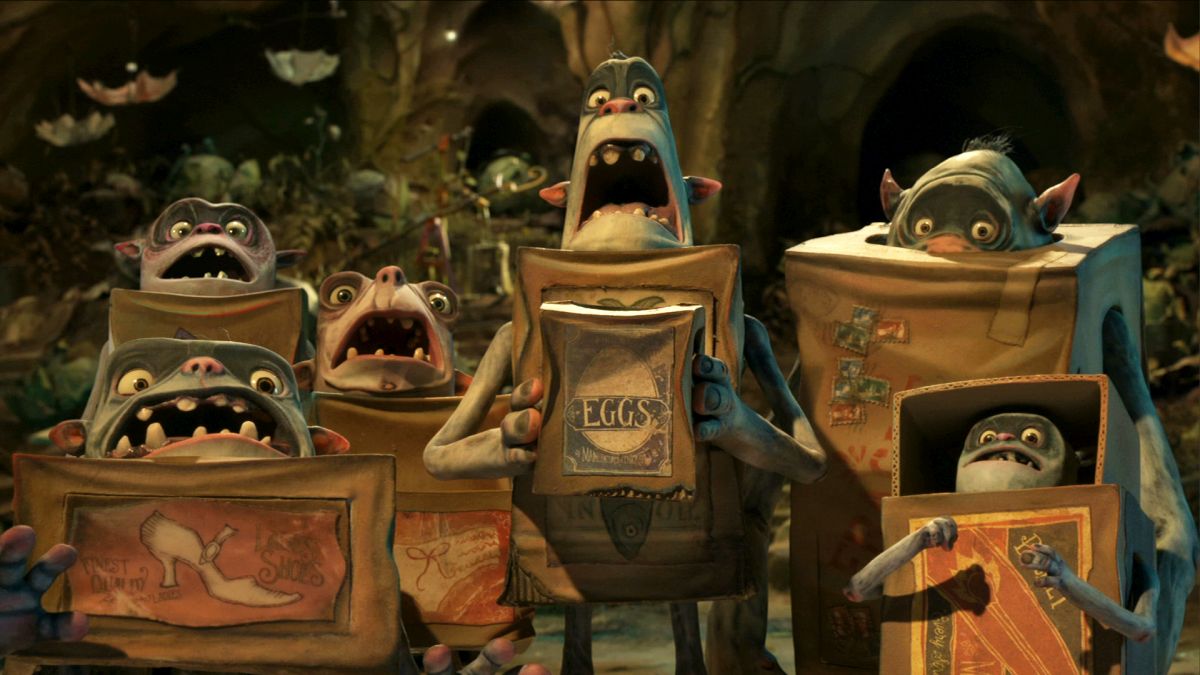 The story that The BoxTrolls operates with is nothing too original. There are familiar characters and arcs – the boy who has grown up among the Boxtrolls unaware of his true nature; the precociously ignored daughter of privilege; the villain with the secret past. As with ParaNorman, there is the recurring theme that what civilised society reviles as the monsters are really peaceful and misunderstood characters.
These could have all played out as easy animation standards. It is however the extraordinary creativity that Laika places into the design and detail of the sets and characters that makes the film. (For some reason, the US-based filmmakers decide to fill almost all of the roles with a British voice cast, while the human characters are depicted as ruddy-cheeked John Bull caricatures).
The film seems to have its most fun with the scenes of innocent Eggs unleashed on polite society. It all emerges amiably, if not fully quite hitting the same vivid stride that ParaNorman did. One of the cutest pieces comes during the end credits, which gets appealingly meta-fictional on us where a couple of the characters turn back up and are able to see beyond their confines and start to comment on and speculate about the animators who are manipulating them (all as seen in an undercranked blur).
Laika Entertainment next made Kubo and the Two Strings (2016) and Missing Link (2019).
---
---