---
USA/India. 2016.
Crew
Director – Steven Spielberg, Screenplay – Melissa Mathison, Based on the Novel by Roald Dahl, Producers – Frank Marshall, Sam Mercer & Steven Spielberg, Photography (3D) – Janusz Kaminski, Music – John Williams, Senior Visual Effects Supervisor – Joe Letteri, Visual Effects Supervisor – Guy Williams, Animation Supervisor – Jamie Beard, Visual Effects – Weta Digital (Supervisors – Simon Clutterbuck, Kevin Smith & Wayne Stables), Special Effects Supervisor – Joel Whist, Production Design – Rick Carter. Production Company – Amblin/Reliance Entertainment/Walden Media/The Kennedy-Marshall Company.
Cast
Mark Rylance (The BFG), Ruby Barnhill (Sophie), Penelope Wilton (The Queen), Jemaine Clement (Fleshlumpeater), Rebecca Hall (Mary), Rafe Spall (Mr Tibbs), Bill Hader (Bloodbottler), Olafur Dari Olafsson (Maidmasher/Cook), Michael David Adamthwaite (Butcher Boy), Adam Godley (Manhugger), Daniel Bacon (Bonecruncher), Jonathan Holmes (Childchewer), Chris Gibbs (Gizzardgulper), Paul Moniz de Sa (Meatdripper)
---
Plot
Sophie is a child living at the orphanage where she suffers from insomnia. One night, she peeks out the window and sees a giant moving through the town. Spotted, the giant snatches Sophie up and flees back to Giant Land with her. Sophie is fearful that the giant is going to eat her but BFG (for Big Friendly Giant) reveals that he doesn't eat people but subsists on a diet of snozzcumber vegetables. He says that he is going to have to keep Sophie there for the rest of her life so that she doesn't tell other people about him. As Sophie helps BFG go about his job of collecting dreams and a friendship grows between the two of them, the other giants sense Sophie there and are determined to find and eat her.
---
Roald Dahl (1916-90) was a celebrated British writer. During his writing career, Dahl turned out a great many macabre and darkly humorous short stories. These are as not as well remembered today as are his children's books, which include the likes of The Gremlins (1943), James and the Giant Peach (1961), Charlie and the Chocolate Factory (1964), Fantastic Mr Fox (1970), Danny the Champion of the World (1975), The Witches (1983) and Matilda (1988) to name but the most famous. (See below for a list of Dahl's screen adaptations and genre works). The BFG (1982) was another of these children's books. The central character is named after and the book dedicated to Dahl's granddaughter Sophie Dahl who nowadays has a career as a model, writer and British tv cookshow host. The book has previously been adapted to film with the animated British-made The BFG (1989).
Steven Spielberg and Roald Dahl do not at face value seem matched talents. Spielberg makes winsome paeans to lost childhoods and his films seem to feature lonely children who ache with a longing for friends or protagonists only seeking to find a welcoming home; Roald Dahl's visions of childhood are much rowdier and terribly more British, not to mention come with an unbridled sense of glee in the unleashing of mischief and just desserts meted out to those who deserve them. Spielberg seems to find it difficult to be mean, even in creating villains. Equally so, it is hard to imagine that Roald Dahl would have ever written an E.T. – The Extra-Terrestrial (1982), at least without subverting it in some way. You suspect that The BFG would work the best of Dahl's works in Spielberg's hands as it plays to themes – the lonely child looking for a friend and just wanting to have somewhere to call a home – that Spielberg regularly revisits.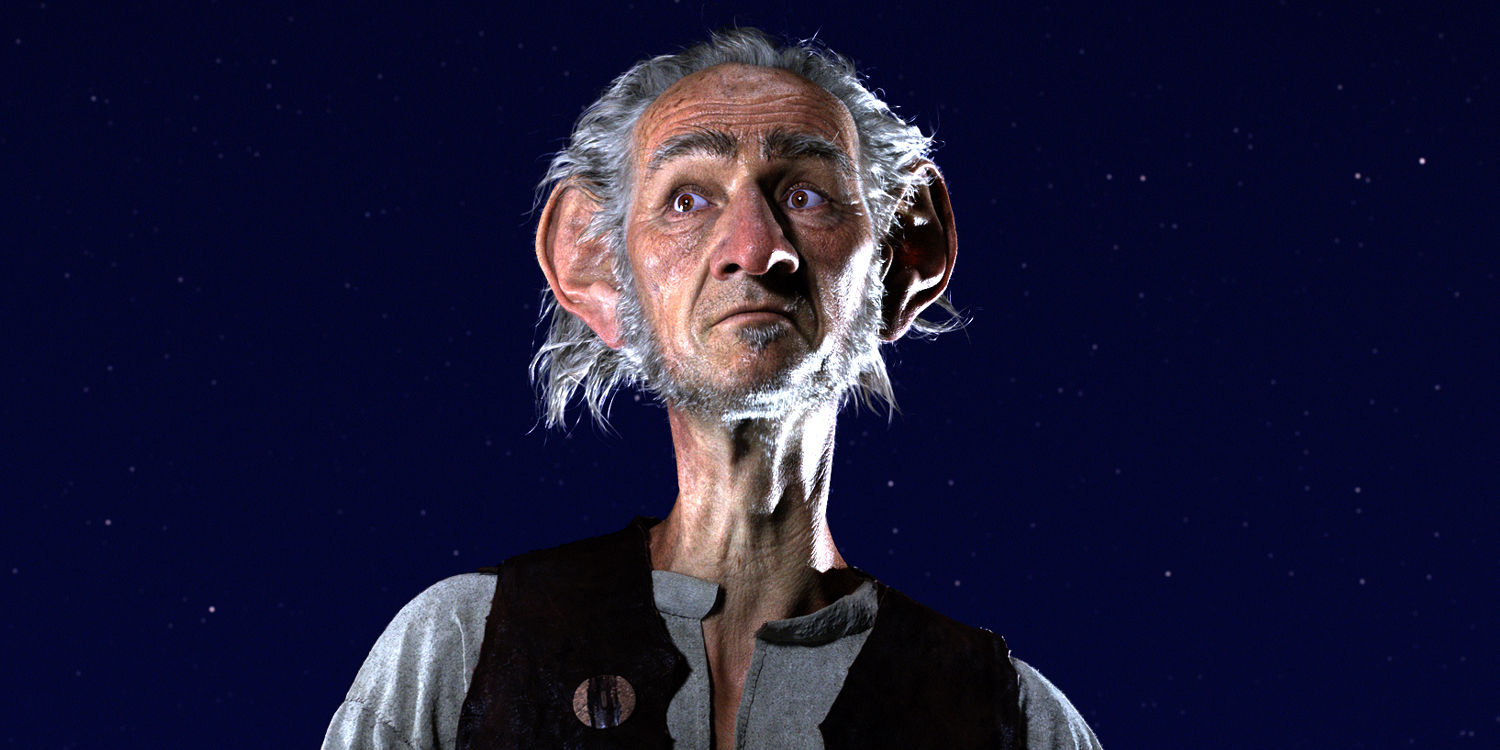 It is a shame that The BFG bombed at the US box-office. With the tendency these days for critics and audiences to assume that a film's lack of financial success is a measure of its lack of worth, a certain vulturish bitchiness has ensued. To the contrary, The BFG is not a bad film at all. It's certainly not another E.T. but then it's not another Hook (1991) either. Moreover, for someone like Roald Dahl, who notoriously poured scorn on those attempting to adapt his works, the film is surprisingly faithful to the book. Spielberg even keeps in some of the more bawdy aspects of the book like the whizzpoppers (farting) scene (which the 1989 film saw fit to excise).
Not to mention Spielberg also retains The Queen as a character (albeit a younger version of Queen Elizabeth II – the film would seem to take place in the 1980s when Dahl wrote the book as a side-comment about "Ron and Nancy" would indicate). It does result in a very peculiarly quaint and picture postcard England, the sort someone standing outside the culture imagines the country to be – all cobbled streets filled with Minis and Morris Minors, and a veneration for the pomp and officialdom of Royalty that is more reverential than any British-made film I can recall having seen.
The centre of the film are the two performances. Mark Rylance, who notedly won an Academy Award as Best Supporting Actor for his part as the Russian spy in Steven Spielberg's previous film Bridge of Spies (2015), has his body and features entirely sublimated by motion-capture. Underneath this, Rylance wields a West Country accent and an amazing range of Dahl-esque malapropisms with affecting results. Newcomer Ruby Barnhill is well placed up against him with an appealingly determined plaintiveness.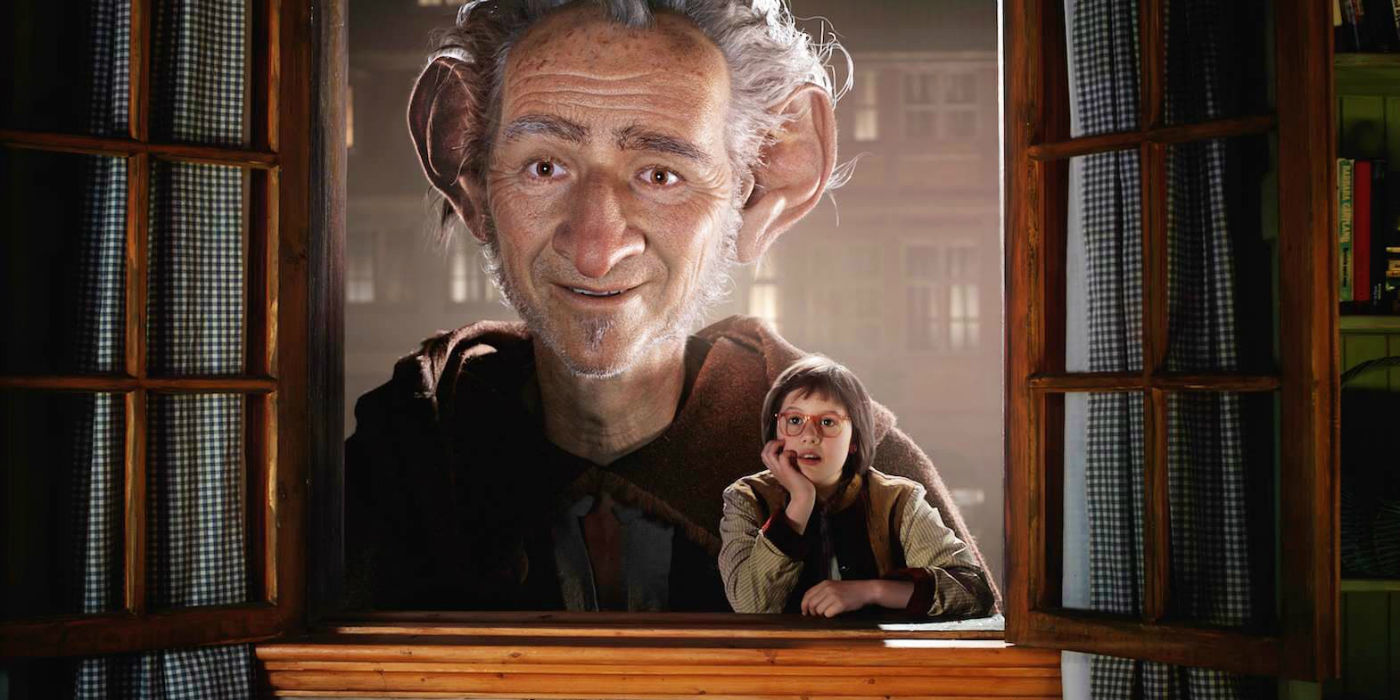 As you might expect of Spielberg, the film is an expert fusion of visual effects, digital sets and motion capture such that you tend to forget that it is effects and watch the charms of the fun play out. In the past, Spielberg's has tended to a broad comedy hand that at its worst toppled over into the whole of Hook and some of the more indulgent sequences in the Indiana Jones sequels. There is an unnecessary sequence here with giants using the backs of vehicles as skates that could easily have hit the cutting room floor but most of the film wears its charms. Spielberg contrives some likeable knockabout sequences with the other giants invading BFG's home in search of Sophie. The most winning of these is the Gulliver's Travels (1726)-esque sequence with BFG being served breakfast with The Queen.
Steven Spielberg's other genre films are:– Duel (1971), Jaws (1975), Close Encounters of the Third Kind (1977), Raiders of the Lost Ark (1981), E.T. – The Extra-Terrestrial (1982), Twilight Zone – The Movie (1983), Indiana Jones and the Temple of Doom (1984), Indiana Jones and the Last Crusade (1989), Always (1989), Hook (1991), Jurassic Park (1993), The Lost World: Jurassic Park (1997), A.I. (Artificial Intelligence) (2001), Minority Report (2002), War of the Worlds (2005), Indiana Jones and the Kingdom of the Crystal Skull (2008), The Adventures of Tintin (2011) and Ready Player One (2018). Spielberg has also acted as executive producer on numerous films – too many to list here. Spielberg (2017) is a documentary about Spielberg.
Other Roald Dahl screen works are:- the short-lived anthology tv series Way Out (1961), which Dahl wrote for and hosted; the screenplays for the James Bond film You Only Live Twice (1967) and Chitty Chitty Bang Bang (1968); the children's classic Willy Wonka and the Chocolate Factory (1971); the psycho-thriller The Night Digger (1971); the tv series Tales of the Unexpected (1979-81), an anthology series adapting Dahl's macabre tales; and adaptations of The Witches (1990), James and the Giant Peach (1996), Matilda (1996), Charlie and the Chocolate Factory (2005), Fantastic Mr. Fox (2009) and The Witches (2020).
(Winner for Best Actor (Mark Rylance), Nominee for Best Actress (Ruby Barnhill) at this site's Best of 2016 Awards).
---
---