---
Australia. 1996.
Crew
Director/Screenplay – Megan Simpson Huberman, Producer – Sue Milliken, Photography – Steve Arnold, Music – David Hirschfelder, Visual Effects – Animal Logic (Supervisor – Andy Brown), Production Design – Tim Ferrier. Production Company – Australian Film Finance Corporation/Pandora Cinema/Total Films.
Cast
Claudia Karvan (Tash Trevellyn), Guy Pearce (Brett Flinders), Matt Day (Rob), Pippa Grandison (Colette), Lisa Hensley (Laetitia), John Howard (Davies), Scott Lowe (Harrison)
---
Plot
Shy science journalist Tash Trevellyn and extroverted MTV DJ Brett Flinders meet at a party and become involved, despite totally opposed personalities. Soon their differences start to cause friction in their relationship. She wishes that he could know what it is to be like her. They then wake up in each other's body. Faced with having to pass themselves off as each other, they end up each causing chaos in the other's life.
---
Dating the Enemy is another variant on the boydswap theme, a sort of film one of which seems to get made about every second year or so. The particular gender swap theme we have here stretches all the way back to the screwball comedy Turnabout (1940). (For more detailed discussion of these see Bodyswap and Identity Exchange Films).
Dating the Enemy does not have any particularly original ideas, nor any novel way of dealing with its theme, but it is moderately enjoyable in its light-hearted way. Its best moments are the sharply observed reversals on office politics – the man in the woman's body trying to call for someone to bring her coffee, contrasted with the woman in the man's body asking if he can get coffee for everybody and getting strange looks.
Claudia Karvan and Guy Pearce both do creditable jobs of affecting the mannerisms of the opposite gender, although one is never greatly convinced that the characters one met at the start of the film are the same ones that are incarnated in the other's body. Guy Pearce's introverted limp-wristedness becomes rather extreme – this was just after The Adventures of Priscilla, Queen of the Desert (1994) and before L.A. Confidential (1997) and Memento (2000) where Pearce was still a relative international unknown – but the part does eventually grow on you.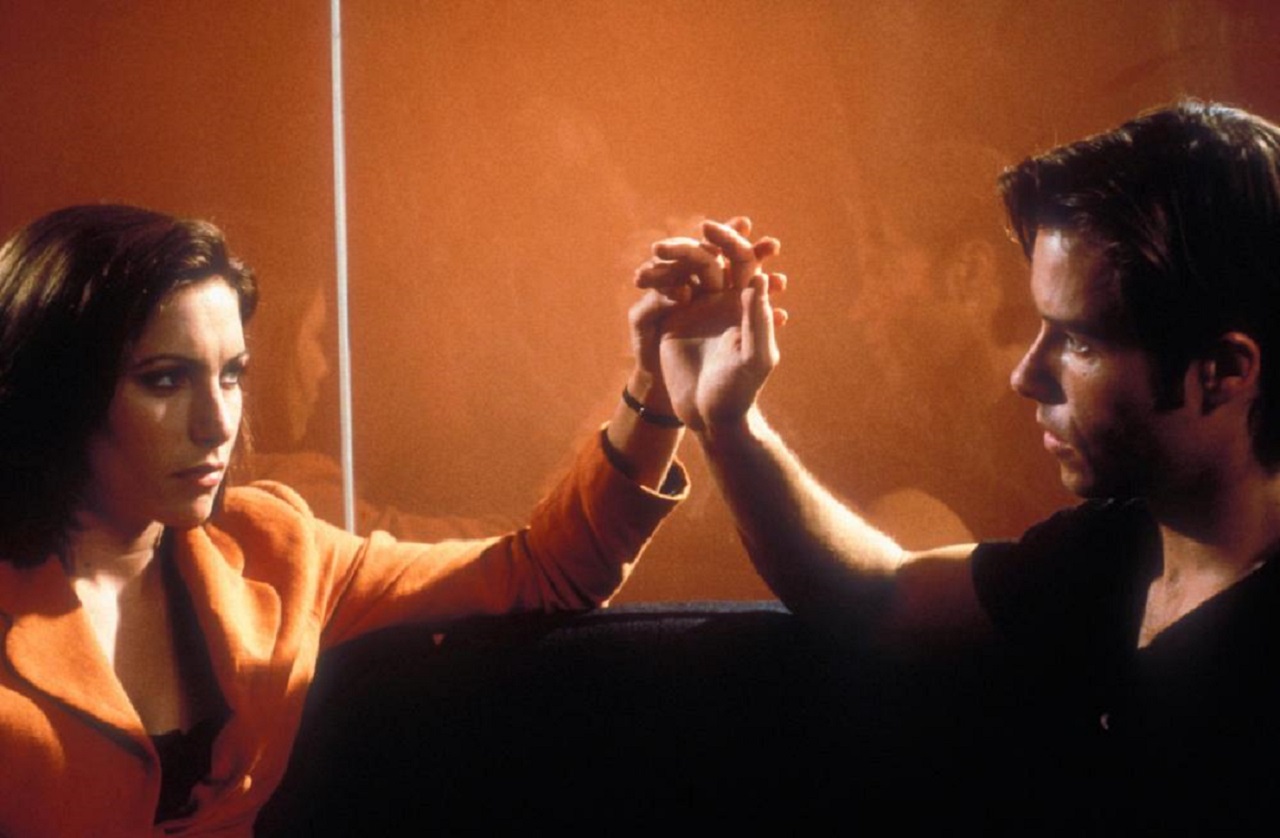 The film does gently push a feminist agenda. In the end, it draws upon caricatures of gender roles typified by pop psychologists like John Gray – that women are caregivers and sensitive to emotion, while men are closed off to feeling and wrapped in their own world of external achievement. All men in the film are thus caricatured, for example. In order to make its points, the film has to stretch credibility. Claudia Karvan and Guy Pearce are so diametrically opposed as characters from the outset – and the script even openly acknowledges this – that you wonder what it is they see in one another and what keeps them together.
The bias in the film is wholly toward sympathy for the woman's point-of-view – it is pointedly only the male who learns and changes his ways from the experience. The film never concerns itself with what the woman learns and how the experience changes her – so centred is the film on her point-of-view being the correct one that it seems to assume by implication that there is nothing she need learn from the experience. For all its agenda, the film is not an unlikeable one.
---
Trailer here
---