(Ekksu)
---
Crew
Director – Rintaro, Screenplay – Rintaro & Mick Nekoi, Based on the Comic Book Created by Clamp, Producers – Ikeuchi Kazuhiko, Kokoyama Kazuo & Maruyama Masanori, Music – Shimizu Yasuaki. Production Company – Marubeni Corporation.
---
Plot
Two sisters, both opposing Dream Weavers, foretell the coming of the Promised One, Kamui. Kamui will decide the outcome of a battle between the Dragons of the Earth and the Dragons of Heaven, which may forever lay waste to the Earth. The two sisters each gather a team of super-powered individuals to aid Kamui as he struggles against his dark shadow twin for supremacy.
---
This is an anime film based on the manga that was published between 1992 and 2003 in
Young Asuka
created by CLAMP (an all-women comic-book creative collective). The manga was abruptly curtailed and has never been completed. The manga was subsequently adapted into an anime tv series
X
(2001-2), which lasted for 24 episodes.
X
is fairly much business as usual for anime. The film rehashes all the basic themes of anime – the youthful hero who struggles with superpowers beyond their control; city-wracking apocalyptic battles; casual ultra-violence; titanic struggles between almost sentimentalised forces of good and evil; the love of a virtuously innocent heroine.
The problem with X is that it is minimalist anime. The animation is limited – the characters all have triangular faces and do not move a great deal. This creates one of the film's largest problems – that it is frequently difficult to tell characters apart. There is a large team of heroic supporters and evil minions – it seems less to be X than an anime X-Men – but it becomes difficult to keep track of who is who and what side they are on. To add to the confusion, there is also a good and evil version of the hero and two opposing Dream Weaver sisters.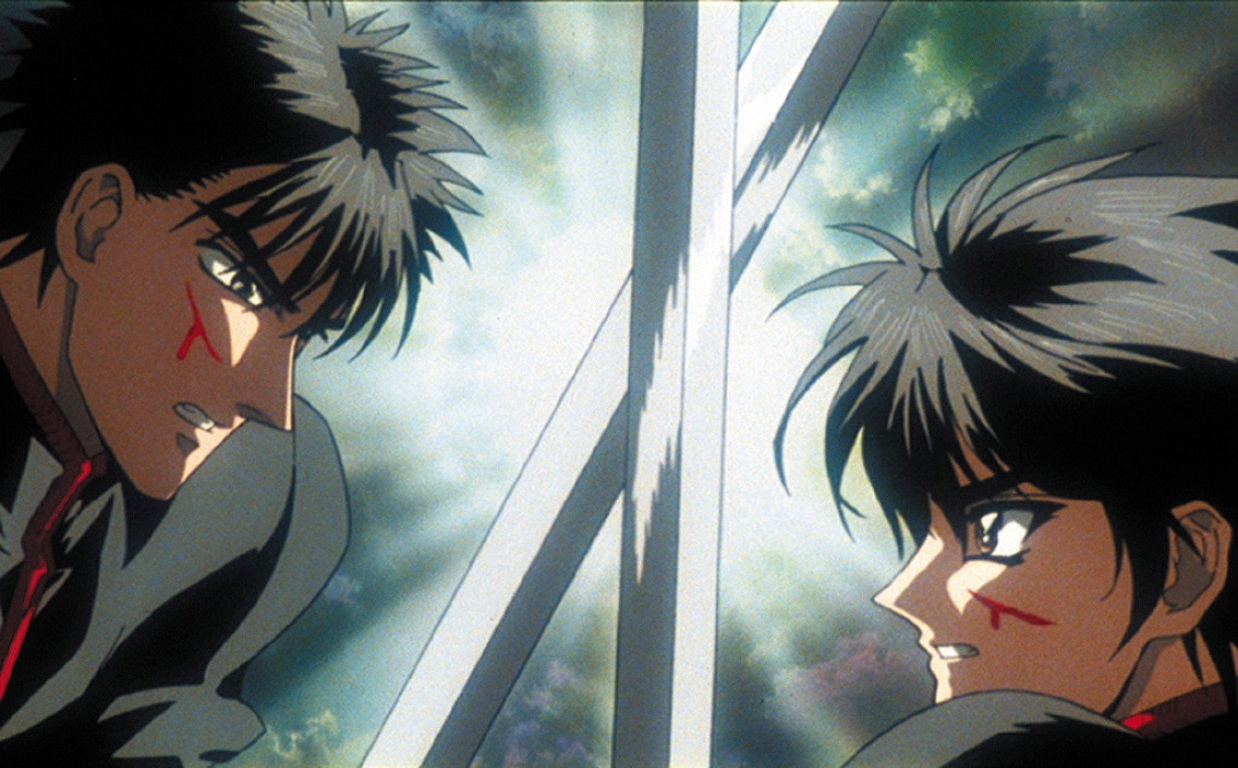 Plotting is equally minimalist – Kamui is the Promised One but promised by whom we never know, he is just promised; there are all manner of interdimensional battles but frequently what they are fighting for is none too clear. There are some occasionally novel images – that of a secret spiritual world that lives beneath the nodal points of Tokyo and weaves its waking life.
Mostly though, the film's appeal is anime's one as eye candy – mid-air sword battles, blowing blossom petals, the hero's mother producing a sword Excalibur-like from her stomach, lacerating raindrops, and of course the mass destruction and dizzying changes of scale between the epic sized and the fragile that anime specialises in.
Director Rintaro also made Galaxy Express 999 (1979), Adieu, Galaxy Express 999 (1981), Harmageddon (1982), Revenge of the Ninja Warrior (1985), an episode of the anime anthology Neo Tokyo (1987), Doomed Megalopolis (1991), the amazing Metropolis (2001), the thirteen-part OVA mini-series Space Pirate Captain Harlock: The Endless Odyssey (2002) and Yona Yona Penguin (2009).
---