---
Crew
Directors – Warren Beatty & Buck Henry, Screenplay – Warren Beatty & Elaine May, Based on the Play by Harry Segall, Producer – Warren Beatty, Photography – William A. Fraker, Music – David Grusin, Production Design – Paul Sylbert. Production Company – Paramount.
Cast
Warren Beatty (Joe Pendleton), Julie Christie (Betty Logan), James Mason (Mr Jordan), Jack Warden (Max Corkle), Dyan Cannon (Julia Farnsworth), Charles Grodin (Tony Abbott), Buck Henry (The Escort), Vincent Gardenia (Detective Krim)
---
Plot
As he rides into a tunnel on a bicycle, quarterback Joe Pendleton is removed from his body by an overzealous angel. Joe was about to be hit by a vehicle and the angel was trying to save him the pain of dying. Up in Heaven, Joe finds that an error has occurred and he was not meant to die in the accident. They fail to return in time before his body before is cremated so the afterlife supervisor Mr Jordan sets about finding Joe a new one. They finally settle on that of millionaire Oliver Farnsworth who has just been poisoned by his adulterous wife and scheming secretary. The wife and secretary are startled when they see Farnsworth return to life. Determined to fulfil his dream of playing at the Superbowl, Joe uses Farnsworth's wealth to buy up his old team so that he can play. He also resolves to help Betty Logan, a young teacher he promptly falls for after she comes to beg Farnsworth's not to shut down a factory. However, his plans are to be upset by his wife's further scheming.
---
Heaven Can Wait is a remake of the afterlife classic Here Comes Mr Jordan (1941). There is some confusion about the proliferation of titles. Here goes:– Heaven Can Wait is based on an unproduced play that was also called Heaven Can Wait. The play was filmed in 1941 where it was retitled Here Comes Mr Jordan. This Heaven Can Wait is not however a remake of the afterlife film also entitled Heaven Can Wait (1943). The film and play was further remade as Down to Earth (2001) with actor Chris Rock where it was given a racial twist and became a film about a Black man being incarnated in a white man's body. This was also the title of a loose sequel to Here Comes Mr Jordan, Down to Earth (1947), which is unrelated to the Chris Rock remake. With me so far?
Heaven Can Wait was the directorial debut of actor Warren Beatty. At the time, Warren Beatty was a popular sex symbol and parlayed his success into being able to make a debut as a director here and has gone on to make the other occasional directorial outing over the years with the likes of Reds (1981) and Bulworth (1998). Beatty co-directs with Buck Henry, an actor best known as a comedy writer with the likes of The Graduate (1967) and Catch 22 (1970), as well as having created tv's Get Smart (1965-70) and the superhero sitcom Captain Nice (1967).
It is hard to decide between Heaven Can Wait and Mr Jordan which is the better film. Both have the same woolly-headedness and corny sentimentalism. Of the two, Heaven Can Wait is certainly the more polished in that Warren Beatty and Buck Henry have a reasonable budget on hand, which has allowed them to expand beyond the original film's inherent reliance on its stage origins.
There is a certain amount of updating – Joe is now a quarterback rather than a boxer; Max Corkle is able to switch on a tv to watch the game; and Betty Logan has been changed so as to allow a trendy commentary about big business rape of the environment and the underprivileged rather than coming to plead on behalf of a business partner who is about to be jailed.
However, Here Comes Mr Mr Jordan has the edge in casting – Warren Beatty's lunkhead performance gets the mix of brawn-over-brains down with no effort but he is too cardboard to project any heart-of-gold in the way that Robert Mongtomery did; and James Mason's prissy fastidious mannerisms seem miscast in the role of Mr Jordan.
The rest of the cast are unmemorable with the exception of Dyan Cannon who is a scene-stealing joy with her bursts of hysterics and wide-eyed disbelief at the nonchalant, unconcerned reappearances of Beatty. Julie Christie seems to have befallen the costume designers who have determined for some reason to dress her as a middle-aged spinster.
The humour certainly comes with a greater ease here than it did in Here Comes Mr Jordan. Some of Dyan Cannon's reactions at the dinnertable or the cool with which the servants handle Warren Beatty's cupboard conversations with Mr Jordan are priceless.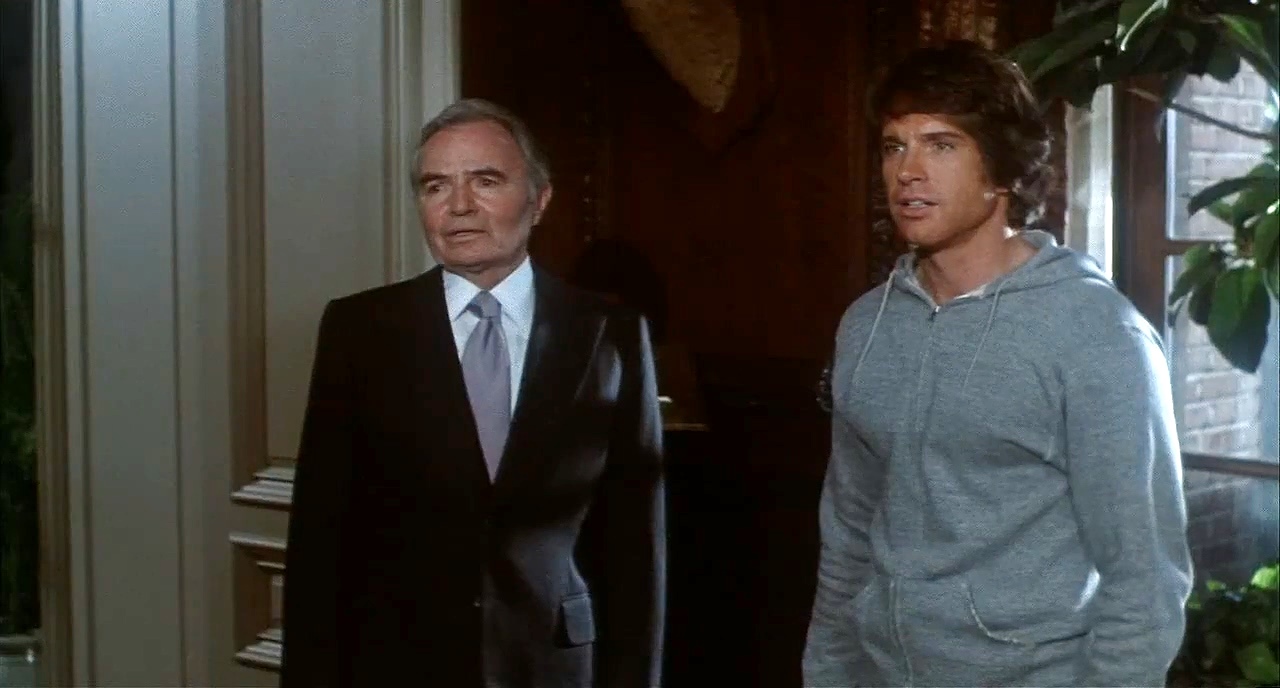 The film has a frivolous pleasantry but that also proves its undoing. The villains are far too light – the story seems so unconcerned with them as serious figures that it never even bothers to include a scene where they are unmasked. None of the gaping holes in the original are patched up either – one still asks why Farnsworth's body can be resurrected from the dead when Joe's cannot. The inherent wrongness in Heaven's failure to alert Joe to the tragic end that Farnsworth faces still glares.
Heaven Can Wait was a huge success in the US and for inexplicable reasons fared enormously well at the Academy Awards, notching up nominations for Best Picture, Best Screen Adaptation, Best Cinematography, Best Art Direction, Best Actor (Warren Beatty), Best Supporting Actor (Jack Warden) and Best Supporting Actress (Dyan Cannon), although it won only for Art Direction. The only nomination that seems to have any merit is Dyan Cannon's. Again, it seems the case of a film that has been a popular sentimental success having been inflated far above its middle-of-the-road merit by the Academy. Certainly, the film lacked any enduring appeal and largely faded away in popularity only a few years after it was released.
Warren Beatty later returned to the fantasy genre as director with his adaptation of the comic-strip detective Dick Tracy (1990).
---
---