---
Crew
Director – Albert Pyun, Screenplay – Stephen Tolkin, Story – Stephen Tolkin & Lawrence J. Block, Based on the Comic Book Created by Jack Kirby & Joe Simon, Producer – Menahem Golan, Photography – Philip Alan Waters, Music – Barry Goldberg, Music Supervisors – Phil Broucek & Eyyen J. Klean, Visual Effects – Fantasy II Film Effects (Supervisor – Gene Warren Jr), Makeup Effects – Greg Cannom, Production Design – Doug Leonard. Production Company – 21st Century Film Corp/Marvel Entertainment Group Inc.
Cast
Matt Salinger (Captain America/Steve Rogers), Scott Paulin (The Red Skull), Kim Gillingham (Sharon Cooperman/Bernice Stewart Cooperman), Ronny Cox (President Tom Kimball), Francesca Neri (Valentina de Santis), Ned Beatty (Sam Kolawetz), Carla Cassula (Dr Maria Vaselli), Darren McGavin (General Fleming), Michael Nouri (Lieutenant Colonel Lewis)
---
Plot
In 1941, polio victim Steve Rogers takes part in a US Army experiment, undergoing a series of injections that turn him into a brawny super-athlete, the first of a planned army of super-soldiers. Given the codename Captain America and outfitted with a red, white and blue fireproof costume and a bulletproof shield, he is sent into action against The Red Skull. The Red Skull is the product of an attempt by the Italian Fascists to create a similar super-soldier that failed, leaving him with a hard red epidermis. Steve is defeated by The Red Skull and tied to a rocket that is launched at Washington D.C. He manages to deflect the rocket's course but it crashes in Alaska where Steve is frozen alive. He is thawed out present-day and finds himself in a bewildering world where The Red Skull is now the head of a powerful crime organisation.
---
Created by the legendary Jack Kirby in 1941, the character of Captain America became the most popular superhero in the Marvel Comics line-up during the US World War II years (back when they were known as Timely Comics). Jack Kirby and Joe Simon designed the character in order to embody Wartime patriotism, thus Captain America had a uniform modelled on the stars-and-stripes flag and fought German and Japanese supervillains. The Captain America comic-book ended in 1949 but then the character was successfully revived by Marvel in the 1960s, thawed out from suspended animation in the present where he maintains a strong position even today. However, the character of Captain America was always the product of wartime US patriotism and various attempts to film it have invariably seemed anachronistic. The character was played by Dick Purcell in a serial Captain America (1944), where the usual low serial production values stood in the way of an effective translation, and then incarnated by Reb Brown in two laughably unconvincing tv movies Captain America (1979) and Captain America II (1979).
This cinematic revival of Captain America came from low-budget sf/action director Albert Pyun – see below for Albert Pyun's other genre films – and Israeli producer Menahem Golan, one half of the Golan-Globus production company that made a number of Chuck Norris and Charles Bronson action films during the 1980s. Captain America was made in an attempt to ride in on the post-Batman (1989) comic book superhero revival. [It is depressing to think that Menahem Golan also once held the rights to Marvel's Spiderman in his hand. This was at one point announced as a project with Albert Pyun directing and could have ended up as another laughably tatty production like this. It should also be noted that Golan-Globus also picked up the rights to Superman and promptly put the Christopher Reeve film series in its grave with the shabby Superman IV: The Quest for Peace (1987)].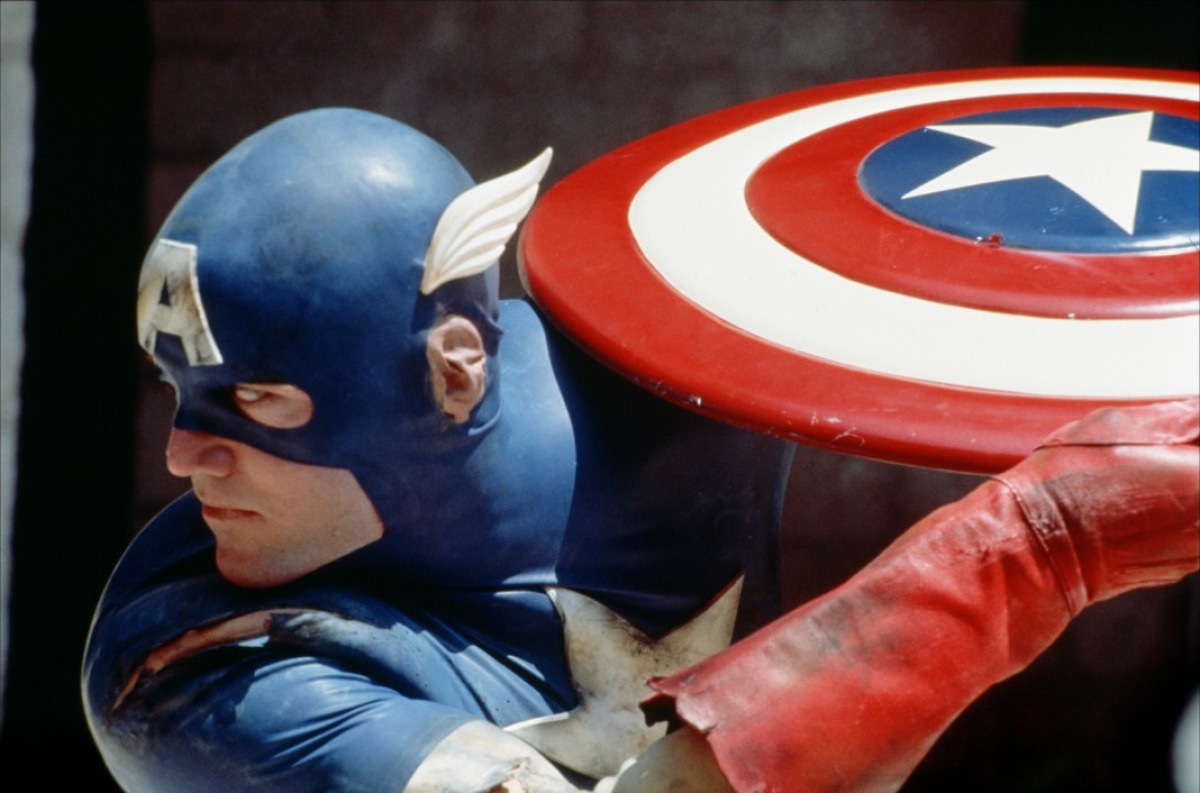 In Albert Pyun's hands, the character of Captain America fails to overcome its own anachronism and misses the mark by hilarious lengths. During the climatic confrontation, the villain taunts Captain America: "You are a clownish symbol that no-one cares about," and nothing seems more apt an epitaph for the film. The image of Matt Salinger tromping around in his three-colour stars-and-striper suit is frequently laughable – the film fails to understand that the 1990s comic-book adaptations only succeeded by creating a world in which the characters in costumes could believably live. There are few comic-book films that have a greater credibility gap to get over than this film. And Captain America succeeds in none of the cases – take the character's origin where Steve Rogers is sent into combat without the slightest bit of military training and where the costume is shrugged off as being the designer's peculiar taste in colours.
The action sequences are decidedly unheroic – in one pathetic scene, Pyun has Captain America flee pursuers on a bicycle. The most successful parts of the film are those showing America's bewilderment at the modern day – where the images of a camera labelled 'Made in Japan' and a German-made car effectively capture the confusion of a man from the World War II era waking up after forty years. The scenes with Rogers confronting his now aged sweetheart are more cliched.
Matt Salinger (no less than the son of novelist J.D. Salinger) makes for a blank and dopey-looking hero. Kim Gillingham's playing, especially as the brainless modern day heroine, is worse if anything. Scott Paulin has some fun as the Red Skull, playing with a hammy cruelty and tortured accent that seems like a bad impersonation of a Mafia thug until one realises about halfway through that Paulin is actually conducting a perfect mimicking of Bela Lugosi.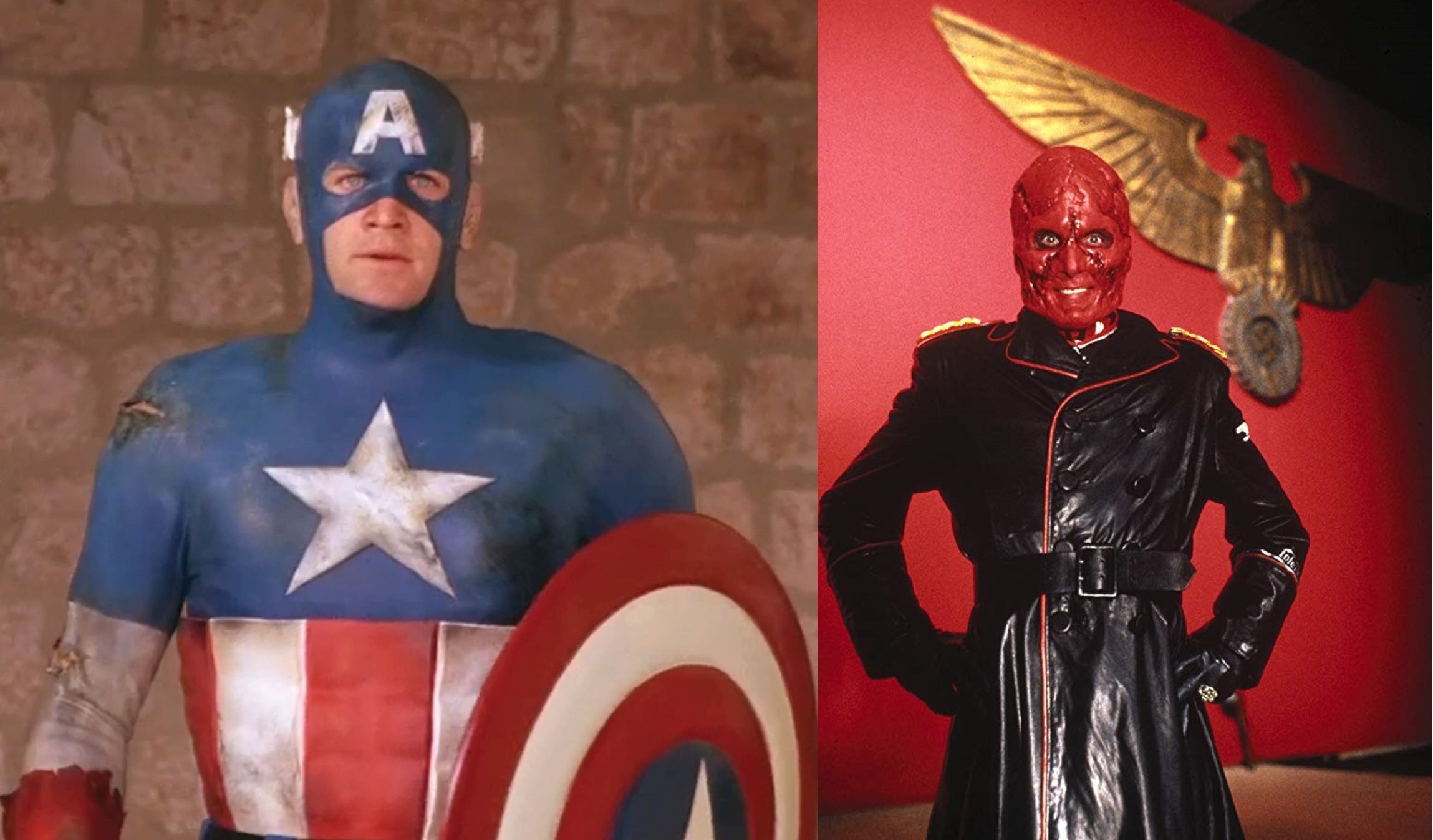 Captain America was also incarnated in a short-lived animated tv series The Marvel Super Heroes (1966). Amid the huge box-office success of Marvel Comics properties in the 00s, an inevitable big-screen revival of Captain America was conducted with Captain America: The First Avenger (2011) starring Chris Evans and its sequels Captain America: The Winter Soldier (2014) and Captain America: Civil War (2016), while Evans reprised the role in the Marvel team-ups The Avengers (2012), Avengers: Age of Ultron (2015), Avengers: Infinity War (2018) and Avengers: Endgame (2019). Captain America also appears in the animated Marvel Avengers films Ultimate Avengers (2006), which retells his origin story, and Ultimate Avengers II (2006), as well as his son appearing in Next Avengers: Heroes of Tomorrow (2008) featuring the children of Marvel superheroes.
Albert Pyun's other films are:– The Sword and the Sorcerer (1982), Radioactive Dreams (1986), Vicious Lips/Pleasure Planet (1987), Alien from L.A. (1988), the uncredited Journey to the Center of the Earth (1988), Cyborg (1989), Deceit (1989), Dollman (1990), Brain Smasher: A Love Story (1993), Knights (1993), Nemesis (1993), Arcade (1994), Hong Kong 1997 (1994), Heatseeker (1995), Nemesis 2: Nebula (1995), Nemesis 3: Timelapse (1995), Nemesis 4: Death Angel (1996), Adrenalin: Fear the Rush (1996), Omega Doom (1996), Postmortem (1998), Ticker (2001), Infection (2005), Cool Air (2006), Bulletface (2007), Left for Dead (2007), Tales of an Ancient Empire (2010), The Interrogation of Cheryl Cooper (2014) and Interstellar Civil War (2017).
---
---