(Vredens Dag)
---
Crew
Director – Carl Dreyer, Screenplay – Carl Dreyer, Poul Knudsen & Mogens Skot-Hansen, Based on the Novel Anne Pedersdotter by Hans Wiers-Jenssens, Producers – Carl Dreyer & Tage Nielsen, Photography (b&w) – Karl Andersson, Music – Poul Schierbeck, Art Direction – Erik Aaes. Production Company – Palladium Productions.
Cast
Lisbeth Movin (Anne Pedersson), Thorkild Roose (Absalom Pedersson), Preben Lerdorff (Martin Pedersson), Sigrid Neiiendam (Meret), Anna Svierker (Herlof's Marte)
---
Plot
Denmark, 1623. The virtuous Anne is married to the local vicar Absalom Pedersson, a man many years her senior and whom she does not love. Absalom's younger son Martin comes to visit and he and Anne become friends. At the same time, Anne grants refuge to Herlof's Marte, a local woman accused of witchcraft. Absalom discovers Marte and hears her confession, where she taunts him over how he condemned Anne's mother to burn as a witch and how she could equally accuse Anne. He condemns Marte to be burned and she dies promising vengeance. Afterwards, Absalom is troubled by the knowledge that he acted selfishly in protecting Anne from accusation so that she might become his wife. In learning of her mother's witchcraft, Anne comes to discover that she too has the power of Calling that a witch does. She calls Martin to her and the two begin an illicit affair behind Absalom's back. Anne then begins to idly wish that Absalom were dead so that they might be free to openly conduct their liaison.
---
The Danish-born Carl Dreyer (1889-1968) is considered one of the great directors of the early 20th Century, even though his works are not widely known outside of critical/historical circles. Dreyer made The Passion of Joan of Arc (1928), which many consider to be one of the finest silent films ever made. Dreyer also made Vampyr (1932), which is considered by some purveyors of Golden Age Horror to be one of the greatest horror film of the 1930s, if not one of the all-time classic horror films.
Throughout Carl Dreyer's films runs a fascination with religious, or perhaps one should say spiritual matters. Like countryman Lars von Trier, Dreyer creates portraits of near-saintly women. Often Dreyer's women – Maria Falconetti's Joan in The Passion of Joan of Arc, Lisbeth Movin's frustrated housewife here, Brigitte Federspiel in Ordet (1955) – believe in a far-off heavenly virtue or spiritual purity and the film around them is a Manichean contrast between their clinging to otherworldly belief versus the ways that the repressive, patriarchal forces of the material realm grind them down.
In these films, the manifestation of the spiritual often comes in a ecstatic final eucatastrophe that the heroines surrender to – Joan going off to sainthood in the flames, the final confession here, the miraculous resurrection in Ordet. Even Vampyr can be seen as a spiritual film in some ways – one where Julian West's David Gray is a figure that is frequently seen operating detached from his own body, drifting through not a state of spiritual enlightenment but rather one of nameless supernatural dread.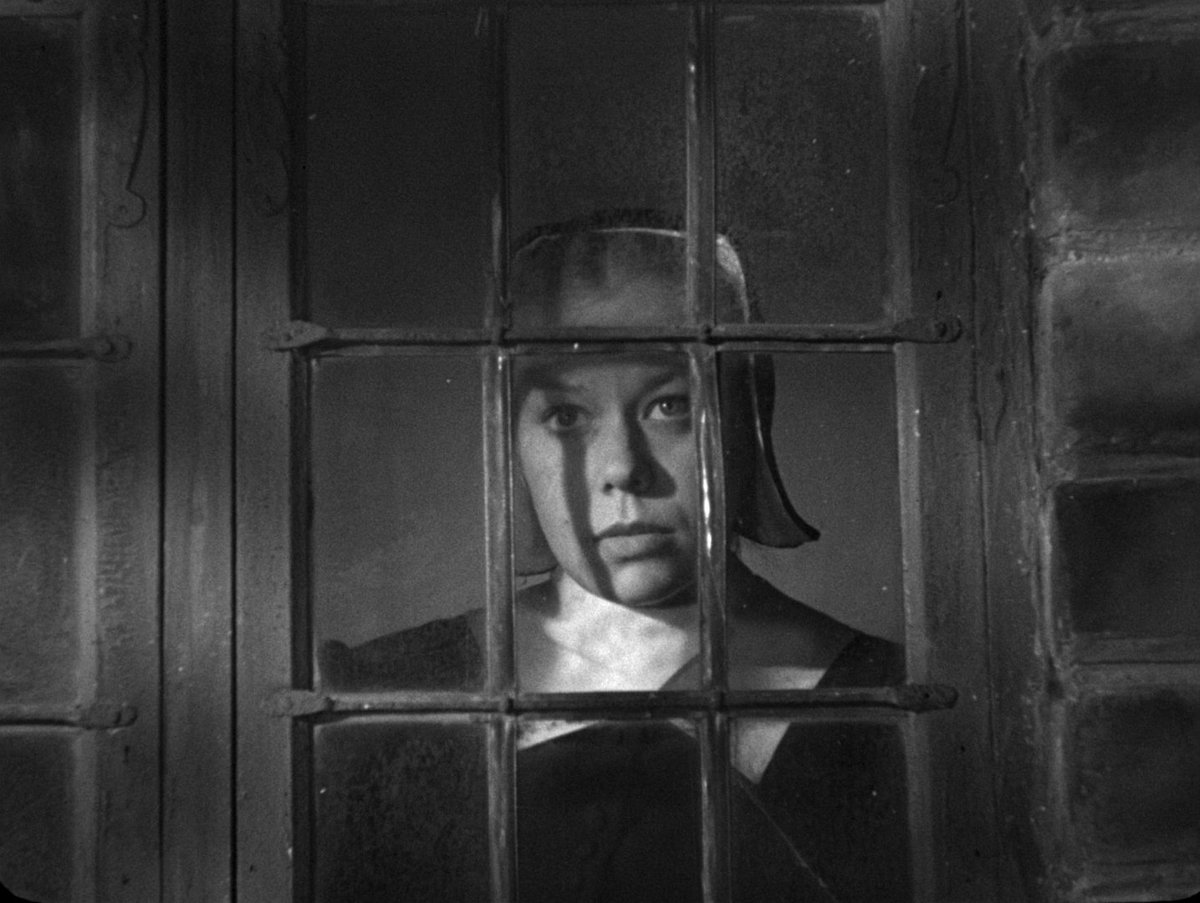 Day of Wrath also holds allegiance to the films of Ingmar Bergman – the province of religiously repressive Scandinavian Lutheran extended families that Dreyer uses as his setting here is one that Bergman staked out as his own stomping ground. Indeed, did one not know otherwise, they might not be too far off in mistaking Day of Wrath for one of Bergman's early films.
Day of Wrath cannot be considered a horror film. However, it did come out at the same time as producer Val Lewton was making his famous body of psychological horror films – Cat People (1942), I Walked with a Zombie (1943), The Seventh Victim (1943) et al – and Lewton and Carl Dreyer have much in common in their approaches to the supernatural. In Val Lewton's films, the supernatural always sat in tandem with purely mundane explanations – you could never be sure whether Simone Simon was a were-feline or just sexually repressed, whether Christine Gordon had been affected by a voodoo curse or a tropical fever – and the films left one with a troubling ambiguity as to which explanation was the case.
It is the same here. Carl Dreyer leaves one in a state of wilful ambiguity about whether Lisbeth Movin has the powers of Calling or is just someone in a loveless marriage who is frustrated with romantic longing and/or a product of the repressive religious hysteria of her age. There is the superb moment where she first realises that she has the power of Calling and says "I can do it" and calls the name of Martin and in that very moment a hand opens the door behind her.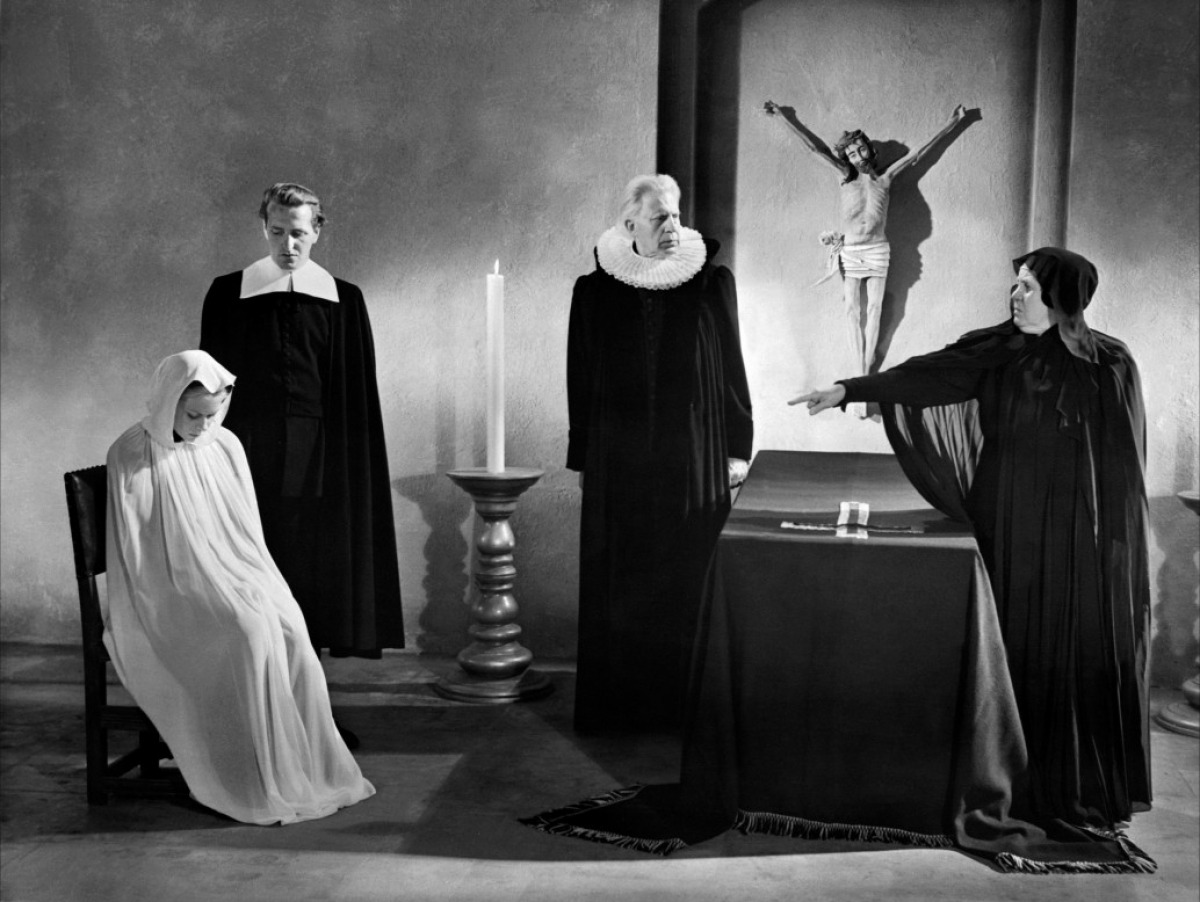 There are moments of beautifully ambiguous subtlety – like where she idly wishes "If only he were dead" (in regard to her husband) and then Thorkild Roose returns home with the feeling of something having walked across his grave and that his death has been predetermined. Dreyer creates a perfect metaphor for the trompe l'oeil ambiguity of the situation in the two lovers' perception of the willow by the riverbank – while he sees it as bent in sorrow, she sees it bent in romantic longing. It would have taken very little to have pushed Day of Wrath over to make it a horror film and almost none at all to have made it a Val Lewton film.
Dreyer's handling of the film is exceptional. At direct contrast to Vampyr, which was shot in dreamy otherworldly ambience filled with a perpetual visual schema of mist-on-mist, Day of Wrath is clean and exactingly lit. Dreyer proves himself a master of subtle characterisations and draws superb performances from all his actors – the crazy passion, pain and vulnerability of Anna Svierker's witch as she is tortured; the harsh cruelty of Sigrid Neiiendam's mother; the divided pain of Thorkild Roose's pastor.
Especially good among the performances is the pure, otherworldly innocence of Lisbeth Movin's Anne. The subtlety that she and Dreyer suddenly introduce into the performance after The Calling – her laughter, her seeming taunting of the mother with her singing – is so ambiguously shaded as to make one wonder. The extremes of the performance she gives, which vie between demure innocence, lovestruck passion and vengeful intensity, are extraordinary and something that Movin conveys with great beauty and passion. The confession that comes at the end is a jolting surprise.
---
---