---
Crew
Director – Ben Sharpsteen, Screenplay – Joe Grant & Dick Huemer, Based on the Novel by Helen Aberson & Harold Pearl, Producer – Walt Disney, Music – Frank Churchill & Oliver Wallace, Lyrics – Ned Washington, Animation Supervisors – Art Babbit, Ward Kimball, John Lounsbery, Fred Moore, Woolie Reitherman & Vladimir Tytla, Art Direction – Don Da Gradi, Dick Kelsey, Ernest Nordli, Ken O'Connor, Charles Payzant, Herb Ryman, Terrell Stapp & Al Zinnen. Production Company – Disney.)
---
Plot
Storks deliver a baby to a mother elephant at the circus, which she names Dumbo. After Dumbo sneezes, his ears suddenly sprout to giant size. This makes him into an object of ridicule and he is taunted by both attendees and the other circus animals. When Dumbo's mother stands up to protect him, she is locked up as a mad elephant. Forlorn, Dumbo is befriended by tiny Timothy Mouse who convinces him of his worth and encourages his participation in the circus acts. However, Dumbo's bumbling causes chaos and he is demoted to a clown act in which he has to high dive into a bucket of water. Dumbo eventually finds his unique worth when he discovers that he can fly by flapping his oversized ears.
---
The era 1937-42 is always looked back upon as the classic period of Disney animation, a Golden Age never quite equalled since by the studio. This period produced the likes of Snow White and the Seven Dwarfs (1937), Fantasia (1940), Pinocchio (1940) and Bambi (1942). Disney were at their creative height when they made Dumbo, which is a wonderful piece of visual invention. Alas, it is one of the less revived and re-released Disney animated films today, mainly because it only comes in at a slim 64-minute running time.
The opening images with storks parachuting diapers filled with baby giraffes, tigers and hippos down onto an area of map marked 'Florida' perfectly hits the scene with a charming blend of Victorian gynaecological euphemism and high-energy slapstick. The sight gags throughout are seamless. There is a gorgeous throwaway sequence with an anthropomorphised train rushing up and down hillsides choo-chooing out bursts of "I think I can make it" and then coasting into a station with the music rhythmically running down as it does.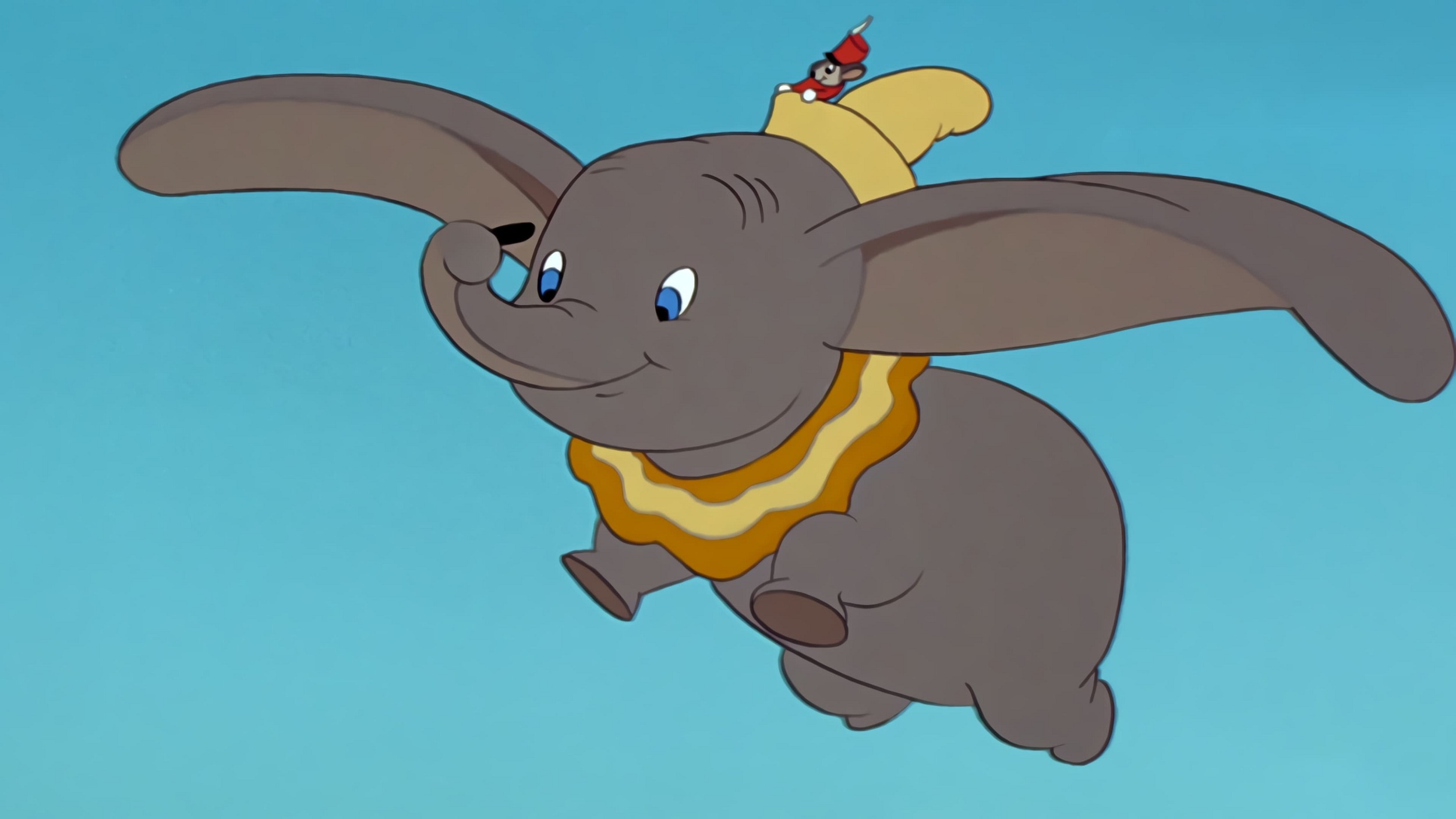 And there is a wonderful slapstick ballet between Timothy Mouse and a drunken Dumbo with Timothy falling off a bucket and being carried back up by the bubbles Dumbo blows, not before the sequence bursts into a piece of out-and-out psychedelic surrealism entitled Pink Elephants on Parade with dancing pink elephants metamorphosing into camels, pyramids, racing cars and belly dancers, all the while going through mind-bending colour changes and at the end beautifully transforming into pink-limned morning clouds. (Between Dumbo and Fantasia, it makes you wonder sometimes if Disney brainstorming sessions did not consist of the animators sitting around imbibing from a big hash pipe).
The songs are all wonderful. There are times the film is so beautiful it is heart-rendering – Dumbo looks so forlorn and cute he frequently completely melts one's heart. There is a beautifully sad scene where he is reunited with his mother, they caressing trunks through the bars of the cage, while the shot cuts away to all the other animal families asleep in their cages – rocking kangaroos, swinging gorillas and lazily stretching baby tigers. A great Disney film.
in recent years Dumbo has been the cause of the controversy over the characters of the three crows, which were cast using African-American voice actors and are seen as racist caricatures. The term 'Jim Crow' has been used as a general term to apply to racial segregation laws in pre-Civil Rights era USA. Although there is debate as to whether this was the studio's intention, these accusations have caused the film's stature to be sidelined
Dumbo (2019) is a live-action remake directed by Tim Burton.
---
---