---
Crew
Directors – Clyde Geronimi, Wilfred Jackson & Hamilton Luske, Story – Don DaGradi, Erdman Penner, Joe Rinaldi & Ralph Wright, Based on the Story by Ward Greene, Music – Oliver Wallace, Orchestration – Sidney Fine & Edward Plumb, Songs – Conny Burke & Peggy Lee, Vocal Arrangements – John Fario, Animation Supervisors – Les Clark, Ollie Johnston, Milt Kahl, Hal King, Eric Larson, John Lounsbery, Wolfgang Reitherman & Frank Thomas, Special Processes – Ub Iwerks. Production Company – Disney.
Voices
Barbara Luddy (Lady), Larry Roberts (Tramp), Bill Thompson (Jock/Bull/Daschie/Joe), Bill Baucon (Trusty), Lee Millar (Jim Dear), Verna Felton (Aunt Sarah), Peggy Lee (Darling/Si/Ann/Peg), Stan Freberg (Beaver), Alan Reed (Boris)
---
Plot
The puppy Lady is adopted by a wealthy upper-class couple. However, after the couple have a child, Lady finds herself ignored. The family then depart for China, leaving Lady in the hands of their Aunt Sarah and her two scheming cats Si and Ann. Fleeing from Aunt Sarah's attempts to muzzle her, Lady falls in with the stray mongrel Tramp. The two enjoy adventures on the wild side of life where Lady gradually comes to fall for Tramp.
---
The 1950s were a time that Disney entered a period of self-consciously trying to make their animated films into "art" – something that was most notably evident with Cinderella (1950) and Sleeping Beauty (1959). Amidst these, Lady and the Tramp comes as an unalloyed and wholly unpretentious joy.
In Lady and the Tramp, Disney's penchant for dewy-eyed anthropomorphism and talking animals is at its most outrightly enjoyable. For this reason alone, Lady and the Tramp is perhaps the most unassumingly enjoyable of all Disney talking animals films. It is impossible not to be enchanted by the frolicking and plaintive delights during the first few minutes with Lady forlornly whimpering locked in a room, finding the joy of chasing birds and burying bones and getting the newspaper shredded while trying to bring it in through the door flap. Equally, it is hard not to be moved by Lady's abandonment – left alone, trying to pass between a sea of legs at a baby christening, her momentary joy in seeing the baby in its crib.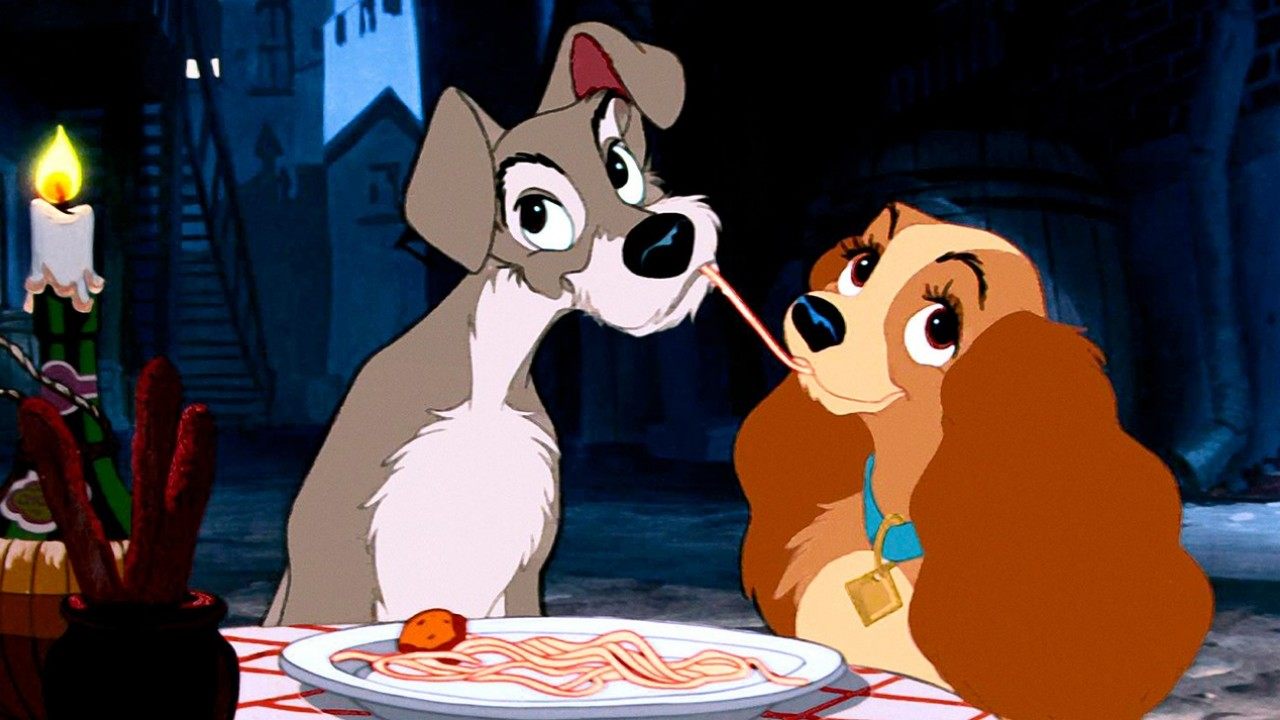 The romantic scenes are some of the most charming in any Disney film – indeed, the scenes between Lady and Tramp, being serenaded by an Italian waiter with an accordion as they eat a plate of spaghetti, sucking up strands of spaghetti to find they have the same one and meeting in a kiss, nudging meatballs across the plate toward the other with their noses, placing pawprints in wet cement are far more enchantingly romantic than any of the scenes involving human characters in the likes of Cinderella, Sleeping Beauty or Beauty and the Beast (1991).
Everything in Lady and the Tramp is perfect. The sense of humour is wonderful – there is a wonderfully nutty scene convincing a manic beaver to chew through Lady's muzzle so they can use it as a device for dragging logs. The supporting voice cast is neatly done – the various breeds of dogs are all characterized by their nationalities, thus the terrier has a Scots accent, the chihuahua is a hot-blooded Latino, the bulldog British, the wolfhound has a Russian accent and so on.
Lady and the Tramp II: Scamp's Adventure (2001) was a disappointing direct-to-video sequel. Lady and the Tramp (2019) was a live-action remake.
The classic spaghetti eating sequence has been parodied in several films, most notably Hot Shots! Part Deux (1993), Disney's own 102 Dalmatians (2000) and The Emperor's New Groove 2: Kronk's New Groove (2005), Rugrats in Paris: The Movie (2000) and Underdog (2007).
---
---