---
Crew
Directors – Byron Howard & Chris Williams, Screenplay – Dan Fogelman & Chris Williams, Additional Screenplay Material – Byron Howard & Jared Stern, Producer – Clark Spencer, Music – John Powell, Visual Effects Supervisor – John Murrah, Animation Supervisor – Doug Bennett, Art Direction – Paul A. Felix. Production Company – Disney.
Voices
John Travolta (Bolt), Susie Essman (Mittens), Mark Walton (Rhino), Miley Cyrus (Penny), Greg Germann (The Agent), Malcolm McDowell (Dr Calico), James Lipton (The Director), Grey DeLisle (Penny's Mom)
---
Plot
Bolt is the star of a tv show 'Bolt' concerning a dog with superpowers who goes into action with his human owner, the adolescent Penny. Bolt is unaware that the tv show is not real and that he does not have superpowers as the production crew do everything they can to maintain the illusion. The network demands changes to bolster ratings, including ending episodes on cliffhangers. This means that when Bolt is put back in his trailer at the end of the day's shooting, he thinks that the evil Dr Calico has abducted Penny. He makes an escape from his trailer and sets out to find her. Falling in with Mittens, a cat that he believes is a minion of Dr Calico and knows the way to find Penny, and Rhino, a hamster in a bubble that is a huge fan of the show, Bolt sets out on a cross-country journey from New York to L.A. to find her. Along the way, Bolt makes the realisation that he does not have superpowers and that he is not part of a tv show comes.
---
Disney had a huge renaissance in the 1990s with hits like Beauty and the Beast (1991), Aladdin (1992), The Lion King (1994) and Pocahontas (1995). However, the Disney film on this side of the 00s became an unexceptional affair as evidenced by the likes of Fantasia 2000 (1999), The Emperor's New Groove (2000), Return to Never Land (2002), Treasure Planet (2002), Brother Bear (2003), Home on the Range (2004), Chicken Little (2005) and Meet the Robinsons (2007). While the majority of these are modest and enjoyable, they are lacking in the big wow factor that classic and mid-90s Disney animation films had and failed to produce any notable box-office hits. Indeed, during this time, Disney was overtaken by the animation from its partner Pixar and other up-and-comers like DreamWorks and Blue Sky Studios.
The good news is that Bolt is one of the best animated films that Disney has put out in some time, certainly this side of the year 2000. Things did pick up into the 2010s with the likes of Wreck-It Ralph (2012) and Zootopia (2016). A good deal of this may well be due to the fact that Pixar head John Lasseter was made Chief Creative Officer at Disney in 2006 and that Bolt was the first film to emerge from under his aegis.
One went into Bolt with low expectations – the premise did not seem a particularly promising one. However, Bolt pleasantly confounds low expectations and emerges with immense charm. It is very nicely animated, using a stylised form of depiction when it comes to the animals. The best part about the film is the trio of central characters – Bolt, the hero whose bubble of reality is set up for a massive deflation; Mittens, the world-weary street cat; and particularly the character of Rhino, the manic hamster in a bubble who sets out on the quest with goggle-eyed fanboy enthusiasm – who have their respective story arcs delineated on screen with a unique originality.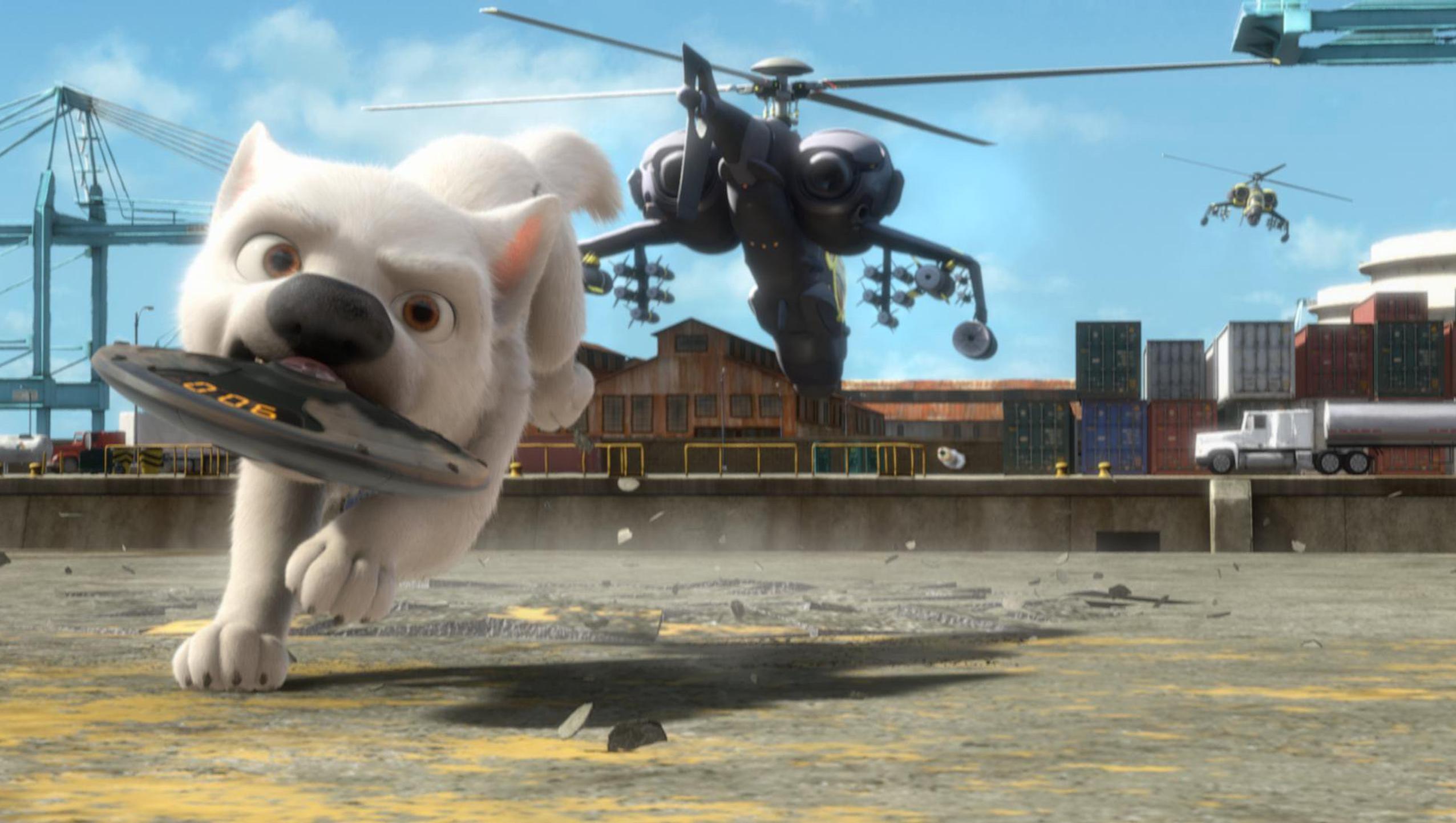 There are some charming scenes – like where Mittens tries to coach Bolt in how to develop a puppy dog face to beg food for them – and those that are beautifully heart-rendering – where Mittens lets slip her own hurts about being abandoned on the street by her owner; or the sadness when Bolt returns to Penny and thinks she is welcoming him back, only for her to accept the replacement into her arms. The headline voice casting of John Travolta and current Disney sensation Miley Cyrus as Bolt and Penny is fine but far better performances come from the unknowns – Susie Essman as Mittens and Mark Walton, in fact a Disney storyboard artist, who steals much of the film as Rhino.
There have been a few films about pretend superhero or heroes who did not realise they had no powers such as Hero at Large (1980), Blankman (1994) and Orgazmo (1997), although none of these have been particularly funny, at least up until the spate of films that came just after this with Defendor (2009), Griff the Invisible (2010), Kick-Ass (2010) and Super (20100. The character of Bolt has almost certainly been inspired if not borrowed from Buzz Lightyear, the toy space hero who did not realise he was a toy, in Pixar's Toy Story (1995). There was also the character of Thunderbolt, the heroic dog actor trying to make his way in the wider world in 101 Dalmatians II: Patch's London Adventure (2003).
Although, the real source for both Buzz Lightyear and particularly Bolt is Don Quixote, the hero of Miguel Cervantes' famous 1605 comic novel, a middle-aged nobleman who imagines himself to be a knight and sets out on a quest for adventure, imagining various mundane things to be part of a heroic adventure – the expression 'tilting at windmills', meaning a foolhardy quest, comes from the famous scene where Don Quixote attacks windmills believing them to be monsters. Bolt cleverly updates this to the era of the tv action show and substitutes talking animals but could almost be telling the same story. It does not take too much to imagine Rhino the manic hamster as the equivalent of Don Quixote's tubby, dim-witted companion Sancho Panza.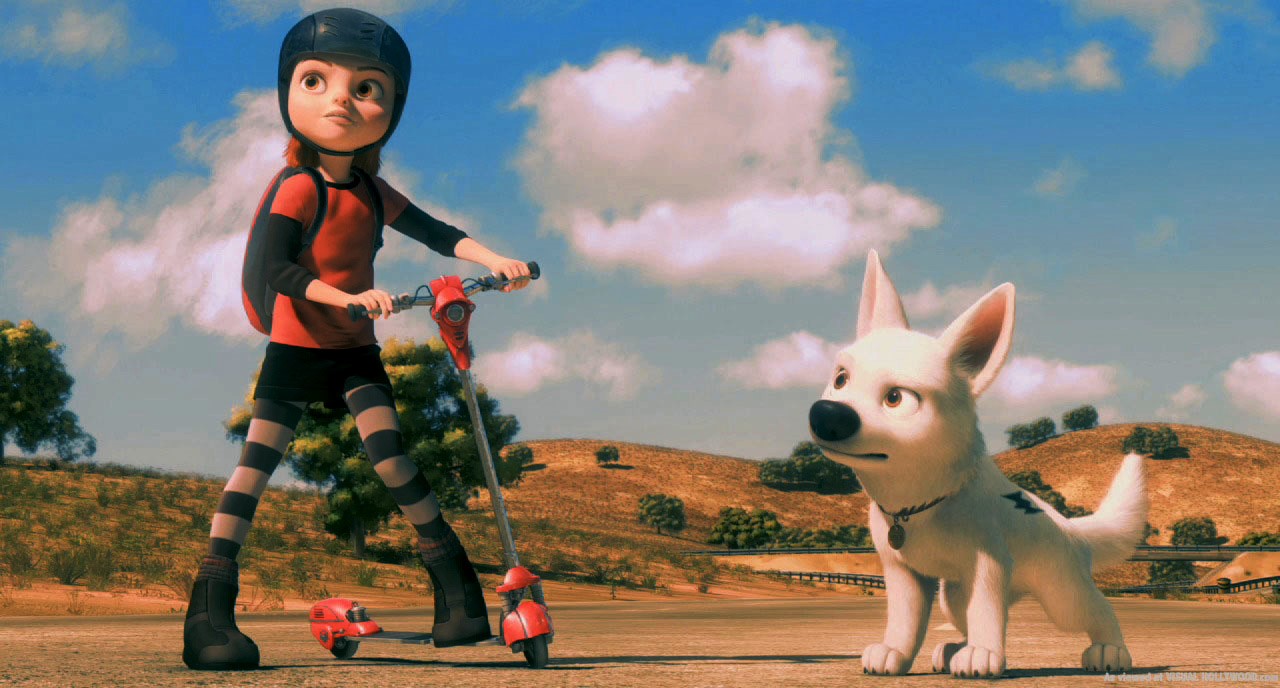 The Don Quixote-esque blends between mundane reality and imagined illusion of heroism are played with an appealingly adept sense of humour. I suppose you could make a quibble with the film's basic premise. Like many films about the shooting of a film/tv show, Bolt has a dramatic sequence taking place before pulling back to reveal that it is being shot as part of a film. It is a cliche shot but also a massive cheat. All of these pullback-to-show-the-camera scenes take place in multiple shots (and in several different locales here) but this is never how a film/tv show is filmed. Each shot is carefully staged, rehearsed and reshot numerous times and the best take selected. Notably, this happens only one shot at a time, not as an action sequence and it can sometimes take days to shoot every shot in the sequence. In fact, the shots in a scene are rarely ever filmed in the same order they take place on screen. Furthermore, entire action sequences like the ones that we see in the opening would have an army of stunt people, rigs, safety harnesses and airbags outside of the camera's eye and if the dog was so self-aware to believe it had superpowers it would be hard pressed to miss these. It would also be exxxxtremely difficult to constantly shoot such action sequences in a single take. Not to mention the director's tirade about a boom mike intruding into frame – in any real world setting, if it was so difficult to reshoot the sequence they would just bring in the visual effects department to airbrush out the mike.
That said, Bolt is a winning film. It only need be compared to a very similar film – the live-action Beverly Hills Chihuahua (2008), which was released only one month earlier. Both feature a plot about a small dog with a pampered lifestyle that is lost and abandoned in the streets and meets a streetwise companion in its journey to find the way back to its owner. Where Beverly Hills Chihuahua was a charmless film, centred only around the cuteness of its premise and deriving its humour from sarcastic one-liners and pop culture in-references, Bolt tells the same with an array of warmly endearing characters, humour that never punctures the bubble of illusion and an entirely winning charm.
Byron Howard subsequently went onto co-direct Tangled (2010), Zootopia (2016) and Encanto (2021). Chris Williams went onto co-direct Big Hero 6 (2014).
---
---