---
Crew
Directors/Screenplay – Will Finn & John Sanford, Story – Will Finn, John Sanford, Michael La Bash, Sam Levine, Mark Kennedy & Robert Lence, Producer – Alice Dewey Goldstone, Music/Songs – Alan Menken, Lyrics – Glenn Slater, Visual Effects Supervisor – Marlon West, Production Design – David Cutler. Production Company – Disney.
Voices
Roseanne Barr (Maggie), Judi Dench (Mrs Caloway), Jennifer Tilly (Grace), Cuba Gooding Jr (Buck), Randy Quaid (Alameda Slim), Charles Dennis (Rico), Charles Haid (Lucky Jack), Joe Flaherty (Jeb), G.W. Bailey (Rusty), Charlie Dell (Ollie), Lance LeGault (Junior), Sam J. Levine (The Willie Brothers), Carole Cook (Pearl Gesner), Estelle Harris (Audrey), Richard Riehle (Sheriff Sam Brown), Steve Buscemi (Wesley), Mark Walton (Barry/Bob), Dennis Weaver (Abner)
---
Plot
After the notorious cattle rustler Alameda Slim steals his herd, the rancher Abner is ruined. He leaves his one remaining cow Maggie in the care of Pearl Gesner, owner of the Patch of Heaven ranch. Maggie and the other barnyard animals then find out that Patch of Heaven is about to be foreclosed. Maggie and two other cows Mrs Caloway and Grace set out to find the $750 needed to save the ranch. They learn that there is a $750 bounty posted for Alameda Slim and set out to apprehend him. Meanwhile, Alameda Slim, who disguises himself as the property buyer Yancy O'Del, has set his sights on buying up Patch of Heaven.
---
Home on the Range had the distinction of being the very last hand drawn animated film to be made by Disney. Disney announced that all the traditional animation production houses would be closed and instead the studio would be placing everything into the making of CGI animation from this point on. In that this came only nine years after Disney released Toy Story (1995), the growth and overwhelming prevalence of CGI during this time is nothing short of remarkable. [Although this decision was rescinded in 2006 with the change of management at the studio and the appointing of Pixar CEO John Lasseter as the new Chief Creative Officer of the Disney animation department].
As the film invested with the landmark honour of being the last traditional Disney film, Home on the Range falls short of such distinction. Home on the Range was greeted with mostly negative reviews and indifferent box-office when it opened in the US. It is not at all that bad – it is merely a minor Disney effort, maybe down around the level of some of Disney's more forgotten films like The Rescuers (1977), Oliver & Company (1988) and The Emperor's New Groove (2000).
Home on the Range is a venture into Squash and Stretch animation, the sort of visual slapstickery that Disney films of the 1990s largely left behind. Indeed, much of Home on the Range resembles an extended Warner Brothers cartoon, both in the stylised look of the animation and the kinetic visual slapstick – you could easily imagine the Coyote turning up to chase Road Runner through any of the backgrounds.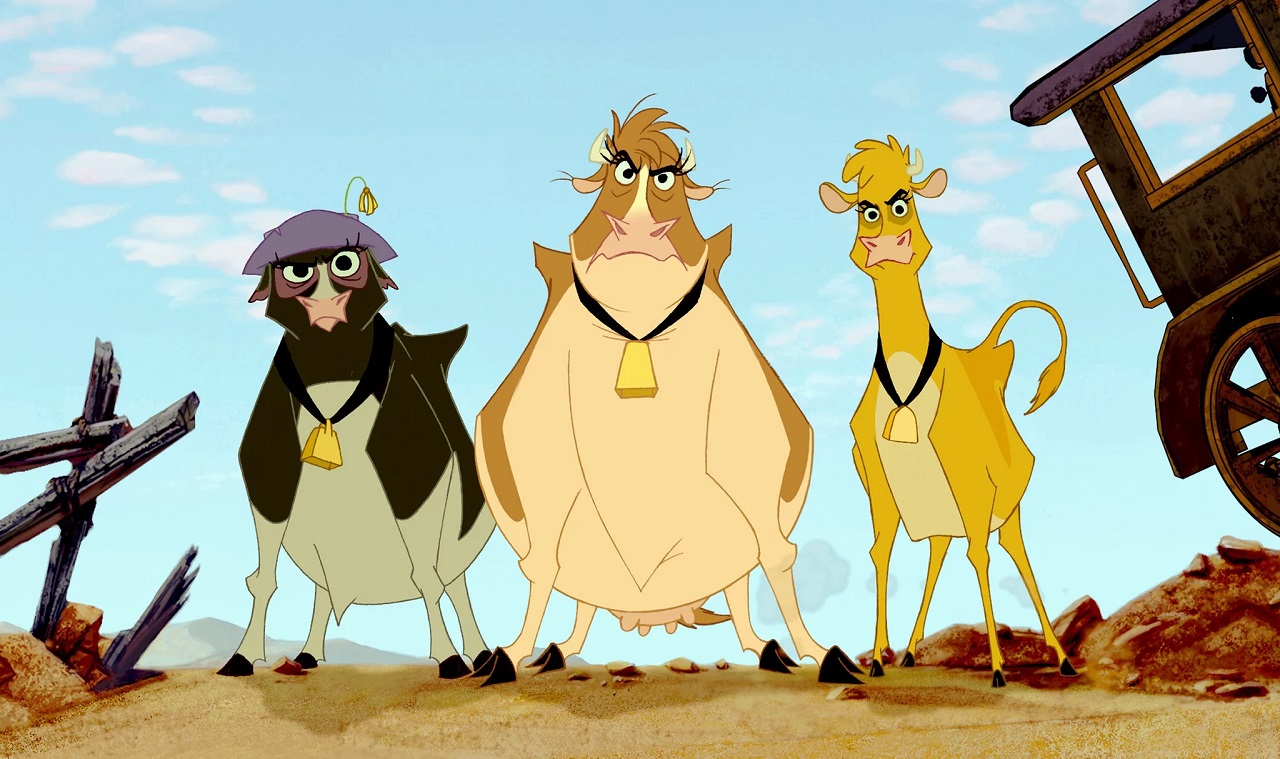 It is put together with considerable professionalism and polish. The characters prove likeably endearing, the humour inviting – one even found themselves embarrassed to admit enjoying some of the country-and-western songs, especially Bonnie Raitt's number Will the Sun Ever Shine Again.
There is also a considerable eccentricity to Home on the Range as well – it is after all a film that takes the oddball notion of talking cows as its premise – and there is one surreal psychedelic sequence that is reminiscent of the pink elephant dance in Dumbo (1941). There is also a more unusual a voice cast line-up than customary for a Disney film, including names that do not automatically come to mind when thinking of animation – Dame Judi Dench, Randy Quaid, Lance LeGault, and especially Roseanne Barr, whose familiar broad and brassy tones take some getting used to in the lead role.
---
---