---
Crew
Director – John Cherry, Screenplay – Charlie Cohen, Producer – Stacy Williams, Photography – Peter Stein, Music – Bruce Arntson & Kirby Shelstad, Visual Effects Supervisor – Tim McHugh, Special Effects Supervisor – William H. Schirmer, Production Design – Chris August. Production Company – Disney/Silver Screen Partners IV/Emshell Producers Group.
Cast
Jim Varney (Ernest P. Worrell/Felix Nash), Gailard Sartain (Chuck), Barbara Bush (Charlotte Sparrow), Barry Scott (Ruben Bartlett), Randall 'Tex' Cobb (Lyle), Bill Byrge (Bobby), Dan Leegant (Oscar Pendlesmythe), Charles Napier (Warden Carmichael)
---
Plot
Bank janitor Ernest P. Worrel is electrocuted in a mishap with a cleaning machine. Afterwards, Ernest finds that he has been magnetised and is capable of drawing all manner of metal objects towards himsef. He is called up for jury duty in the trial of Ruben Bartlett. Bartlett realises that Ernest is a dead ringer for jailed crime boss Felix Nash and contrives to have Ernest substituted for Nash. Freed, Nash makes plans to rob the bank where Ernest works, while Ernest is sent to the electric chair in Nash's place. However, because he is magnetised, the lethal jolt of electricity has a contrary effect on Ernest.
---
The character of Jim Varney's Ernest P. Worrel was originally created in a series of American tv commercials which, for inexplicable reasons, proved popular enough to inspire nine feature-length films from Disney. This was the third of them, following Ernest Goes to Camp (1987) and Ernest Saves Christmas (1988). Ernest Goes to Jail is mostly an evil double story but is included here for its inclusion of a comic take on the previous year's back-from-the-electric-chair killers subgenre, which included the likes of Shocker (1989) and The Horror Show (1989).
Plot is not particularly important to the film. It only serves to string together Jim Varney's bizarre mugging – as witness the fantasy content which is Just There with the film never seeing any need to explain or even comment as to why Ernest becomes variously a human magnet, a human dynamo and finally weightless. The film's appeal lies mostly in stringing together set-pieces of comic weirdness – likes the opening scenes with Varney being dragged up the wall and around the roof by his polishing machine, before being turned into a human magnet and attracting paper clips, scissors, swords etc and being chased around the bank by three ominous Dalek-like filing cabinets.
Similar scenes with Varney in the witness box biting down on a pen, which then pours more green ink all over him than it could possibly hold, maintain similar heights of comic bizarreness. His house is designed not unlike Pee-Wee Herman's – as a child-like grotesquerie of colliding kitsch where Varney engages in such bizarrities as taking a bath in a tumble dry washing machine and using a blow-dryer that has the force of a wind-tunnel.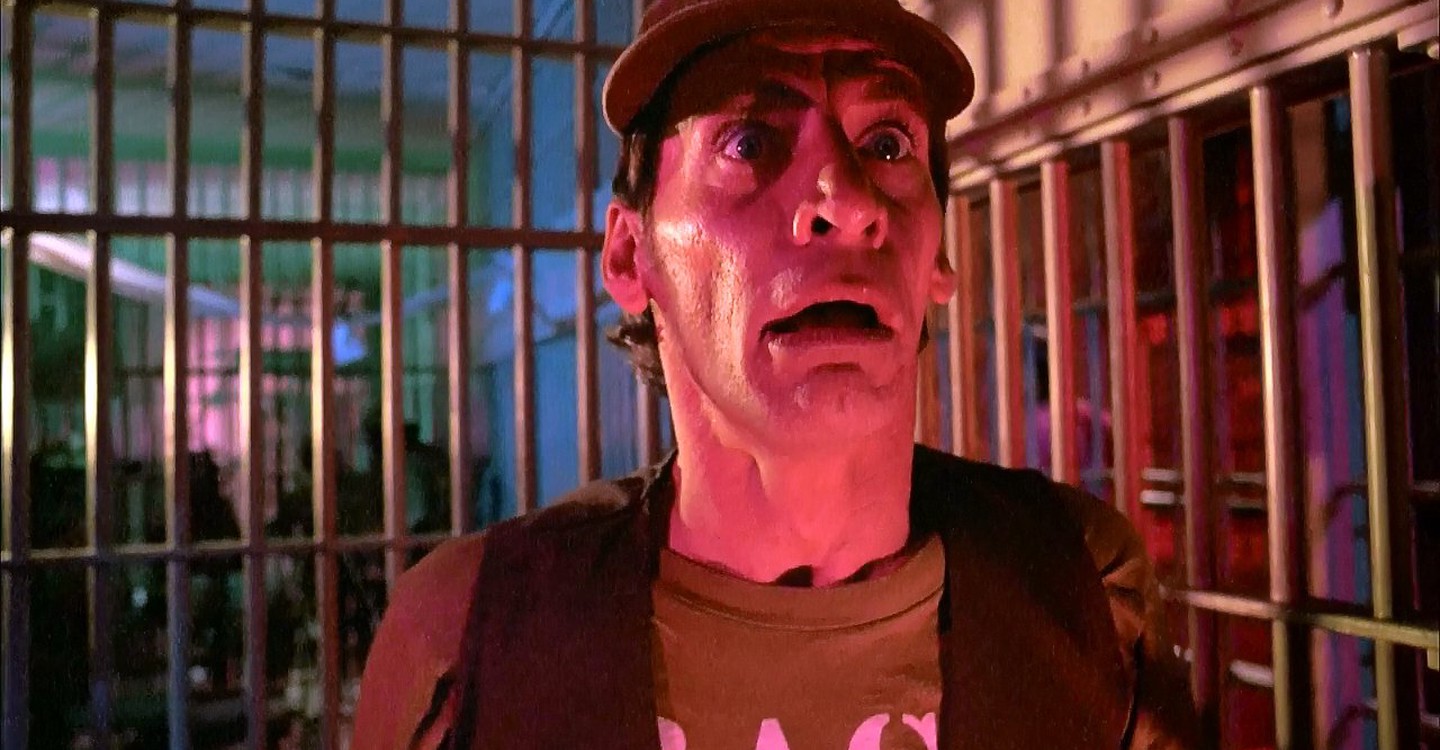 Some of the more padded scenes during the middle with the two guards demonstrating various security devices to the anal-retentive bank manager are more strained but this is probably because they lack Varney. It is only at the climax, where the not terribly convincing flying effects detract from the humour, that the inspired Varney comic routines falter.
The main ingredient in the humour though is always Jim Varney who, besides his face-contorting muggings in the Ernest films, was capable of a chameleon-like versatility as an actor – he appeared, totally unrecognisably, as Jed Clampett in the film version of The Beverly Hillbillies (1993). Ernest Goes to Jail allows him to expand on the character of Ernest by also playing his criminal double, an amusing and thuggish variation, which Varney affects appealingly well.
The other Ernest films are:– Ernest Goes to Camp (1987), Ernest Saves Christmas (1988), Ernest Scared Stupid (1991), Ernest Rides Again (1993), Ernest Goes to School (1994), Slam Dunk Ernest (1995), Ernest Goes to Africa (1997), Ernest in the Army (1998), and the short-lived Hey, Vern, It's Ernest tv series (1988). The Ernest series ended with Jim Varney's death of lung cancer in 2000.
---
---