---
USA. 2015.
Crew
Director – Seth MacFarlane, Screenplay – Seth MacFarlane. Alex Sulkin & Wellesley Wild, Producers – Jason Clark, John Jacobs, Seth MacFarlane & Scott Stuber, Photography – Michael Barrett, Music – Walter Murphy, Visual Effects Supervisor – Blair Clark, Visual Effects – The Creative Cartel, Iloura (Supervisor – Glenn Melenhorst) & Tippet Studio (Supervisor – Eric Leven), Special Effects Supervisor – John Ruggieri, Makeup Effects – KNB EFX (Supervisor – Carey Jones), Production Design – Stephen J. Lineweaver. Production Company – Fuzzy Door Productions/Bluegrass Films.
Cast
Mark Wahlberg (John Bennett), Seth MacFarlane (Voice of Ted), Amanda Seyfried (Samantha Jackson), Jessica Barth (Tammy-Lynn McCafferty), Giovanni Ribisi (Donny), John Carroll Lynch (Tom Jessup), Morgan Freeman (Patrick Meighan), Sam J. Jones (Himself), Patrick Warburton (Guy), Michael Dorn (Rick), John Slattery (Shep Wild), Cocoa Brown (Joy), Ron Canada (Judge), Lian Neeson (Customer), Tom Brady (Himself), Bill Smitrovich (Frank Stevens), Dennis Haysbert (Fertility Doctor), Sebastian Arcelus (Dr Ed Danzer)
---
Plot
Ted finally marries his girlfriend Tammy-Lynn. Twelve months later, the relationship is on the rocks until a co-worker suggests to Ted that they have a baby. With Ted lacking the essential equipment, he and John try to find a sperm donor but with disastrous results. The only other choice is adoption. However, their application to the adoption agency causes officials to conclude that Ted is not a person. He is promptly stripped of his right to work and the marriage annulled. To do something about this, Ted and John go to a high-profile law firm where the case is taken pro bono and given over to junior lawyer Samantha Jackson. John has been feeling down following his marriage break-up and Ted pushes him and Samantha together. Meanwhile, Donny is now working as a janitor for Hasbro and persuades CEO Tom Jessup to hire a top lawyer to shoot the case down so that they can then have Ted regarded as property and be able to claim him in order to make copies.
---
Seth MacFarlane gained fame as creator of the animated tv series' Family Guy (1999– ) and American Dad (2005– ). He then made his film debut as director with Ted (2012) where he also voiced the role of the foul-mouthed teddy bear up against straight man Mark Wahlberg. This proved to be a substantial hit and MacFarlane was the man of the Hollywood hour for a short period, even being given the prestigious role of host of the Oscar ceremony in 2013. However, MacFarlane's second directorial outing A Thousand Ways to Die in the West (2014) received a critical drubbing. Thus MacFarlane returns to the familiar ground of his prior success here.
It would be fair to say that whether one enjoyed or hated the raucous and crude humour of Ted that Seth MacFarlane delivers more of exactly the same here. As before, the film is firmly and solidly founded in a stoner mentality and revels in the hijinks of men who remain in a perpetual state of boyhood. This leads to some undeniably funny scenes – like Ted and John performing their own singalong to the Law and Order (1990-2010) theme tune, the deliriously absurd image of Ted going scuba diving, their attempts to break in and steal Tom Brady's sperm and an ongoing joke about a penis-shaped bong – and that which approaches the questionably mean-spirited – games throwing apples at joggers from the roof, Patrick Warburton punching out nerds at the New York Comic-Con.
Both films are largely predicated around the same un-PC humour where MacFarlane seems to be trying to pushing an envelope to see how far he can get away with such things as making racial jokes or jibes at gay sexuality – in one scene here, Ted and Mark Wahlberg go to an improv comedy night and shout out bad taste answers like 9/11, Charlie Hedbo and Bill Cosby. One's tolerance for this sort of humour is very much a matter of personal taste, although it should be said that MacFarlane at least manages to be offensive in an amiably inoffensive way – it is hard to come out of the film and feel outraged that he is taking potshots at minorities in any kind of serious way.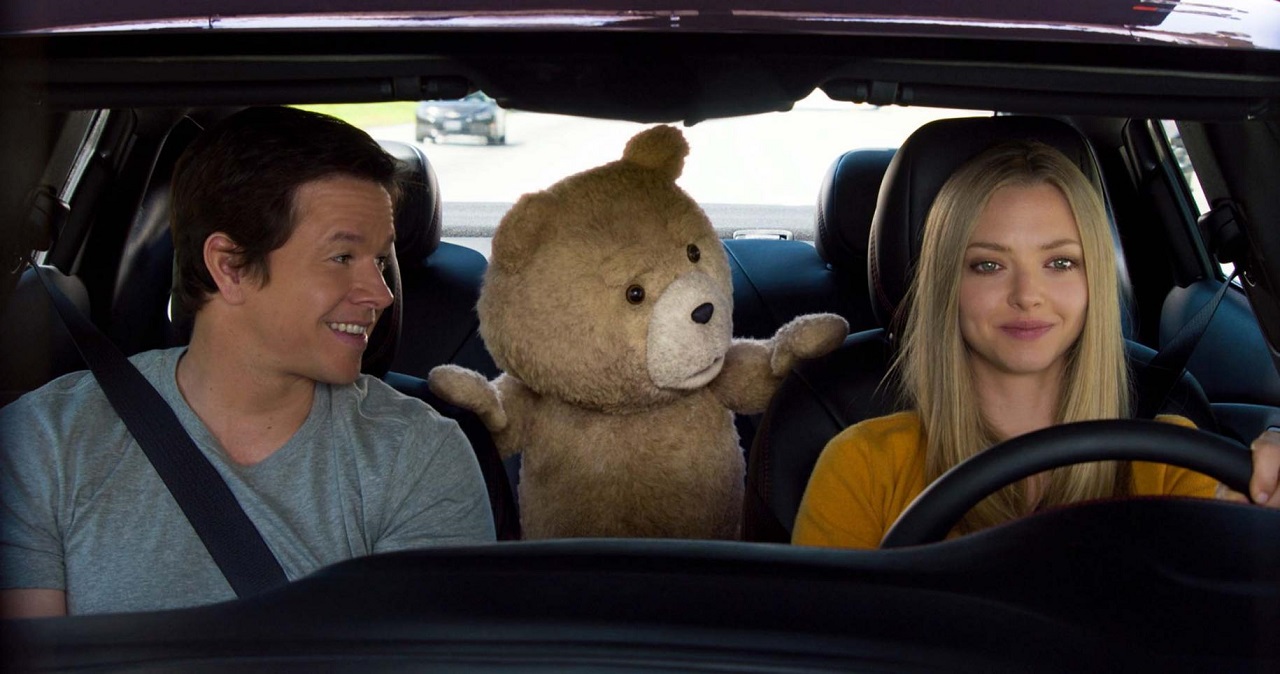 As before, there is a good deal of fanservice humour and the first film's success has led to a greater range of celebrity cameos. Sam J. Jones is back and with a much more expanded role. There is a very funny scene that involve Liam Neeson in Taken mode turning up to buy a box of cereal (which has a follow-up if one stays all the way after the credits) and another with Jay Leno and the men's bathroom. Patrick Warburton is back and now with Michael Dorn as his boyfriend – there is a cute piece of fanservice where both appear at Comic-Con in costume as The Tick and Worf, an in-joke in that these are the roles either actor is most famous for within fandom. Equally, MacFarlane stages a big fight at Comic-Con for no other reason than we can get to see Daleks, Robby the Robot, Teenage Mutant Ninja Turtles, a Godzilla and people in Star Trek and Star Wars costume, among a great many others, fighting it out together.
Ted 2 has more of a plot than the first film – this time it is about the quest to ratify Ted's legal status as a person, which gives the stoner gags more of a narrative drive than the first film had. Mark Wahlberg gets a new romantic interest in Amanda Seyfried, who I have always regarded one of the most talented of the young actresses of today. Indeed, Seyfried. who has never done comedy before teaming up with MacFarlane here and in A Thousand Ways, ends up considerably holding her own against the two guys (something Mila Kunis never quite did in the first film). Some of the most outrageous lines are poked at her wide-eyed look – the one where she asks "Have I got Fuck Me eyes?" to which Ted responds "No, you got the Give Me The Ring, My Precious eyes," brings the house down and there are several subsequent jibes fired in the direction of Gollum comparisons.
---
Trailer here
---