---
Crew
Directors – John Cherry & Larry Harmon, Screenplay – Joseph Dattore & Jeffrey Pillars, Producers – John Cherry, Kenneth M. Badish, Larry Harmon & Susan Harmon, Photography – James Robb, Music – Robert Folk, Visual Effects – Encore Visual Effects (Supervisor – Richard Kerrigan), Special Effects Supervisor – Max Foolman, Production Design – Chris August. Production Company – White Dune Entertainment/Larry Harmon Productions.
Cast
Bronson Pinchot (Stan Laurel), Gailard Sartain (Oliver Hardy), Philip Gorvina (Farouk Ben Abdullah), Susan Danford (Leslie Covington), F. Murray Abraham (Professor Henry Covington), Mathew Haldeney (Hootah), Rick Rogers (Detective Kowalski), Jeff Pillars (Barney), Farouk Valley Omar (Habib), Christine Weir (Ms Burkham)
---
Plot
Stan and Oliver, the nephews of Laurel and Hardy, are asked by their lodge to help out with a museum exhibit of the mummy Hootah. There Oliver falls for curator Leslie Covington. Unknown to them, she has been earmarked by Farouk Ben Abdullah to house the spirit of Hootah's bride. Hootah's followers have been waiting 3000 years for the correct astral conjunction in order to reincarnate them. As Farouk woos Leslie, he sees Oliver as his rival and resurrects Hootah to kill him off.
---
Is nothing sacred in the never-ending quest of modern film to recycle the past? The All New Adventures of Laurel & Hardy in "For Love or Mummy" is not just a remake but in fact a revival of a late comedy duo. Stan Laurel had died in 1965 and Oliver Hardy in 1957 and neither had appeared together in anything since Atoll K/Utopia (1950). Thus this is not just a film that is rehashing or sequelizing any foregoing adventure – rather it is one that has been made featuring two modern actors replicating a comedy duo of the past in a series of 'all new adventures'.
There is the point where The All New Adventures of Laurel & Hardy in "For Love or Mummy" could have become a unique novelty. Certainly, Bronson Pinchot and Gailard Sartain have been physically well cast and do an exacting job of getting Laurel and Hardy's looks and mannerisms down perfect. Alas, the film nosedives.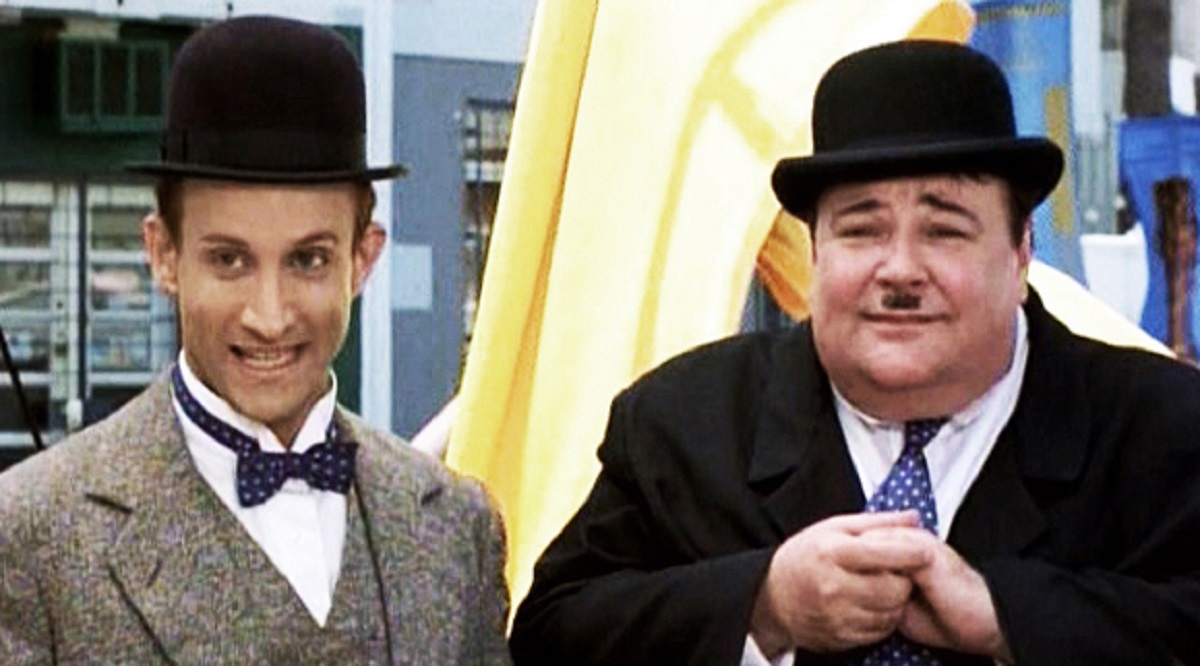 It is co-directed by John Cherry, who had previously directed all of the Ernest films with Jim Varney. All the effort seems to have gone into perfecting the imitations and the comedy itself comes out excruciatingly – lots of slapstick clonkings on the head, knocking things over, vehicles causing mass chaos, Stanley's malapropisms. Amidst all of this, Bronson Pinchot comes out seeming intellectually handicapped. Maybe it is simply that humour has evolved since the 1940s and this knockabout slapstick no longer amuses the way it used to.
Even less gainly is the attempt to weld the comedy to the modern movie formula – the mummy is suitably played as comic foil but the emergence of a CGI snake at the end seems completely out of place. The film was a flop and only released on video.
(Winner in this site's Worst Films of 1999 list).
---
---