---
Crew
Director – John Cherry, Screenplay – B. Kline & Ed Turner, Story – Turner, Producers – Doug Claybourne & Stacy Williams, Photography – Peter Stein, Music – Mark Snow, Visual Effects – Buena Vista Visual Effects Group (Supervisor – Tim McHugh), Art Direction – Dan Thomas. Production Company – Touchstone/Silver Screen Partners II/Emshwell Producers Group.
Cast
Jim Varney (Ernest P. Worrel), Douglas Seale (Santa Claus), Noelle Parker (Harmony Star), Oliver Clark (Joe Carruthers), Robert Lesser (Marly Brock), Billie Bird (Mary Morrissey)
---
Plot
Santa Claus arrives in Orlando, Florida to recruit a replacement so that he might retire. He appeals to actor Joe Carruthers to take his place but Joe is dragged away by his agent who dismisses Santa as a crank. Only cab driver Ernest P. Worrel believes him after Santa leaves a bags of presents in Ernest's cab. And so Ernest races to stop Santa being locked up and then must board Santa's sleigh to get all the presents out in time for Christmas.
---
Ernest P. Worrel is the bizarre persona of the late Jim Varney. Originally, the character appeared in a series of tv commercials and was then spun out into a surprisingly long-running series of films and tv specials. (See below for the other titles). The character of Ernest is a genuinely eccentric creation on Varney's part, full of mind-boggling impersonations and a series of facial gymnastics and voices that seem to involve the contortion of his mouth into the most unlikely of arrangements.
This was the second of the Ernest films. It was a Christmas fantasy, co-produced by Disney, and actually ended up being the most successful of the Ernest films. Varney's bizarre mugging and director John Cherry's cornball approach make it into something akin to a Pee Wee Herman rereading of Miracle on 34th Street (1947).
The film is filled with delightfully incongruous images – Santa's sleigh pursued by Air Force fighters; Santa manoeuvring a jail cell of hardened criminals into a carol-singing session; a scene where Santa passes through Customs, where the official looks at his passport and, after a glance up at a line of punks and Hare Krishnas, resignedly shrugs and passes him through. Or Santa's conversation with an exec passing through the airport where all his ideas are interpreted in business-speak.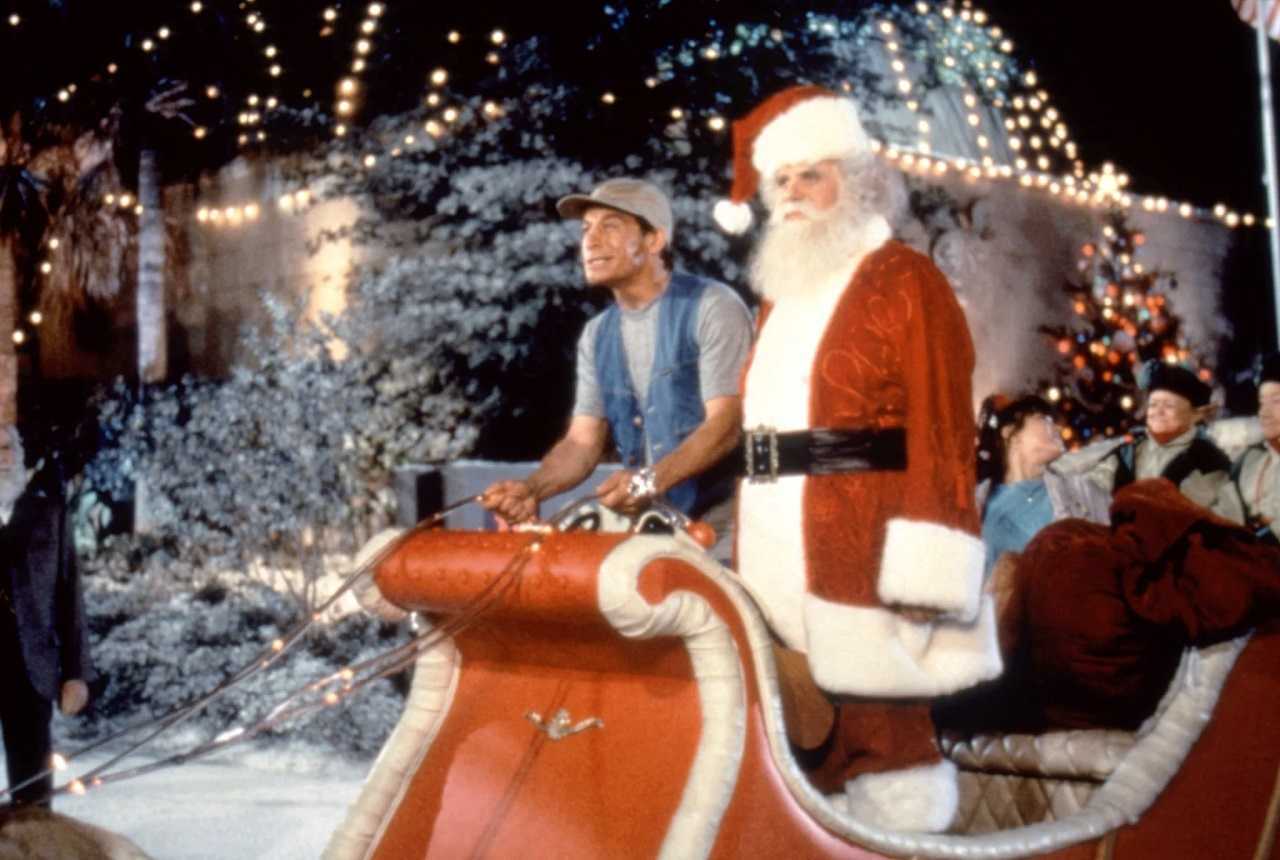 The offbeat humour is traded in for traditional twee sentimentality by the end, but heck, this is a whole lot more fun than sitting through Santa Claus – The Movie (1985). The film ends with custom officials puzzling over a manifest that lists an 'E. Bunny' just as a pair of rabbit ears poke up through the crate.
The other Ernest films are:– Ernest Goes to Camp (1987), Ernest Goes to Jail (1990), Ernest Scared Stupid (1991), Ernest Rides Again (1993), Ernest Goes to School (1994), Slam Dunk Ernest (1995), Ernest Goes to Africa (1997), Ernest in the Army (1998), as well as the short-lived Hey, Vern, It's Ernest tv series (1988). The film series ended with Varney's death of lung cancer in 2000.
---
---