---
Crew
Director – David Lowery, Screenplay – Toby Halbrooks & David Lowery, Based on the Novel Peter Pan by J.M. Barrie and the 1953 Film Peter Pan Written by Milt Banta, Ed Penner & Joe Rinaldi, Producer – Jim Whitaker, Photography – Bojan Bazelli, Music – Daniel Hart, Visual Effects Supervisor – Rich McBride, Visual Effects – Cinesite (Supervisor – Damien Hurgon), DNeg (Supervisor – Benoit De Longlee) & Framestore (Supervisors – Nicholas Chevallier & Mark Curtis), Special Effects Supervisor – Cameron Waldbauer, Creature Design – Nicholas Ashe Bateman, Production Design – Jade Healy. Production Company – Disney/Whitaker Entertainment.
Cast
Ever Anderson (Wendy Darling), Alexander Molony (Peter Pan), Jude Law (Captain Hook), Yara Shahidi (Tinker Bell), Alyssa Wapanatahk (Tiger Lily), Joshua Pickering (John Darling), Jacobi Jupe (Michael Darling), Jim Gaffigan (Smee), Molly Parker (Mrs Darling), Alan Tudyk (Mr Darling)
---
Plot
Wendy Darling and her brothers John and Michael are about to go to bed when their room is invaded by the fairy Tinker Bell and Peter Pan chasing his mischievous shadow. Peter asks Wendy and her brothers to join him and they fly away to Never Never Land with the application of some of Tinker Bell's pixie dust. Peter's return to Never Never Land is immediately spotted by his arch-nemesis, the pirate Captain Hook, who seethes for vengeance against Peter for causing him to lose his hand to a crocodile. In his determination to stop Peter, Hook manages to capture John and Michael.
---
J.M. Barrie's Peter Pan (1904) has become the quintessential children's story, an adventure about children flying away to an island where one can be young and play forever. There have been numerous film adaptations of the story beginning with the silent Peter Pan (1924). The most famous was the Disney animated version Peter Pan (1953) and there have been assorted other remakes, sequels and deconstructions (see below).
joins a whole host of Disney animated films that have been remade or revived in live-action in the last few years, following the highly successful Tim Burton Alice in Wonderland (2010). Others include Maleficent (2014), Cinderella (2015), The Jungle Book (2016), Beauty and the Beast (2017), Aladdin (2019), Dumbo (2019), Lady and the Tramp (2019), The Lion King (2019), Mulan (2020), Cruella (2021) and Pinocchio (2022).
Director David Lowery appeared as an indie director with St. Nick (2009) and Ain't Them Body Saints (2013), before taking on the remake of Disney's Pete's Dragon (2016). I had been hugely impressed with Lowery's A Ghost Story (2017) and placed it on my Best of 2017 list. Lowery followed this with The Green Knight (2021), an adaptation of the chivalric tale of Sir Gawain. In genre material, Lowery also produced the undeniably watchable true-life-based tv series Strange Angel (2018-9) about pioneering rocketry and occultism.
Peter Pan and Wendy is a remake of the Disney animated version, although by now the J.M. Barrie story is so cinematically familiar that this is just another version. This retells the basic story with reasonable faithfulness, has reasonable closeness to the Disney version but at the same time also conducts a sufficient number of its own original touches. The Disney pedigree is clearly important to it but there are no distinctive touches here that you could say come solely from the Disney film and are not familiar to any of the other versions of the story. It could be said, if you like, this is a version of the Disney film made with adult sensibilities.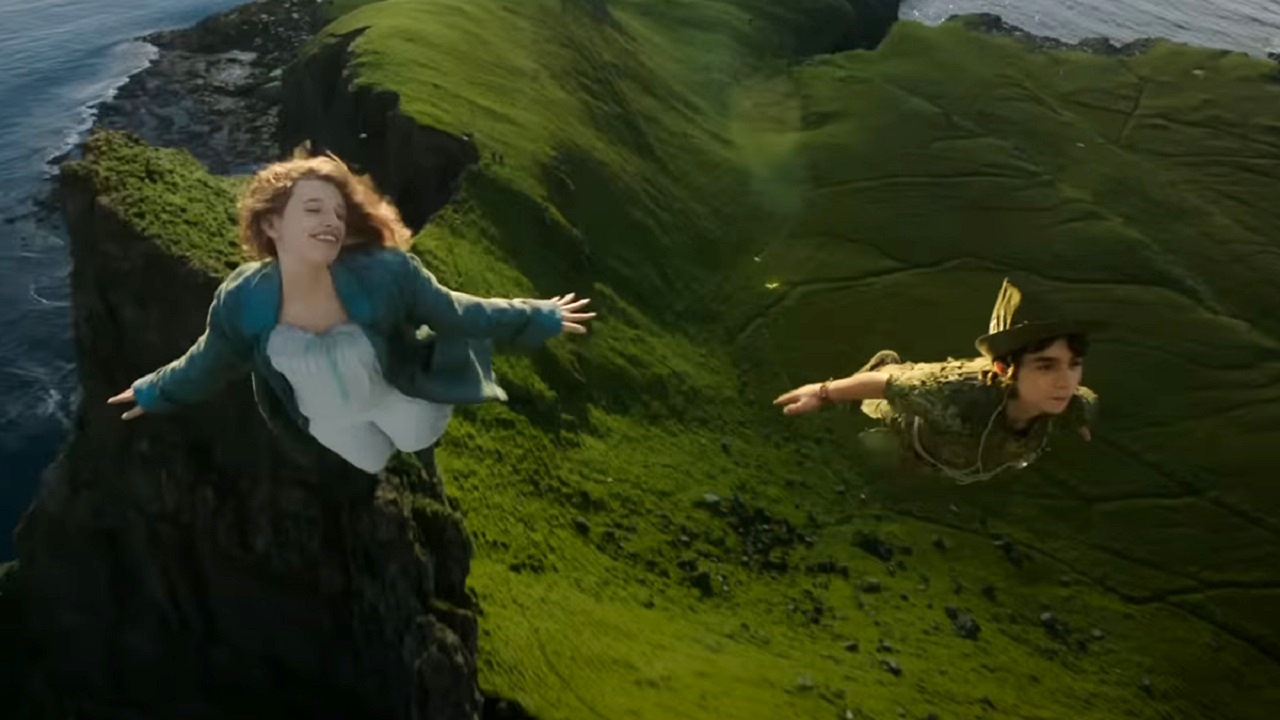 This is also a version of Peter Pan who has been rewritten to meet current social pressures and representative demographics. Thus Peter is played by British actor Alexander Molony – there doesn't seem to be much background about Molony online but it looks as though he is East Indian. Tinker Bell is now played by Yara Shahidi, an American actress from mixed African-Iranian background. Modern versions tend to drop the character of Princess Tiger Lily who is seen as being a racial stereotype, but the film embraces this and casts the part with Alyssa Wapanatahk, a Canadian actress of Cree background.
Furthermore, in the push for women positive roles, Wendy becomes the actual protagonist of the story and is depicted as sensible-headed and morally grounded, as opposed to Peter who is emotionally closed off and all impetuous pursuit of fun. Perhaps the most eye-opening is when we find that the Lost Boys now also include girls. As Wendy notes after finding such "But aren't some of you girls?" and then shrugs "I guess it doesn't really matter."
Outside of this this, the major distinction is to give Peter Pan and Hook a backstory – again, not too different from what other films have done. Peter's story doesn't get too much – in fact, is noted by his refusal to countenance the past – but Hook gets to explain about how he left Never Never Land and then returned aged and of his rivalry with Peter. On the other hand, this and Jude Law's performance makes for a Hook that is too sympathetic, almost cuddly at times. Hook is one of the great larger-than-life black-and-white villains and Law is just not dastardly enough.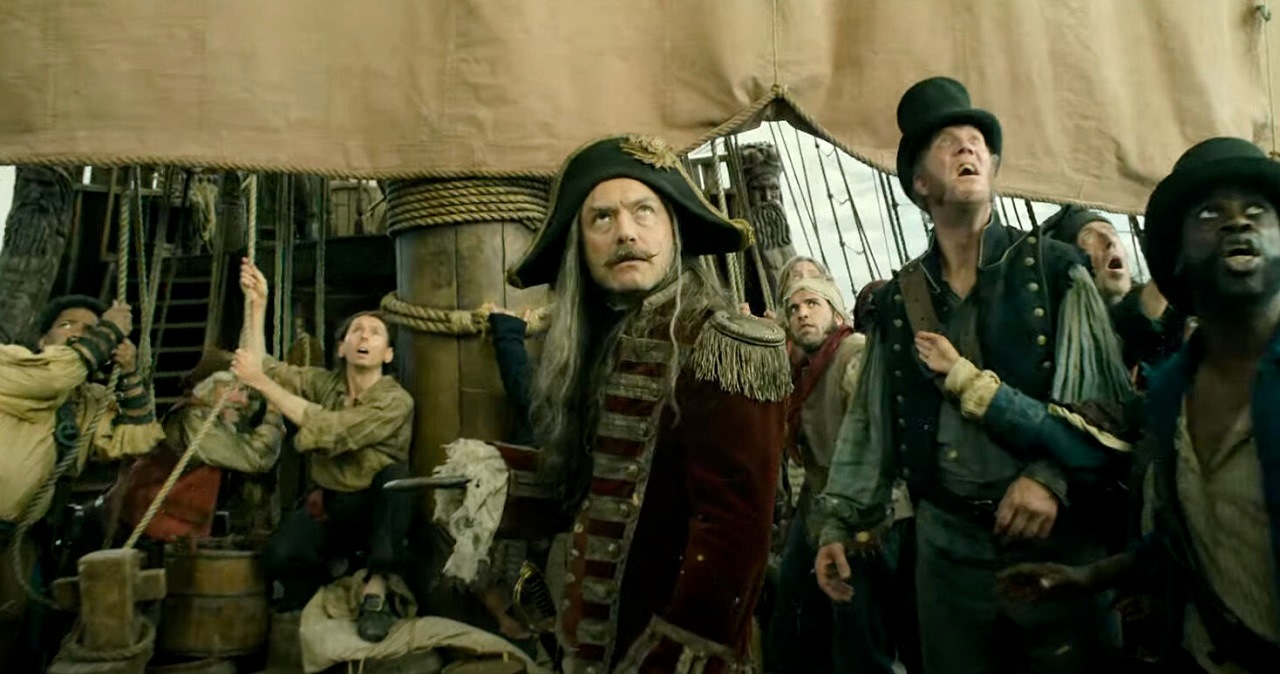 Peter Pan and Wendy is one of the few Disney live-action remakes that do not make either a slavish three-dimensional recreation of the original. It has sufficient familiarity as to not be a beat-for-beat replication but mostly there is the sense that it is taking the familiar elements and letting them open up. On the other hand, the one thing that does not work is what verges on Meta-Fiction where Wendy and the boys have read the story of Peter and are familiar with it and he recognises who they are – this is a film that needs to be a plain and simple adventure, not one where everyone recognises they are characters in a story.
Lowery opts for a very sombre look. Contrast this to films like Hook, the 2003 version or Pan which are bright and colourful. By contrast, the tone here is colour desaturated so that it looks as though it takes place in dark greens and greys with the occasional blue of the sea. One must also complement the exceptional production design when it comes to the design of the Lost Boys lair.
Other adaptations of Peter Pan include:- the silent Peter Pan (1924), Peter Pan (1955), a live tv play; Peter Pan (1976), a tv movie version with Mia Farrow!!! playing Peter; the animated tv series Peter Pan and the Pirates (1990); Peter Pan (tv movie, 2000); the big-budget live-action Peter Pan (2003) and the Disney live-action remake Peter Pan and Wendy (2023). There was also the fascinating but little-seen Neverland (2003), which gave Peter Pan a modernised interpretation with Peter a kid suffering from bipolar disorder; the tv mini-series Neverland (2011), which offered a science-fictional rationalisation set on an alien planet; and the modernised Wendy (2020), which relocates the story in the Mississippi Delta. Other variations of the story include:- Steven Spielberg's live-action sequel Hook (1991), which concerns itself with a grownup Peter's return to Never-Never Land; Disney's animated theatrical sequel Return to Never Land (2002) and the series of Tinkerbell dvd-released films with TinkerBell (2008), Tinker Bell and the Lost Treasure (2009), Tinker Bell and the Great Fairy Rescue (2010), Secret of the Wings (2012), The Pirate Fairy (2014) and Tinker Bell and the Legend of the Neverbeast (2014); and the live-action prequel Pan (2015). Finding Neverland (2004) was a biopic about J.M. Barrie and offered a heavily fictionalised account of the writing of Peter Pan.
---
Trailer here
---