---
Crew
Director – Chris Columbus, Screenplay – Steve Kloves, Based on the Novel by J.K. Rowling, Producer – David Heyman, Photography – Roger Pratt, Music – John Williams, Music Adaptation – William Ross, Visual Effects Supervisors – Nick Davis & Jim Mitchell, Visual Effects – Cinesite (Europe) Ltd (Supervisor – John Lockwood), Framestore-CFC (Animation Supervisor – Michael Eames), Industrial Light and Magic (Supervisor – Bill George, Animation Supervisor – David Andrews), Mill Film (Supervisor – Tim Burke) & The Moving Picture Co (Supervisor – Tom Wood), Special Effects Supervisor – John Richardson, Creature/Makeup Effects Supervisor – Nick Dudman, Production Design – Stuart Craig. Production Company – Heyday Films/1492 Pictures.
Cast
Daniel Radcliffe (Harry Potter), Rupert Grint (Ron Weasley), Emma Watson (Hermione Granger), Kenneth Branagh (Gilderoy Lockhart), Richard Harris (Professor Albus Dumbledore), Robbie Coltrane (Rubeus Hagrid), Alan Rickman (Professor Severus Snape), Tom Felton (Draco Malfoy), Maggie Smith (Professor Minevra McGonagall), Toby Jones (Voice of Dobby), Christian Coulson (Tom Riddle), Jason Isaacs (Lucius Malfoy), Julie Walters (Mrs Weasley), Mark Williams (Mr Weasley), David Bradley (Argus Filch), Shirley Henderson (Moaning Myrtle), Richard Griffiths (Vernon Dursley), Miriam Margolyes (Professor Sprout), Bonnie Wright (Ginny Weasley), Fiona Shaw (Petunia Dursley), Harry Melling (Dudley Dursley), Hugh Mitchell (Colin Greevey), Julian Glover (Voice of Aragog), John Cleese (Nearly Headless Nick)
---
Plot
While at home for the holidays with the Dursleys, Harry Potter receives a visit from the elf Dobby who gives him dire warnings of what might happen if he returns for the next term at Hogwarts. Harry ignores these but once back at Hogwarts sinister things begin to happen – warnings are left written in blood that the Heir of Slytherin has returned and that the Chamber of Secrets has been opened, while people about the school are being petrified. Investigation reveals that the Chamber of Secrets, hidden somewhere in the grounds of the school, contains a monster that will destroy all those who are not pure-born magicians when it is released. Circumstances have both Harry and Hagrid blamed for the petrifications. And so Harry and his friends set out to solve the mystery of the Chamber of Secrets and find the identity of the Heir of Slytherin.
---
When I reviewed Harry Potter and the Sorcerer's Stone/Harry Potter and the Philosopher's Stone (2001), I had not read any of J.K. Rowling's Harry Potter books. I have since read some of them and I can only say that the Harry Potter phenomenon is one of the most overrated in recent history. I am at a loss to explain the popularity of the fad. Certainly, J.K. Rowling is no more than a strictly average writer. Her prose is banal, her characters have little more depth than two adjective descriptions – Malfoy and Snape are evil and nasty, Gilderoy Lockhart is a pompous windbag. Her dramatic points are laboriously over-emphasized, her thriller plots come with foreshadowing that is contrived and all but underscored in red ink.
If you want humorous fantasy, you're far better off going and reading Terry Pratchett; if you want to read the journey of the young apprentice magician, Ursula K. Le Guin's A Wizard of Earthsea (1968) is a far better story and Hayao Miyazaki's Kiki's Delivery Service (1989) a far better film. The Harry Potter phenomenon is, one suspects, no more than the Teenage Mutant Ninja Turtle and Pokemon phenomena of recent vintage – a fad that hits, that everyone gets into because everybody else does and then burns itself out within the space of about two years.
The books suffer from lazy plotting. J.K. Rowling tries to have her cake and eat it too. We are told at the outset that Harry Potter is a great magician yet the books also have him totally ignorant of magic so that Rowling can explain the world of magic to us through him. Yet for all that Harry Potter is supposed to be a great magician, his greatness never seems to emerge through any trials he undergoes. Like the introduction of his ability to speak Parseltongue here, his abilities are not earned – they are innate and come merely from J.K. Rowling pulling them out of a hat when her plot needs them. For all that she is a peripheral character, the perpetual swot Hermione Granger is more entitled to the role of the hero(ine) of the books than Harry is – she is the only one who works for what she has.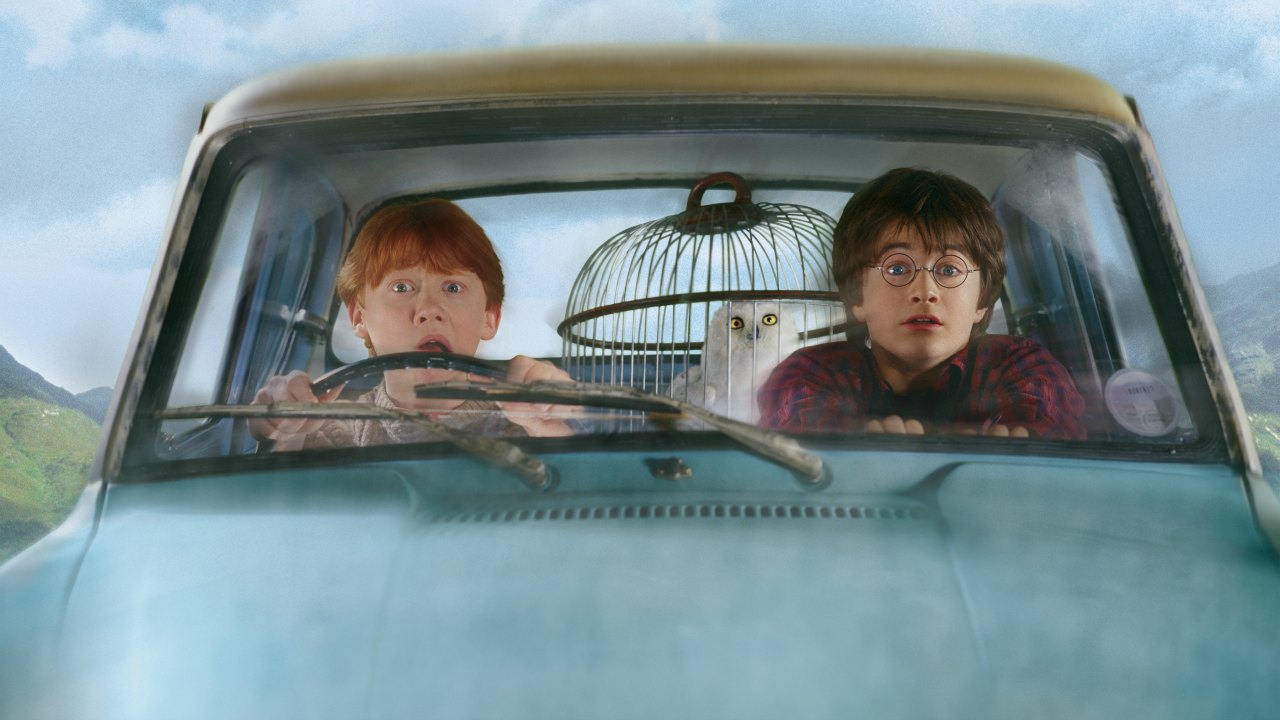 J.K. Rowling's simplistic writing suits film treatment far better than the printed page – actors fill the roles with much more depth and subtlety than she gives them, while the brevity of film trims the points she makes with persistent overemphasis. Harry Potter and the Sorcerer's Stone, although very faithful to the book, suffered from production overkill and director Chris Columbus's banally emotive cues.
The good news is that Harry Potter and the Chamber of Secrets is a better film than Sorcerer's Stone was. Chris Columbus has his tendency toward overkill under control. It is still there – the quidditch game turns into something that improbably resembles a high speed computer game scenario and the flight of the Ford Anglia has been upped from the book into a sequence that now involves the flying car being pursued by Hogwarts Express with Harry hanging out the door.
The sets are also overdesigned – an abandoned girl's bathroom has a set of handbasins that ludicrously resemble a giant Roman marble column. Mostly though, Chris Columbus concentrates on character humour and mood and atmosphere – the look of Chamber of Secrets is much darker than in Sorcerer's Stone. Harry Potter and the Chamber of Secrets is not a masterpiece, but on the other hand it is not entirely a bland run through either.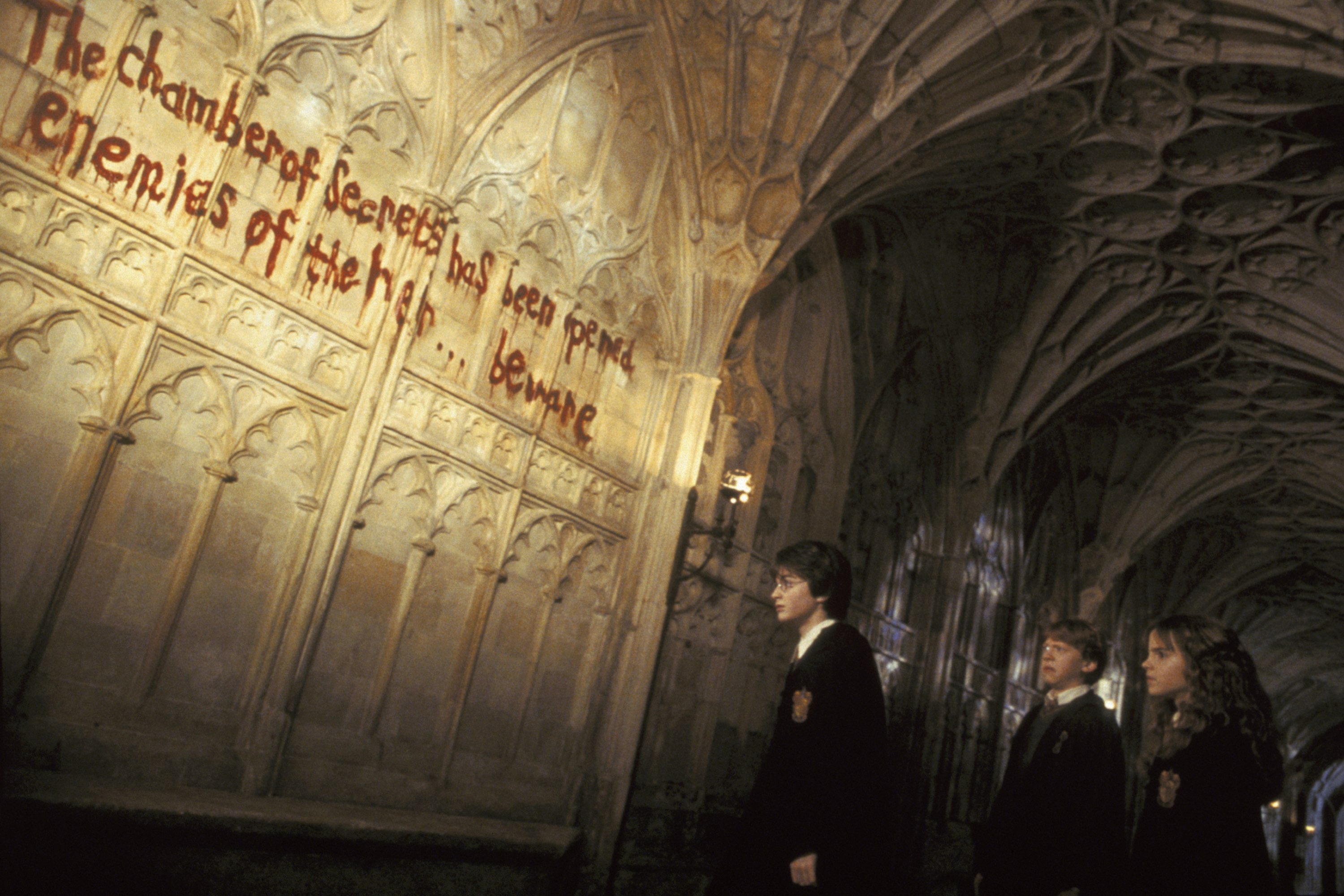 The only complaints that one has with Harry Potter and the Chamber of Secrets are all J.K. Rowling's. Rowling's plotting is sloppy and contrived – Dobby the elf has no real place in the story. He provides a warning and goes to extraordinary lengths to prevent Harry from falling into danger – but there is no plot against Harry of any type and it is only considerably after he receives the warning that Harry personally becomes proactively involved in the mystery.
One cannot see, unless the elf is precognitive, why it should go out of its way to provide such warnings to someone who is as much at threat as anyone else at the school. Similarly, the Anglia turns up to affect a rescue from the spiders – but other than authorial convenience, there is no real reason why it should do so. And, while J.K. Rowling makes out that the Heir of Slytherin wanting to kill all non-pureblooded magicians is something akin to ethnic cleansing, she never explains why such prejudice exists and what motivation/advantage someone would have in wanting to do that.
Mostly, the problem is the character of Harry Potter. He does incredibly little that is actually heroic. All the information he gleans throughout is served up to him by somebody else – McGonagall, Dumbledore, Dobby, Moaning Myrtle, Hermione, the diary. All the situations he gets into have their solutions provided by other people – it is Ron who provides his escape from the Dursleys, Dumbledore who provides the means to kill the basilisk, the Anglia that provides the escape from the spiders.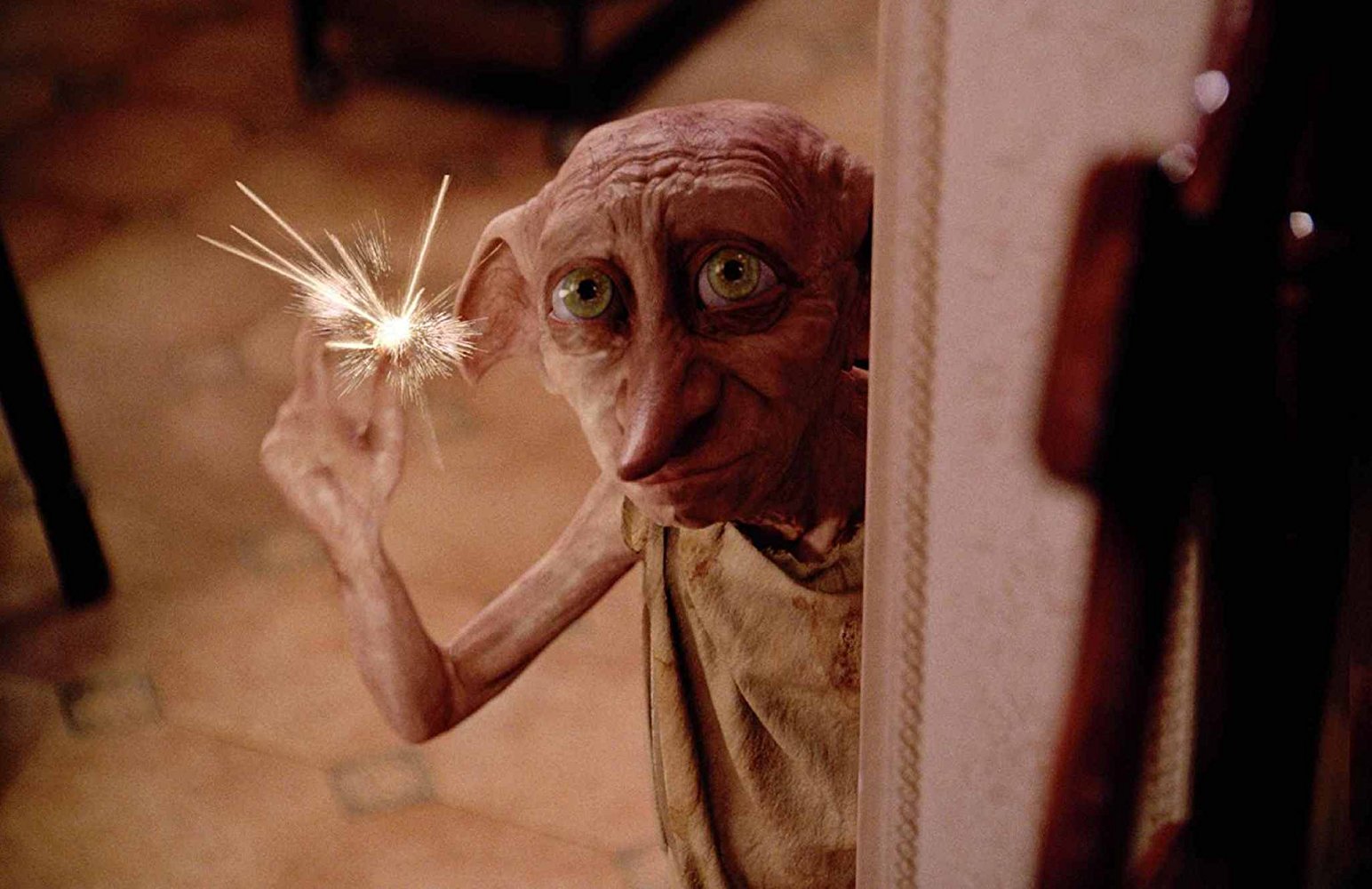 Harry Potter is a perpetual non-hero – one whose status is only something conveyed by the author and whose path to triumphing over adversity is almost a Zen-like one of following the path of least resistance and letting everything happen around him. He is fatally wounded for his actions but the solution – the tears of the phoenix – have been arbitrarily provided and so easily foreshadowed that it is a non-peril. In fact, the only feat that Harry does on his own is to free Dobby – and all that requires him to do is give away a sock.
The subsequent Harry Potter films are:- Harry Potter and the Prisoner of Azkaban (2004), Harry Potter and the Goblet of Fire (2005), Harry Potter and the Order of the Phoenix (2007), Harry Potter and the Half-Blood Prince (2009), Harry Potter and the Deathly Hallows Part 1 (2010) and Harry Potter and the Deathly Hallows Part 2 (2011). Subsequently, J.K. Rowling launched a Harry Potter prequel series with Fantastic Beasts and Where to Find Them (2016), Fantastic Beasts: The Crimes of Grindelwald (2018) and Fantastic Beasts: The Secrets of Dumbledore (2022).
(Winner for Best Musical Score, Nominee for Best Special Effects, Best Production Design at this site's Best of 2002 Awards. No. 4 on the SF, Horror & Fantasy Box-Office Top 10 of 2002 list).
---
---