---
Crew
Director/Screenplay – Tim Chey, Producers – Malcolm McDowell, David Smith & David Turrell, Photography – Tom Gleeson, Music – Daryl Inglis & David Turrell, Visual Effects – Lux Farm Effects (Supervisor – Ross Newton), Production Design – Marc Barold. Production Company – Mouthwatering Productions.
Cast
Bart Bronson (Luke O'Brien), Malcolm McDowell (Satan), Shannen Fields (Gwen O'Brien), Ros Gentle (Judge Woods), Jennifer Skyler (Cynthia Jones), Corbin Bernsen (Barry Polk), Tom Sizemore (Tony 'The Hip' Anzaldo), Rebecca St. James (Jasmine Williams), Jeff Gannon (Mr Banks), Dennis Cole (Murray Fields), Chad Lammers (Mr Ice), Gabrielle Whittaker (Ms Scarlett), Gillian Emmett (Ms Shy), Robin Queree (Mr Think Tank), Josh Reid (Oil Executive), Jeff Crabtree (Pastor Matthews)
---
Plot
Luke O'Brien, a law student in Sydney, Australia, is angry at the downward spiral his life has taken following the murder of his mother. In a fit of pique, he, a Christian believer, decides to launch a lawsuit against Satan in the International Court of Human Rights, demanding eight trillion dollars in damages for the evil that Satan has conducted throughout history. The judge humours Luke and requests that he serve the defendant within thirty days. Luke returns at the end of the time ready to give up, only for a man to appear and claim that he is Satan. The case goes ahead with Satan hiring a team of top international lawyers to defend him. On the stand, Luke determines to make his case, only for Satan to respond by trying to expose Luke's sins in public.
---
The Christian film – that is to say films made by evangelical Christians with the intention of promoting their worldviews and faith – has had an uneven history on film. The genre began during the late 1990s/early 00s with sporadic efforts such as Raging Angels (1994), The Omega Code (1999), Time Changer (2002), Book of Days (2003) and Six: The Mark Unleashed (2004) and Canada's Lalonde Brothers with Left Behind (2000) and their tetraology Armageddon (1998), Revelation (1999), Tribulation (2000) and Judgment (2001).
The genre went big with the enormous box-office success of Mel Gibson's The Passion of the Christ (2004), which saw a number of other mainstream Christian-promoted film such as The Chronicles of Narnia: The Lion, The Witch and the Wardrobe (2005) and The Exorcism of Emily Rose (2005). This has led to a new wave of Christian-made films such as Last Flight Out (2004), Facing the Giants (2006), The Visitation (2006), The Wager (2007), Pilgrim's Progress (2008), Saving God (2008), The Grace Card (2010), Courageous (2011), Revelation Road: The Beginning of the End (2013) and sequels and the moderate hits of Fireproof (2008), God's Not Dead (2014), Heaven is For Real (2014), Miracles from Heaven (2016) and The Shack (2017).
Suing the Devil is one of these evangelical Christian-made films that has been made in Australia. Tim Chey is a former US entertainment lawyer who is a Christian believer – his bio even lists that he is a volunteer counsellor for the Billy Graham Organization. He made his directorial debut with the quasi-autobiographical Fakin' Da Funk (1997) about a Chinese kid adopted by an African-American family. He then went onto make the Rapture film Gone (2003), Impact: The Passion of the Christ (2004), a documentary about the effect of the Mel Gibson film, and other Christian-themed films such as The Genius Club (2006), Live Fast, Die Young (2008), David and Goliath (2015), Final: The Rapture (2015), Slamma Jamma (2017), The Islands (2019) and Interview with the Antichrist (2020).
Suing the Devil comes with the initially intriguing idea of Satan placed on trial in a courtroom. This is similar to other films that have come from a more ecumenically neutral point-of-view. There was previously the high-profile The Devil's Advocate (1997), which featured Satan as a lawyer (played by Al Pacino, no less!), although featured no scenes with him actually in a courtroom. There was also the classic All That Money Can Buy/The Devil and Daniel Webster (1941), which featured a lawyer charged with defending a man who had sold his soul to The Devil. Australia had also previously made the comedy The Man Who Sued God (2001), which was founded around the notion of a man taking the Almighty to court to which this could almost have been construed as a natural riposte, if not a sequel.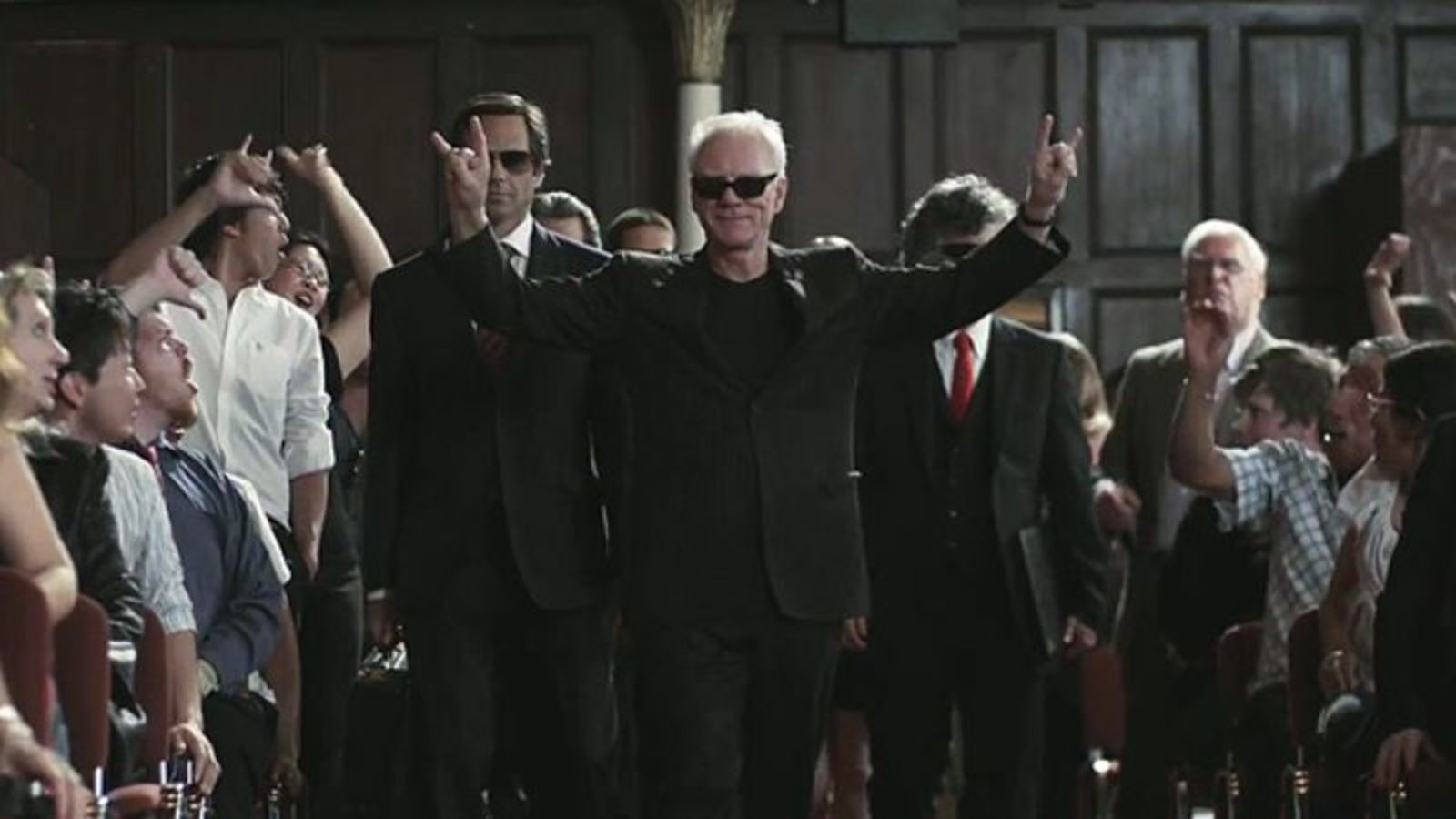 Suing the Devil takes a nosedive for bad movie stakes within its opening scenes. Tall, gangly lead actor Bart Bronson's performance has been compared to Tommy Wiseau in The Room (2003) and it is not an inappropriate comparison. Just seeing him wandering around Sydney in the first few minutes throwing his hands up in an effort to play at being anguished, as all the while excruciating Christian heavy rock bands thump away on the soundtrack, is some of the worst acting one had seen in any lead performance in some time. All of this seems to be ably setting the film up as a guided missile aimed for the heart of any bad movie lover's pleasure zone.
Suing the Devil plays out like an amateur film. The actors are stilted and the lines seem awkward in their mouths. Lawyers stand up in court to deliver straight-faced lines like:- "Objection – my client is not a being, he is a fallen angel." The film has managed to bring in some high-profile names including Corbin Bernsen and Tom Sizemore, not to mention Malcolm McDowell who not only stars but also produces the film. I have no idea about Malcolm McDowell's personal beliefs but I can only assume that is an adherent of the faith, which would be the sole factor that would motivate him to be associated with this nonsense.
McDowell camps the part up and delivers what must be one of his worst performances in an otherwise distinguished career. The film's most laughable scene is where Bart Bronson quotes the "get thee behind me Satan" verse and we see McDowell belching and then running around the courtroom like a cowering puppy dog. McDowell finally gets to show his mettle in a climactic soliloquy but his acting fireworks are considerably undone by the laughable dialogue that has Satan claim responsibility for techno music, gangsta rap and car alarms as part of his evil plot to make human life miserable.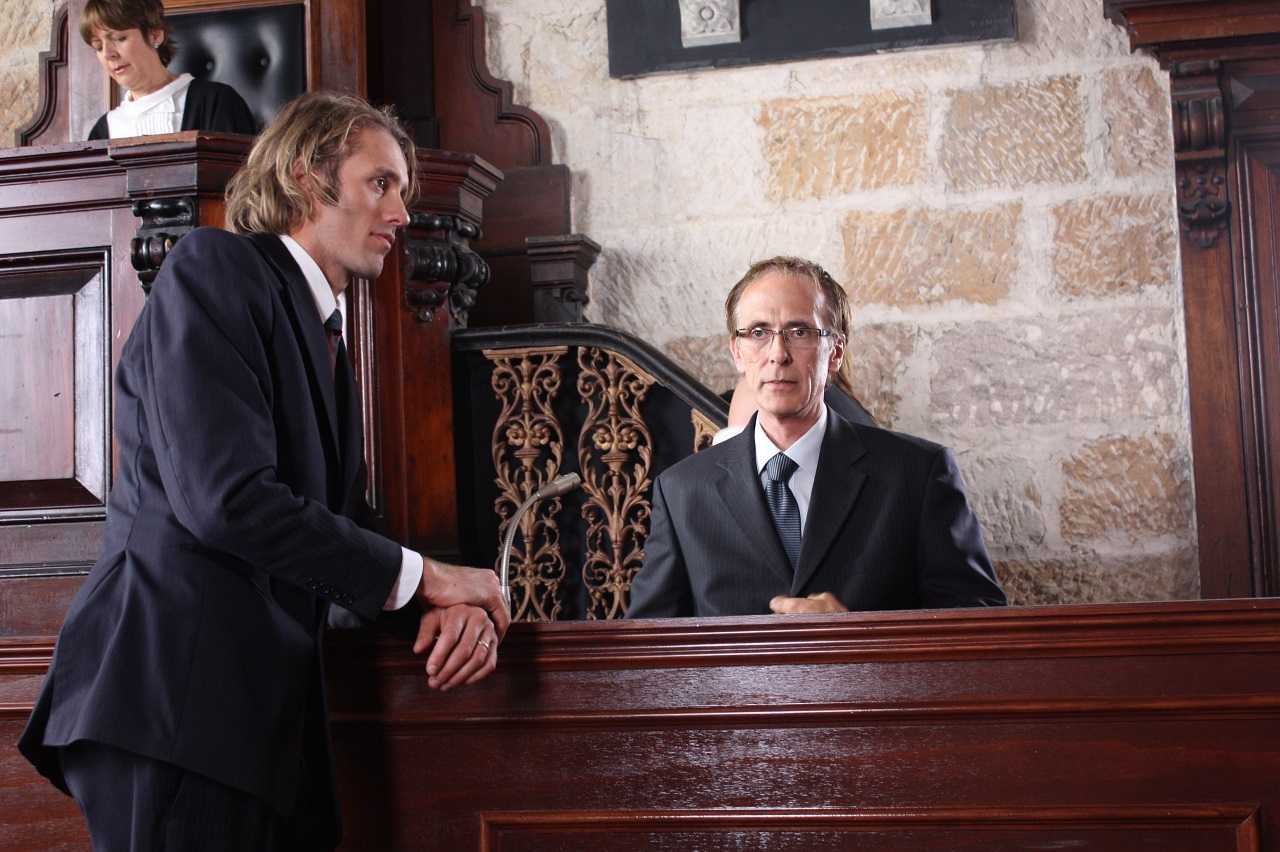 The major problem with the film is its lack of credibility. I have no familiarity with Australian courtroom procedure but on the assumption that it operates as most courts in English-speaking countries do, the case would most likely be thrown out. Surely one of the onuses on the court when Malcolm McDowell steps up to claim that he is Satan would be that he offers some proof to back this up and that he is not just the sensation-seeking individual he also claims to be later in the show? Furthermore, the prosecution would need to directly establish a causal relationship between McDowell's actions and all of the evil of the human race – like for example a witness who can step up and say "Yes, this man made me do it" – not just something that can be vaguely attributed to him in a general sense.
And even when it comes to the case, the film seems to do nothing more than toss Bible verses around as proof. The thing that should be asked is how reliable The Bible is as an acceptable form of proof, otherwise all that is happening is a series of philosophical debates built on a circular argument that has established its own terms of proof and conclusion. (A comparable argument might be trying to prosecute someone for being Lex Luthor or The Green Goblin and offering up comic-books as proof that they exist. What we lack here is an argument about the pre-fundamental assumptions that accepts these texts as a source of reliable evidence. A halfway competent defence lawyer would surely immediately ask the prosecution to establish the grounds of introducing The Bible as evidence).
Other scenes are laughably lame. At one point, Bart Bronson puts a Big Oil executive on the stand to accuse him of complicity where all it can think of doing is asking him about inflating the price of gasoline, while ignoring the vastly wider issues of environmental despoliation that oil companies are guilty of. The film becomes even funnier when Bart Bronson is put on the stand and made to defend himself where the big sins that the defence bring out is that he looked at internet pornography (but not since he married his wife), used four-letter words and a single racial epithet. The film ends on a lame It Was All a Dream ending.
Moreover, in that the film consists of substantial sections with Bart Bronson trading section of scripture, this becomes the point that the average audience member tunes out. It makes Suing the Devil into a film that is preaching to the converted. One of the funnier statistics is that the Suing the Devil was apparently one of the most downloaded films of 2012 – given that it is such a preachy pro-Christian work, one can only assume that there was a heck of a lot of non-believers dragged in by its premise or else that those who are believers are engaged in the not very Christian notion of stealing someone else's property.
(Winner in this site's Worst Films of 2011 list).
---
---